5 Minutes with ... Josh Grant
The 2006 Toyota AMA Motocross Nationals have treated us to some great moments in both classes. For that constant rush of excitement and competition, all you have to do is zone in on the 250F class and you will be sure to see something to your liking. We have two child prodigies by the name of Alessi and Villopoto going head-to-head each race and still talking about things that happened in the amateur ranks! Right there with them, though, is Josh Grant, who wasn't a rookie too long ago, but now he has a few seasons under his belt and the confidence to match.
Racer X: Josh, how's it going?
Josh Grant: Just hanging out in Minnesota. I came back here for a change. You know, the weather is different and there is some good riding.
Going back to Red Bud, in moto one, you and Mike Alessi got together with a few laps to go, and I don't think you were too happy. What happened?
I finally got close on that last lap made a move and he T-boned me! I was pissed off, so I got in his face to let him know afterwards.
Moto two got started with you out front quickly, and it seemed like it could have been that breakthrough where you might notch a win. Lap three, though, I think you stalled the motor?
I was coming down the hill and the bike shut off. I tried to bump it, but that didn't work. It was my fault. The thing is, on the lap before it, I was thinking that could happen!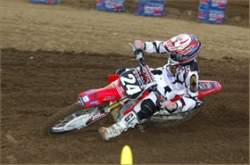 Grant finished fourth overall at Red Bud

At the beginning of the series you made it known that your plan was to be on the box every race. After five rounds, you've been consistent, with all your overalls being in the top five, which is near the set goal. Do you feel you can step closer into the title chase?
I haven't been on podium every week and it's not going to happen that way. I've only stood up there twice, and there's no reason for that. It's kind of been a while. From here on out, I need to win.
So far, the two youngsters, Alessi and Villopoto, their speed has really seemed to stand out. Are you comfortable in that element right now or will we be seeing you come on stronger as the series goes past the halfway mark?
Well, if I start up front, I can finish up there in the mix. The last few weekends, that didn't help much, but little things were the cause of that. At Red Bud I was strong all the way around. I rode well, so that's all I can do.
For this season you implemented Ryan Hughes into your program because of his great training status. Is having his knowledge to your liking, since he's been in your position recently?
Yeah, Ryno is a good match for me, and I'm glad, because it was perfect timing. I'm actually bringing him out to Unadilla, which will be good. Our combination is cool, so that works for me.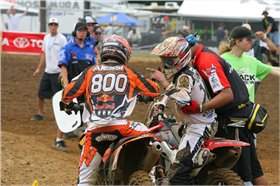 After the first moto, Alessi and Grant had words

photo: Matt Ware

He's still on his game, too. So during the week, are you hanging right there with him in everything you guys do? Like, who can bench more?
No, he's crazy! I mean, he's helping with all the stuff to make me the strongest and best. I've come a long way and I'm getting closer.
You'll still aboard the SoBe/Samsung Honda team for a few more seasons. That has to be settling to be so ahead of the game like that.
I'm excited. To be locked in is a good thing to have out of the way. Now I can concentrate on only trying to win. I signed for two more years. By then, hopefully I have some championships and can move up.