Between the Motos: Josh Woods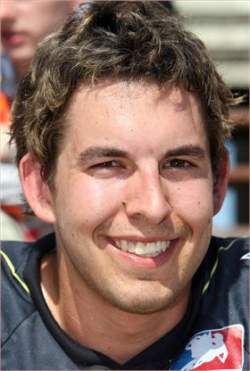 Fun Center Suzuki's Josh Woods

photo: Steve "TFS" Bruhn

It was good to see local Michigander Josh Woods back on the track this past weekend at Red Bud. Many thought he was sidelined with an injury due to his recent absence from the 2006 AMA Toyota Nationals, when in fact he was only taking some time off from a brutal travel schedule. Woods is coming off his first season of BooKoo arenacross racing and is focusing his efforts on a bid for the 2007 arenacross title.
Racer X: Josh, you've been MIA for a few races, so it was really good to see you back in action at Red Bud. But before we talk about the race, tell our readers why you were on the sidelines.
Josh Woods: Well, I'm just kind of doing my own deal this summer, and because I'm doing it on my own, it's kind of hard to go to all of the races. So I felt this was a good chance to take a little bit time off. I did the whole arenacross series and went straight into supercross, and the way it looks now is that I'm going to go back into arenacross again. So I needed somewhere in there to take a little time off and spend some time at home. I thought it was a good time to do that now. I'm just going to start preparing myself for the arenacross series.
So you weren't injured or anything like that?
No. I've had a few little nagging injuries, but nothing to keep me from riding. I've been riding the whole time I was off, I just haven't been doing the serious training. I was maybe a little out of shape this weekend at Red Bud, but it was good. I'm motivated now and I'm starting to work hard again. I'm looking forward to do a few more outdoor nationals now because I'll definitely be more prepared.
You're not on the Rockstar Suzuki squad anymore. What happened?
Well, I just had a supercross-only deal, and that was all that was planned. They're still helping me out a ton, as far as parts or anything at the races. The support is there from them, but they just have a full team right now, and unless something changes there, I think we'll just stick to the same plan. They did offer to take my bike to the races and stuff, but I was able to put together a deal on my own with Fun Center Suzuki and Troy Lee Designs—enough to pay my expenses, anyways. So I'm just doing my own deal, and it's been kind of fun. My dad has been able to wrench for me again, and he's enjoying that because he hasn't done that in years.
Take us through the first moto, where you scored an 11th-place finish.
I had a pretty good start to begin with, and I tried to ride smart in the beginning of the moto. It was pretty rough and humid out, and I kind of stayed where I was at the whole moto. I had [Kyle] Lewis in front of me, and he kind of got away from me at the beginning of the race, but I started to reel him back in. I just stayed where I was and just wanted to get a finish and some points—something to build on. So I just rode my own race. I was kind of surprised that I was able to pull away from some of the guys that were behind me.
What happened in the second moto?
I was still a little tired from the first moto, and I was coming down the downhill right before LaRoccos' Leap, and I hit a big hole and got really out of shape and the bike slammed me in the butt really hard and I went off the track and kind of jarred myself a little bit. I rode another lap or two after that but was really struggling, so I pulled off the track before I did something stupid. It really wasn't the finish I was looking for, but I kind of knew coming in that I wasn't in the best shape to run on a track like that. That was a tough track to come back on, but I'll definitely be more prepared when I go the next national.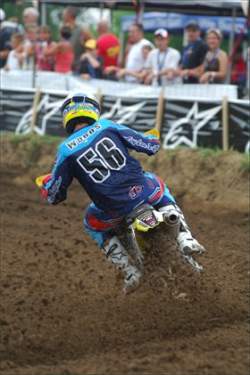 Woods finished 11th in the first 450 moto at Red Bud

photo: Steve "TFS" Bruhn

What exactly have you been doing in your little vacation away from racing?
Just kind of been home. I've been doing a little riding with Nick Wey, because he's back home in Michigan. I just needed a break from the travel. Being at home has been nice because it's something I haven't done in a while. I've had a house here in Michigan for a couple years now, but it seems like I've never really spent time there. So I did some things around the house that I wasn't able to do, and I also found some time to do some golfing.
Has your golf game improved any?
[Laughs] A little bit, actually. I shot a 44 the other day, so I was pretty pumped about that.
Tell us about the BooKoo arenacross series. You actually won the most main events, didn't you?
Yeah, I won like 13 and Josh Demuth won nine or so.
Was it your first year racing AX?
Yeah, full-time. Years ago when I first turned expert I did a few, but I just had terrible luck at them. This year when I got the opportunity to fill in for Brad Hagseth, going into the first round I really wasn't looking forward to it and I was skeptical of how I'd do. But I ended up having a lot of fun, and that's why I continued doing the series. It worked out good for me and I had a lot of fun. Unfortunately, I hurt myself and had to miss a few rounds, but other than that it was good for me. It was kind of a confidence-builder, too. I had a couple tough years with injuries and stuff, so it kind of helped me get back. Hopefully, I can stay healthy this year and I can continue winning like I was last year and I can win the championships. At this point I really don't know what series I'm going to do—I can do AMA or BooKoo—but either way I'm going to win, and that's my focus right now and that's was kind of the reasoning for taking some time off here in the past few months.
So have you had an offer already for this season?
I've been talking to Suzuki a little bit, along with a couple other teams, but I think everyone is just trying to figure out their budgets right now. They've probably got to get their supercross stuff figured out before arenacross, but it's looking like I'll definitely be racing it.
Any preference of what series you race?
I really don't. I think the AMA series would be nice because you only have to ride the 450, and I tend to ride that bike a little bit better. But either way, I'm really excited to ride the BooKoo series, especially with Suzuki, because with their new bike coming out I'd be able do a lot of their development work with it, and I think that'd be good for me. And I'd definitely like to work something where I could jump in to supercross when arenacross is over. Hopefully, the schedule works out to where I can do all of the East Coast rounds and get on a team for that.
How old are you now, Josh?
I'm 23.
Do you feel you have a lot of years left in this sport?
Yeah, as long as I can stay healthy and keep doing what I'm doing right now. I just think the injuries have worn on me a little the past few years, but I'm finally back to where I can do the things that I couldn't for a few years, like running and doing the training that I need to do. In the past it was hard for me to train, but I'm at a point now where my body is healed enough so I can do those things again. So hopefully, I can get to the point where I was a few years ago, or even better.
Your attention has definitely shifted to the arenas, but do you see yourself possibly racing AMA Nationals again in the future?
Yeah, absolutely. I want to be back in supercross and nationals, but I think I have a really good opportunity to win an arenacross championship, and it's a really good step to get back into supercross, because you're not going to win supercross unless you're on amazing equipment. And where I'm at right now, I really don't have that opportunity. But I think with a good year in arenacross that I could maybe turn some heads and find myself on one of those teams.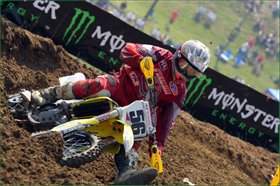 Josh is already preparing for the 2007 Arenacross series

photo: Matt Ware

Looking back, do you have any regrets or do you think you maybe missed that opportunity to get on one of those teams?
I don't, really. Maybe one regret was when I rode that KTM 250 two-stroke. I jumped on it to fill in for McGrath and Langston and I ended up hurting myself pretty good on that thing. But at the time, it was the right thing for me to do. They needed a guy, but injuries happen. It's just a part of what we do. I really don't want to say that I regret it; I just wish it would've worked out a bit better.
Which AMA National will we see you at next?
I'm going to be at the Colorado National, because that's the hometown race for Fun Center Suzuki. After that I'll probably be at Millville, Binghamton, and Steel City.
Thanks for your time, Josh. Good luck.
Thanks a lot, Billy.