5 minutes with ... Tim Ferry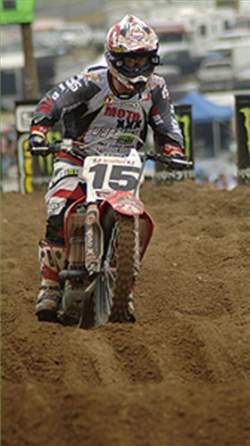 Ferry went 7-5 for sixth overall at Red Bud

Moto XXX veteran Tim Ferry made his return to action at the Southwick round of the Toyota AMA Motocross Nationals and posted a seventh-place finish at Southwick and then sixth at Budds Creek. He followed that up with a sixth overall at Red Bud, bringing him closer to his goal of top-fives. I talked to the longtime pro just after his qualifier at Red Bud to catch up on his abbreviated season to that point.
Racer X: First off, you have gone through a plethora of injuries the last couple of seasons that kept you out of competition for much of that period. Can you give us a brief rundown on what some of those injuries were?
Tim Ferry: Yeah, the first came a few rounds into the supercross series a couple of years ago where I hurt my wrist. To make a long story short, I had three surgeries, the last of which I had in July of last year. I took a lot of time off to make sure that it was healed. But when I came back for supercross I wasn't quite ready—I think I jumped in a little early. But there were not too many teams really beating a path to my door to give me the opportunity to ride for them, and I wanted to at least go out and show them that I'm all healed up and that I would put forth the effort for them taking a chance on me.
Given the level that you were at before the injuries, what are your feelings now as far as what you're capable of this season and what you look forward to for next year?
Right now I'm about where I want to be at. I think there is a possibility that I can go a little faster each round with more time on the bike and as we get the bike much more dialed in. I got hurt right toward the end of supercross, so I didn't get much testing in, and you end up kind of learning as you go. So, I'm not quite back where I want to be. I would like to challenge for the top three spots. They're going amazingly fast, so if I could be right on their coattails then I would be really happy.
Behind the "Big Three" it gets pretty crowded with a resurgent David Vuillemin, Nick Wey looking to make his mark, and the Honda of Davi Millsaps, Kevin Windham and Travis Preston. What do you think it will take to consistently be right in there with those guys?
For me, really it's not the speed. Every week I am beating some of those guys in lap times. Really, it's the start. I can't come from 20th and beat those guys. But if I can go out, get a start and run with those guys from the beginning—without having to play catch-up—I think I can run with Wey, Windham, and Millsaps… that whole group of guys that are real close in speed. I don't think they have anything on me and I feel that I have a little more speed. I show it in practice; I just have to transfer that to the races.
Given all the time you've had off, where do you feel you are at as far as fitness?
It's actually pretty good right now. I was surprised going into Southwick, which was really rough. We knew it was going to be a hard race and I felt great there. We came out of there with a seventh place overall, and I was really happy. At Budds Creek it was really hot—maybe over 90 degrees and I got a sixth overall. So conditioning wise I feel really good. My leg that I had surgery on back during supercross is a 100 percent now. With that totally healed I feel we should just keep getting stronger each weekend.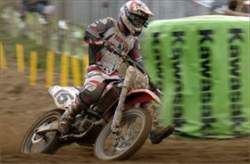 A former Suzuki and Yamaha factory rider, Ferry is happy with the Moto XXX team

You're ready to put all of those injuries behind you and just move on?
Pretty much. My wrist doesn't bother me and the leg I had surgery on—actually, I didn't even think about that at all so that's a good thing. It seemed like it was going to be a big deal. When I got hurt I didn't really let anyone know what happened to me—it was like a broken record. For me and for everybody else, I just took my time and had to sit out and get prepared for the nationals.
Do you have a contract ironed out for next year? Are you still talking to different teams? What is happening for you there?
I have no contract for next year. There are a bunch of guys, like you said, that are all in that one little spot that are all looking for rides and we'll see how it plays out. I hope to put in some good rides and show that I can beat them, not only in practice but also during the race. And I'm pretty happy where I'm at right now, but if you can have factory equipment, it makes a big difference.
And you have been back and forth now a couple of times between factory and privateer.
Yeah, I've gone back and forth a couple times and it's been a little tough this year. I knew what I was getting into. But being at the factory level for so long you almost forget how easy things are. I just have to keep my head down and stay focused.
How much of a role does your wife Evie play with preparation and support?
She does quite a bit, really. I mean, I just want to ride the motorcycle and train; she takes care of everything else. Having our son now, her focus is more on him. She takes care of him and helps me out when she can.
Is she biting her nails when you are out on the track everyday or is she more enthusiastic about the racing aspect?
[Laughs] No, no, she's really into it. She's pushed me because there have been times the last couple of years that you kind of just want to go, "You know, enough is enough." But she has been kind of like, "Hey, it's not over yet, you still have the speed and all," so she helped keep me motivated. Having the time off I kind of realized too, that hey, I really do like riding. I get back on the bike and it's a lot of fun. That's kind of the main reason I'm out here. I'm going to ride no matter what, so I figure that I might as well race.
If we can touch on the dark side here for just a minute in regards to the injury to Ernesto Fonseca, how does that affect you as a racer?
You know, it's definitely tough. It's tough to see someone like him get hurt. I've hung around Ernie quite a bit. It is tough, but there are so many people who ride motorcycles. It goes back to what I said before: I'm going to ride whether I'm racing at the professional level or not. You can get killed in a car crash like my good friend Kevin Crine, or anything can happen. You have to try and put those things aside and I'm sure Ernie would ride again if he could. It was pretty neat to see David Bailey and Ricky James ride. That was really amazing and kind of a reassurance to me that you can put that stuff out of your mind and ride and race without thinking about it. But unfortunately it happened to someone else.
Well, I've talked to some Tim Ferry fans here this morning and the consensus seems to be that a lot of fans look at you as one of the good guys and a great role model, and we are all happy to have you back.
Thanks, I appreciate it. I try not to look at it that way; you just try to be yourself. Some guys are rebels and I'm just kind of a mellower guy. You just try to do your homework and put in that work during the week and I think that people, especially during the nationals, they appreciate that. Most of them ride so they understand. And they can separate the rock stars from the workers.
Thank you for your time today and good luck, Tim.
Thank you. I appreciate it.