5 minutes with ... Ben Townley
After healing up a torn ACL, New Zealand's Ben Townley made his much-anticipated AMA motocross debut here in the United States at Red Bud yesterday. Wearing the #101, BT landed on the podium in the second moto on his Monster Energy/Pro Circuit Kawasaki. We caught up with him today to get his thoughts on his new career here in the States.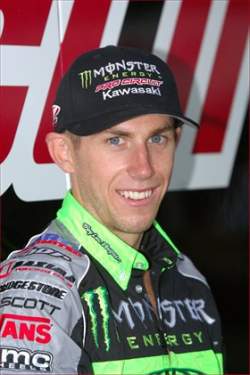 Ben Townley

Racer X: Ben, it's good to finally see you on an outdoor national track. I bet you've been waiting for this day for quite some time.
Ben Townley: Yeah, I have been. It's been nine months since I was at a starting line, and it was good to just get back behind the gate to race for the Pro Circuit team. I was real happy to be back.
What was the biggest difference you saw between this and Grand Prix motocross the last few years? What was the big surprise you didn't expect?
The intensity of all of the riders from the get-go. From the gate drop, it's on for that 30 minutes, and I really struggled in that first race. Everyone was just really intense, fighting for every meter on the track, so that was definitely something I noticed.
Did you jump LaRocco's Leap at all, or even think about it?
No. Ricky told me last week that you don't even need to bother because you don't do it in the race, so there's no point to even worry about it. I don't need to get into any risky situations.
How much advice has Ricky been giving you here and there and at the track?
Well, obviously we ride together all the time and he just points things out all the time. Just being around his mom and dad and Aldon [Baker, RC's trainer], everyone just gives me advice and I pick up little things everywhere. But obviously at the end of the day, I've got to go out and do it myself.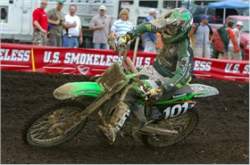 Townley went 8-3 for fifth overall in his 2006 AMA debut in Buchanan, MI.

Did it look like a Grand Prix with all of those people there? I heard Red Bud had a massive crowd.
Yeah, it was huge. I heard in a couple interviews that the area of a national track is just huge, comparing it to Europe. There were masses of people all over the track and that's a real big area. I was really surprised. I didn't know I had to do an interview after the second moto, because in Europe you only go to the podium if you're on the podium overall. So I went up to watch the second 450 moto in the stands, and I did an interview with [Rob] Buydos, and I looked out and it really surprised me.
Did you feel that you learned something between the first and second motos? Like, did you learn how to deal with the intensity better coming out of the gate?
Yeah, I did. And Ryan [Villopoto] didn't get a very good start and I was right with him—I think he was seventh and I was eighth, something like that. And he picked some guys off straight away and I just tried to stick to him like glue for a little while. As he made a pass, I'd try and go pass as well. I was trying to get past Boniface and we bumped, but it's good to have someone like Ryan to follow. He's on the top notch, and he's where I need to be. I'm really happy to have someone like him on the team. He's an awesome kid, and he's really friendly.
I noticed that your other teammate, Troy Adams, had some real good starts. He's a big boy, so that's pretty impressive to see him up there.
Yeah, he did get good starts, and he rode really well. I think he had a couple mistakes, which is unfortunate. But our team works so hard, and that's one thing that I've noticed: Working with Pro Circuit, everyone who works under Mitch, works so hard. It's not just a job to them, it's a passion. They work for every second and every inch on the track, and I really appreciate everything that they do. That's why it was so good to be back at the track and repay them a little bit of the time that they've spent trying to get everybody ready.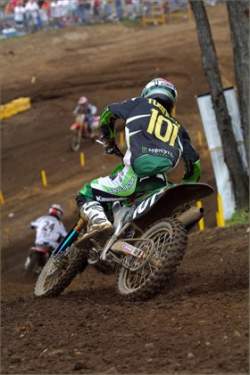 Ben is looking forward to racing Unadilla in two weeks as it's a track he has raced in the past

Now you have 13 days before your first visit to Unadilla.
No, I've been there before! I raced there on a KTM in 2002. It was my second year racing Grand Prix. I actually won my first GP the weekend before in Sweden. It was a bit of a letdown, really. I crashed both races on the first lap, so I think I was, like, ninth and tenth.
What are you going to try and work on here in the next two weeks?
Definitely starts! I've got to get out of that gate and be in the top bunch right off the gate. And then intensity. I just have to make sure that if I do get that start, that I can lay down fast laps. I was looking at the lap times, and in the second moto Alessi had some scorching laps, like 51s and 52s. My best was a 54. I just have to get those laps a little faster. I'm glad I got my first race out of the way and I can just focus on racing next time.
Well, it's good to have you there. You and Broc Hepler have been very pleasant, late additions to the series. I wish you luck and enjoy you first Fourth of July in America.
Yeah, it was awesome to finally get to a race and meet some new people and start off a new career here in America.