Racer X/Kawasaki Race Report
It was a monster weekend at the Monster Energy National at Red Bud, as two Monster Energy backed riders took big wins in front of a large crowd. Ricky Carmichael and Ryan Villopoto may not be monsters in stature, but they certainly represent a huge force in their respective classes, especially after their grand wins at Red Bud.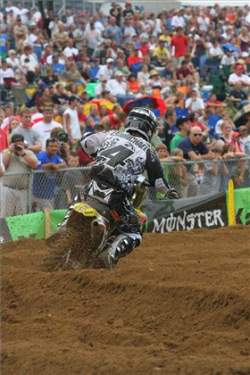 Save for a brief second-moto bobble, Ricky Carmichael's dominant win gives us an excuse to run the classic "This is the only view the competition had of RC" caption.

In Carmichael's case, he was able to defeat the back-from-injury
James Stewart
soundly in each moto, which further established his greatest-of-all-time dominance in the 450 class. For Villopoto, the competition is much tighter in the Lites class, but he did win the first moto by a huge margin, his third moto win in a row. At that point it looked like RV was about to begin an RC-like domination run in the class, but his rival
Mike Alessi
was able to stop the bleeding by winning moto two. After 3-1 scores against Villopoto's 1-2, Alessi is now clinging to a five-point lead in his class. In the 450s, Carmichael enjoys a 30-point lead over Yamaha's
Chad Reed
, who went 3-3 on the day for third overall.
Many where hoping this
Red Bud
would host an all-time classic Carmichael/Stewart battle like the ones we saw at
Hangtown
,
High Point
and
Southwick
. Unfortunately Stewart wasn't quite up to the task after missing a few weeks of training and testing due to a knee injury. In the first moto, Carmichael grabbed $500 bucks from the donar types at
Racer X
by grabbing the
Racer X
Holeshot Award. Stewart and Reed were right behind him, but instead of a big battle, Carmichael simply walked away (albeit it a very brisk walk) and won the moto by a solid margin over Stewart. Reed was even further back from Stewart when it was over. Carmichael, by the way, said, "Sometimes I think getting this holeshot award is harder work than winning these motos." That wasn't a slight to his competition in the races, but a nod to how hard it is to pull a holeshot against a snarling pack of 450s.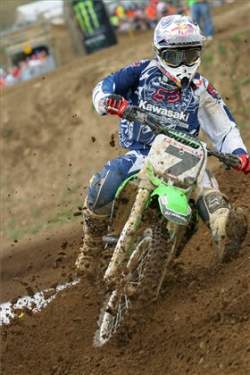 James Stewart returned and kept the rubber side down, leading to 2-2 scores.

Hard as it was, though, Carmichael did it again in moto two, which means we have to pay him $1000 now. But this time winning the moto would be a bit harder than pulling the start. Two laps in, Carmichael blew out a berm and lost his drive, and suddenly Stewart zipped past into the lead. The race was on! But Carmichael quickly reeled Stewart in from about two seconds back and passed him around the high-speed first turn. Stewart tried to give chase, but there was nothing he could do to stop RC on this day. Maybe it will happen at
Unadilla
, although everyone is hoping they don't get quite as close this year as they did in 2005.
But back to
Red Bud
. While Carmichael and Stewart were gone in moto two, a big battle was on behind them. A third Florida-based rider, Moto XXX Unbound Energy's
Tim Ferry
, was riding well in third. First Team Honda's
Davi Millsaps
followed Ferry, and then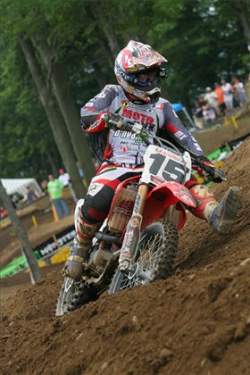 Tim Ferry is getting faster and faster each weekend, as he ran in third for much of moto two.

Kevin Windham
made the move on Millsaps and then Ferry. But Reed was coming and passed all of them, an impressive drive past the three Honda riders to get to his fifth overall podium in five races.
Stewart was just happy to be back at the races, and Carmichael was so pumped on the win that he promised to return to
Red Bud
in 2007 as part of his part-time racing schedule.
Then he drank some of his Monster Energy drink, all the while moving closer toward a big pay day if he can win the third leg of the Monster/Kawasaki Triple Crown of Motocross at
Steel City
on Labor Day weekend. That's big.
In the first 250F class moto, Villopoto grabbed his first
Racer X
Holeshot award of the season and checked out like no one in that class has been able to do all year. He was gonzo early in this one—the lead was eight seconds in two laps for young RV.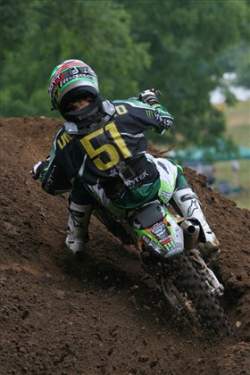 No answers for this guy in the first moto, which leads to overall win number three for #51.

Meanwhile it seemed like the 39 other riders were jammed in a battle for second. It was close between Yamaha of Troy's Andrew McFarlane, Rockstar Suzuki's
Jason Lawrence
, Alessi, Sobe/Samsung Honda's
Josh Grant
, Team Honda's
Andrew Short
, Makita Suzuki's
Broc Hepler
and another Monster/Pro Circuit/Kawasaki rider, Ben Townley.
That's a pretty deep pack. What's more, the deep, sandy
Red Bud
track wasn't lending itself to passing. That pack followed each other hard for most of the moto in a great battle. Finally Hepler and Townley fell. Then Lawrence fell, too, while trying to pass McFarlane for second. This left Alessi and Grant to fight for the final podium spot, and they battled to the very last lap when they collided. Alessi held on for the spot, and of course his old amateur rival Grant just had to give him a piece of his mind after the moto regarding the collision.
And both riders blamed each other, of course. Grant said he had the pass made and Alessi got out of shape and came into him.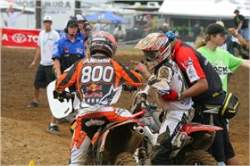 Alessi and Grant played another round of the blame game after moto one.

Alessi said Grant went around the outside too fast a blew a berm out. You never know in this 250F class.
But in front of all of this, Villopoto was gone with the most dominant performance of the season. Alessi seemed almost beside himself, saying he just can't find his speed, obviously reeling from the crunch RV had applied to his points lead over the last three motos.
So it was time for #800 to man up for moto two, but Grant was still in a fighting mood. He pulled the $500
Racer X
Holeshot.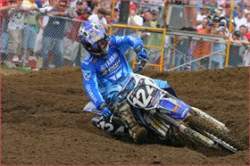 Andrew McFarlane dug deep to get back on the podium.

Unfortunately Grant stalled his Honda while leading, ending his bid for a moto win. This put Alessi out front while a pack of Yamaha of Troy bikes and Pro Circuit Kawasakis battled behind him. Villopoto made passes and got into second, but he couldn't close the gap on Alessi this time, as Mikey boy held strong all the way to the finish. Besides those two, it seemed like everyone else tipped over in the deep
Red Bud
ruts. Hepler fell several times,
Brett Metcalfe
crashed, Short fell, people were falling everywhere.
Late in the race Townley made a run at McFarlane to get into third, but McFarlane's 2-4 scores were enough for another podium finish.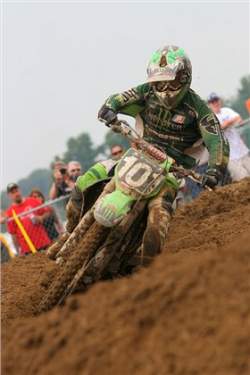 Ben Townley is now a full-time AMA/Toyota Motocross Championship rider.

Townley did seem relatively pleased with his first race in nine months. Look for better things from him soon.
As always seems to be the case, the Alessi moto win was not without some controversy. Rumors spread that Mike rode onto a grassy section off the side of the track in order not to get pinched off at the start in the second moto. Ultimately he was not penalized.
For the moment the 250F Championship is boiling down to an Alessi/Villopoto race, and it looks like it's going to be a monster battle between those two. The 450 class, well, there's one big monster in there and he seems to respond to the cry of "
Red Bud
." They were chanting it all day long and Ricky responded with his umpteenth big win. It doesn't look like anyone is going to slay that beast this year.