Thursday Rev-Up: Supermen Return
Hello, everyone, and welcome to the Rev-Up. Faster than a speeding locomotive, able to leap tall buildings in a single bound, Superman has always been my favorite superhero. During normal hours he is Clark Kent, just a typical-run-of-the-mill guy. A little insecure, a lot clumsy, and basically the same as every other bloke. Ah, but when trouble arose and there was a job that needed to be done, Clark would pull open that shirt to reveal that magnificent red S, the dramatic music would play, and boy, was it time to kick some ass!

I guess growing up I always thought of myself as being just like Clark Kent and Superman. At school I was a pretty random dude that didn't really stand out much for anything. Every once in a while I would come back with an arm in a sling or some major road rash which would spawn the occasional "What did you do this weekend?" Nobody I went to school with knew there was a different side to me. Not even my Lois Lane, the girl I had a crush on in sixth grade. But I was all good with that. Most of us racers enjoy being elusive about that skill we have that makes us special. The most important thing to us is that view we have of the earth from 35 feet in the air.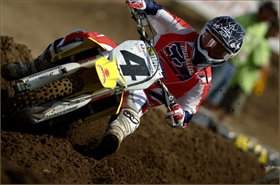 Can RC make it four in a row?
Well, ladies and gentlemen, we have some of our very own superheroes that would make the O.G. Superman proud. They'll be faster than a speeding locomotive on Red Bud's start stretch, and could easily jump a tall building with the airtime they'll get on LaRocco's Leap. It's going to be a good weekend, folks. While celebrating our nation's independence, we will also be celebrating the return of James Stewart and the arrival of Ben Townley. Lets get Revved Up for the return of all the Supermen of the 2006 Toyota AMA Outdoor Nationals!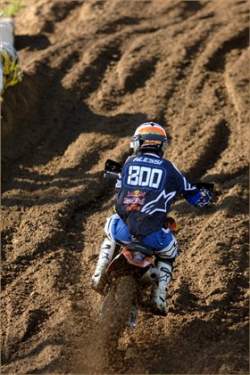 Will he be able to handle the pressure?
250F Class

Yeah, yeah, I know everybody wants to talk about the Mike Alessi-Ryan Villopoto rivalry, and a lot of people are stoked about Hepler being back, and every Grand Prix fan on the globe is all giddy about the return of Townley, but you know what I'm looking forward to? I want to see how many guys are going to be hucking LaRocco's leap on 250F machines! Its going to take a banzai run around the corner and perfect timing shifting from 2nd to 3rd gear and a hell of a yank to get a small-bore up and over the biggest jump on the national tour. Actually, I guess those variables I mentioned in the first sentence are worth talking about. Let's do that.


Ryan Villopoto has the momentum right now: He pretty much put them in the hurt locker two weeks ago at Budds Creek. Mike Alessi was beginning to look like he was going to steamroll over the competition and break away with a huge points lead, then he made some mistakes. A first-turn crash is costly, but a first-turn crash then a last-lap crash is down right painful. Those are very un-Alessi-like occurrences for #800, otherwise the most consistent rider in the class. With Villopoto breathing down his neck and Andrew Short proving that he can also win, Mikey is going to be put to the test this weekend. Mike has always made public proclamations about his affinity for the Red Bud track. The pressure is on, but he can handle pressure.

What about the anomalies? Broc Hepler and Ben Townley have no chance to win the title. They will be racing with similar vendettas: Both want to prove they can win races. Mitch Payton signed a pretty big check last fall and it's way past time to see some return on that investment. The word on the streets in that Townley is super fast and very much the real deal—DC and Simon were totally impressed by his MXdN ride behind Ricky in France. He has since been living near the GOAT, who himself has nothing but praise about the guy. Well, Josh Grant, Andy Short, #800, #51, and the rest of the red-white-and-blue contingent are all men of steel. Winning here is no disco—just ask Grant Langston. But we've gotta give Ben time to get used to the system, the pace, the everything.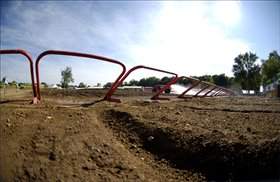 Motocross starts here
And I have a weird feeling about the Iceman. He had a very convinced look on his face after the second moto at Budds. The look kind of said, "Guess I don't have as far to go as I thought…" Broc has been riding the pine since 2005, and he went out there and podiumed his first race back. There will be some major fireworks in this division, and Red Bud will be awesome.

450F Class

Close the shutters, hide the kids, and sound the alarm: The storm has returned. Ten years from now, people are going to talk about the days Ricky Carmichael and James Stewart spent chasing each other around the track. There has never a pair of motocross racers who have gone as fast as these two superpowers. These cats have locked horns four times this year. Nobody will forget the first moto at Hangtown, the first moto at High Point, and both motos at Southwick. It's been scary for both riders each time. And I promise you it will be downright frightening this coming weekend.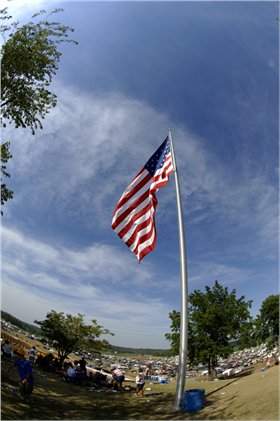 Old Glory
Red Bud is one of the gnarliest tracks on the tour. It gets super rough, there are enormous jumps, and it has one of the scariest start corners in the country, a 90-degree, wide-open left-hand sweeper. There is no way Ricky will let up because he has a points lead, and there is no way James will shut it down just because he's hit the deck a few times this summer. Both of those guys are going for the win.

And you know what? So is Chad Reed. At Budds Creek, Chad actually said, "I want to win." That's a start. And if you want to have a snowball's chance in hell of beating Ricky or James in the great outdoors, you have to start by telling yourself you can do it. Rides like Reed put in at Budds Creek go a long ways toward helping you believe you can do it. I think Chad can ride a motorcycle as fast as those two guys. He has beaten them before. Ricky and James aren't from Jupiter or something. They have two wheels and a set of handlebars just like the rest of them. Here's to Chad grabbing a holeshot and making it a three-way slugfest.

I want to wish all of you out there a fun and safe holiday weekend. If you aren't going to Red Bud, spend it together as a family. And hey all you dads out there, go take Junior to see Superman. In the movie, Lois Lane says, "The world doesn't need a savior." That is debatable, but one things is for certain: Having a hero never hurt anything.

Thanks for reading, see you next week.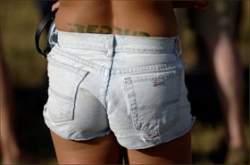 Red bud ink