Hello, race fans! Welcome to the Number Cruncher, brought to you by Shift MX. I would like to take this opportunity to thank all of you for interest in the new Shift MX Number Cruncher—the e-mails and feedback has been amazing! In addition, its awesome how many hard-core moto historians there are out there. I consider myself a fairly salty motocross encyclopedia, but I am not too proud to mention that some mistakes have been brought to my attention. It's great to see how many people are as passionate about the old school as we are here at Racer X.
This week we take a quick look at a number that has some amazing history to it. The #39 has seen some good days in motocross. The great and the not-so-great have worn it to the starting line while championships, headlines, and hardship fell in their wake. Here is some of the history of #39.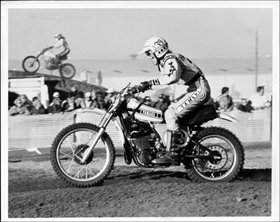 Bob Hannah
photo: Racer X Archives
For starters, the number will always belong to Bob "Hurricane" Hannah. He was wearing #39 when shocked the world by dominating the 1976 125cc National MX Championship, handing Marty Smith his hat in the process, and then challenging Roger DeCoster, who had just won his fifth 500cc World Championship, in the Trans-AMA Series later that year, winning the last round of the series in Phoenix. Hannah came out of nowhere to do all this and, as a result, the #39 he used as he rocketed to the top of the motocross world will always remind a generation of motocross fans of Bob Hannah.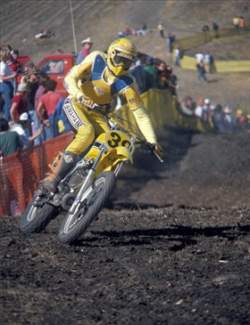 Mike Bell
photo: Racer X Archives
Mike "Too Tall" Bell was another well-known Yamaha rider who wore the #39. He wore it in 1979, and he won the race he's pictured in right here—Michael "FTE" Stuziak snapped this at the Sonoma, California, Trans-AMA. Bell finished third in AMA supercross that year but came back to win the title in 1980, wearing #3.
Check out Factory Phil's Hi Flyer card in 1991! This was one year after Kawasaki completely redesigned their KX125 and 250—1990 was the first year of the dual radiators and "perimeter frames." While the machine was technologically advanced, the Kawasakis received mixed reviews because of their large size and wide feel. Phil isn't complaining about either here, as his knees are just about handlebar-high. Take note of the smashed radiator and red boots. This shot was clearly taken during Phil's "not-so-factory" days.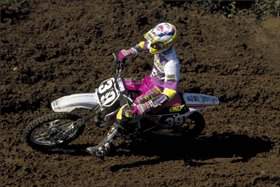 Jimmy Button
photo: Jim Talkington
Jimmy Button burst out of the amateur scene as one of the hottest prospects ever. Jimmy would eventually land at the once-powerful DGY Yamaha team, where he would spend some tough years learning the ropes of the pro ranks. But once he did, he won 125cc supercross races, a 250 National at
Washougal
, plus countless races abroad.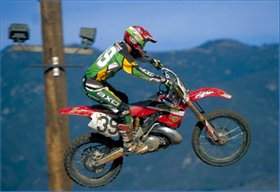 Mike Craig
photo: Eric Johnson
Mike Craig is widely regarded within the motocross industry as one of the craziest acts in the circus. "Sting Ray," as he was called in his early racing years, always had a penchant for the dramatic, as chaos and trouble were never far from his path. Mike is the holder of one of the most coveted trophies in the business, the AMA 250 SX main-event first-place trophy he won at the 1994 Tampa Supercross. He is also popular for his incredible whips. Mike was actually making a comeback of sorts this year as he entered into the beginning stages of the Loretta Lynn's Amateur Championships, but then parked his own bike to keep an eye on son Christian's title aspirations. Too bad, because it would be cool to see Craig race Kevin Walker in the Vet classes!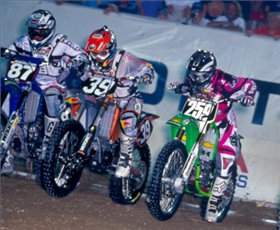 David Pingree
photo: Simon Cudby
Here we have David Pingree wearing the #39 as he grabs what looks to be a holeshot against
James Stewart
in 2002. This was Anaheim 1 that year, which Ping led, only to go down about three-quarters of the way through the race. Earlier in the evening, after winning his heat race, Pingree stated, "You know, I hear all of this talk about James, but I think it's going to be the experienced guys that get it done this year." At the time I was a
Fox Racing
employee and a huge
Bubba
fan, so I dropped him an e-mail poking fun at the fortune (or misfortune) he had on the evening. Ping didn't find the humor and fired back, "Bowyer, have you ever suffered from arm pump while leading at Anaheim? No you haven't. Just because your career was shorter than a midget on his knees does not give you the right to criticize me. Thanks for the disrespectful e-mail." I always wondered why people claimed he had an acid tongue. To his credit, Pingree has won several 125 supercrosses, damn near the 1999 title, and is one hell of a writer for
Racer X
. His latest piece was an interview with
Ricky Carmichael
that is a must-read. Oh yeah, Ping came back at Anaheim 2, wearing the same #39, and won the main event!
In 2003,
Chris Gosselaar
raced the #39 to the front of the pack several times. Unfortunately, Chris also began a series of crashes that leads to present time. One of the nicest guys in the sport, he came back this year to earn several podium finishes while breathing some fire into his career, which had almost burned out.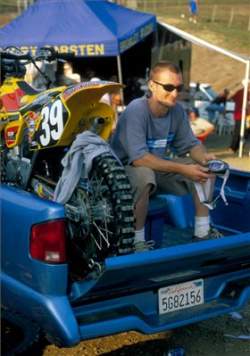 Jeff Willoh
photo: Jim Sanderson
At one time, Jeff Willoh was on top of the world. After a fairly successful amateur career, Jeff burst into the pro ranks with one of the best rides in the business. As a member of the 1996 Honda of Troy team, Jeff took the surprise victory at the San Diego SX. Sadly, two years from this moment of glory, Willoh would find himself sitting on the sidelines at the
Steel City
National, having turned down the offer to take a pre-race drug test. No test meant no ride, and for Willoh, that pretty much meant no ride for him for the following season.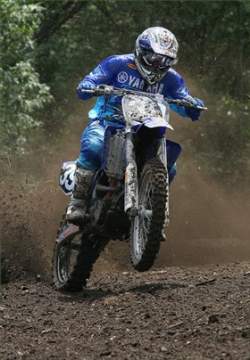 Kelly Smith
photo: Matt Ware
Kelly Smith raced with the #39 in 2005 as a member of Yamaha of Troy, and he is always a threat for the holeshot or a win in muddy conditions. Smith is probably most famous for giving KTM their first outdoor national victory when he won the incredible mudder at
High Point
in 2000. He also came within one lap of winning the St. Louis SX when Ernesto Fonseca landed him on. Although he may be running out of time, Smith still has the juice to win, and he ran top-five just last week.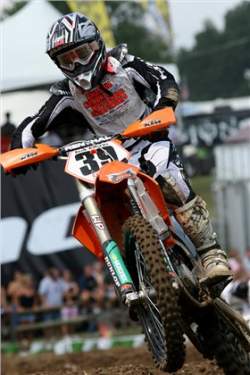 Zach Osborne
photo: Matt Ware
Zack Osborne's last number as an amateur was #39, which he raced with at the 2005 Loretta Lynn's AMA/Air Nautiques Amateur Championships. It's hard to believe that a kid who didn't even win the Schoolboy class at Loretta's already has two holeshots and led half of an AMA National! Zack just signed a big-buck, multi-year deal and is doing a fine job of making KTM feel good about their investment.
Finally, the #39 fell off the track in 2006.
Billy Laninovich
earned the number based on his 2005 points, and it was supposed to be his. But with Billy preferring to keep his familiar # 132, the #39 will have to wait until 2007 before it can see the track again. Billy himself is on the sidelines, having crashed with
Grant Langston
at
Budds Creek
. The word out of California is that he's done for the year.
That's it for this week. Stayed tuned to the Shift Number Cruncher, because the next few weeks are going to see some really, really cool numbers get crunched.