Great Races: Marty Smith's 1976 Two-Theater War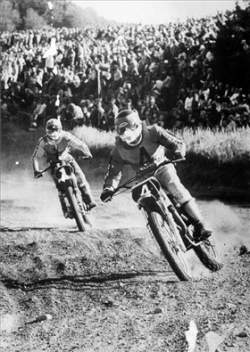 Marty Smith leads Gaston Rahier, the reigning 125 World Motocross Champion, in 1976
Imagine if, say, Team Kawasaki went to
Grant Langston
and asked him to compete, simultaneously, in the 2006 Toyota AMA Motocross Championships and the FIM MX2 World Championship. Be one hell of a jet-set, jet-lag affair, wouldn't it?
Well, during the winter of 1976, that's exactly what the Honda did with then-19-year-old Marty Smith. The reigning two-time AMA 125cc National MX Champion, Smith was the first American Idol of American motocross, and the executives at Honda wanted the young Californian to take his show on a full-on world tour in 1976. Having dominated the AMA tour for its first two years, Honda felt Smith was more than capable of taking on not only the U.S. riders in the nationals, but also reigning world champ Gaston Rahier in the 125cc Grand Prix tour.
"I felt like I was in a class of my own at that point in my career," Smith recalls. "I felt like I could go to any race and pretty much win. I was real confident, and I knew that no one was going to beat me. I also knew that no one was training like I was. I was also confident in my motorcycles.
"The plan for me to race both the Nationals and the GPs was Honda's idea," he continues. "Basically, they figured I was going to win the '76 National Championship, but they wanted it all. And I basically told them right away that I would do it because I felt that I could do both. Being that I had never done it before and had never experienced that kind of travel, I felt that I could do it easily."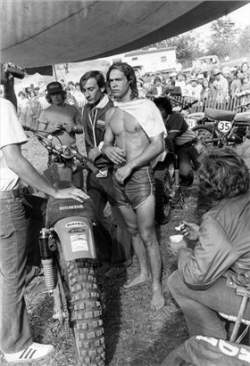 Smith, shown here at the Mid-Ohio USGP of '76, was the first American motocross superstar
Smith's two-front war got off to a shaky start when on April 4, 1976, a relatively unknown kid from the desert named Bob Hannah showed up at the series opener at
Hangtown
and smoked Smith badly. Hannah would not let up, either, winning five of the first six 125cc Nationals. At the same time, Smith's Europe-based Grand Prix effort also faltered right from the onset. Despite winning a moto at the opening Grand Prix in Launsdorf, Austria, logistical struggles, communication challenges and motorcycles that were by no means properly researched and developed all added up to broken works parts scattered about the tracks of the Old World.
"Our Honda works bike was basically junk," Smith laments. "I think I only finished half of those GP motos because of mechanical problems. From country to country, with the works bike, we didn't know if it was going to break, and they were sending us over works parts from Japan, and we didn't even know what they were."
The toil of trying to compete in the world's two most prestigious championships concurrently also began to take it' toll. "Once I got into it and realized that I may have bitten off more than I could chew," he says. "Traveling from one week to the next, from Europe to America, was pretty tough. It would be over to Europe for two weeks then back to America for a week or two, then back to Europe for a week, then America.… It was just crazy."
On June 7, at the lightning-fast Nissebjerget Circuit outside of Copenhagen, Denmark, things took a turn for the better. When the gate dropped for the opening 45-minute moto, Smith nailed all six gears of his works Honda perfectly, reaching the end of the 350-meters-long start straight first. Drafting Smith was the Rahier. The duo raced around the hard-pack, high-speed track and launched off the jumps and drop offs until the rear shocks of Smith's bike faded into oblivion, forcing the Honda to swap from side to side like a dog with fleas. Rahier whizzed by, with Smith holding onto second at the finish.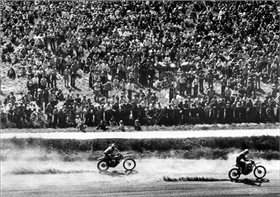 Smith chases Rahier before a massive Grand Prix crowd
Between motos, Smith's Honda was fitted with exotic new Hulco rear shocks that were fabricated in Holland. Once again, the American holeshot the second moto with Rahier in his wake. And while the diminutive Rahier bravely gave chase, three different crashes left him battered, bruised and, ultimately, back in the Suzuki pits. Marty Smith had won his first Grand Prix in Europe.
Looking back, he remembers how tough it was: "I didn't sleep well the night before. We were staying at all of these different hotels in different countries and we did a lot of driving, as well. We had a rental car and the big race truck van and we just drove from country to country, through all of these border lines and a lot of times we would get hung up in customs and we would have to give the guards a bunch of stickers and T-shirts or something just to get through. Still, Denmark was a great memory."
How did Smith get on with Belgian great Rahier while in Europe? "At first Gaston came off as pretty cocky and arrogant, but he had a good reason to be because no one could beat him. Once I started beating him—I mean, when my bike was good and running, I could beat him at will—I'm sure he didn't like that. After the season wore on, we ended up getting along real well. He was a good guy."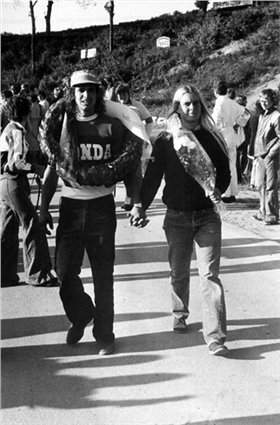 Marty clelebrates his Danish win
While Smith did not win a single national that year, he did win another Grand Prix: the Valvoline 125cc United States Grand Prix, which was held on July 4—the nation's bicentennial. "Mid Ohio was great," says Smith, who beat Hannah straight up in both motos. "It was a good race for me. I knew that my United States bike — made by Donny Emler of FMF — was better than my European bike. The bottom line was that I got both holeshots and won both motos that day." So why didn't he ride that bike all year? Because a former Honda factory rider named Mickey Boone's dad had designs on claiming the exotic bike for a fraction of its real cost.
When all was said and done, Gaston Rahier would easily win the 1976 125cc World Championship. Smith would finish third overall in the 125cc global title chase, breaking down almost as many times as he finished.
"I felt proud about what I accomplished, but I didn't feel good about not winning a championship in either series," says Smith, who placed a very distant second to Hannah in the U.S. Series. "We tried to win both and didn't win either, so that was kind of a downer."
Today, Marty Smith teaches motocross schools all over Southern California. Sadly, on February 7, 2005, Gaston Rahier passed away after a long bout with cancer.