5 Minutes with ... Stefan Everts
Stefan Everts is very much the man of the moment in Europe. He is racing his last season this year, and his departure from the sport will be one that will change the sport forever. One the king is gone, we will have to find a new champion, and it's not going to be easy to replace a man who has broken all the records in Grand Prix history. We sat down with Everts and asked him about his final year and a little about his history in the sport.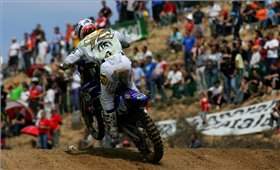 Stefan Everts

Racer X: How important is it for you to win the 2006 world title?
Stefan Everts: It's not going to change my place in history, but if I lose, then it's going to be such big news. The motocross magazines will say that the legend is finally beaten. I don't want that. That is what everyone is waiting for, and that is my motivation, to not give that chance to anyone. I want to finish my career as the best.

Riders like Eric Geboers and Georges Jobe finished their careers as world champions. It would be nice to end your career in the same way.
That is how I want to do it - I want to finish my career on top of the podium. For Joel [Smets] it was not a nice ending, and nobody would have wished he had an ending like that, but that is part of our sport. It could happen to me also in 2006.

Which rider has been your toughest rival, Tortelli or Albertyn?
I would say Sebastian Tortelli at Foxhill, going down the hill section. I think Tortelli and me were very close. Against Albertyn, I was not getting good starts. In 1998 I had a lot of experience and I was getting good starts, but in 1993 and 1994 my starts were so bad and Alby was always good out of the start.

There were many occasions last year when the first 200 meters saw some big crashes. How do you feel about that, and your position in this part of the race?
I think this year, the bike was important out of the start. I noticed in many of the starts, my reflex from the start was good, but I would lose ground in the next 100 meters. Ben [Townley] was riding too hard out of the start at Matchams Park and he took everyone down. I had a bad start in Loket and went down. It's such an important part of the race, that first 100 meters, and a place you can often make a mistake. You have to stay out of the danger zone.

Is there any chance that Stefan Everts might just do one season in America before you retire for good?
I am not interested in America at all. As soon as I decided that I would try and chase Joel Robert's record, then America was not interesting to me. I remember after the USGP at Budds Creek in 1999, Roger De Coster came to me and asked if I was interested in riding for Suzuki America. It was a good offer. It would have been a good idea to race there, because I ended up crashing early in the GP season and that was the start of that two-year period where I was out with injuries. The offer was really interesting, just for the Nationals. Roger was so impressed with my riding, he wanted me. Dave [Grant] could have influenced me to race in America, and according to his plan, it was better not to go. I don't regret not going, though.

Are you happy with the situation with Yamaha? Did you think about going to any other team in 2006?
Rinaldi Yamaha and the Sylvain Geboers Suzuki team, those two teams are very good, but Rinaldi has such a good position with testing and everything, it's nice to work in that type of situation. I was talking with Suzuki about the 2006 season. I started with Sylvain, and I thought it might have been nice to stop there, but Yamaha gave me a chance when I was injured, and I also owed them something. I still talked with Suzuki, but I could see that they could not match the offer of Yamaha. Yamaha has a new bike, and I am happy to stay with the Rinaldi team.

Tell us a little about your first appearance on the world scene.
I was 16 years old and had won the Belgian junior championship and already Sylvain Geboers has organized two bikes for me. At that time, Giuseppe Luongo was also making a team, and together, Geboers and Luongo made the team. The top rider was Dave Strijbos and then Pedro Tragter - I was the third rider. I didn't get factory bikes, just production. At that time, Dave was the man and Tragter was the next big man. We did the team launch and Giuseppe wanted to have the launch in Monte Carlo, to make it a big deal. I was a little boy and stayed in the studio of Eric Geboers - he lived here at that time. I had to wear a suit and they had these nice girls on the podium.

Which rider in your career did you not want to get beaten by?
I think at a point it was Joel Smets who I didn't want to get beaten by. His attitude was not good. I didn't want him to beat me. He had so much confidence, and he felt he was unbeatable and I went out and won the first Grand Prix in Spain, my first Grand Prix back after two years of injury.

When did you decide it was time to retire?
I think sometime last year I decided I would stop. I was working out my age and thinking, 33 years old, I could still win another championship, but then 34 years old my tenth title, I could live with that.

What would you like to do after you retire?
I would like to find some young talent, maybe even set up an 80cc team and look for the best riders and give them my knowledge. There are many kids in the junior level and they just don't know how to do it. I would like to help them with that. Also, I think people might take the project serious because I am backing it. So many young kids fall away because they don't have the financial help or they get injured. Sometimes at the schools of my father, we see riders who are so confident.

You hear so many stories about what people like Rossi and Carmichael are making. How do you feel about that?
I am happy with what I am making, but if you look at somebody like Valentino Rossi or Ricky Carmichael, then I am making peanuts. But I am happy with what I earn.