DVS Shoes' Ronnie Faisst has been a fixture in the sport of freestyle motocross since its inception. He has helped mold the sport, and most recently, he took the bronze medal in the 2006 Winter X Games in Aspen, CO. The Metal Mulisha member decided to give up his brand-new Honda CR250R (which was built by Jesse James of West Coast Choppers) to one lucky
Racer X
subscriber. That lucky subscriber happens to be Chip Tyson from Gillette, Wyoming.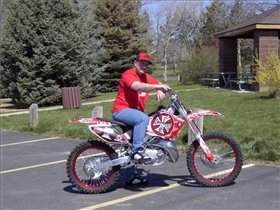 Chip and his new CR250R

Racer X: Chip, have you started building the foam pit yet? Congratulations on winning Ronnie Faisst's bike!
Chip Tyson: Thanks a lot! It kind of sets in and then boils up and sets in again. It's really exciting!
What was your first thought when got the call saying you won?
I couldn't believe it! It was amazing. I remember looking at the promotion when I subscribed, but I didn't actually think I would ever get it.
So did you subscribe because of that offer, or were you tired of buying it a the newsstand?
Well, initially I wanted to save some money, because I was buying it off of the newsstands, but the bike giveaway was definitely a motivating factor. I mean, a chance to win a bike, everyone likes a goal like that!
Did you subscribe online or did you call?
We did it online because it seemed like it would be a little faster.
How long have you been reading Racer X?
My son got into it a year ago, so about a year and a half I've been reading it. There were other motorcycle buddies of mine that were giving me magazines, and I know it's weird, but one of the main things we found important in your magazine was the advertising. I know some guys complain about it, but it really helped us out to know what's out there.
Well, we wish all of our subscribers thought like that! Give us some background about yourself Chip - how old are you?
I'm 32 years old, and I'm just a casual rider. I basically take my son around to different tracks and ride around with him. Last year was his first year ever racing, so he ended up taking third in his class. We do an HPMA circuit, which is a local series. He races Peewee A.
What is your son's name?
Andy Tyson. He's riding a 110 this year.
What's your plan when you get this bike? Are you going to build some freestyle hits?
Oh, I don't know! I don't know if I should ride it or not. But I think once I get it, I'll definitely jump on it. Right now I have a 125 two-stroke to just jump on and help my son out at different parts of the track. But if it's brand-new, I think I'll definitely be taking good care of it.
Well, Chip, we're really happy for you, and we appreciate you subscribing to Racer X Illustrated. Enjoy the bike!
Thanks a lot. I'm still absolutely amazed and stunned that I won. I don't think it's set in yet.