Where Are They Now: Larry Ward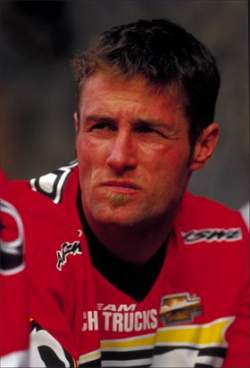 Larry "Big Bird" Ward had a long and distinguished racing career
photo: Simon Cudby
Two years ago, Larry Ward quietly walked away from motocross. After a long and distinguished career that began back in 1988 as a Yamaha support rider, Ward raced for seemingly countless teams over the next 16 years, winning a variety of events. He has a few of places in the motocross history books, too, including being the first man to win an AMA 125 National on a 250F four-stroke—he won
Red Bud
'01 as a Moto XXX privateer—and he's the only man to have ever won AMA Nationals in three different decades (1980s, 1990s, and 2000s).
Heck, Larry's even got a spot in the Loretta Lynn's record books, not only as a 65cc champion the very first year while riding for Team Green, but also for being the only rider I can recall that was DQ'd twice for the event! Let me explain: The first time, he received outside assistance when he got banners stuck in his rear wheel. He was stuck in them right next to a fence, and a man with a penknife leaned in and cut them out so he could continue. And the second time came in 1988 when Ward was also riding the AMA Motocross Nationals as a pro-am. His bike broke in the second moto, and he had to start way, way on the outside. Knowing that his chances for a holeshot where slim, Larry tried to time the gate perfectly—it seemed to always go on three that year—but this time it went on four. Ward's back wheel was already over the gate by then!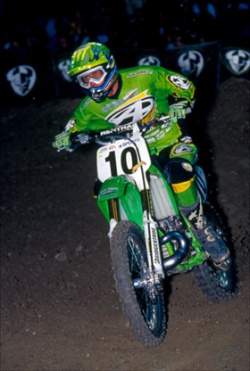 Larry's last factory ride was with Kawasaki in 2000
photo: Simon Cudby
I still tease Larry about how incidents—his only LL title was that one back at the beginning—but he had a lot more success as a pro. He enjoyed rides as a Team Honda support rider, Noleen Yamaha factory Kawasaki, Honda of Troy, Team Suzuki (twice) and, of course, Moto XXX. Then he just sort of disappeared after discussing coming out for the 2005 season.
Where is the man they called Big Bird now? Living the good life on his farm in South Carolina, where he's taking more time for his favorite activity, hunting. "The last couple of years, from about August to January, I've been chasing hunting all over the U.S. and having a really good time," he told me over the phone a few weeks ago. "I've also been trying to raise some whitetail deer, turkey and quail. Just trying to lead a normal life, rather than being on the road every weekend."
Ward does still do some riding. Ziggy from Factory Connection hooked him up with an '05 CRF450R with some good suspension and he's been doing some local riding, with no thoughts of getting back into pro racing. But he did tinker with the idea of maybe coming back to Loretta Lynn's after riding an area qualifier with some friends, then passed on it. That dashes his hopes to add a second LL title, 25 years later, as well as a chance at a third DQ!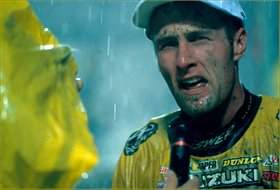 Ward was all wet but very happy after winning the 1998 Tampa SX
photo: Jim Talkington
Whether he races or not, Larry might just show up at the ranch, so keep an eye out for the tall man in the infield … unless he's wearing camouflage.