5 Minutes with ... Jessica Patterson
After finishing off the podium at Round 1 of the 2006 Hitachi WMA Pro Series at Glen Helen, defending WMA Champion Jessica Patterson put her head down and went to work during this past week to regain her position as a 2006 title contender. Coming through the Hangtown pack, Patterson was able to finish a solid second to last week's winner, New Zealand's Katherine Prumm. Moto two started with Jessica taking the lead on the first lap and checking out, eventually taking the moto win, the day's overall win, and the points lead. We caught up with the excited 22-year-old as she walked back to the Moto XXX Honda pits with her trophy and champagne bottle.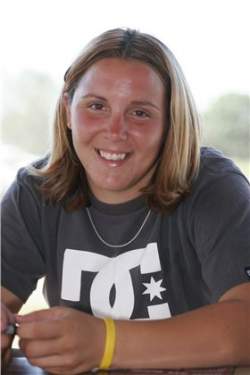 Three-time WMA Champion Jessica Patterson
photo: Steve Bonnau

Racer X: Okay, Jessica, let's talk about last week's WMA season opener at Glen Helen. What did you learn from that race?
Jessica Patterson: I learned I needed to pick up the pace, so I tried real hard to do that. Also, my starts weren't working out for me, so I knew I had to get a better start this week if I wanted to be up on top again.
That's a great point. In the first moto, you were gaining ground on Katherine; then, in moto two, you got a nice start and pulled away.
Yeah, I mean, that's really what is important when you have all these fast girls on the track. You just have to get a good start—that's where I worked hard this past week. I finally got a decent start and was right up front there at the beginning, so I was happy.
On the podium, you said that you're glad Katherine Prumm is not leaving with two wins.
Yeah, it feels a little better for me not letting her go home with two wins—to go home and say she's whooped all the Americans. I told Alisa [Nix, who finished second overall], "The next time we race her, we've got to beat her. We can't let her go home without us putting up a fight!" I was confident before the second moto, and it worked out, though I'm bummed Katherine got hurt. [Prumm broke her wrist in the second moto.]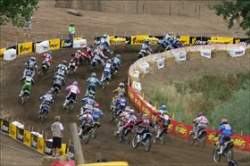 Jessica powers to the overall win at Hangtown

Speaking of Alisa Nix, she did very well today. Along with her, do you see many other younger girls coming up?
Oh yeah, all the girls that were riding amateur last year and coming into the pro class this year are that way. They're all wanting to win! I have to do the best I can to beat those girls. I knew this time was coming. I just have trained hard as I can to prepare and went for it.
With this bit of a break in the WMA series now, what do you have planned?
Well, I just have a regional for Loretta Lynn's coming up. Other than that, I'm not going to change anything, really. I'm just going to keep working hard like I have. Hopefully, at the next race I will be able to get some better starts again – the one thing I will continue working on is starts. At the next race, hopefully I will be back and winning like this one!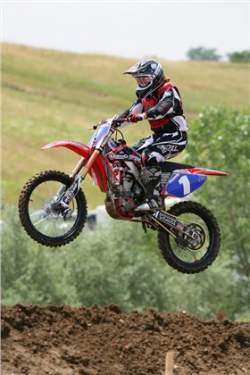 There are a lot of fast female racers now!

As a three-time WMA champion, what keeps you motivated to continue winning?
I don't really know, Jim. I guess it's just knowing that you're the champ and being able to get up there and saying you're the best in the world. Racing is just in my blood: It's what my dad did when I was growing up, and it's all I've done since I was little. I love racing—it's all I like to do, so it keeps me off the streets [laughs]!
Wrapping up, Jessica, who would you like to thank?
Well, there's a lot: Honda of Houston, American Honda, Moto XXX, Fox Racing, Unbound Energy, TOC, Sick Casual Wear, Utopia Optics, Maxima, Dunlop, Marshall's Racing, Akrapovic, Works Connection, DP Brakes, CT12, Ogio, N-Style, ZLT, Fasst Co, Vortex, RK Chains, Excel Rims, Carbon Fiber Works, IMS, Fuel Motosports, Sunline, Sponsorhouse.com, Osiris Shoes, Nixon Watches, Roadanddirt.com, Engine Ice, Pro Kicker, and of course, Eddie Ray!