5 Minutes with ... Brian Deegan
Once upon a time, Brian Deegan was one of the nation's top amateur motocross riders. He rode for Team Green, won some big amateur titles, and even went on to win a 125 SX in 1997. But it wasn't long afterward that he left racing in order to start the Metal Mulisha and help define freestyle motocross as a sport. Six years and several X Games medals later, Brian says he wants to come home: He wants to come back to professional motocross and ride the 2006 Toyota AMA National Motocross Championship.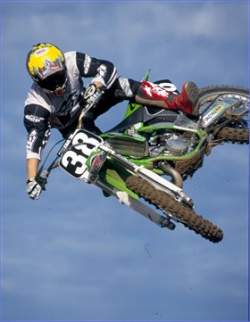 Once upon a time, Deegan had some serious game on the racetrack
photo: Chris Hultner

Racer X: Brian, what are you up to today?
Brian Deegan: I'm getting my AMA pro license.

Okay, what's with the rumor about you coming out to race the 2006 nationals?
I've been riding moto a lot lately and have had the urge to go back and race. So I walked into Richardson's RV Center one day and they asked me, "Brian, how would you like to race the nationals?" I thought about it for a minute and said, "I'm not sure." So then they said they would supply the bikes and the parts and the transportation, and I said, "Dude, I can't turn that down!" So I'm going to do it. I mean, I'm not turning my back on freestyle motocross, but every year, I get older and my dream of racing the nationals one more time gets farther away. I want to do it. I'm not going to go out there and lay it on the line; I'm going there more for the fans and people I walked away from in 1999. I want to come back and cruise and say, "Hey, what's up?" I love history, and I've had so much history in my career. I mean, I just saw a picture of DC and me in 1992 when we rode the A Stock class at Loretta Lynn's. I have so many good memories from racing. I want to go back and ride the national tracks. I'm 31 years old now, and soon it'll all be over and I'll never be able to race on those tracks again. I want to ride on the tracks when they're all groomed and perfect. I love the nationals. They're core to what motocross is. They're core to dirt bikes.

You've been away from racing for a long, long time. Can you do it?
Guy Cooper came back when he was 40 years old. John Dowd killed it at age 40! The only thing I'm worried about is seeing my doctor. I just need to make sure I can race. Because of the kidney I'm missing, I can't get over-dehydrated. But I think it'll be all right. I mean, I think racing motocross is safer than doing 360s.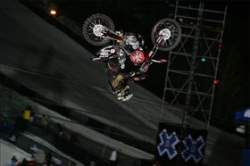 Deegan upside-down at Winter X
photo: Paul Buckley

Or ghost-riding, like you did when you won the main event in the Los Angeles Coliseum in 1997.
That was the last big thing I was remembered for. But you know, I finished in the top five at the Troy [Kenworthys] National one year. I had a bunch of good races. When I did what I did in the Coliseum, I was at a turning point. I was fed up with racing and trying so hard and not getting any help. You know, everything happens for a reason. When I left racing, I went and helped start up the sport of freestyle motocross. I've made a killer living, and now I can come back to motocross and race for fun. Maybe it's better I never got a factory ride and made $80,000 a year.

Back in the day, you definitely had your opinions about factory motocross teams and factory motocross riders.
Oh, yeah. I was angry and pissed-off. I felt I had gotten to a point where motocross didn't have my back. I was pissed and angry and talked a lot of shit about the factories and some riders. Having an attitude like that, I saw how far it got me in racing. So I started the Metal Mulisha. Now I'm not so pissed-off anymore. I want to race. And let's face it: The racers are the most respected riders of all.

What's someone like Ricky Carmichael or Chad Reed or Roger DeCoster going to think if they read this interview?
[Laughs] You know, a lot of people might find this funny or think I'm trying to build up this hype, and that's cool. But I'm not coming back to win championships or drum up media hype. I'm coming back because I enjoy the sport of motocross. I'm different now. I have a positive attitude.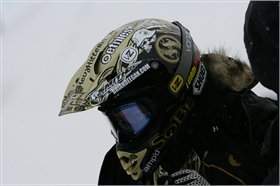 How will this guy do at Hangtown? We'll see soon enough.
photo: Paul Buckley

With the help of the X Games, you certainly have made a lot of fans. Maybe you can encourage some of them to come out and watch you race a national motocross.
You know what? You're right. I think more media attention would be killer for the sport. I think that would be great. I live for that stuff. But when the time comes, I'm going to be the guy going 40 deep into the first turn and riding as hard as I can for 40 minutes.

How serious are you going to take this?
I'm going to take it as seriously as I can or as seriously as a guy with a family, a company, and a freestyle motocross career can.

And your goals?
My number-one goal is to have fun. Then, after that, my goal is to qualify. I'm not going to get too stressed about going out and finishing in the top 20 or top 15. I just want to qualify and ride the motos at a good, steady pace. I'm not going to be out there charging and trying to pass people on the last lap. That was the old me.

So it's on, then? Brian Deegan will be at the Hangtown Classic National?
Definitely. I called the AMA and they were pumped that I was going to race the nationals. They were so happy. The ladies there were like, "Our kids are your biggest fans! Whatever you need, Brian!" And Glen Helen just called and asked me if they could use my name in the ads for the Prequel race. I was like, "Yeah, no problem." It's all just killer. If I'm at the races and people see me, I want them to walk over and say, "What's up?" and get my autograph. I just want to be cool and have a good time and see all the people and fans at the races and represent Richardson's RV. If I can do all that, I'll be stoked.