Well, DC had to go work really, really hard at some kind of ride-day thing involving the magazine at Castillo Ranch. Supposedly, all of the California insiders have taken the trip to NorCal for some riding, although I don't know for sure, since I'm not there. So now you need to question yourself, dear reader. If Racerhead really is "this week in your sport," do you really think you're going to get your info from me, the guy who's not hanging out with the who's-who out there at Castillo Ranch?
Luckily, DC told me I was writing this on Monday, so I've been collecting data all week. Now I'm just hoping to stay relaxed, smooth, smart, and consistent and avoid mistakes. I'm also breathing and flowing out there because I know that "I-Can."
Speaking of our Ride Day, be sure to check out Bad Billy's pre-ride photo report from yesterday.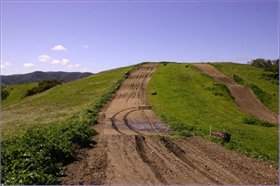 DC and company are enjoying perfect weather at the perfect track



photo: Billy Ursic



I'm not the only one relaxing. This weekend, finally, the Amp'd Mobile Supercross Series comes to a halt after 14 weeks on the road. Or is that 13 weeks? At the press conference last weekend in Houston, I asked
James Stewart
how he felt after racing for 14 weeks and he said, "Well, first of all, it's only been 13 weeks." Then everyone started laughing about my error. Then
Ricky Carmichael
turned to me and said, "Hey, do you have a high-school education?"
Yes, I have a high-school diploma, but I sucked at math. And hey, we haven't had a weekend off since New Year's, so at this point, it feels more like 114 straight. And what's more, 13 weekends really makes 14 weeks. So that's what I meant, James. Yeah. That's what I, uh, meant.
Yes, I've been hosting the Supercross Live! webcasts alongside Jim Holley all season and also running the post-race press conferences. Throughout the year I've seen the demeanor of the "big three" of Stewart, Carmichael, and Chad Reed change from week to week. Each has experienced highs and lows this season. Right now, though, all three are keeping their chins up and trying to, yes, take the pressure off.
Here's a story for you: On Saturday morning in Houston, Ricky, James, and Chad were invited to have a chat with the Speed TV team of Ralph, Denny and Erin. The TV crew just wanted to get some info they could use on the air. Live Nation invited me and Jim in on this, too. At the end of the Q-and-A, Sheheen asked all three how much this year's supercross title would mean to them. Sheheen was probably hoping to get some dramatic, deep, dark answers out of these guys that he could use on the show. But it didn't work. Reed said that, since he's injured now, he is in survival mode, and if he does win the title it would basically have to be a gift at this point. Carmichael said he would obviously like to win the title, but he's accomplished a lot in his career and he's not going to commit suicide if he loses it. And then Stewart said that he's only 20, so he's got plenty of time to get his, and he pointed out that Ricky was 21 when he got his first SX title (and, by the way, so was Jeremy McGrath). Ricky then agreed that James has plenty of time, and what's more, he said the first supercross title that he won (at 21, against McGrath) would always be the sweetest.
So, um, well, it doesn't sound like these guys really want it that bad. Ralph must have been bummed. But I think there's a lot more to it than that. When you watch these guys ride, you know they're leaving nothing out there. And all of that testing and training and practice during the week doesn't come when you're not motivated. I could be wrong, but I think they're all just trying to take the pressure off of themselves.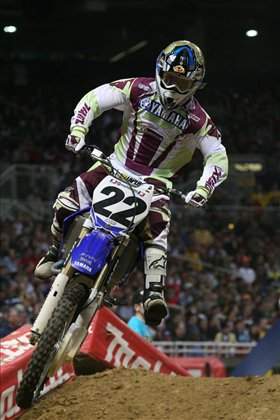 Chad is looking for a gift even bigger than the one he got in St. Louis
photo: Matt Ware
Unfortunately, there was no pressure to speak of in the race. It was a yawner, with Stewart getting out front early and checking out, Ricky settling into second and then matching the pace after a few laps, and Reed circulating in third. On Wednesday night, my new roommate,
Andy "Kato" Bowyer
, and I watched the Houston TV show almost entirely in slow-mo. We noted how incredibly clean and fast James rode for the first few laps. He was clearing everything and timing each section perfectly on lap one, while everyone else clipped a few jumps or missed a few lines early. By about lap six, RC looked right, but by then it was too late. Ricky has shown the ability to warp into the next galaxy of speed when he has to, but now that he has that AMA points lead, he doesn't have to. Is he trying as hard as he can to win the races? We'll probably never know.
In the press conference, I asked Ricky if he is going all-out on those first laps or if he's still learning lines and sorting it all out. He said he sure feels like he's pushing hard, but James was still going faster. So I asked James if he is using max speed right from the start, and he said he feels good and has his lines sized up from the parade lap and such, but it's not max speed, either. It's amazing how fast Ricky can sprint those opening laps, and then even more amazing how fast James is going!
With the Houston win, Stewart has pulled into a tie with Carmichael in the Amp'd Mobile World SXGP standings. If Ricky is running in safe mode right now, he may end up losing the World Series in order to persevere and win the AMA one. How will he play it? We'll see in two weeks.
Congrats to Kevin Windham, who rode much, much better in Houston than in Orlando and Detroit. K-Dub finished fourth. Kevin told me after the race that he wants a podium badly before supercross is over. That could end up mixing up the points quite nicely.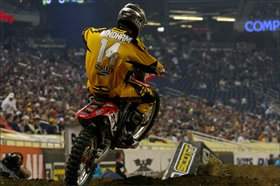 Kevin is coming along
photo: Matt Ware
The only action on the track really came from
Ryan "Solitaire" Clark
, who bulldogged his way past several of his privateer brethren and then made a run at Unbound Energy/Moto XXX Honda's
Tim Ferry
late in the race. Clark closed in but ran out of time. Right now, just three points separate Ferry and Clark in the AMA standings with three races to go. Ferry said a few weeks ago that he's not worried about Clark and wants to be battling with
Ivan Tedesco
and
Michael Byrne
and that group, but for now these fellow Honda privateers are close. Should be a good showdown – although
Nick Wey
is clearly in control of the Top Privateer awards.
Here's news from our buddy Rupert X on another privateer hero:
Yo, DC - if you ain't heard already - Jeffro Gibson is marrying his beloved Shannel Hodgeson in Michigan this Saturday. Best man is Willy Browning. I'm going for Best Drinker. Hurry Mount Morris! Soon we'll talk. Gibbie's.
Thanks,
RxP
Big props out to Davi Millsaps on winning that long-awaited East Coast Lites title. It's hard to believe that Davi just turned 18 when you consider that he's been in the class three years now. But remember, 'Saps was so young that he couldn't even race the 2004 opener for the East in Houston. Now, two years later, he returned to Reliant Stadium – and this time he got to race – to win his first pro championship. Read about it in "Bad" Billy Ursic's Bench Racing Ammo.
By the way, in the press conference, Millsaps wanted to hang a #1 jersey on the table, but he needed something to hold it down. I had to offer him my bottle of water because Millsaps must be the only guy left in this sport without a drink sponsor. He didn't have a can to lay on top of the jersey. And when he left the PC, he didn't have a huge entourage, just Team Manager Erik Kehoe and the Honda PR girl. The dude's got a title now – he's gotta' get a bigger posse!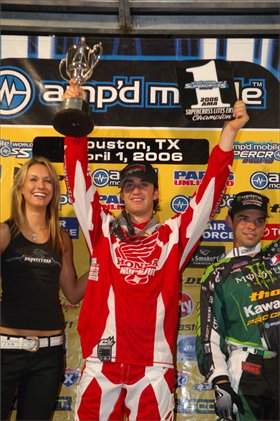 The 18-year-old Millsaps was more successful in Houston than the 15-year-old Millsaps
Photo: TFS
The FIM World MX GPs kicked off last weekend and it looks like we have the making of a dream season – the rematch of the all-time-epic 1998 World Championship struggle between
Stefan Everts
and
Sebastien Tortelli
. They split motos at the opener in Zolder. The Estonian Express,
Tanel Leok
, was a solid third, and
Tyla Rattray
won the MX2 (Lites/125/250F) class. Check out MX Geoff's
report
from earlier this week as well as his
interview
with Mikey Pigeon (
Mickael Pichon
).
So the U.S. based riders now have time off. What are they doing? Well, Ricky's main man from Fox, Scott Taylor, told us what RC is up to, and it's pretty cool.
This first weekend off, RC will be supporting his favorite charity (Ronald McDonald House) by playing in the second annual Brad Johnson Celebrity Golf Tournament. Ricky played last year and enjoys hooking up with the other top dogs in Tallahassee to support the Ronald McDonald House.
In the brochure for the event, RC is pictured in a few of the photos with other professional athletes from Tallahassee, including graduates of Florida State University.
By the way, Brad Johnson is a friend and neighbor of Ricky's. Brad was the quarterback for the Tampa Bay Bucs when they won the Super bowl and is now the starting QB for the Vikings. Brad is 6'5" and looks like a giant next to RC!
Of course, the brochure lists RC as a MotoRcross Champion. Maybe next year they will drop the r.
Scott, thanks for the update.
As for Stewart, he's hitting the Pole Position go-kart track in California. We got this update from one of the track owners, Ken Faught:
For the record, Stewart, Byrne, Antunez, Ramsey, Albertyn and Wey were all here yesterday at various times. Stewart just jumped up to 10th overall out of 30,084 people!!
So James is fast there, too. And his mechanic, Jeremy Albrecht, loaned two of his classic Kawasaki works bikes to put on display in at Pole Position – one of James' #259 125s, and Jeff Emig's SX-title winning 1997 250. The bikes will be on display for a few months. For more information check out www.racep2r.com or call 951-817-5032.
One more thing on the go-karts: At that TV meeting last weekend, when James mentioned he was only 20, he said it would be a shame to win the title in Vegas because he would be too young to celebrate. "If I win it there," he said, "I'd have to say, 'All right, guys, let's go hit the go-kart track or I'll see you in the game room!' "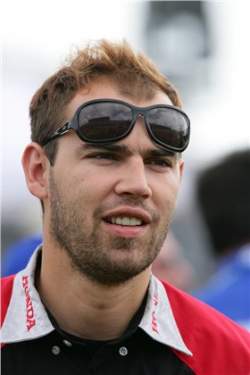 It was just a French farce
photo: Simon Cudby
Okay, so who read our breaking news post last Saturday about
David Vuillemin
signing on with
Tyler Evans
' Rockstar/Bloodshot Suzuki team? Who believed it? Well, the word is it was all a farce cooked up by DC, who was clever enough to look at his watch and notice the date. Fooled ya! Davey said he "thought it up and wrote it in two minutes on my couch while drinking a Hoegarten!"
But it's just unbelievable how many people believed this. I fell for it, too, until I remembered DC's "Carmichael is going to race both the 125 and 250 nationals this year" joke from a few years back. That one reached all the way over to Honda in Japan – they don't understand April Fool's over there!
By the way,
Greg White
actually reported the 1-2 Punch story as actual news on
Two-Wheel Tuesday
this week!
We weren't the only ones making April Fool's jokes. Shooter Carl Stone shot this picture of Brock Sellards running the upside-down letters on his jersey.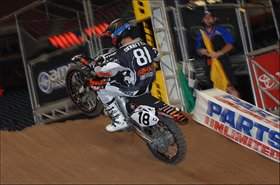 If the AMA hadn't just banned backflips, Sellards could have made this jersey readable
photo: Carl Stone
And surely by now you've heard about Carmichael and Stewart swapping butt patches on their Fox pants for the night – RC running the Bubbalicious and James donning the RC.
By the way, I'm just pumped to see butt-patches making a comeback. Back in the '80s, everyone ran some kind of message on there, but then the trend seemed to fade as teams started running sponsors' logos on there. Now RC and Bubba and Chad seem to be bringing it back. And what I'm most impressed about is the fact that people are calling these things "butt patches" and I haven't heard one person run a butt-patch/Brokeback combo joke. C'mon, this is prime material! Ping, are you reading this?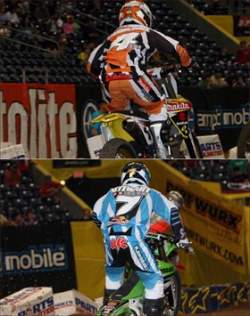 Tell us this doesn't look really, really strange
photos: TFS
And on a loosely related subject, we sadly report that
Racer X Canada
's
Danny B
has lost a nut in a wicked crash. Read the (ball) breaking news
here
.
We believe this might have been a cruel, cruel punishment for Danny nearly destroying DC's bike in a crash last year during Steel City Amateur Day. For a moment, we thought DC was going to kick Danny's ass so hard that Danny would have needed a padded butt patch!
From DC's inbox:
Dear DC,
Thank you very much for the cool lunchbox, it is very cool. The posters are awesome! James Stewart is my favorite rider. I really like the posters.
Kyle Holdman age 5
Branson, Mo.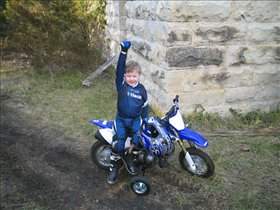 Kyle likes his lunchbox and posters
photo courtesy of Sandy Holdman
Here's a once-in-a-lifetime a shot at some way-cool stuff. The Asterisk Supercross Superpass eBay auction begins this Wednesday, April 12. All the proceeds go to fund the Asterisk Mobile Medic rig at the track – and just listen to what's on the line! Factory Connection, and the SoBe/Samsung Mobile Honda team have donated a
Mike LaRocco
replica "gold" 2006 Honda CRF450R and No Fear has provided a set of the exclusive "gold" gear. This was the stuff that was shown only once, at the San Diego Supercross. So put in your bid and try to win Mike's gold bike and gear! Check it out
here
.
There's some new news in the ongoing Mickey Thompson murder investigation. For those not aware, MT was a supercross and stadium-truck-racing promoter in the 1980s, until he and his wife were gunned down in their driveway in 1988. The crime has still gone unsolved, but the originator of supercross, Mike Goodwin, was arrested a few years ago as a prime suspect (Goodwin and Thompson had some big business deals go awry). Goodwin still sits in jail without bail awaiting a trial. A few weeks ago, the Los Angeles Times reported that Goodwin's hearing today was pushed back until April 10. What recently surfaced is that there is another suspect in the case, named Joey Hunter, who according to reports was identified as having been at the crime scene, failed polygraph tests, and even confessed his guilt to two relatives. So now rumors are circulating as to why Goodwin is being held in jail as the only suspect.
The story was also reported by Molly Okeon for the Pasadena Star-News.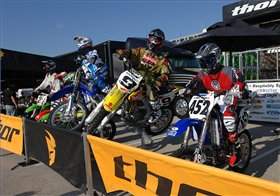 Parts Unlimited showed some love to the 452
photo: Carl Stone
As our friends
James Marshall
and
Ernesto Fonseca
continue to fight their way back into health, there's still plenty of support being shown for these great guys. Since Marshall is a Texan, Parts Unlimited showed their support for him by setting up a Marshall replica bike at their truck, right next to Reed and
Ivan Tedesco
's. They even had the Marshall mannequin set up donning James' Moose Racing gear. Very cool touch.
Meanwhile, Fonseca wristbands are showing up everywhere, including the fork legs of the SoBe/Samsung Factory Connection bikes.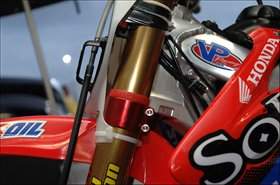 The Factory Connection team is forking over some support for Ernesto
photo: Carl Stone
I've heard that Ernesto is now in a very high-end hospital in Colorado receiving world-class care. We're all hoping and praying that everything works out right for these two – there is clearly, clearly, an issue that has affected everyone in this industry, and that concern isn't going to go away any time soon.
Well, here's the deal. As usual, Racerhead was written from the road today, although instead of DC doing the typing on the way to a supercross, it's me, on the way to the Pirelli Big Buck GNCC in Union, South Carolina. Gotta catch Juha and the boys there. By the way, GNCC TV on OLN continues this weekend with the Orange Crush GNCC bike show this Sunday at 3 p.m. and again on Wednesday at 3 p.m. You'll even get to see Travis Pastrana's short-lived GNCC debut.
The whole Racer X crew is getting their saddle time in this weekend, what with the ride day, the GNCC, and an Air Nautiques/AMA Area Qualifier for Loretta Lynn's at Doublin Gap in Pennsylvania. Langers flew all the way in from California for the PA race, since his Area Qualifier last weekend at Competitive Edge was, um, stacked with some competitive competitors. And Ursic is going coast-to-coast: He's riding at Castillo Friday and flying back home Saturday, then meeting Langers for the five-hour drive to Doublin Gap to race Sunday.
By the way, rumor has it Langers will have a new butt patch on this weekend that actually says Doublin Gap on it.
Speaking of our ride day, check out this letter we got from reader Dave Johnson:
In Utah, we're praying for rain..................in Santa Barbara tomorrow. So much envy to be one of the chosen few at the Castillo Ranch!
Here's a last-minute note from Hoop:
The incredibly beautiful 30-second-board girl/significant other of
Josh Demuth
/ MotoTalker/ Ducati Model
Leticia Cline
spent a couple of days here in Morgantown this week and can now add another slash to her long line of credentials: official Racer X Wear model! Be sure to scroll all the way to the bottom of Racerhead to check out one of the best out of the 2,000-plus shots that Genesis Studio took of Leticia and the oh-so-lucky
Racer X
Assistant Photographer/model
Matt Ware
. The 2006 Racer X clothing line is available at
racerxwear.com
. We've unveiled some new designs this year, so jump over there and check it out.
That's gonna do it for Racerhead. It was long, but I've been practicing. Check out Quick Fill over on GNCCRacing.com every Thursday for this week in off-road racing, and of course Blogandt over at TheRacingPaper.com/Blogandt. This week I covered topics such as comparing iPods and TiVos to KIPS valves and Uni-Track, and also the rising world superpower called myspace.com.
This column, however, is no longer my space. DC will be back next week. And we'll see you at the races.