5 Minutes with ... Jake Weimer
"He really showed a lot of heart out there tonight," said Team SoBe/No Fear/Samsung Honda crew chief Kristian Kibby of team rider Jake Weimer following Anaheim 3. "His bike had a hole in a radiator and was beginning to steam and we were worried that the bike was going to lock-up on him. We kept signaling to him to pull off the track, but he was so focused and riding so hard, that he didn't notice us. I was impressed with his hard he was riding and the effort he was putting forth." Jake Weimer, age 18, is in his rookie season with the powerful Factory Connection team. Currently 10th in the AMA West Region point standings, the Rupert, Idaho-based racer is much better and in possession of far more potential that his 2006 supercross results (plagued by a lot of bad luck) really indicate. We caught up with Weimer just before he set out to bash out some laps on his supercross track.

Racer X: Jake, what are you up to today?
Jake Weimer: I'm actually up in Idaho and about to do some supercross riding. The weather is pretty good. It rained a little today, but it's in the 50s and 60s today and good to ride in.

The West Region series has been on hiatus for nearly two months now. Have you been able to ride much during the break?
Yeah, I've been riding a ton of outdoors. Recently, I've just gotten back into riding supercross again.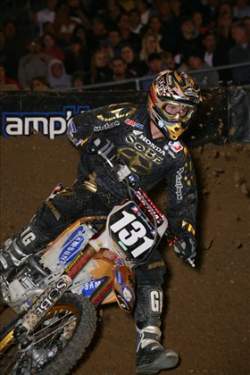 photo: Simon Cudby

Have you been keeping an eye on the East Region series?
Yeah, I actually flew to Orlando to hang out and watched Josh [Grant] win there. I've also seen all the races on TV.

What do you think of the speed of the East guys?
Um, I don't know … there are definitely some fast guys in the East Region. I guess we'll find out more when we got to Vegas for the Shootout. Basically, we'll see who's faster there. But yeah, there are fast East Cost guys.

Just how did you end up with the SoBe/No Fear/Samsung Honda team?
Basically, I had been talking to them for a few weeks. Then one day I received a phone call from them asking me if I wanted to ride one of their bikes. So I went and rode the bike at the Honda test track in California. Two days later, I signed a contract with them. I was excited to hear I got the ride. I had never ridden a Honda CRF250R. The bike was really good and I'm glad the whole thing worked out.

Was the Honda "tryout" intimidating at all?
No, not really. I'd actually done the same thing seven months before for Team Yamaha of Troy. It was the same exact situation. But after I rode for them, the team decided they didn't want any rookies, so we kept looking for other places to ride. I'm glad I ended up with Factory Connection, though. I'm excited with the ride I have.

Being a rookie, and only 18 years old at that, were you ready for the season opener at Anaheim?
I was. Actually, I was really well prepared for that race. Anaheim was a bummer, though. I had a scary get-off in practice and hurt my foot.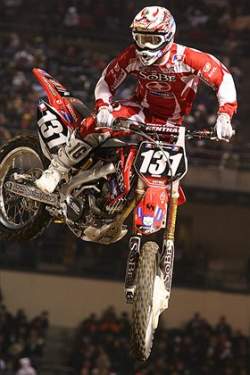 photo: Matt Ware

Then came Phoenix.…
Yes, then came Phoenix. I felt really well in Phoenix, but I fell in turn one and threw it all away.

You pulled off a strong sixth place finish at Anaheim 2.
Anaheim 2 was pretty good. I didn't get the starts I wanted—I've really been working on that—but I went to work in the main event. I liked the track. I was bummed that the whoops were getting smaller on some of the tracks, but they were bigger at Anaheim 2 and I was able to make a lot of passes through them. Hopefully, for the remainder of the season, they'll keep making the whoops bigger and better.

You didn't make the show at San Francisco. Was that race a real wall-hit for you?
San Francisco was horrible. I was actually doing really well in my qualifier but fell, got up, and fell again. In the Last Chance Qualifier, I had just ridden into a qualifying position and fell. That race was a mess. I didn't have much fun there.

You were going really well at Anaheim 2, but then the bike broke.
I actually got a bad start, got together with another rider, and ended up with a hole in my radiator. All the antifreeze came out and the bike slowly started to seize up.

I know the mechanics were trying to pull you off the track.
I was so into the race that I didn't realize what was going on. But then the bike started to lock up and I knew exactly what was happening. That's when I pulled off. It was a bummer, but everybody was happy with how I was riding.


photo: Simon Cudby

You were ninth at San Diego. Were you happy with the result?
San Diego? It was okay. I was sick the whole week before. Halfway through the main event, I got tired. I didn't feel well at all. I did what I had to do to salvage points. I was able to get enough points there to get back into the top 10 in the point standings. I couldn't complain.

The Factory Connection team seems to be real positive on you. Are you happy being there?
Yeah, it's been going really well. We've been testing a lot of outdoor stuff and it's been going really well. I can't wait for the rest of the supercrosses and for the outdoors to start. The team is cool. I'm excited to be there. I love the team and I hope to stay there for many years.

As far as supercross goes, you have Dallas, Seattle, and Las Vegas left to ride. What do you hope to achieve in these three races?
I need to get in the top five. I'd like to get a podium, but the top five is my goal. We'll see what I can do. Vegas will be tougher. I'd be happy to be in the top five at Vegas.

What's your goal for the nationals?
I'd like to get in the top 10 at every race. I think that would be a good accomplishment for me.

You've only raced six races as a professional. Do you feel good about where your speed and conditioning is?
Yeah, it's been pretty good. Supercross has come pretty easy to me because I've had my own supercross track for a while. And the outdoors, I've been riding the outdoors my entire life. I knew when I came into the professional ranks that the guys were fast, so I wasn't that surprised. Their speed was about what I expected. I have also been able to ride with [Andrew] Short, Kevin Windham, Billy Laninovich and Jeremy McGrath at the Honda test track. I've been able to learn a lot and have had a good time with it.

So are you pleased with how your rookie season has gone thus far?
Yeah, very pleased. It's been a pretty good year. It could be better, but I'm healthy and the team is happy and I'm happy. I'm going to try and step it up at the next few races.

Okay, Jake. Have fun riding today, and see you in Seattle.
Thanks, Eric.