Great Races: The 1992 Las Vegas Supercross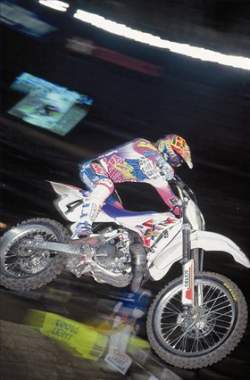 Bradshaw went into Las Vegas as the points leader in 1992 (but it wasn't the series finale then)
It was Saturday, April 25, 1992, and even at eight at night, temperatures on the outskirts of Las Vegas were well into the 90s. All 17,769 of us up in the aluminum grandstands baked like potatoes. Deep down in Sam Boyd Stadium, Damon Bradshaw and Jeff "Chicken" Matiasevich were poised to go at one another like couple of big-time boxers in the biggest fight town in the world. For 12 rounds of the 1992 AMA Camel Supercross Series, Bradshaw and Matiasevich had been at one another's throats, and the heat and tension simmering on the stadium floor was akin to throwing another log on the fire.
"They had tangled many times up to that point of the season," reflects Roy Janson of Live Nation, who back in 1992 acted as the AMA's Director of Professional Racing. "It seemed like every Saturday night it was one thing or another. All throughout the day, I had the feeling that Vegas was going to be another one of those evenings."
Bradshaw had already won seven 250cc main events by the time he got to Las Vegas and was closing in on what was to be Yamaha's first supercross title since 1980, when Mike Bell last did the deed. Team Kawasaki's Matiasevich, meanwhile, was not having as good a go of it in '92 and languished near the bottom of the top 10. But that didn't keep the two former amateur sensations from wanting to kill one another.
Notoriously known as the two dirtiest riders on the circuit, the two combatants would turn it up a notch in Sin City, beginning with the second heat race. When the gate dropped, Bradshaw pulled up on the leading green rear fender of Matiasevich. But then Chicken got squirrelly when Damon went to pass him, knocking down the Beast from the East. Bradshaw got up shaking his fist at his adversary.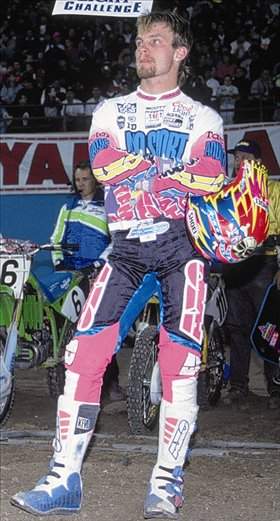 Bradshaw just looks like a bad-ass, doesn't he?
"He ran into the rear end of me and went down," Matiasevich remembers. "I had nothing to do with it. But you know what? It had been going on between us all year. We were the two up-and-coming guys and both good starters. We were constantly running into each other. I mean, it got to the point where there were times when would stop racing because we were more worried about knocking each other down! Earlier that season at Atlanta, I passed him and won our heat race. He pulled up next to me and said, 'Let's fight!' I said, 'All right!' But then he hid behind the referee."
Concurs Bradshaw, "Yeah, we had a rivalry going all year. I guess we were kind of putting on a show. It wasn't a show for me, but maybe it was for him. The run-ins with him actually helped keep me motivated. I always tried to race a person the way they raced me. With a guy like Stanton, I knew what was coming. With Chicken, you never knew."
While the 250cc semis were playing themselves out, back in the pit area, Bradshaw worked himself up into a frenzy. He was so incensed with Matiasevich that steam was practically beginning to come out of his ears. "It was all really building up inside me," he explains. "My mechanic and team manager were trying to pipe me down, but I was getting madder and madder."
When the 30-second card went sideways to start the 250cc main event, it was Team Suzuki's Larry Ward leading the Hondas of Jeff Stanton and Jean-Michel Bayle, then came Matiasevich on the baked adobe-like Vegas track surface. Bradshaw was mired in mid-pack. Within two laps, the two Honda riders and Chicken had shoved "Big Bird" Ward out of the way. At the same time, Bradshaw was slicing his way through the pack.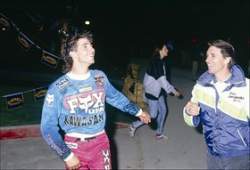 Jeff Matiasevich and team manager Roy Turner share a laugh
Then, a few laps later, Bradshaw rolled up behind Matiasevich, looking at the big #9 on the back of his jersey like it was some type of matador's cape. Then it happened: The two riders entered a left-hand bowl turn and Bradshaw dove for the inside line while Chicken pinned it around the outside. But instead of trying to steer the Yamaha around the turn, Bradshaw and his biked jumped out of the inside berm, and with the throttle to the stops, he just center-punched Matiasevich! Both riders tumbled to the concrete-hard surface and it was a few seconds before they were up and moving again.
"He hit me so hard that we both went down!" Matiasevich laughs, time having turned the anger into a funny story. "I mean, it was the worst take-out move ever!"
To his way of thinking, there was a method Damon's madness: "Several things had gone on all day between us that people didn't even notice, and I was fed up with the whole situation. I mean, I had filed away all these things he had done to me and was at my boiling point. So I used the inside berm as a jump and I just nailed him. And yes, I'll admit, after chasing him down, it felt good to nail him!"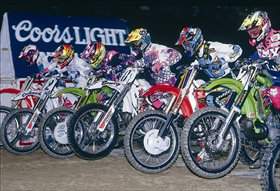 Jean-Michel Bayle (1) battled his own lack interest to win that night in Vegas.
Deep in the throes of a major championship chase that meant so much to the motor company, was Yamaha upset at the stunt Bradshaw pulled – one that cost him more than a few points? "If [Yamaha] were upset that I lost points, nobody said anything," he shrugs. "They didn't mind. Neither did I."
When the checkered flag flew, it was the enigmatic French rider Bayle taking the win with an alarming ease—he really wasn't trying that hard in '92, but when he decided to go fast ... wow.
Jeff and Damon placed seventh and ninth, respectively, and Matiasevich roared off the track and immediately filed a protest. After AMA referee Ron Crandall and Janson watched a playback on the ESPN video monitors, Janson fined Bradshaw $1,500 for violating rule #23, chapter 9, of the AMA rule book, which proclaimed, "Riding at any time in such a manner as to endanger the life or limb of other riders is forbidden."
Janson explains what came next: "As I recall, went to fine him—back then we paid the riders in cash—and when I went to hand Damon his pay envelope, he just handed it back to me and said, 'Here, take this—you'll need it for next week, too." (Bradshaw was rumored to be earning $65,000 from Yamaha for each Supercross win that season). "What was interesting with Damon back then is that he never appealed a fine or made excuses for his actions," Janson says. "He would just say, 'Yeah, I did it again. How much do I owe you?'"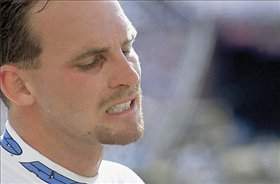 Damon ended up losing the title by three points to Jeff Stanton, who picked up 10 points on him in Vegas.
Meanwhile, across the parking lot, Matiasevich was still fuming. "I was really pissed because I had won in Vegas before and I thought I was in a position to win there again," he explains.
After the race, Bradshaw sat on the bumper of a Yamaha box van, a towel wrapped around his neck. He was pissed off, soaking wet and had a get-back stare on his face. Yet even after all these years, he remembers what was going through his head at the time: "Racing was, to me, just like fighting. I was very competitive, and I hated to lose. I wanted to win so bad that it was better for me to dislike the other riders. And at the time, I sure as hell hated Matiasevich!"
Three rounds later, Damon Bradshaw lost the 1992 AMA Camel Supercross Championship to Jeff Stanton by a heartbreaking three points after an uncharacteristically poor performance in the Los Angeles Coliseum. Matiasevich finished the series in eighth place.