Privateer Profile: Ryan Clark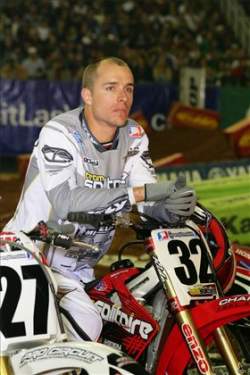 Ryan Clark has redefined the life of a privateer

photo: Matt Ware

If you read our magazine, you're definitely familiar with privateer extraordinaire Ryan Clark, contributor of the monthly column "Solitaire." He is also founder, owner, manager, and rider for Team Solitaire. Ryan has diligently raced his way through every level of motocross and has been a top-50 rider for the past few seasons. He is national #32 this season and improves each and every race. Last weekend in Detroit, Ryan took seventh place in the 450 main, his best result of the season. We decided to catch up with Ryan for this week's Sponsorhouse.com Privateer Profile. You can keep up with Ryan via his website, teamsolitaire.com.


Racer X: Ryan, that was a heck of a performance in Detroit. Congratulations!

Ryan Clark: Yeah, thanks a lot, man! It felt good and I had a good ride. I'm happy I finally was able to put a main event together.

Now, was that seventh place a career best for you in the 450 class?

Actually, it was second best. I finished sixth in 2003 at Salt Lake City.

You also received the Most Improved Privateer Award for Detroit, didn't you?

Yeah, I got a $1,000 bonus from WonderWarthog Racing, so that's definitely something that helps out along the way.

This year you're #32, which is a career-low number for you, and your finishes are career highs for you. Is 2006 your best season yet?

I think so far, yeah. I'm moving in the right direction every year. My goal is to improve my series results and my riding. So far I just put my best string of races together, and I feel that I'm getting more consistent. There are still a lot of races left and I don't want to rest on my laurels, and I want to continue to put hard work in during the week and hopefully it'll pay off on the weekends.

What was different in Detroit that made you finally be able to get up there and finish where you did?

I don't know. I had a couple ninths this year, but I think it's all confidence. In the past, sometimes when I got good starts I kind of got intimidated by the guys around me a little bit and I would just back off or make mistakes. But I'm getting a lot more comfortable now running that pace. I got a good start, which is crucial. Everybody is going so fast this year that there are guys every weekend who aren't making the main that are super talented. I got out there and just put my head down, didn't get intimidated, and just rode the way that I know how. I think I'm capable of finishing better than seventh if I perform at my best.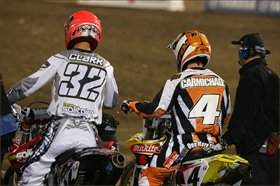 Ryan lines up next to the big boys every Saturday night

photo: Matt Ware

With the bikes constantly evolving, it seems a rider's style has to evolve, too. Have you noticed any differences in your riding over the past few seasons?

I don't really watch the videos too much and try and pick people's styles apart. But I watch them on the weekends and notice areas where I need to improve and I do try and break that down and concentrate on my weak points. In that sense, I'm constantly trying to evolve as a rider and make constant improvement. Even though I've been riding for 20 years now, I still feel that I'm learning stuff all the time, like how to better prepare my body and mind at the races, too. It keeps it fun because it's a never-ending challenge.

Do you have a personal trainer?

I do. I work with a guy named James Perez. I don't work him on the level of bringing him to every race or whatever, but I work with him sometimes during the week. But I do most of my stuff on my own, especially now that I kind of live a little bit more out in the country away from the gym. I try to be home as much as I can with my family, and to ride here at my house on my supercross track. It makes it nice, and I like spending time with my wife and son.

That leads me to my next question: How's the family doing?

They're awesome. My son just gives so much more meaning to my life. It's pretty incredible.

Well, besides just being a professional rider, you're also a team owner and manager of Team Solitaire. How is everything going with that?

This year is a phenomenal year for the team. We were able to step it up and get a semi truck for this year, and I hired Justin Buckelew as our second rider. Unfortunately, he's injured right now, but that was a milestone to be able to get a rider of Justin's caliber. Just across the board, everything has really stepped up and I attribute it all to our employees, because my mechanic, Justin's mechanic, and our transport driver all work together really well. There's a good synergy and everyone wants to be there. It's a good environment for me to excel, and I think that's one of the reasons why I have been doing so much better this year.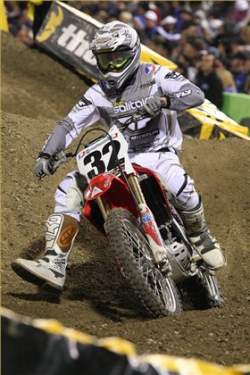 Ryan finished a season-high seventh in Detroit last weekend

photo: Matt Ware

I think back maybe four or five years ago to a race in Troy, Ohio, where you were pitted out of a Ford cargo van all by yourself. You were running #91 on a YZ250, and it appeared that you were struggling to get by. And it's incredible to see the level you're at now. It's really amazing. Looking back, how did you do it?

Just work and persistence, really, and not taking no for an answer. I'm kind of hard-headed [laughs], and I'll set my mind out to do something and a lot of people will tell me it won't work, but I don't listen to them and I continue to plug away. With the team, it was kind of a long shot, pulling it off and getting it to where it's at now, but I just attribute it to work. I think across the board in every sport and every business, every successful businessperson is going to tell you that if you want something enough and you're willing to put the work in, then anything is possible. I subscribed to that adage as well.

You're an owner, manager, rider, father, husband, writer ... the list goes on. What's the toughest part of Ryan Clark's life?

It's the time management. Just managing my time to give myself enough to not cut corners anywhere. I don't feel like I do, but sometimes I have to prioritize and let less-important things fall by the wayside. Obviously, my main focus is that I need to be ready as a racer. If I'm not performing as a racer, then Team Solitaire isn't going to succeed. So just making sure that I don't take time away from my riding and training to be doing something that someone else could do. That's another thing that has helped the team to grow. I kind of stepped back and let other people help me. I'm kind of hard-headed in that way where I wanted to be involved in every little aspect, but now I just step back and let someone else take care of the smaller stuff.

Let me ask you a hypothetical question: Let's say one of the major factory teams offers you a job. What happens to Team Solitaire?

Well, Team Solitaire will always be here. I'm not really planning on walking away from it at any point. I think the team is big enough that if the factory team did have enough interest to sign me, they would also be willing to set us up as a satellite support team and allow us the use of their knowledge and support without having to be an in-house rider, much like Factory Connection with Kevin Windham and Mike LaRocco. So I guess I don't really look at it like a choice. I just think that our program is very successful in promoting the Honda brand, and I think they realize that there's a lot of value in having another semi out there and having another bike in the main event and hopefully in the top 10. So I don't think that's a huge issue. What I'm saying is that I would try and convince the team to let me use their bikes and still be under this tent.

Do you think switching to another brand right now would be difficult?

Yeah, definitely. Honda has been an awesome company to work with, and as long as they will continue to support the team, I want to stay on Hondas. I feel that it's the best bike I've ever been on and they've been the best company to work with.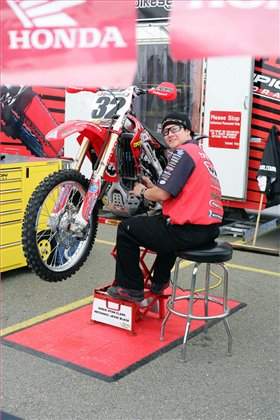 Although it's a privateer team, the Solitaire squad maintains a factory atmosphere

photo: Simon Cudby

How much do they support the team?

We get bikes and parts through them. In addition, we supplement that with a dealership called ridenow.com, which we're getting some additional units from and we're running all of our parts through them. They're helping us with actual units, but we're not getting factory parts or anything like that. But it's great on the weekends where I can go over to them and tell them I'm having a problem and they're great about giving us advice to help diagnose and rectify the problem. So that's very helpful. All those guys are very down-to-earth, but at the same time they take their job just as serious as the next guy.

Well, thanks for taking time out of your schedule for us, Ryan. Good luck in Houston.

Any time, Billy. Thanks!


Ryan Clark's sponsors:
www.swedetechracingengines.com
RCS
Dirt Pro, Inc.
DC Auto Wraps
Fletcher Chiropractic
Athletik Edge