5 Minutes with ... Tyla Rattray
Following in the footsteps of such racing greats as Greg Albertyn and Grant Langston, South Africa's Tyla Rattray first hopes to conquer the world, then America. Now 20 and a member of the Red Bull KTM factory MX2 team, Tyla looks forward to the championship he should have won in 2005. Coming off an impressive second overall in '04 aboard the Red Bull KTM 125 two stroke, Rattray moved to the 250F for 2005 and quickly became the rider to beat, only to have a serious knee injury sideline him until the last three GPs – which he won. We caught up with the now-healthy "Styla" as he was getting in some last-minute testing for the opening GP at Zolder on April 2.

Racer X: Tyla, what have you been doing since I last saw you at the Motocross des Nations in France?
Tyla Rattray: Well, I bought my first house back home in South Africa, so I went there for most of the off-season. There, I took a good rest and then just concentrated on building a very good physical base for the new season. KTM sent my factory bike there, and the weather was always good, so it was perfect for training and for me to follow my program.

And you're now in Belgium?
Yes, I've actually been back in Belgium since the middle of January, preparing myself with the help of my trainer, who lives here. But the weather there hasn't been that good, so I've also been down in France and Italy testing with the team.

Last year you were the rider to beat for the MX2 title until injuries derailed you. Returning to racing late in the season, you swept the last three Gps. Did that give you any consolation?
Yes, it did give me some consolation, but in a way, it made it that much harder to swallow. I won at the beginning of the season and then did my knee in. Coming back four months later, I won again. I proved to myself that the title could have been mine, but I really try not to think about what could have been and rather focus on the future.

Have you changed much, if anything, with your 2006 program?
No, I haven't changed much at all. I have the same setup here at KTM with the same people around me. The bike has definitely been improved for this year, all small improvements that add up to a lot in the end. I'm very happy with the bike.

You're teamed up with Marc de Reuver, another talented rider who was injured much of last year. Does being on the same team as one of your championship rivals make it easier or more difficult?
I don't really think it makes that much difference, Jim. We pretty much just do our own thing. We have different trainers, and we stay at the tracks in our own campers and stuff. Although we are on the same team, and pretty much the same bikes, we still have to race each other and just treat each other like any other competitor.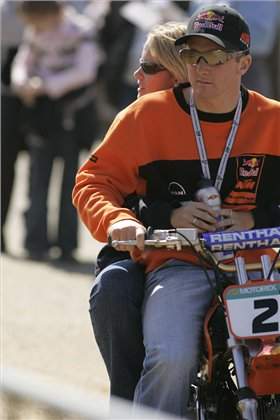 Rattray could be in America for the 2007 season

photo: Jim Kimball

Who all do you see as your main rivals for the title this year?
It's always very hard to say at this time, because you don't know who has done their homework during the off-season. I think all the KTM guys should do well. Also, [2005 MX2 World Champ Antonio] Cairoli has proven himself, so he should also do well. But I don't like to make predictions. We'll just have to wait and see.

Can you talk a bit more about the Red Bull KTM GP motocross team? With Pichon and Tortelli signing on for the MX1 team, it appears that they could be the team to beat in 2006.
[Laughs] Jim, the KTM factory team in Europe always wants to win! In the past they may have put the biggest effort into the MX2 class; now they are putting that same effort into the MX1 class. The atmosphere is still pretty much the same – everyone wants to win!

Does the European factory Red Bull KTM team trade secrets with the American team?
Sure. For both the teams, all the technology and factory equipment come from the KTM factory in Austria. The bosses at the top are the same people for both race teams, so if either Europe or the U.S. guys find some good settings, we share them with each other.

What will be the key to you winning the MX2 championship this year?
I know my speed is good and my physical conditioning is good, so I think the key will to be very consistent.

Finally, Tyla, the big question: When will you come to America to race?
Early last year I said it would be this year, but then I had that big injury and all that changed. Right now I don't want to say for sure, but if everything goes smoothly here, I should be there by the end of the year to prepare for the 2007 season.

For more on Tyla, you can check out stylamx.com.