Between the Motos: Brian Deegan
To most members of the American motocross community, Brian Deegan is a mystery inside a riddle wrapped in an enigma (thanks for that, Mr. Churchill). He's also misunderstood. Scoffed at by many for being the leader of the Metal Mulisha and typecast as some type of Marlon Brando-cum-Black Rebel Motorcycle Club figure, Deegan, 30, is a sincere, genuine enthusiast who has had a profound effect on the sport—especially freestyle motocross. But the former pro racer and 125 SX winner still digs motocross as much as anyone.

Racer X: Brian, what are you up to today?
Brian Deegan: Right now I'm building a new house. I'm building on 21 acres here in Temecula and it'll be the new Mulisha Compound. It'll take me about six months to get it done.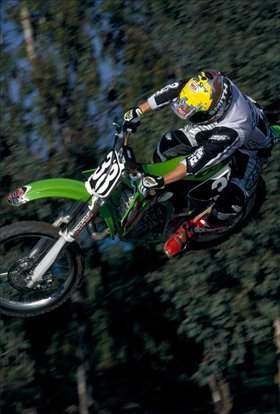 Once upon a time, Brian Deegan was one of the top privateers in American motocross
photo: Racer X Archives

Will there be a lot of riding area?
Yeah, there will be a big freestyle motocross park and we'll also have a motocross and supercross track. The house will be 8,000 square feet and the workshop, which will be made for TV, will be 3,000 square feet.

That's a big-ass shop!
Yeah, it's going to be like a museum. I'm going to put all my bikes, pictures, and trophies in it. I'll also have some shark tanks, a bar, and a big game room in it. It'll be a clubhouse.

Have you been riding much?
I've been practicing freestyle motocross. I've also been riding motocross. I've put a lot of laps in at the track lately. I'm interested in racing some local races for fun. When I ride on a motocross track now, I feel good. I have this urge to ride motocross now. I feel pretty fast and think I can battle some of the local Southern California pro guys. I have this urge to be competitive again.

How is your fitness? Do you get tired quickly?
I think my biggest problem at first was with arm pump. The major thing was, when I was training for freestyle, I was using a lot of weights. I have to kind of re-train my muscles for motocross. My speed is there, though.

What are the chances we'll see you do a national or supercross?
[Laughs] I don't know. It's funny … some race teams—teams like Moto XXX—have told me that if I wanted to make a comeback, they'd have a race bike waiting for me. I mean, I have an opportunity for more support now than I did back when I was racing. And the way the supercross tracks look now, I think I could handle them!

Some of the young guys out there who may be reading this may not know that Brian Deegan was a pretty damn good motocross racer back in the day.
It's funny: I raced my whole life—all the way up until I was 24 or 25. I won a lot championships as an amateur, but I was overshadowed by guys like Ezra Lusk and Jeff Dement—I was always the second-place guy. In the pros, I had my share of top-five finishes and also won a supercross [the '97 Los Angeles Coliseum SX]. When freestyle started, I realized I was good at it and gave up racing.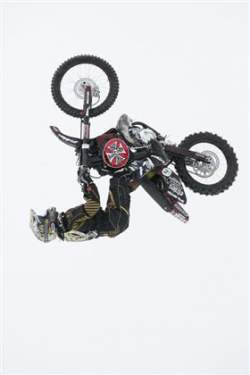 Deegan defies gravity on a regular basis with his assortment of backflips
photo: Paul Buckley

Do you ever regret that?
Sometimes. I get these urges to race, and I'll think, Man, what did I do? Why did I quit racing? I love racing and competition. But then I look over at the Mercedes and Escalades I have, and I feel okay!

You've made a pretty good living form freestyle motocross, huh?
Yeah, in the end, I realized why I switched. I was in my mid-20s and racing and didn't own anything. I wasn't making any money and didn't have any investments. Now I have this dream home and all these cars and can support my family. I made the right decision.

What did you think when you heard Ernesto Fonseca got hurt?
It's so unfortunate. Dude, to tell you the truth, I'm surprised there aren't more injuries. I've crashed and hurt myself so many times.… At one point I started thinking, Am I the only one crashing? Dirt bikes are dangerous, and at that level, all it takes is one mistake. Man, you look at how fast the guys are going now and the chances they take to be at RC's speed. Look at James Stewart and the speed he's riding at. He's pushing so hard and taking a lot of risks. All it takes is one little mistake. The sport is gnarly. That's why when some sponsor or some promoter says, "I'm not going to pay you that much," I'm like, "Well, guess what: When I crash and end up in the hospital, who is going to take care of that?" It's a dangerous sport, period. And I really hope Ernesto gets better. Damn.

I'm sure everyone who ever met or watched him feels the same way. Let's change the subject here: What abut the reality TV show you guys are working on?
We're working on a pilot that will be shot in April. It'll be a reality TV show about the Mulisha. It'll include me, Twitch. Faisst, Colin Morrison, and Beau Manley.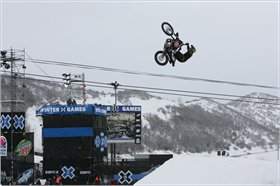 Deegan flips out at the recent Winter X Games, where he finished out of the medals
photo: Paul Buckley

What's the concept or premise behind the pilot?
We'll ride, then go to Vegas—at a place like Palms—and do the party deal. Before, everything I did was all about competition; now we can have fun and go to Vegas and be mellow.

Mellow and Vegas? We both know those words don't work together.
[Laughs] Well, mellow in a way where I don't have to go out and do 360s every weekend to earn a paycheck. Now we can go to Vegas and be mellow for fun.

What network will it run on?
MTV.

As far as pre-production, have things gone well?
I've been in a handful of meetings and the MTV people are really excited. They feel like it's the next big thing. You know me: I've always told you the Mulisha is meant for TV. I'm taking this so seriously that I've pretty much set everything else aside and dedicated my self to this show.

As far as competition is concerned, what's next for Brian Deegan?
The next stop will be Summer X. I may also ride the Dew Tour. We'll see. But I need to feel it now. If I feel it, I'll ride.

In regard to Summer X, what disciplines would you like to compete in?
I'd like to do Step-Up and Big Air. Freestyle and Supermoto are on the same day, and if you want to do both, you have to switch back and forth. Now, I think you have to dedicate yourself to one or the other.

Which would you rather do?
Supermoto looks fun to me. I have the urge to race again. If I do it, I'll take it seriously. And I've also heard there may be a car racing event in the Summer X Games. That's not a new idea for me. I really want to race cars in the future. I think it would be a lot of fun.

Right on, and good luck with that house.
Thanks, Eric.