5 Minutes with ... Billy Laninovich
With all the hype surrounding the top three riders in the 450 class, the other 17 often get overlooked. A nice surprise inside the top 10 at Daytona was Team SoBe/Samsung Mobile Honda's Billy Laninovich, a full-time West Coast 250F rider who quietly finished ninth in his first 450 main event. We talked to Billy today about that race and about the remainder of the West Region series.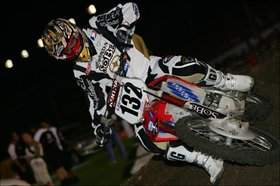 In the first 450 main event of his career, Billy Laninovich scored a solid ninth-place finish

Racer X: Billy, what's going on?
Billy Laninovich: I just got done riding. I'm up here at Competitive Edge MX Park. I wanted to ride the supercross track but it's kind of dry, so I'm just riding the outdoor track.

Well, here's the million-dollar question: What bike are you riding?
[Laughs] I'm on the 450.

So I take it that your plan is to ride the 450F class again this year?
Yeah, I'm doing three more races on it.

Well, congratulations on your top-10 at Daytona! Did you meet or exceed your expectations with that finish?
I definitely met my expectations. I wanted to get top 10 there, and I did.

That your first 450 race, right?
Well, I tried to do one last year in St. Louis, but I hurt my ankle in the day qualifier, so I couldn't race anymore. So Daytona was pretty much my first race in the 450 class.

Did you notice a big difference after the main event in Daytona, since the race is five laps longer and you're muscling around a heavier bike against faster competition?
You know what? I don't think I had blazing speed there. I got a bad start – I think I was 18th the first lap – but then I came up to ninth. I think my conditioning is what helped me with moving up through the pack.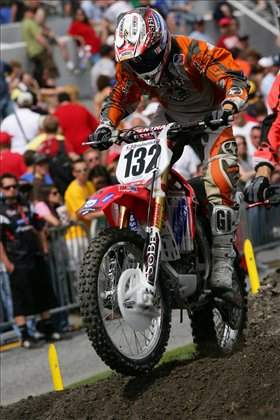 Billy on a 450F ...

Were you planning on racing Daytona all year, or was it a last-minute decision?
It was last-minute. After San Diego I asked our guys if I could ride the 450 class and it took about a week or so for them to figure it out. And then they said yeah, and I was going to do Indy first, but we were out of time because you have to be pre-entered a month before the event and we were late. So we started at Daytona.

How long did you have to prepare? Because honestly, you looked pretty comfortable out there.
Honestly, I was only on the bike for about a week and a half before that. I love that bike and it suits my style more. I'm not the out-of-control rider that hangs it out, so that bike is a lot easier for me to ride. I love it.

Is this a sign of things to come in the future? Will you maybe consider moving up to the 450 class before you're forced to?
I don't know. Hopefully, I can go out there and get a couple top-fives and maybe Honda will want me to move up.

Well, your primary job with the SoBe/Samsung Mobile/Factory Connection team is to win a 250F championship. You were leading the West Coast points for a few weeks, but due to some unfortunate circumstances, you slipped back to fourth, 19 points out of first. Are you still optimistic at your shot for a title?
Yeah, I'm going to have to go out and win both of the West Coast races to even have a chance to do that. But that was my whole goal for riding the 450 class: I just want to keep racing so I can maybe gain some speed and maybe have an edge when the West Region races resume. But I know it's going to be tough because we have a lot of fast guys in that class.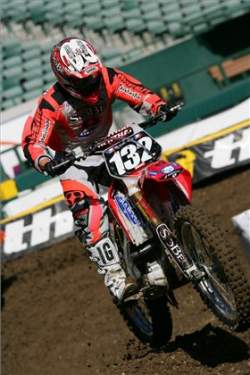 ... and a 250F

And a few of those guys include Andrew Short, Grant Langston, and Nathan Ramsey, who are all in front of you in points. What do you have to work on to get up in front of those guys?
Honestly, it's my starts – they're killing me! I think it was Anaheim 3 where I got a bad start and came up to sixth. And then San Diego just ruined me. I felt really good in practice and in my heat race, but I got a bad start and someone hit me from behind and knocked me over in the first turn. I started coming through the pack and crashed again, so that race killed me for the championship.

Your team took on a whole new identity this year with SoBe and Samsung Mobile coming on board, but all the staff is pretty much the same, with the exception of adding Jake Weimer. So how is everything with the team this year?
Everything is awesome. Those guys and all of our sponsors work really hard for us. And they hired Jake after Joaquim [Rodriquez] got hurt, but for his first year, he's doing awesome. I think he'll be a real threat after he gets some experience under his belt.

Are you looking forward to Orlando this weekend?
Oh, yeah, I'm really looking forward to it. It's a normal supercross track and I feel really good on our test track and other supercross tracks, so if I get a good start, my goal is to run top-seven and possibly finish in the top five.

In the outdoor nationals, will you be on a 450 or a 250F?
A 250F.

Practice those starts, and good luck in Orlando.
Thanks, Billy.