5 Minutes with ... Roger DeCoster
Its been a roller-coaster week for Roger DeCoster, Ricky Carmichael, and Suzuki since the news that Carmichael had been penalized 25 points for too much lead in his race fuel, a similar finding to Kawasaki's last summer and Yamaha's two years ago. In fact, it's been a very long week for the whole sport, with everyone wondering what to do if the defending champ decides he is over supercross and walks.
Just about a hour after the AMA released the news that the penalty was reversed, we caught up with DeCoster, the Team Makita Suzuki manager, in the Indy pits for his comments. (The AMA's Steve Whitelock was busy and could not talk, and the managers for Yamaha and Kawasaki were not at the stadium as of this interview.)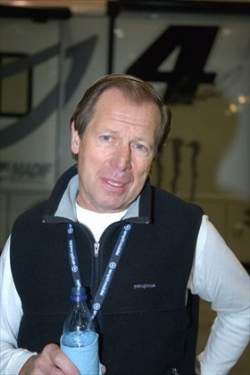 Makita Suzuki Team Manager Roger DeCoster

Racer X: So, Roger, you just got some good news today. What will this mean for your team this weekend?
Roger DeCoster: Of course it feels good to have the points back and all that. I am still a little bummed out they left a monetary fine. The only thing that saves it is that it is going to a good cause, the Asterisk Medical Center. So that is a good program. I don't mind if we sponsor them a little.

How was this one handled compared to, say, two years ago with Yamaha and last summer with Kawasaki?
The first time it happened, from our point of view, we did not have anyone in the hunt for the title. At that time, I also did not know the numbers Yamaha was confronted with. I am pretty sure that they did not try to do anything wrong. If something was there, it was not intentional. I believe the same thing with Kawasaki. This rule, we need to study it. It's obvious changes have to be made. The amount they test for, if you are a few thousandths over, I don't think it's going to give you any advantage.

It's even still unleaded!

Yeah, it's still considered unleaded [if you are over limit by that small amount]. To say we have to apply the same rule as Europe doesn't make sense to me. The pump fuel available here is not the same as Europe. It's not the same spec. It varies from region to region [in the U.S.], and depending on the season, you are allowed more oxygen. Like Las Vegas for part of the year you can run three and a half percent oxygen. The rule was supposed to be made to protect the privateers. If you want be 100 percent, the gas you buy at the station is not for sure. If they are on the high end of the tolerance, you are over.

On the Yamaha side, I'm hearing when Chad and David got hit with the penalty, Yamaha wanted to round up the team managers and organize a response. I hear no one but Eric Kehoe from Honda participated. Do you remember that?
I was never asked to participate. We discussed it at the advisory board. I supported a change in the rule, and there was even talk of doing a spec fuel and all that. I thought it was a good idea. I was supportive of that. I was never given the [fuel test] information from Yamaha. I feel bad that I did not go out of my way and ask to help them. I didn't go over and ask if I could help, but they also did not come to me and say, "Can we band together?" I feel bad for what happened with them and what happened with Kawasaki. Nobody benefits from something like that.

Were you and the team more prepared for this because of the other ones? Like, was that why you took your own samples and saved gas from the can?
We certainly would not have been as careful as we have been in these last two years. We get fresh cans—we don't even have leaded fuel in our race shop anymore, certainly not in the semi. We have the same person doing the fuel, always. The same person receives it and takes it out of the barrels and puts it in the jugs to put it in the bikes. There is still some area where things can go wrong. You have seen it, outside the stadiums in the parking lot there is a fuel dump. They don't ask for your ID when you go pick yours up.

How has this news from a week ago today weighed on the team? Ricky was pretty outspoken at Atlanta, but how was everyone else handling it during the week?
It's hard, because a lot of people want to go on the internet and check things and get wrapped up in it. I kept saying to our guys, Let's focus on our job like nothing happened. Stay off the internet.

Yamaha ... assuming they are going to be unhappy, what would you say to them if you were the AMA regarding fairness? Is it okay to address this differently as this problem comes up more times?
I think the AMA should have done more before the season on the rule. I don't know the exact answer. There should be more of a tolerance. With noise, there is some flexibility there. They don't just disqualify you. In that area, I think there should be more balance. It's easy to say "the rule is the rule," but something happened that is out of the control of the team and out of the control of the rider, and the team has done everything to prevent anything from happening, and the team does not gain anything in performance, then it should be lenient. Taking 25 points is not being lenient for something you have nothing to do with and there is no gain in performance, and the numbers that the AMA has are wrong in the first place.