5 Minutes with ... Joe Skidd
What's worse than finding out someone from the AMA is ready to take your fuel sample? Finding out on the eve of an event that your race bikes were stolen. Blackfoot Honda's Joe Skidd got the bad news the night before Friday parking and setup day at Indy. They just had enough parts to make a complete bike, starting with a bare frame. A couple hours after they started putting it together, they were outside warming up the new bike.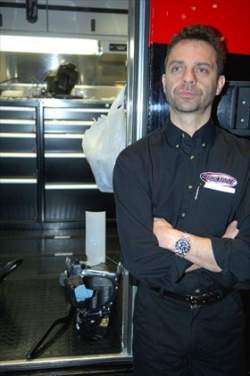 Blackfoot Honda's Joe Skidd

Racer X: I see you guys making a motorcycle from the frame up today. What's up?
Joe Skidd: I got a phone call from our transport driver this morning, and he said the truck was broken into last night -sometime between 2:30 and 5:30 a.m. - and our two race bikes were stolen.
250Fs?
Two 250Fs, at about $50,000 a copy.
You have a nice semi here; they broke right into it?
It was actually pretty easy for them to get in. They took the lock off the door.
What's going on today?
We are going to build a bike out of spares. The team is prepared. We have a spare frame, a spare engine, everything to build a bike. We are going to build one from scratch for Dusty Klatt to try and make the main.
Who's the other rider?
Mitchell Cooke.
Did you flip a coin?
Mitch didn't make the program last weekend and Dusty is a little further on in his experience, so he will get it.
What's his number so people can watch for the guy with a bike made from parts?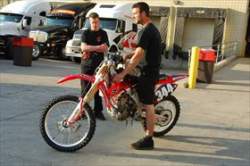 The bike built from spare parts in one afternoon
344. It should look okay. It's going to be the real deal.