Where Are They Now: Jim Pomeroy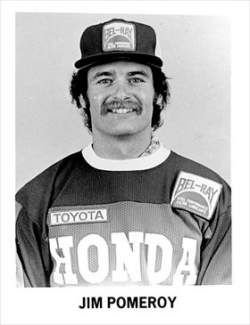 The legendary "First American," Jim Pomeroy
For a generation of American motocross fans, Jim Pomeroy will always be known as "First American." Back in 1973, the promising young Bultaco rider from Yakima, Washington, left the relative comfort of the new AMA motocross scene and entered the 250cc FIM World Motocross Championships. Everyone thought that "Jimbo" was throwing himself to the Motocross Lions of Europe—this was a time when Belgium and Sweden ruled the sport, with the Soviets about to come. Yet somehow Pomeroy went out and won the first Grand Prix of the season in Sabadell, Spain, turning the motocross world upside down and putting the AMA circuit on the web.
Pomeroy raced for the Bultaco team for the next four years, but then the bikes started to become obsolete as the Japanese began to take over dirt bike manufacturing. He signed on with Team Honda but injuries kept him from ever enjoying the success in America he had in Europe. He retired a few years later after trying Europe again, this time in the 500cc GP class. An auto accident in March of 1987 left him with a serious spinal injury, but after years of rehab he's back riding and racing again. In fact, he's a three-time defending AHRMA Champion, and the injury was maybe a blessing in disguise.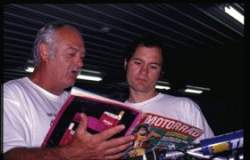 Pomeroy today, with Supercross LIVE! announcer Jason Weigandt
"If I wouldn't have gotten hurt I wouldn't have met my wife, and I wouldn't of had my fountain of youth, which is my 9-year-old daughter," says the ever-enthusiastic Pomeroy, now 53. "She's like a coach, too, because here I am running beside her, being her training wheels, giving her swimming lessons, going exploring in the park."
As for getting back into motocross, "It's really a neat thing because it's something I really love and I could put something back into the sport," explains Jimbo, who resides in Washington but makes lots of appearances on the vintage circuit and at various get-togethers. "It just feels really good going to do things for charities and banquets and that type of deal."
He also teaches the Jim Pomeroy Motocross School, along with women's legend Tami Rice. "She's a true enthusiast," Pomeroy says of his partner. "She's actually the number-one women's rider in vintage MX, and she was number one back in the '80s. But she's a big help for me because she's in California where the industry is and we've been doing a lot of things down there. And we're not only doing only vintage things, but we're doing modern bike as well."
For more on the schools, check out:
www.Jimpomeroymx.com
.
So what's next for the First American? "I'm getting ready to put a schedule together in April and we're going over to Hawaii, where I always run into John DeSoto [another MX legend]. It's all modern bikes there on the islands because they don't have too much vintage stuff over there.
"Hey, remind everyone to check my website," he adds in closing. "It tells all the dates and schedules of where I'm going to be. I'm traveling the world. I'm having a ball!"