5 Minutes with ... Michael Byrne
As the 2006 Amp'd Mobile AMA Supercross Series keeps ticking down like a clock, the time we've all witnessed has been beyond epic, to say the least. The 450 class can be predictable with making the assumption that Ricky Carmichael, James Stewart, and Chad Reed will all stand atop the podium at the end of a Saturday night. Well, that has been the case more often than not, except for just a few times this season. When the chips don't fall that way, it leads to a rat race of riders like Ivan Tedesco, Ernesto Fonseca, Nick Wey, Mike LaRocco, and, before parking it, Jeremy McGrath. And one rider who has been on the cusp of getting his second career podium is Michael Byrne. We caught up with the soft-spoken Kawasaki pilot to chat a bit.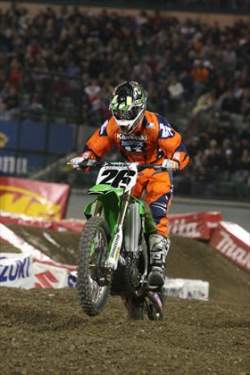 Michael Byrne is one of many battling for that rare spot on the podium in this highly competitive season

photo: Matt Ware

Racer X: Michael, how are things?
Michael Byrne: Man, things are going good, thanks.

First off, there have been practices where you have been close to third-fastest and you are always right in there. So that has to be helping your confidence knowing that going into the night.
Yeah, definitely. I think I've been riding better than I did last year, which feels good. I need to just capitalize more in the finals.

This weekend and in the past few rounds, your end results have hovered around the same position. What has been playing into where you land at the end of the race?
On the weekend in Atlanta, I was disappointed. I didn't ride well at all; I was tight and struggled. At St. Louis, I rode better, coming from 15th up to sixth. So I felt like I rode fairly well that night. Going back to Atlanta, I didn't get too comfortable in the final. I raced defensively the whole time and worried about my lines too much.

There's a select few of you guys in the AMA Supercross class that have the ability to step on the box at any given race. With the right circumstances, it's already happened three times this year. I guess it hasn't been your time yet, right?
Yeah, I thought I should have been on the box at St. Louis for sure. My speed was good that weekend, but I crashed trying to make it happen. That's how racing is with taking the risks to get up there. You have to let it hang out, so unfortunately, it didn't work for me, but there are still a lot of races left.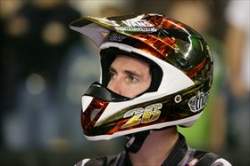 Byrne says he would consider a 250F ride in the future, though he hopes he will stay put

photo: Simon Cudby

You're in a tough crowd this season, and I bet it starts to wear on the mind. Week to week, how do things change when you're at home?
Not a great deal, really, other than the usual. I mean, you have to just keep working away at your program, which is all that matters. My worst finish so far was at Anaheim, though I was injured with a bruised heel. I have to keep doing the best that I can do each round and see where I land.
Do you have a trainer that you're working with?
I've been working with one my friends from Australia, Stephen Gall. He used to be a rider back in the day and has helped me a bunch. He always has me motivated and keeps me on track.
At the races, you have James alongside of you to feed off, I presume.
James is there to do his job just like I am. We obviously talk and share lines and that kind of stuff. The whole team is behind the both of us; James has a lot of pressure on him right now, too. The whole team just puts in the best effort we can, whether it be during the week or on race day.
When the tracks were more technical, I sometimes saw you jump a section first. What's your opinion on the new way of building the tracks?
Well, they are better for the racing part of it now. There's not as much thought as to riding the track, though. Really, it's been pretty basic to figuring out the tracks. It has been great for the fans and the sport to have such close battles. Myself, I'd like a challenging and technical track, or at least a technical section to make guys think and help separate the calibers of riders.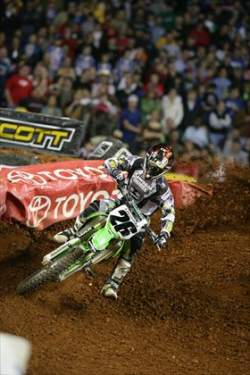 Byrne has come a long way from his formative days on Jeff Emig's The Edge racing team

photo: Simon Cudby

What about new talent coming from Australia? Know of any?
I haven't been following that too closely, but Andrew McFarlane came over here. He has been around racing GPs and stuff, but other than him, nobody has really caught my eye.
The next question, I'm just throwing out there and you don't have to answer. If you had an opportunity that came up like this: Drop down to the Lites—250F—get paid the same, and go for a championship like Grant Langston did, would you try it?
That would depend on where I was at in my career, how things were going, and where I thought it might lead me. Grant didn't have many options at the time, and even now he's going to have to step up. For me, it would be all about timing, what I could achieve, but right now that's not what I hope happens.
Cool, I like that answer. So as far as now, what kind of short- and long-term goals do you have in mind?
Right now, I'd really like to be in the top five in each series. My main goal is to be the fourth-place guy in supercross, then feel things out from there and move forward in time. I need to start racing with Ivan [Tedesco] right now because he's latching on to that next level. Between the two of us, I see a good battle, which could help me pick it up.
Thanks, Michael, for being straight-up, and keep it up.
Thank you, and no problem, Dono.