5 Minutes with ... Josh Grant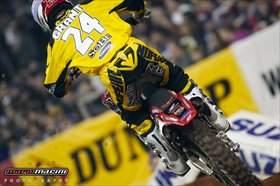 Josh Grant proved he can be a contender in supercross with his win in Atlanta
photo: Mario Marini

In front of 70,133 fans in the Georgia Dome—likely the single biggest crowd in the 30-plus-year history of the AMA Supercross Series—Team SoBe/No Fear Samsung Honda rider Josh Grant topped the 15-lap 250F main event over Team Honda's Davi Millsaps. It was Grant's first supercross victory, coming in his ninth start.

Racer X: Josh, how are you feeling a few days removed from your first supercross win? Still feeling the afterglow?
Josh Grant: Kind of.

You don't sound too stoked-out.
A bunch of people seem to be upset with what happened out on the track during the race. They're making a big deal out of some things.

Do you want to say who these people are?
Not really.

Can you describe how the main event went for you?
The start went good—I got the holeshot. I struggled through the whoops, though. I didn't have a good line through them. They were definitely my weak point; that's where I got passed. When I did, I was like, I have to do something to get back into the lead. Everything I was doing, I was doing to win. I just put my head down and went.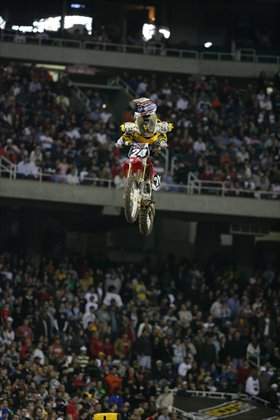 Grant celebrates the win with a heel-clicker
photo: Simon Cudby

You were leading the opening phase of the race but then got caught up in some fireworks. What happened?
I was in first, but then Josh Hansen passed me in the whoops. Coming into a corner, I was right next to him and I went to pass him back. He checked up early and I went to pass him on the inside; it was the only line in the corner I could take. When I took it, I had the advantage and it was too late for him to pass me. It wasn't a dirty move at all. Then what happened was, Steve Boniface and Hansen got by me. Boniface then crashed and Hansen landed on him. I jumped into the inside and there was nobody in front of me. I was in the lead again. Then, a few laps later [on lap five], Millsaps passed me. Two laps later, he fell and I was in the lead.

So it's on in Indianapolis this Saturday?
Yeah, I'm ready to fly out right now. I wish we could race tomorrow. Some people said some things about me the last two days that I don't really appreciate. I'm ready to race right now.

There's been some bad blood between Josh Hansen and yourself. From banging off each other on the track, did things boil over again in Atlanta?
Not really, no. There's no bad blood between him and me. This stuff has to do with other people.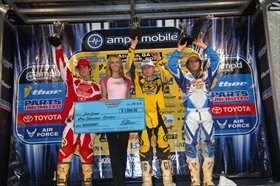 Josh was pumped on his first win, especially since he had to duel with points leader and series favorite Davi Millsaps and came out on top
photo: TFS

Can you still win the championship?
Yeah, I can. Davi Millsaps hasn't had his bad moto yet. Me, I got cleaned out at the first race. I'm 22 points behind Davi now. I can do it. I need to be consistent and on the box if I want to be in front.

What was it like to race before 70,000 fans?
Man, it was crazy. I did a heel-clicker during the race, and I couldn't hear my bike over the roar of the crowd. It was nuts.

I was just talking with Skip Norfolk, who was Jeremy McGrath's mechanic throughout the 1990s glory era. Skip said that winning got very addicting, very quickly. Would you agree?
I want to keep the feeling. I'll do whatever it takes to be up front and win. It's not an easy thing, but it's what I want to do.

Good luck in Indy, Josh.
Thanks, Eric.