Monday Conversation: Ricky Carmichael
Ricky Carmichael had mixed feelings about his big win in front of over 70,000 excited fans in Atlanta because, just 24 hours earlier, he learned of his 25-point deduction for his fuel being out of spec. RC was now faced with racing all-out with Stewart and Reed in a championship battle he might have nothing to gain from anymore. He hinted more than once in interviews that he just may end up finding a way out and focusing on Hangtown.
Yes, you did read that. After the 2006 AMA Supercross season approached the midpoint, it was living up to great expectations—great racing, full stands—and it was all going so well, until it all just crumbled.
Even under the duress of someone who just got robbed, RC raced to beat Reed for another reason—a gesture Reed made as he pulled off the track at St. Louis, tugging on his jersey like an NBA player who just dunked on you. He would say later it meant a weight was off his shoulders, but both RC and Stewart would take that to mean something a little more in-your-face.
As RC was returning from a press conference (where he didn't hold much back) to the pits, where a few team-manager types had AMA Pro Racing's Steve Whitelock cornered for an impromptu meeting, we stepped in to ask the champ what was going through his head.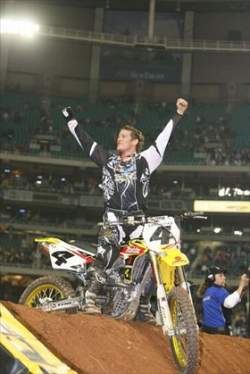 When RC says he loves Atlanta, he means it

Racer X: Ricky, we know you had quite an up-and-down weekend. Let's talk about the racing first. How did it go out there?
RC: [Smiles] It was an epic race night. I felt good in the first practice. We changed some things for the second practice. It was way off—I was, like, two seconds off Reed's time. We changed some things. We changed back similar to what we had in the first practice. I went out for my parade lap and I was like, Ah, this thing is on—it's going to be good. Sweet. I was pumped with the way I rode in my heat race. I got a good start, second place. I need to work on the first couple of laps. That's where I lost all my time. I started matching Bubba's pace, or rather James' pace, pardon me. He started making some mistakes and getting hung up in some lappers and I closed up. It was fun. I could see the fans on the edge of their seats, starting to stand up. It was pretty kick-ass.
In the main event, I got a decent start. I had some good guys on the inside of me. I saw James go down in the corner of my eye, and I'm like, Well, he just bit it. We got going and I saw Chad out there and I was like, Damn I'm catching him, and I'm in traffic, so I knew instantly it was my night, it's on. I'm going to have your ass tonight.

I thought you were weaving in and out of lappers quite a bit.
Yeah, I was weaving in and out. I'm just a little bummed about last week. I really feel Chad got a gift. He was pumped on the win, obviously, which he should be. But not to discredit Ivan or anybody, it's hard to be too pumped on that. It had been a while since he won, so I kind of see both sides. At the same time, it just seemed like it was an in-your-face kind of thing. I wasn't too pumped on that. Don't get me wrong: I have a ton of respect for the guy. But I think that was a little overkill. I think James did, too. It's just kind of like a slap in the face. I try my hardest not to ever do that.

What specifically do refer to as a slap in the face? And tonight when you pulled off in the main, you did that shoulder tug thing, too?
Yeah, stuff like that, it's like he won the title. Really, the two top guys were not even in it. On my behalf, my bike broke. It wasn't a mistake on my part. So that's like showing up for the championship game and you are the Pittsburgh Steelers and you are playing the Indianapolis Colts and Payton Manning and Edgerrin James don't show up. Shit, you know you're going to win. I was thinking about all of that stuff when I was going through the main event.
I'm just really disappointed in the whole fuel issue. I don't want to beat a dead horse.…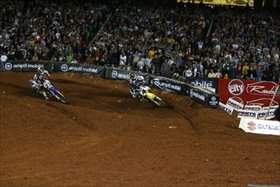 RC made sure he had something for Reed, because he was still thinking about a post-race gesture Reed made the week before after winning St. Louis

Hey, these are the internet days. It's barely over 24 hours and it's beat to death already, huh?
[Laughter in the room] I just think the promoters are doing a great job at making the racing better, the tracks better, then I get penalized and the series is toast, pretty much. I'm disappointed for the fans. I think they're robbing the fans a little bit. Times change. Things change. And sometimes the rules need to be a little bit modified. I'm not saying it's just for me; it's going to benefit everybody. It's different than it was last year or two years before. Everything that Live Nation, the promoters, have done, just went down the tubes.

You mentioned in the press conference, just when everyone gets the close series they wanted.…
It's just screwed now. I really feel bad for the fans. I was all pumped up about this year, too. I was bummed I lost the points, and I was like, This is going to go down to Vegas –that's what it's all about. Now it's a long shot for me.

You weren't too shy on the podium or in the press conference about, "First, I might just go drive cars next week …
Yeah!

... and a couple other comments like that. Was that your first reaction when you heard about it—"Why do this now?"
Now why risk? If I am robbed from my supercross title, why even remotely try and get in between those guys and risk hurting myself when I feel really confident for the outdoors? We have to salvage something out of the year. I don't want to take any unnecessary risks.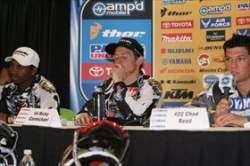 The two on the left are not too happy with the one on the right right now

In a couple of weeks, your knee might start hurting or something?
I don't know. Maybe I get an opportunity from "my life after this" and I have to go accommodate them, or something like that.

Was this your last Atlanta Supercross?
No. It is definitely not my last Atlanta. That's for sure. Not my last Atlanta Supercross [smiles].

You were at the far side of the stadium celebrating your win, and you yelled to the fans that you love them.
Yeah, I love these guys. They're awesome to me. They're so gracious. It's a great place. I love this venue. I think I have only not won here twice, '99 and 2000. I've only missed the box once here. I crashed when I was in second with two laps to go in '99. I won 2001, '02, '03, and '05, and now this year, and I won two times on a 125.

Is it going to be weird racing when you don't feel the title pressure?
I've never been in this position, except for my first year. I don't know what to think, man … it's just a shame. I feel ashamed for the people that I'm around every day. We sacrifice way too much to be robbed.

Did you hold that meeting with the team this morning?
Yeah. It was good. We need to keep our head up high. We have another rider on this team, and that's Ivan. He's having a great rookie season, and he doesn't need to be affected by this. I want those guys to keep their heads up. It's all about pride after this.

Did you use the same gas tonight that you did in San Diego?
I have no idea. I don't put the gas in there!

Are you concerned that the incredible legacy that you leave with this sport is going affected by this?
Oh, yeah. I want the fans to know that I work hard and I don't have to cheat. I've never been in this position. I don't want anything to be tarnished. I just can't believe it. I want the fans to stick behind me and hopefully see that I'm honest. Especially Suzuki. They're an honest team. I've ridden for quite a few people, and Suzuki does not press the issue. It's just common knowledge. If we wanted to cheat, it would be on something that would make a difference. It's not going to be horsepower; it's going to be on chassis setup. Hopefully, the fans will stick behind me, and I appreciate it. Everything was going so good for me that I don't want it to be tarnished. It's a mistake on someone else's part.

Thanks for the time.
Thanks, Steve.