Kawasaki/Racer X Race Report
The wide-open chase for the 2006 Amp'd Mobile AMA Supercross Title took on a strange new look this weekend in Atlanta. Two weeks ago Team Yamaha's Chad Reed was looking like the odd man out in the chase for a championship, but suddenly now he's way out front in points and doesn't have to push the envelope when he doesn't want to.
How? Well, first Reed won last weekend's race in St. Louis while
Ricky Carmichael
and
James Stewart
struggled, and then on Friday night here in Atlanta the AMA penalized Carmichael 25 points for failing the fuel test taken after the San Diego Supercross three weeks ago.
The fuel controversy dominated the weekend's headlines in Atlanta, as press conferences were held, guesses were made and new points scenarios were dreamed up. But the bottom line is that the AMA doesn't appear at all ready to give Carmichael his points back, which means RC started the Atlanta race 34 points behind the leader, Reed.
So Atlanta began the comeback, and comeback RC did, as he won the main event in convincing fashion over Reed and Stewart. Reed was handed another lead early in the race, as Stewart crashed just outside of the first turn, and Carmichael got another bad start. Carmichael quickly worked his way into second but found himself down about five seconds on Reed. He slowly
inched up on the Australian, though, and eventually got the gap down to nothing and then took the lead. Stewart, meanwhile, was on a wild charge from nearly last. He would finally make his way up to and past Carmichael's Makita Suzuki teammate
Ivan Tedesco
to take over third. That's three first turn crashes this year for Stewart, and they are really costing him.
Since Carmichael caught Reed from five seconds back, the race for the win should have been over as soon as he took the lead, but Reed managed to stay right there and apply pressure. It appeared Reed was setting something up for late in the race, but then he made a slight bobble in a corner with about two laps to go that cost him a shot at retaliation. But then again, maybe all it did was point out the difference in strategy now that Reed has a big lead. He no longer has to beat Carmichael, and he admitted that he simply settled for second after the bobble.
Carmichael celebrated the big win, and most people in the building were probably thinking this was the beginning of some incredible comeback effort. But in the post-race press conference, where Carmichael had the chance to say, "It's on, now," he took the opposite approach. He said it's off.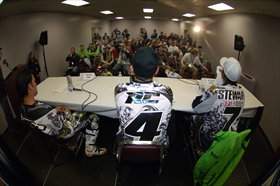 Ricky expressed his displeasure with the new points scenario at the press conference.
"I'm still beside myself," said Carmichael. "It's a shame. I know the mixture we run, it doesn't cross your mind to do it (cheat). We put in too much effort to sit here on the sidelines and watch these guys go at it. I see a lot of ways the AMA could do to improve the situation. If they don't let me appeal, then I don't know. Maybe I'll just see you guys (at the first AMA Motocross National) in Sacramento."
Basically, Carmichael gave no indication that he could come back. Instead, he seemed to shade toward the side of saying there's no chance he can win the title and he might as well not even be here.
"They're trying to make it a better series, and now they just wiped me out of it," said Carmichael. "They had the perfect series with everything they ever wanted. But everything is history now, for me. I think the riders need to get together, because it's not fair. We're spending too much money to be penalized like that."
"I just think the whole deal is not professional. They're changing the tracks and the racing is great, and now they just wiped that all out."
Ouch. So Reed actually extends his points lead over Stewart and still holds a 31-point edge over Carmichael. In the Amp'd Mobile World SX GP, Carmichael holds the lead for now, but the FIM will be looking into the situation and might adjust the points in that series as well by the time we get to Indianapolis next weekend.
In the East Region Lites, Sobe/Samsung Honda's
Josh Grant
took his first supercross win after surviving a battle with
Davi Millsaps
. Grant grabbed the holeshot and battled with his old rival
Josh Hansen
, and as the two brake-checked and block passed each other, it allowed BooKoo Honda's
Steve Boniface
past both. Then Boniface went flying in a huge crash, and Hansen appeared to damage his bike trying to get past the wreckage. Grant was then back in the lead, while Millsaps applied heavy pressure. Millsaps took the lead away, but then gave it back when he fell in a corner. This put Grant back into the lead, and he held it for his first-ever win. Millsaps climbed back to second, and his training partner Matin Davalos finished third in just his second supercross ever.
Last week's Lites upstarts, Chris Gosselaar and Branden Jesseman, didn't fair quite as well. Little Goose grabbed the holeshot, but the race was red flagged due to a crash with Chad Ward in turn one. Goose crashed on the first lap after the restart and had to fight his way back into the top ten. Jesseman got a bad start but charged into a consistent top-five finish.
Well, that's more than enough to handle for the moment. What's the next impossible turn for this series? See you in Indy.