Where Are They Now: Steve Stackable
Dear Racer X,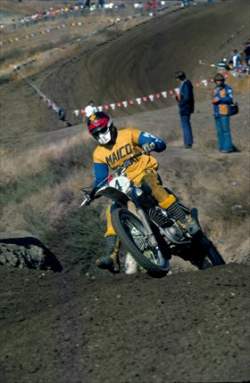 Stackable rode for both Suzuki and Kawasaki, but he is best-known for his years with the Maico factory team.
photo: Dick Miller Archives
I enjoyed reading about Ake Jonsson. I think I might have been at the Trans-AMA at Rio Bravo MotoCross in 1972. I don't remember if it was then or another race later where I saw Kent Howerton dragging his handlebars going through the turns.
It made me think of another Texas rider from around the same time, Steve Stackable. Around 1984 I ran into him at a convenience store near a new subdivision I was building outside Austin. He had an ultralight that he was using to tow a hang glider with in a field across the street. When I got home that evening I was telling the story to my neighbor, and it turned out that Steve had been his hang-gliding instructor (he was surprised to hear that he was doing something as crazy as pulling a hang glider with an ultralight). I think he said that Steve was doing hang-gliding tours in the Andes. It might be interesting to find out what happened to him. I'm not sure if Steve had a national presence or not, but I do know that I saw him do pretty well in an indoor motocross (supercross?) in the Astrodome sometime around '74 to '76.
Bill Ardis. www.racerxill.com
When Steve Stackable started racing motorcycles in Texas back in the late '60s, he must have thought it was the easiest thing in the world. After easily winning his first two races, in the 175 Novice class, he put a 125cc cylinder on his Yamaha Enduro 175 and decided to take on the Experts. And he won. And then he won again. And he just kept on winning, against a hotbed of Lonestar talent that included Robi Holbert, Steve Hackney, and even future three-time AMA National Motocross Champ Kent Howerton.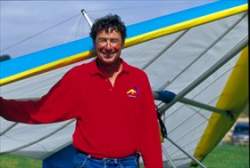 Steve Stackable today
photo: Ane Morales
Full of confidence and looking for a challenge, "Stack" and his friend and mechanic, Ricky Lloyd, loaded up their van and headed east to race a round of the highly competitive Winter-AMA series. Amazingly, he won there, too. Steve Stackable was a natural, and by 1972, he started showing up at national motocross events.
In 1973, and with the help of a company called U.S. Sports, Stackable was touring the country, enjoying modest success in the AMA Nationals and the Trans-AMA series. This drew attention from the Maico factory, and in 1974, with a factory-supported ride, the tall rider managed to finish third in the 500cc Nationals aboard the German brand behind Jammin' Jimmy Weinert and Tony DiStefano.
Maico rewarded Stackable for his efforts with a full factory rider, and he promptly paid the manufacturer back with the best year of his career, including the 1975 500cc AMA Supercross Championship. That same year, the first-ever synthetic motocross pants, manufactured by a company called GRIFFs, were released to the public. The company sold more than 50,000 pairs of the Steve Stackable signature pants.
In '76, Stackable scored a lucrative Suzuki contract that included more money, the luxury of flying to the races, and an opportunity to race out of a bigger box van. In that year's Winter-AMA series, he found himself dueling with a wild-eyed kid named Bob Hannah and came up on the short end of the stick by series' end. He also managed to finish third in both the 250cc and 500cc Outdoor National classes. He then had to sit out of autumn's Trans AMA series after hyper-extending his knee from a – get this – softball injury. It would be the worst injury of his career.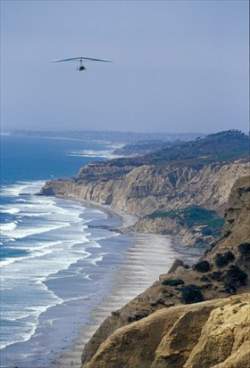 Stackable today, hanging out above the cliffs of La Jolla, California
photo: Ane Morales
Stackable continued to race until the early '80s, but he never again experienced the same level of success. When the day came that he realized he no longer had the will-power needed to beat the young, hungry riders on the line, Steve Stackable decided to hang up his boots forever.
So, more than 25 years later, what's Steve Stackable up to?
"I built a house at Lake Travis in Texas, but when I'm out here in California, I run the flying site and the service department at Torrey Pines Gliderport, in La Jolla, and I do security in the evenings," says Stackable, who is now one of the most accomplished tandem hang-gliding and paragliding instructors in the world. "I spend almost 16 hours a day out here, so it keeps me pretty busy. And if I'm not staying at a girlfriend's place or wherever, I just bunk at the shop."
While Stackable doesn't throw a leg over dirt bikes very often anymore, he does ride street bikes with his son, Travis, who's done a little road racing of his own. (Steve owns a Ducati 996 and a Ducati Monster.)
As for hang-gliding off the cliffs of La Jolla, California, I personally flew tandem with Stack a couple of years ago, and it was absolutely insane. To me, it was way more intense and amazing than jumping out of an airplane, bungee jumping, or bridge-swinging, all of which I tried once. If you'd like to soar like a bird with a true icon of the sport, just look Steve up at the Torrey Pines Gliderport (
flytorrey.com
).I promise you'll never forget the experience.
Is there somebody you'd like us to find? E-mail us at
letters@racerxill.com
.