5 Minutes with ... Stefan Everts
This Sunday, nine-time World Motocross Champion Stefan Everts will compete in the MX No Fear International at the Pernes les Fontaines circuit in France. Having already won the 2006 Starcross International in Italy, Everts, who will retire at the end of this season, is fast on his way in preparing for his final goal: winning a 10th world title. This weekend in France will be a great test for Everts as Sebastien Tortelli (who beat Everts in the final moto of the season to win the 1998 250cc World Championship), Mickael Pichon (we all know him), perennial runner-up Josh Coppins, Yves Demaria, Kevin Strijbos, and several other world-class riders will be behind the starting gate with him. So how does the 87-time Grand Prix winner and nine-time Motocross des Nations Champion feel about his last waltz in a sport that made both he and his father, Harry, multi-time World Champions?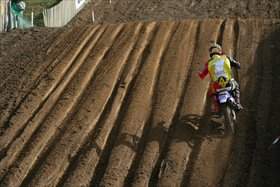 Stefan Everts works his way up through the ruts of Ernee at the '05 MXdN
photo: Simon Cudby

Racer X: Stefan, you recently won the Starcross in Montova, Italy. As far as a first race goes, did it all go to plan?
Stefan Everts: For me, I was not at 100 percent. My riding was good, but I was not really at 100 percent. The track was kind of icy and I couldn't really find the lines. I know I can do a lot better. It's a little too early in the year right now. The first GP is still a month and a half away. But it was a good start. It was also a good opportunity to test the suspension. The bike I have just keep getting better and better. I'm so happy with my bike.

Are you looking forward to the Pernes les Fontaines race this weekend?
Yeah, it's the first big meeting of the year. I'm looking forward to see what happens.

The last time you raced a full season against Sebastien Tortelli, it went down to the final moto, with Sebastien winning. How do you feel about racing against him in 2006?
I've watched him ride, and to me, he does not look much different. He's very aggressive and sometimes out of control. That's probably the way he likes to ride. But he looks very fast. But I'm not looking at 2006 like I'm going to have this big battle with him. I mean, there's no "payback" bullshit or stuff like that. What happened in 1998 happened in the past. That's history now. I just want to try and win the 2006 World Championship.

So is this it? Is 2006 your final season?
Definitely.

When did you decide this was it?
I decided in 2004, during the season. During the year I made some calculations. I was thinking, If I win the title in 2004, '05, and '06, that would make 10 titles. I was comfortable with that. Plus I'm 34 years old now. That's a good age to retire at!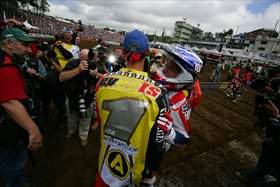 Everts and RC go way back
photo: Simon Cudby

Did you ever think you would win as many titles and races as you have?
No, no. Never. When I won my second 250cc World Championship [in 1996], I decided that I was not going to go race in U.S. My goal became beating Joel Robert's record of six World Championships. Back then, that seemed like such a long way to go. It was a very big challenge. I pressed on and now I have nine titles. Everything has gone by so fast, it's unbelievable.

With this being your last season, are you going to put a lot of pressure on yourself to win the World Championship, or are you going to try and enjoy yourself a bit along the way?
I'm going to put pressure on myself. I'd like to finish in style and enjoy myself, too. My new bike is so enjoyable—it's such a big improvement over the 2005 bike. It's already so much fun to ride.

Why is the bike so good?
Turning. It is so much easier to handle. I can ride it much more technically. I can do more things on the new bike. My old bike, my bike from lat year, only wanted to go straight. I had some hard races on it.

Who will be in the fight for the 2006 MX1 title?
I think, for sure, Tortelli, Pichon, and Coppins. I think Coppins has improved a lot and will step it up this year.

You and Ben Townley are buddies. Have you spoken to him much as of late?
We speak a lot. For me, it was sad to see him go [to America]. But he wanted to follow his dream. He made the right step, but had bad luck with his knee. During the next two to three years he should become very strong. We had some good times while he was here in Europe. Good memories.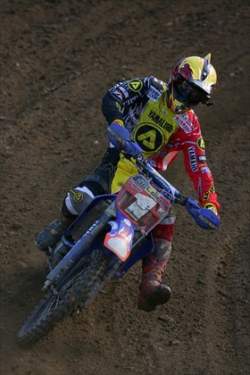 Everts says 2006 is the end of the road for him
photo: Simon Cudby

I know you've been asked this question 10,000 times, but I'll ask it again: Whether it be wealth or fame, do you ever regret not racing in the United States?
No, I don't regret it. And the money I have made is just peanuts compared to what can be made in America. Still, I am happy with what I have done. I think if you want to race in the U.S., the younger you start, the better. At the moment, the sport has gone through so much change in the U.S. I raced there in 1992 and it was big. Now I know it is 10 times bigger. I was happy to race in the U.S. when I did, but I wanted to be the best Grand Prix rider.

You had an off day at the 2005 Motocross of Nations. Just a lot of bad luck?
Not bad luck, it just wasn't my day. I was sick the week before, and I didn't have the same motivation that I normally do. I got bad starts and then had crashes [in the first and second turn]. I wasn't even close to being in the top three.

What did you think of Team USA in France?
America, for sure, was the strongest team out there. There is not much else to say. Ricky Carmichael was so fast that nobody could keep up with him. Kevin Windham and Ivan Tedesco also did their best. Ricky was the star of the team. He did the most work for the win.

Okay, I'm going to put you on the spot: What's your take on the current state Grand Prix motocross?
GP MX.… It's a difficult question to answer. I don't know.… I now have no more sponsor because of the anti-cigarette stuff. It's so hard for me to find a sponsor. Do you believe that? I'm really successful and have such a big name in Belgium. We even have live TV for motocross now. But I just don't know. GP motocross is supposed to be big and the future, but at the moment there are problems. I hope that Youthstream has a good policy for the next four or five years. The sport needs to get bigger and better. At the moment there is too much yet to be seen, so I do not want to say anything good bad or good. It's too soon. It's a sad thing for me because if things get better, it will not be in my time. It will be for the next generation that follows. We'll see what happens.

What are you going to do upon retiring?
At this moment, I don't know. I have many ideas on many things. In don't know definitely, but I hope it will be something in motocross. Yamaha has spoken to me about doing schools. I have options, but at the moment I have not decided upon any of them. We'll see. To be honest, the main thing I want to do is bring some peace to the rest of my life. At the moment, my life is always going at 200 miles per hour. I have to be here, I have to be there. And there is so much travel—to Monaco [where he lives], to Belgium to Italy. I'm always on the road. I want to bring it all down and enjoy life. It's hard to be the top rider. We're like gypsies at the moment. I want there to be a time and place for my family.

How is your boy, Liam?
He's too good. He's so active! I can already see he loves bikes. He sees my bike and wants to get on it. He's 1½ now. He's doing great. He can speak a bit. He'll say, "mama" or "papa" and hug and kiss you. He's the best thing in my life. He's far better than anything I have achieved in motocross.

Will there be a third Everts World Champion?
[Laughs] It depends on how he does. If he uses his brain and is dedicated, he'll get a bike. If he is not, I'll take it away. If he wants it to be a hobby, that's different. But if he wants to be a racer, there has to be passion. There's only way to do it and that's to work hard for it.

Of all you have accomplished do you have one single favorite racing memory?
The biggest moment, for sure, was in 2003 when I won three Grand Prix in one day [at Ernee, France]. That is something nobody will ever do again. I was so lucky I won the World Championship one race before the season ended. I knew the last Grand Prix was going to combine all three classes, so I was like, "Let's do it. Let's do all three classes. What the hell?" Three 35-minute motos was so hard. It was the hardest thing you could ever do. When I crossed the finish line after the last moto I wanted to drop dead.

Will you be coming to America any time soon?
Oh yeah, in the future, for sure. I would love to come and see a supercross. I hear about it all the time. I want to see how much it's changed since I was there in 1992…. Man, that's 15 years ago. I'm sure it's a lot different. Hopefully, I'll be there next year to see supercross and to visit some friends.

Hey, have you been able to watch James Stewart ride?
I have seen videos, but that is not like watching a person in real action. So, no, not really. But what I have seen on video, he looks very fast and very impressive. I look forward to seeing him up close and live. He's like RC. He has a special style.

Good luck this weekend and this summer, Stefan.
Yes, thank you, Eric.