5 Minutes with ... Chris Gosselaar
With the West Coast Lites division going on a not-so-little break, it's time for the East Coast players to get revved up. The class looks strong on paper, with a few sure standouts, like Honda's new addition Davi Millsaps, Suzuki's slightly injured Broc Hepler, SoBe/Samsung Honda's Josh Grant, and Red Bull KTM's Josh Hansen, who was very strong last year. Then there are the riders who could go either way, like Chris Gosselaar. Li'l Goose landed himself a last-minute deal under the potent Monster Energy/Pro Circuit Kawasaki tent, and now it's time to pull out all the stops. We rang him up to get a preseason update to see how everything was going.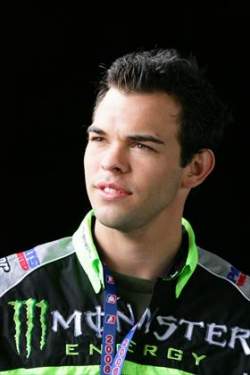 Chris Goseelaar is looking ahead to starting his '06 campaign in St. Louis this weekend.
photo: Simon Cudby

Racer X: Chris, how's it going?
Chris Gosselaar: It's going good all the way around. I just got home from the test track and today we did our final bit of testing.

We're down to just days now before the East Coast series starts in St. Louis this weekend. Are you ready to get things started?
Yeah, for sure, I've been riding every day and testing, like, every week. My bike is unbelievably fast, so I'm anxious to get started. Then I'll finally see where I stand.

You were hired as a fill-in at the beginning but it looks like you're going to be solo under the Pro Circuit tent. Is there any pressure to hold the torch high for Mitch Payton?
I'd say yes, I kind of would like to do good for him because he's done so well every year. I don't want to be a good rider who doesn't perform. I think I definitely have a shot this year. I know I have one of the best bikes out there. There should be no reason why I can't win races. The team has put a lot of effort into me by getting the bike ready, so it will be a good season.

I think you're riding a Kawasaki for the first time in your career. However, it's for the team that always produces championships. You definitely stepped into something good.
Oh, yeah! From day one, I've been so happy with everything. The first time I rode the bike, I thought it was illegal because of the motor! I think it will really show when I race. My bike last year was not that good, and my results show for it. I'm very grateful for this opportunity Mitch gave me. I have been training hard, riding every day, so I'm going to give it 110 percent all the time, do my best, and see what happens.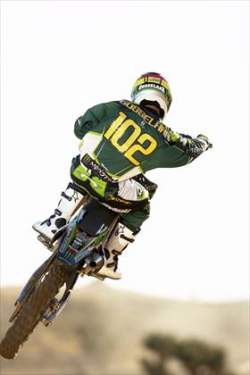 Gosselaar will wear #102 beginning this weekend
photo: Frank Hoppen

What plans did you have before this opportunity came?
Actually, I went down and bought a Honda 250F. I got the suspension valved, had Pro Circuit do a head for me, and I was going to race the West Coast. I would have probably thrown all my stuff in the back of my pickup truck and went at it.

Sounds rough. So this is kind of a second chance, I guess, to get on bikes that are proven.
Second chance and last chance. I think if I can't win on this bike, then I won't be able to win ever. It should be my best year, for sure, since I have learned a lot. I got smarter as a rider and it will show.

What happens if you don't get a win?
If I can't win on this bike this year, then I'll probably have to quit. No, but I don't think I will win every single race. I just want to win one race and get some confidence, then I'll know I can be a front-runner all year. I have to be consistent, which I've had trouble with also. If I ride to my potential with no injuries, knock on wood, then I know good things will come.

When you do get that win, will it help erase the ones that slipped away?
Oh, yeah, I'd be so pumped. I mean, I have come so close and then just devastated. When I crashed on the last lap in 2002 at Anaheim [when he crashed with Rodrig Thain], I still think about that every day.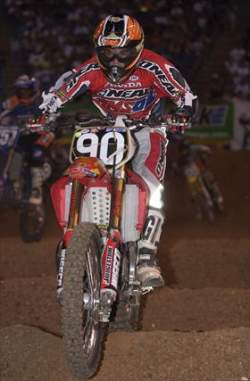 Gosselaar spent a few years on the Factory Connection Honda team but has yet to win a supercross
photo: TFS

Most of the talk is about Davi Milsaps, Broc Hepler, and Josh Hansen as the contenders. You are a dark horse coming in, so where do you see yourself fitting into the equation?
I don't want to make any predictions, because that just starts a bunch of stuff on the internet. I don't know - let's go with that. I just know it's going to be a good weekend for me and I will surprise a lot of people.

Do you have a deal for outdoors?
I don't know for sure, because I'm afraid to ask, so time will tell.

Thanks, Li'l Goose, and good luck this weekend.
Yeah, thanks, Dono.