5 Minutes with ... Josh Grant
While Team Honda's Davi Millsaps, Red Bull KTM's Josh Hansen, and Team Makita Suzuki's Broc Hepler have been the talk of East Region Supercross, there's at least one other guy capable of coming out on top: 19-year-old Californian Josh Grant may be the sleeper of the class. Although he did not win a supercross or national in '05, there were flashes of brilliance, like his last-lap defeat at the hands of Hansen at Daytona and a moto win at the Budds Creek National. Now, with the veteran Ryan Hughes helping to train him, Grant is ready to go for St. Louis and the East Region SX opener this weekend. We spoke yesterday with the friendly Team SoBe/No Fear/Samsung Honda rider while he was on his way back from visiting good friend James Marshall at Sharp's Memorial Hospital in San Diego.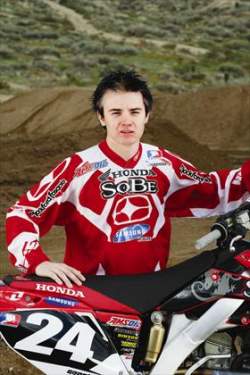 Josh Grant is ready for his sophomore season of supercross
photo: Simon Cudby

Racer X: Josh, what are you up to today?
Josh Grant: Well, I just went down to see James [Marshall] and hang out with him.

How was he doing?
He was awake and I was able to talk to him. He's doing good and was in good spirits, but man, it's never a good thing when things like that happen in the sport.

Any talk of how he's doing physically?
The doctors were just waiting for the swelling to go down so they could see what they could do in surgery.

You guys are close, aren't you?
Yeah, I lived with him in Texas when I was doing the amateur stuff. He'd also stay here in California with me.

We all hope the absolute best for him.
Me too.

On a different note, what did you think of the Lites race on Saturday night?
It's good to go and watch the races. It fires me up and makes me want to race even more. Being at the races is good for me. San Diego was kind of a crazy race. There was a crash in the first turn and a number of guys had to work their way up. And while that was happening, the top three guys checked out early. Grant Langston's ride was insane! And [Ryan] Villopoto, if he would have had one more lap, he would have passed Alessi. Same thing for Langston: One more lap and he would have got [Andrew] Short. The main was really good, close racing.


| | |
| --- | --- |
| | |
| Grant came within a lap of winning Daytona last year before tangling with Josh Hansen | |
| photo: Simon Cudby | |
Have you been able to attend all six West Region races?
All but San Francisco.

What have you thought about the West Region series thus far in 2006?
Only a few guys have been able to consistently be up front. Other than that, things kind of drop off. I think it's going to be the same for both coasts. And I'm not saying the coast I'm going to ride will be easy, for sure.

Who do you see running up front in the East Region?
I don't really know. I've been listening to the stuff on the Internet and it sounds like I'm the underdog; I'm not listed to win by a lot of people. Davi and Broc will be tough, I do know that.

Have you done a lot of testing or riding with Millsaps?
No, I haven't seen him on the track. I've been riding on my own private track.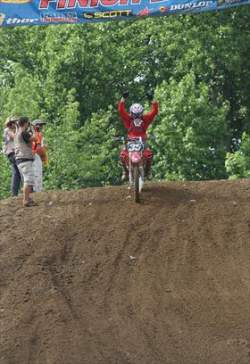 Grant earned his first pro moto win at Budds Creek last summer
photo: Matt Ware

How do you feel heading into St. Louis this Saturday evening?
I'm really confident; I'm really on my game. I haven't been tested in a race yet, so my strength and conditioning are going to be kind of a surprise. I know I'm more than ready to go 15 laps.

Do you have a strategy in place for round 1?
I'm going to see how it all plays out. I know you can't win the championship at the first race, so I want to be consistent and stay healthy. I mean, a lot of guys haven't even made it to the first race this year! You don't want to practice like it's a race. Some guys go out and will do anything to put in the fastest lap of practice. What good is that? Being healthy is the number-one priority.

Last year, your rookie season, you were eighth overall in the East Region. Were you happy with your results?
They were all right. The whole thing was a learning experience for me. Last year was not the best year for me. It could have been better. This year will be a lot different. I can ride all the technical stuff well and I can get through the whoops now that they're built around [Mike] Alessi [laughs].

How important is the title to you?
I won't be happy without it. I want to be in the top three every weekend.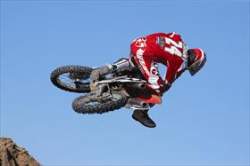 Grant will run #24 this weekend in St. Louis
photo: Simon Cudby

I was watching The Great Outdoors: The Constant War the other day. I was really impressed with the section featuring you at Budds Creek—and you won the second moto that day. Did the win help your confidence?
Oh yeah, for sure. After I did so well at Daytona, my results started to get good and I started to build up confidence. From that point forward, for the rest of the season, my results were good. Budds Creek was also a big boost.

Do the nationals mean a lot to you?
Oh, yeah. The outdoors is kind of my thing. I enjoy them. Yeah, I like the glamor of supercross—the lights, the fans, everything blowing up—but the outdoors is what I grew up doing. I really like the nationals and they're really important to me.

How are things with the SoBe/No Fear/Samsung Honda team?
Really good. I like the people I'm surrounded by. People like Jeff Majkrzak [team co-owner] are really good and I appreciate what they've done for me. We'll see what happens after the supercross and outdoor season, as I'm in the final year of my contract with them.

Have you been able to watch the 450s race?
Yeah, I've watched the main events right up to the last few laps. Then I run to beat traffic [laughs]. The racing has been really good. Those guys are on a completely different level. I watch James Stewart ride and he's one bad due.

Right on. Well, good luck in St. Louis, Josh.
Thanks.