Thursday Rev-Up: San Diego Chargers
Hello, everyone, and welcome to the Rev-Up! Five rounds down and so far it's been nothing but straight grindcore, pound-for-pound action, baby! As the traveling cavalcade of the 2006Amp'd Mobile AMASupercross Series travels south to San Diego, the tension continues to mount. We've had super-gnarly tracks, not-so-gnarly tracks, and even a mudder. We've had heroes and madmen. We've had triumph and tragedy. Even the Wicked Witch of the South herself could not have thrown so many key ingredients for the perfect supercross stew.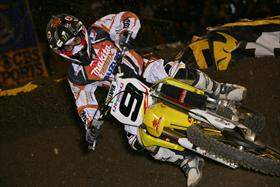 Ivan got a taste of the podium last week and will do his best to get back there on Saturday

Well, this strange brew is reaching the boiling point as the sixth round of the series rears its competitive head this weekend. This year's cast of racers is chock-full of chargers. Let's talk about some of the animals that have been charging the hardest and get Revved Up for the insanity that awaits us in San Diego!
AMA Supercross
Ponder this scenario:
Ricky Carmichael
shows up in Anaheim 1 with newfound speed, a more aggressive riding style, and more rage than ever before. Just as he takes the lead, he goes down. Was he going to have the goods to continue to victory? Maybe.
Round two is the site of his first victory on the season, and he earns said win in convincing fashion. Another win is followed at Anaheim 2. Again, hard-fought and won straight-up. And even Round 4 sees the GOAT gallop through the mud and into the lead, but back off the throttle to avoid a possible crash and finish second to a very driven James Stewart. Last weekend he won by 10 seconds. The writing on the wall reads to me as, the bastard is two small instances from a sweep. RC has 13 points on his closest rival just five rounds in. He doesn't need to win this weekend; a mere podium finish will have him grinning like a Florida Gator (he's a core Seminoles fan, but I digress) as the series heads east. The pressure is off, but the heat is still very much on. He must be stopped, but before this can happen, he must be slowed down first. Be that as it may, he is charging and will carry this charge to Saturday night.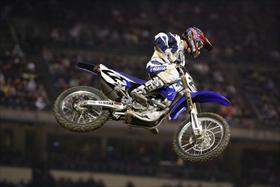 If there was a time for Chad Reed to charge, this weekend is it
If there was a time for
Chad Reed
to charge, this weekend is it. If you recall, at this point in 2005 RC was racing away with the series on a win streak. He was on his way to continuing the streak when Speedy
Reedy
caught fire, reeled Carmichael in, and took the dramatic victory. I have a memory like a steel trap, and I can vividly remember the last lap of last year's race. It began with Reed scrubbing the finish-line table in ninth gear and going on a rampage to dispatch #4 and take the checkers. That fire is still there inside Chad. He keeps saying that he is tired of not winning. Well, Chad, how tired of it are you? You ain't standing in Super Glue; if you feel froggy, then jump! I'm calling you out, brother. We all know you're due for a win. Get in the ring this weekend and let the Thunder from Down Under roll. I'm feeling a sneak attack from #22. I think it's time for the blue to shine.
I'm also giving a call to Ivan the Terrible. During his two-year rule of the Lites classes, he was scrubbing, whipping, and charging like a warrior. Until last weekend, I hadn't really seen this style displayed from Tedesco. But something snapped as he followed his teammate to the green flag at A3. Ivan was straight getting down! It's all about the podium, daddy. After placing his Alpinestars on the steps last Saturday night, I think he found a little hot sauce he can drink to officially enter the ring of fire the Big Three have controlled.
And for the Chosen One? Shake it off, James. It's a long series, man. Don't let last week's bummer harsh your mellow. Keep the rubber side down, stay headstrong, and you will have your revenge. Just as RC is two slips from going undefeated, Stewart could very well do likewise if not for first-turn crashes at Phoenix and San Diego, as well as an unexpected spill while leading toward the end of Anaheim 2. And did you see him pass Reed through the 'hoops in that heat race? Holy smokes, folks! That was downright amazing. Since RC has room at the top, he can start thinking bigger-picture and maybe wait for another mistake from #7. But if James stays up, he wins.
Supercross Lites
As per the norm, this class has been a monument of inconsistency.
Nathan Ramsey
and
Grant Langston
have each taken a couple of wins, but their performances in between have prohibited them from taking control of the points. Zulu is on a roll now, though. The international man of the class has all the speed he needs to strike a knockout blow, but luck and consistency aren't his biggest attributes. Nate Dawg can see the door closing on his career, and he wants this title bad. I am predicting a KTM on the podium this weekend, and the odds are leaning Ramsey's way for a one-way ticket to the box.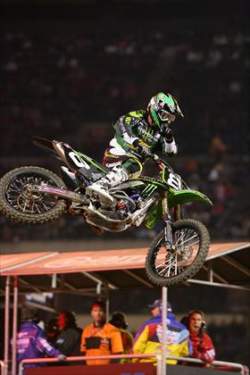 Zulu is on a roll with his Monster Energy/Pro Circuit KX250F
Andrew Short will be coming with it as well, what with one of his main sponsors being One Industries, just a hop, skip, and a jump away from the stadium. Ah, but the young lions are charging and charging hard.
Ryan Villopoto
and
Mike Alessi
have made podium appearances and will be a force to be dealt with. But the sentimental favorite is Billy Laninovich; he will be a man on a mission. Billy will be decked out in an all-gold bike and gear combination and will try his heart out to erase the five-point deficit he has from first place, even though he has yet to win. Keep an eye on "Goldmember" this Saturday night! In fact, all of these boys will be throwing on the charge this weekend as the series heads east and they enter a state of hibernation till Houston.
With that, only a couple of quick days lie in the way of another blessed weekend of thrills, spills, and drama in sunny San Diego. As a die-hard Kansas City Chiefs fan and multi-time attendee of the San Diego SX, I know all too well that Jack Murphy Stadium (now Qualcomm) is the home of the Chargers. So, all together now, lets get Revved Up, Charged Up, and ready for the pain. Round six is here!
Thanks for reading, see you next week!