Bench Racing Ammo: Feeling Blue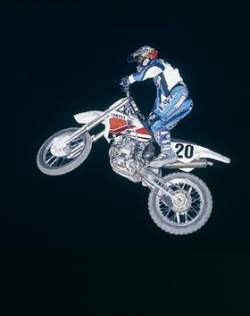 Doug Henry was the first rider to win a Supercross main event on a four-stroke. He did it at the 1997 Las Vegas SX.
photo courtesy of Moto Verte
On May 17, 1997, Team Yamaha's Doug Henry made supercross history by piloting his white Yamaha YZ400F four-stroke prototype to a win at the season-ending Las Vegas Supercross – the first victory for a four-stroke motorcycle in supercross competition. The victory was a shock to many, and little did we know that it was a sure sign of things to come....
Unfortunately for Yamaha, it was more of a sign for the other three major manufacturers in the 250 class. Strangely, since that special night in Las Vegas in '97, Yamaha has failed to get another win with their premier-class four-stroke in AMA Supercross competition, which is hard to believe. They've had a big-bore four-stroke longer than any other manufacturer, starting with their revolutionary YZ400F from 1997-'99, then the YZ426F from 2000-'03, and the YZ450F from 2003 until now.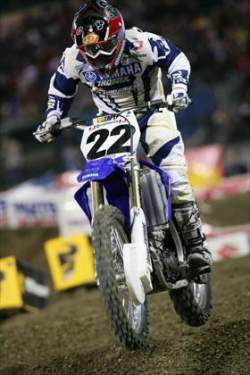 Chad Reed and the YZ450F are in a dry spell
photo: Simon Cudby
Since then, Honda, Suzuki, and Kawasaki have all capitalized numerous times with their 450cc machines, with Honda first winning in '02 with Nathan Ramsey, and Suzuki this year with RC. And 2006 is also the first season for the Kawasaki big-bore machine, on which
James Stewart
is blowing minds.
Fortunately, although the Yamaha YZ450F is currently in a dry spell, the future looks good with
Chad Reed
in the saddle. He is currently 13 points behind leader
Ricky Carmichael
approaching the second half of the season, which is when Reed has traditionally been at his best. So while Yamaha may not have won an AMA stadium race on its 450 in a decade – Jimmy Button won the
Washougal
250 National on August 1, 1999 – if Reed finds that next gear and gets the upper hand on RC and Stewart, 2006 might bring more than just a win for the men in blue.