Monday Conversation: Ricky Carmichael and Ivan Tedesco
Ricky Carmichael led for 20 perfect laps at Anaheim 3, and for part of those laps his Supercross-class rookie teammate Ivan Tedesco was not far behind. RC's series rival James Stewart had his worst night, falling in the first turn and two more times when he tried to charge back. RC is slowly building a series lead, and he's starting to appear less pressured already. We caught up with Carmichael and Tedesco just after they stepped out of the post-race press conference.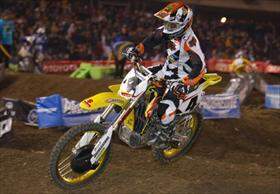 RC's speed, toughness, and endurance are the best combination right now

Racer X: Ricky, did you expect to be 13 points in the lead by round 5?
Ricky Carmichael
: Definitely not. I didn't expect to be 13 points in the lead in the West. It's been good. It's been somewhat of a test, and I've been the strongest and held my end of the deal up, regarding whatever the track conditions may be or whatever I've faced. Those guys are riding good, and they're keeping me on my toes. It's really fun. I've enjoyed the battles, and I didn't expect to have the points lead that I have currently.
What happened in that first turn?
I think James went in a little hot. I think he was going to drift to the outside to protect the next turn, that right-hander. He just lost his front is all that happened. As far as the other times he wrecked, I don't know what happened. Once he fell down, a couple of laps later I found out Ivan was behind me, and I just said, ah, dude, latch on to me and we'll take you to your first podium if he can stay upright. I knew he had the podium locked up. I was just worried that
Reedy
might get him. Chad is a great rider, and he's going for that points lead. As far as the main, it was pretty uneventful for me. I didn't really have much drama. I led 20 laps and that was good for me. Tonight, I'm glad it came out the way it did, because I really didn't feel good all night. But I didn't feel good at Phoenix and it went good for me. Maybe it's an omen or something. Sometimes, like at Anaheim 2, I didn't even care if I won, I was just so pumped it was fun and such a great battle. I'll take it any way I can get it.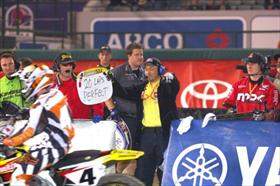 Any time is a good time for 20 perfect laps, but these were pretty important for Carmichael

It this going to be the series where it's not the fastest guy, it's not the most experienced guy, but just the guy that makes the least mistakes?
Right now it seems to be that way. I don't think I've been the fastest guy every time. I've been just pretty solid. So far, that's all it's taken.
As far as during the week, you're still doing the Florida thing, not So Cal test tracks. Are you going to spend some time out here in the West soon?
Yeah, I'm supposed to stay back this week. I'm not sure if I'm going to, but I'm supposed to. I just have a good program at home. I'm not accessible at home like I am out here. I just have all my attention and all my focus on this series. You have, to as stiff as the competition is.
James came out in practice with "rain or shine" on his gear. Did you think that was a bit much?
It was pretty bold. I don't really know. I may have taken it the wrong way. I don't think it was directed towards me. It was definitely bold, and he's a pretty bold guy. He's had some pretty flashy stuff on the back of his pants. I'm not offended by it or anything. There's no drama there. But it got me motivated a little bit. I wasn't offended.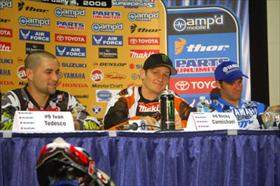 RC has a look of satisfaction after toughing out the first five rounds in the West

Fans have been giving both you riders and us in media a hard time for how polite press conferences are; no one likes to run their mouth much or create drama. If rider publicly talks smack about the race, does that actually change the possible outcome by changing how you will react to them when you see them on the track?
Oh, yeah. I'm one of those guys that says, "You open your mouth, you insert a foot." That's not my style. Keep your thoughts to yourself and to your personal friends and let your actions and results do the talking. That's good enough.
Did you have to count your body parts after that heat-race thing?
[
Laughs
] No! It wasn't as bad as it looked. It really wasn't. I just have to give it up for my team. It's a shame that James went down. I think we had a great race forming, and off we go to San Diego.
Thanks for your time.
Thanks, Steve.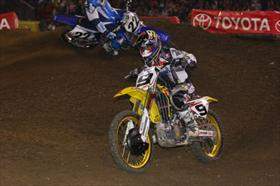 Tedesco just wants respect

Racer X: Ivan, your first podium in this class. You must be happy about that.
Ivan Tedesco
: Oh, yeah, I'm definitely happy. It's been my goal all year to try and get up here on the podium with these guys. Tonight, I guess, was my night. I didn't get the greatest start, but somehow I found a couple of holes and got myself into second right off the bat and tried to latch myself on to Ricky as long as I could. He was riding really good and got away from me. I just rode from there and had a pretty solid night.
With Ricky staying in Florida, have you two had time to ride together?
Not too much. Earlier in the off-season we did some testing—quite a bit. He helps me out when he can, but he's in Florida a lot. I'm going to try and get down to Florida before Daytona and Orlando and try and spend a couple of weeks there and see if it helps me out a little bit.
Did you say in the press conference you may even move to Florida?
I'm going to look for some land down there in those two weeks and try and get a place of my own, a facility like he has with the tracks and the whole getup. I think it would be a good investment in my career.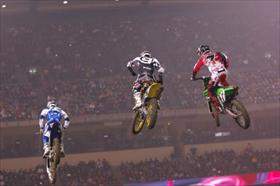 Ivan is mixing it up at a whole new level

What's popular about riding and training in the Southeast? Is it fewer distractions or hotter weather that builds endurance, or what?
I think it's a combination of everything. It's good land, its cheap. It's good to have when you are on the East Coast. I think if I had a place in Florida and a place in California, that would help me out. I'm going to look into that.
Just one question on this "chump" thing from two weeks ago. Was there anything to it? Did you let it roll off, or how did you react?
[
Laughs
] People like to make something out of anything. I've been thinking about it, for sure. I want to try and run with these guys, and I want these guys to respect me, too. When he said something like that, it was a total lack of respect, I think. I'm trying to race just like these guys are and trying to gain respect, and hopefully, I did a little of that tonight.
Other riders have commented on how the top three are going so fast all the time, just hanging it out. Did you experience that intensity out there yourself?
I felt like I was riding in my comfort zone. You couldn't ride that track over your head, because it got slick and greasy. Their intensity is definitely high, and it's not only that, it's that they don't make many mistakes. Lap after lap, weekend after weekend, they're up there riding that pace. I'm up there trying to ride that pace, so I make mistakes once in a while.
What was the celebration like when you went over to the podium?
It was good. With Ricky and I, it was a good night for Suzuki. Hopefully, there will be more to come.
Thanks for your time.
No problem.