Our moto-loving, globetrotting friend Venkat is now in Philadelphia, where he is studying as well as watching supercross on TV—something that was hard to do in his native India. Here's his take on what he saw at Anaheim from the 215 area code….
Right off the bat I wanted to tell you this: This was the first time I ever watched a supercross race on CBS That's because this is the first time I'm in the U.S. during the AMA Supercross season. Wow! What a race it turned out to be. If
Ricky Carmichael
and
James Stewart
are going to go against each other like this, it's going to be one heckuva ride for everyone associated with the industry: promoters, media, riders, PR guys and last, but certainly not least, the fans.
Though I don't have valid numbers to back up my theory here, don't you think that AMA MX/SX has never had it so good before, in terms of popularity, at least? There are more and more eyeballs seeing AMA MX/SX races. Those who casually tuned into CBS on Sunday (I am sure the number would've been high because the Broncos-Steelers game followed right after the SX telecast) wouldn't resist the urge to tune into more broadcasts on supercross.cc.com or the future telecasts. And all we have been asking for was more prominence for the sport, so kudos to CBS for slotting SX right before NFL. It's a grand slam there.
And all along I have been saying the on-track product should be attractive to lure new fans no matter the woebegone TV schedule that we are accustomed to. But don't you think Sunday's race lived up to the expectations, or in certain instances, far exceeded what we thought? At least every SX round is becoming intriguing and at the same time more fun to watch.
One thing's for sure: It's become harder to predict these days. I, for one, was critical of the competition—or lack thereof—in the premier class of the sport. It seems so refreshing now to see
Ricky Carmichael
getting some stiffer fight these days from
James Stewart
. Just for a moment, think about the possibilities of what a fully fit and comfortable
Chad Reed
would bring to this table…. That would make them the wonderful trifecta, wouldn't it? I am sure if you queried Ricky, he certainly would relish this newfound competition. James' vigor and Chad's resilience are sure to stir the pot in the 250cc class.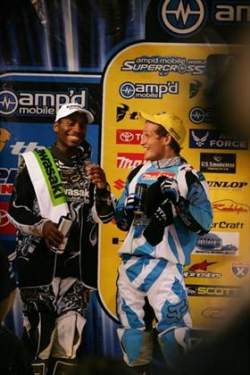 James and RC on the podium at Anaheim 2
However, there was one thought that enveloped my brain during Sunday's telecast. I hope you are with me in this. You accept the fact that more fans at the turnstiles and better TV ratings would certainly translate to better bike sales. That's a different way saying "Win on Sundays, sell on Mondays." In business-speak, it's called Return On Investment (ROI). The bike manufacturers should be happy and laugh their way to the bank with this competitive spark that James and Reed provide to Ricky in the 250 class [
Ed. not
e: Word about the class name changes apparently did not reach Venkat in India.] Now I'm wondering whether Honda, the most recognizable brand name in two-wheelers, is left staring behind the 8-ball. After all, we have seen some of the all-time greats ride a Honda to the Victory Lane. Rick Johnson certainly springs to our minds, plus David Bailey, Jeff Stanton, JMB, O'Mara, Hansen, RC himself, plus King Jeremy's four SX titles there. Honda is usually cited as the top manufacturer in the sport for gearheads and industry insiders. To woo the casual fan, as the sport is beginning to do know, would need a strong performance from the Japanese giant, right?
But just take a cursory glance at Sunday's results or, if you would, replay the race in your mind…. Where was Honda standing in the terms exposure? I would give them a B-. At a time when the sport is on the threshold of another boom, don't you think it would be a travesty if Honda enjoys another sub-par season? As someone wisely said, you are as good as your last performance and if the same holds true for Honda, it wouldn't look good for them. They had five Hondas in the top ten, but none higher than fifth—and that man is only riding part-time!
Think about it for a moment.
Ricky Carmichael
does wonders for the Suzuki marketing team; Kawasaki and Stewart have almost become synonymous;
Chad Reed
has kept the Yamaha flag flying on the podium. For Honda, they have King Jeremy, who can still garner his share of fans, as well as the veteran LaRocco. Windham, of course, is hurt. For the layman who has just tuned to motocross, it would seem as if the Suzukis and Kawasakis and Yamahas are smoking out Honda on the track. In my humble opinion, Honda needs to put a rider on the podium quickly and regularly. And it makes you wonder whether its hardball tactics in not courting
Ricky Carmichael
for another season or two has hurt them more than they guessed. Ah! What a capricious sport.
So here's my bet: When Reed and Stewart each come to the end of their respective contracts, Team Honda will negotiate to grab one of them. The sport needs Honda back in the mix and fighting for the wins!