5 Minutes with ... Jeremy McGrath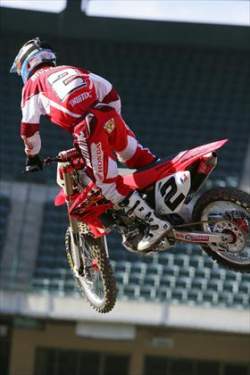 MC still has great style

Jeremy McGrath has his reasons to race, but mostly it's because it's fun for him. But for Jeremy to go out at the last two rounds and race the way he has, riding in the top five and even leading Phoenix, shows he can keep up with this ever-changing sport. Whether it be wowing the fans on the parade lap or leading races, he is still showing why he will always be the King of Supercross. Heck, "Part-time Showtime" is only two points out of fourth in the AMA standings! We caught up with MC to discuss his success of late and to see what's down the road.

Racer X
: Jeremy, how's it going?
Jeremy McGrath: It's going good! I'm cruising on up to the test track to put down some laps.

In the last two weekends, you have had strong finishes, which has to make you happy.
Yeah, of course it does. With things turning out how they have the last few weeks, it's nice. I was glad to rebound after round one, which was a disaster, I thought—for me, anyway. I feel this time that I'm putting a lot of work into it. Last year I thought I was ready, but this year I know I am. When I finished 11th at round one, I was disappointed. So it's been a good few weeks.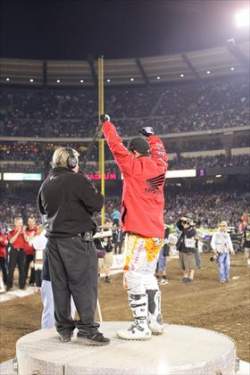 Jeremy is still the most well-received rider in Anaheim Stadium

Going back to Phoenix, how about that holeshot in the main event on a two-stroke?
That was amazing. I mean, I didn't think it was impossible to get a holeshot on a 250. I just think the circumstances were right. The short start and, of course, the split thing worked into my favor. Phoenix was kind of a tough day. I'm surprised that the finish came out the way it did. I just gained momentum throughout the day. We ended up having a rough day, missing the first practice because something happened to the bike. That made the day crazy, but it ended up being a nice night. I was definitely stoked about it.
And this past Saturday, on your home turf, another great showing.…
Yeah, fifth was good. I was pretty happy but a little bummed because I wanted to catch Ivan [Tedesco]. I got caught up with some lappers, plus it took me a little too much time to pass [David] Vuillemin at the beginning.
Tell us about the switch to the Honda 450.
I guess after Anaheim 1 the team started thinking about it. Some of the tracks with the seat-bounce stuff out of corners, you need a 450. Then, after Phoenix, it was like, "What's there to talk about? Let's do it." It was a good time to switch. I had a great result on the two-stroke, then it's off to a new challenge, which is my style nowadays.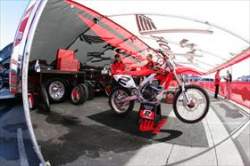 The new ride: A CRF450R

Things are going so well, doesn't it make you want to be full-time in a way instead of part-time?
[
Laughs
] Not really, because that's the beauty of it right now. I have a great schedule and a family now. It sounds like a great thing to go race the whole series, but I'm just not ready for that schedule. I think the greatest part is that if I can do really well at these next three races, then I can go back to being a fan. What better way to do it! I won't have all the pressure of having to race the entire series. I mean, I'm taking it serious, but I don't want it that serious.
If the scenario in a main event played out right, you could land yourself on the podium.
Yeah, I guess I could, if something happened to one of those guys. Right now, the mark to hit is fourth. I think between Ivan and myself, if we can find a half a second each lap, we might have a chance at third. Like this weekend, Reed was just up a ways and not far away. Third could happen on the right day with the right circumstances. I would like to be the top Honda rider every weekend right now. I know Ernie is gunning for me, but out practicing, we talk and joke about it. Right now, my job is to work with the guys on the team and motivate them. Beating them, that helps motivate them for sure.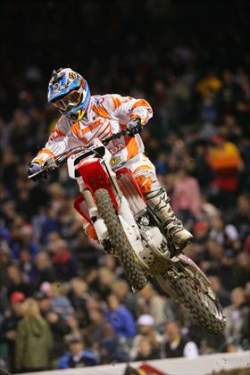 MC followed up his fourth-place finish in Phoenix with a fifth at A2

Having raced in different eras of riders, what's the pace like now?
You don't have any time to rest at all! It's all sprint laps—every piece of ground or between jumps, you're on the gas. I think the starts are more crucial than ever. Unless you're James or Ricky, you can't come through the pack, because everyone is going fast. That's a part, for sure, that changed for me. I guess before, for me, I was so much better than everyone else, I could cut through the pack any time I wanted. Now I'm just as good as the other guys, other than the top three.
What is your dream now, as far as racing goes?
I don't really know. I'm working on a few deals, like trying out some car racing. My plan as of now is to keep working with the team. I never imagined myself as being some sort of mentor for riders. This year, having [Andrew] Short, Fonseca, and Travis [Preston] feeding off of me is cool. I don't see
Davi Millsaps
too much, but having them want to hear my experiences and some of my knowledge on what to do and not to has been more fun than I ever expected. I will transition at one point into being the team mentor and just practice and train with them.
Okay, thanks, Jeremy, and good luck at San Francisco.
Thank you, Dono.