A2 Press Day Interviews and Pictures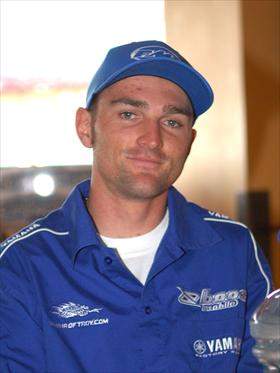 Brett Metcalfe. 1/4 of the ";Aussie Invasion."; He's here racing with fellow Aussies Chad Reed, Michael Byrne, and Andrew McFarlane.

Australian Brett Metcalf has raced in the US since 2003, and most recently had the distinction of being one of the last holdouts racing a 125 2-stroke in the Lites class. No major team is running a 125 anymore, so this year Metcalf gets to focus on racing the same bike as everyone else.

Brett, how is the season treating you?
A little slow start, but hopefully I can turn it around this weekend.

Last year you were the 2-stroke guy. Are you glad you are not that guy this year?
Yeah. I am glad I am on the same bike everyone else is on. But to be honest, I wish everyone was riding 2-strokes and we didn't have 4-strokes. (laughs) But the bike is awesome.

One more quick question on that, if they were to up the cc's of 2-strokes to make them competitive with 2-strokes, how far would they need to change it?
I really have no idea. I have ridden a KTM200 and that was close. It sounds ridiculous but at least 150cc, something like that.

Does it help having another Australian (Andrew McFarlane) on your team?
Yeah, I've enjoyed it. The whole off season, since he has been out, we have done a lot of riding together. It's good having another Aussie guy here that's relaxed about things. I think a big benefit with Andrew is he is 28, so he is very experienced with setting the bike up with his choices. It is good to have him around.

Did you talk to him before he made the decision to move here.
Yeah he called me once and just asked about America and what it is like. I talked to him once, and then I heard he was on the team so that was pretty cool.

Are you guys the new French or something? It seems we had this wave from there, now it Australia.
[Laughs] Its funny because I remember when I was 16 and Vuillemin was challenging Jeremy and Roncada was there it was like America vs France, and now all the Aussies are coming over. It's cool though.

We've heard Chad's story about how he used to watch MC on TV and was inspired to race supercross too. Do you have a similar story?
Yeah, back in the day we didn't have too much American supercross to see. If I got a tape I would watch it 100 times. I could still tell you who won the race and the heat races. I was watching Jeremy and Ryno, my trainer now. That is kind of exciting to train with him. He was one of my heroes. He and Jeremy were the guys.

What is your racing goal for this year?
I want to be top three in supercross and outdoors, definitely in the top 5. We have a great bike this year. I haven't really had great results in the outdoor circuit, being on a 2-stroke I think it was very tough for me for sure. This year I want to get out and prove myself that I am a good outdoor rider.

What was your professional experience before you came here to race in 2003?
Europe, GPs.

If you come here from GPs, how much time should it take to get ready for supercross?
For me it was different because I only spent one year in Europe, and it was a half a year because I had a shoulder injury and I was out for 6 months. Before then I spent my whole like in Australia, riding supercross and motocross tracks with supercross jumps, so I was used to it. For Andrew, I watched him come over and he has been here for three months and right now, he is a good supercross rider. When he first came over he was definitely rusty. It is not necessarily the speed on the track, but thinking about a supercross track day in and day out. I think that is the hardest thing to get used to. When he first came over, speedwise he was a couple of seconds off. Now we are running the same times. It took him a lot of time but he has picked it up a lot.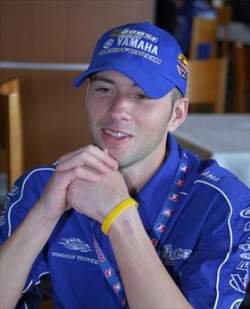 Jesseman seems relaxed and ready this year.
Branden Jesseman
Branden Jesseman, a past regional champion in supercross Lites, has had a rocky couple of seasons that included too many injuries to count, and just over a year ago he was making a fresh start for himself by racing arenacross. For 2006, he is on a new team and he's back in supercross.

Branden, It's good to see you.
It feels great to be back.

How did this happen?
I got hooked up with Dan Gerkey and Shae Bentley. Then I got hooked up with YOT and things just took off from there. I got signed with them and just spent three days on a supercross track and tested a little bit, and here I am.

When did you get your Yamaha of Troy bike?
I got one just a couple of weeks ago. I went down to Florida and rode a little outdoors with some friends close to Croom.

So on this trip, this was your first chance to ride the YOT bike on a supercross track?
Yes. I will stay out here and ride supercross with these guys. I think it will be good to spend some time with my teammates, and Chad. I get to watch a race too, I haven't seen one of them live.

Last year, we ran into you at Arenacross (he laughs) how did that adventure go?
It's OK for some people I guess but I didn't like it very much and wish I never have to do it again. It was something I felt I had to do at the time, to make some type of money. . [Laughs] That's why I did it. Then I found a ride with Motoworld for the East Coast, then the outdoors and I got hurt again a few times as well. I am lucky to get this ride with YOT.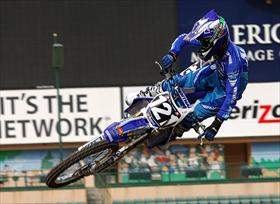 2003 east regional champion Branden Jesseman is back.

So you get a break don't you? It's a chance to ride with a good team and show what you can do this year.
Definitely, I got a break and got good equipment so I can prove myself again.

How does your health, skill and mindset right now compare to just before 2003, the year you won supercross east for Team Suzuki?
Just before 2003, I would say I am in better shape, physically and emotionally and mentally, than I was in 2003. I just need to spend more time on the bike to get comfortable with it. It's been three days riding supercross so far but that is just a starting point. I have a lot to work on but I know I can definitely be there for the championship.

So, you are ready to repeat 2003 once we get back east?
Yes, to prove to myself, which I know, I know I can really do it, and to all my skeptics.

I think Ricky was saying that about a year ago too. So, where is your home now, are you back in Pittsburgh?
Yes. Pittsburgh.

Still going out to UPMC? (University of Pittsburgh Medical Center)
Yeah I still go over there for training and for therapy.

Thanks and see you in the east.
Thanks, see ya.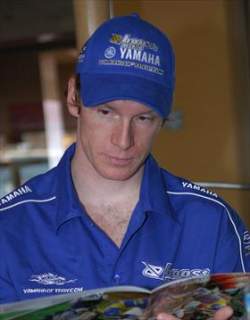 Canadian Marco Dube is the veteran at YOT. He was hired as a test/development rider, but he races too.
Marco Dube
Canadian Marco Dube was hired in October as Yamaha of Troy's test/development rider, and he has a limited racing schedule in the states as well. Dube has raced arenacross and supercross on both sides of the northern border, so we wanted to asked him about a few things….

Marco, who are you and why are you here?
[Smiles] I am here to test Yamaha of Troy bikes. I have been here since October to help them get the supercross bikes ready for Metcalf and McFarlane and the east guys.

So you are there as a development rider?
I am there full time as a test rider. They gave me a chance to race too and I appreciate that a lot because I don't have that much experience in 125 supercross racing. I have been a 450 rider for so long, it's going to help me when I am back in Canada.

When you go back, do you have a race schedule?
Yeah I do. I am supposed to be here until San Diego, doing those west coast rounds. Like in 2 weeks we start outdoor testing, Frenchie, the chief mechanic at Yamaha of Troy hired me to do that. I will probably be at Daytona and Orlando and Detroit on a 450. I am pretty big for the Lite bikes. I would like to invest a lot more time on a supercross track. I feel more comfortable on a 450. I am here for the experience and help the other guys as much as I can.

You raced Toronto and Vancouver didn't you?
Only Toronto. In Toronto, halfway through I twisted my ankle when I cross-rutted a triple. I was riding well, from almost dead last in the first corner to about tenth.

Q: How has Supercross going to Toronto and Vancouver helped racing in Canada?
We are all motocross fanatics, we would like to have a series up there too. But our population is so small compared to the states, that is why we don't sell as many bikes or as much of anything. That's why our racing budgets are not as big as here. We would like to race all year long. For sure next year I will be there.

Since you raced some American arenacross, and supercross professionally in Canada and here, what's your view on this idea to use arenacross as the development series for supercross, will it work?
I don't think so. Everyone's skill or what they want to do is their choice. I don't think it's a good way to develop a young rider in arenacross because it is way different. It is a lot more intense and a lot more short. It could be good in one way but you don't see a track that tight in supercross. I have been riding arenacross for some time and when I got to a supercross I don't turn as fast as those guys in the corners. Its totally different.

Good luck and thanks.
Thanks.