5 Minutes with ... Ernesto Fonseca
The Amp'd Mobile AMA Supercross Series kicked off with an explosion this past weekend, all the hype finally giving way to some great racing. And when the "big three" didn't get off to the best of starts, Team Honda's Ernesto Fonseca shot out front as the unexpected leader. He would end up sixth after a tumble—not bad for his SX debut on a 450. We caught up with Ernie to get a recap on the night and here his feelings.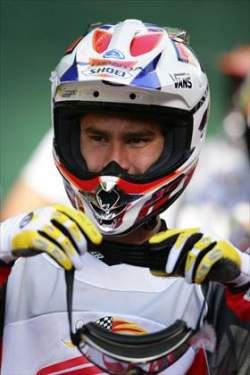 Ernesto Fonseca

Racer X: Ernesto, what's happening?
Ernesto Fonseca: I'm just hanging out at the house right now and resting up a little. I went riding today earlier, so all is well.

You had the ball rolling well at the first race up until your crazy get-off. What went wrong in that section?
I was riding out front and trying hard, thinking how those guys hadn't gotten close to me yet. I guess I was thinking too much! I wanted to put in good laps and keep it going. As soon as I thought that, I was on the ground. I was so bummed, because I had a good race going. That's racing, and I learned, for sure.

Everything looked like you were spot-on, riding-wise. How did you feel?
I felt good to a point. I really wasn't comfortable at first with how the track was. They made the whoops difficult, and through the night they kept messing with them. Every time I got on the track I felt better, so things started to go my way.

Was the pace you were trying to set over the ordinary, or were you feeling it at the time?
At first I was stressed because I was waiting for those guys to come by me. I wasn't expecting how things were happening. At least I have a good plan right now and I can improve upon that.

After the crash, you still soldiered back to sixth and had a battle with Ivan Tedesco on the last lap. Was there a lapper that came into play?
Yeah, there was a lapper that messed me up a bit—that's racing at this level. We have 15 more races to go, so there's time.

After the fact now, where do you think you'll stand at any given race?
That's kind of a tough question to answer. I have to be consistent with starts and try to improve on things that went down at the first race.

The pace the "big three" are putting down is to me mind-blowing. Do you have that extra go power to elevate yourself up in the mix?
I never thought I would be out front for the first part of the opening round, looking back at it, but I was. That shows me I can ride up there for a few laps and I can be in the mix. I will try each time to stay up there as long as I can, which is my goal.

We have just begun, but how do you see the long series playing out on your end?
It's tough to say, because there are so many variables. I am going to just worry about my program and myself. It's a long, drawn-out series, so you have to be there the entire duration.

How about the 450 in supercross? Suiting you well?
Everyone knows the Honda is a great bike all-around. The 450 is the key this year—there is no doubt about that.

The track last weekend was tricky for everyone, right?
The track was not that safe, for the most part, and I saw a lot riders went down. They say they want safer tracks, but sometimes the tracks aren't complete. The transitions are not right and they need to work on this.

Thanks, Ernie, we'll catch you later. Good luck in Phoenix.
Cool, Dono.