The road trip from California to Toronto then Vancouver and back is the longest on the World Supercross circuit, as you're about to find out as you ride shotgun in Factory Connection's test truck—better known as the White Dolphin.
It is said that a journey of a thousand miles begins with a single step. But in my case, the journey was actually 5247.27 miles, to be exact. Fortunately, I have the stepping part down. I have stepped myself all over the world as a traveler, a driver, and a race fan—including a three-year stint as Mike LaRocco's driver before he stopped riding outdoors. Which is what landed me here on the pages of Racer X online. The trip at hand was one from Corona, California, to Toronto, Canada, then on to Vancouver. The mission? I had been asked to get the Factory Connection team's test truck through the Canadian rounds of Amp'd Mobile World Supercross Series and in one piece. That's quite a journey, so I'm taking you along for the ride.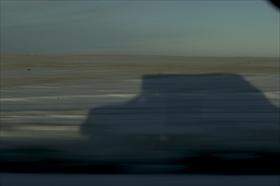 The White Dolphin in action
My first concern was getting through U.S. Immigration at the Calgary airport. I once had an INS officer refuse me entry into the United States, and now any time I cross, I am subject to extra scrutiny. My crossing that Friday, November 25, looked grim, after being sent to the secondary area for second look at LAX. This area usually means a million questions, followed by "Sorry, please go back to wherever you came from." This time I got lucky: Nobody in the office could remember the name of the highly decorated World War II soldier-turned-actor. After helping out the officer with his bit of trivia, I was feeling the love, my passport was stamped and I was on my way. Thanks again, Audie Murphy—loved your movies as a kid.
As soon as I got into Los Angeles, I headed out to the heart of American motocross, Corona. I rolled into the Factory Connection race shop and met the boss, J.C. Waterhouse. He gave me the keys to the team's test truck, which is better known as the White Dolphin, keeping in the same species as Team Honda's test truck, the White Whale. After grabbing a few armfuls of shirts and hats, and three cases of Sobe No Fear energy drinks—the team is now called Sobe/Samsung Honda—I was off. I was eager to hit the open road, though I first had lunch with my So-Cal hockey buddy Matt Sweet. Sushi in tummy and Sobe in hand, I was off.

I wasn't on Interstate 15 long before I noticed something key: Factory Connection is sponsored by Rockford Fosgate, but looking at the dash, all I spotted was an AM/FM radio. Well, this was the test truck, not a true race rig, so maybe they are testing one of Rockford Fosgate's new "hidden" designs, I hoped. Then again, they might have been testing how a person turns out after driving thousands of miles with a stock radio. Regardless, I made Kingman, Arizona the first night, and that is where my first step ended.
It was a sunny morning when I hit the road and it stayed that way through Flagstaff and lunch. But it wasn't long before ominous clouds started to roll in and a few snowflakes started flying by the White Dolphin. By the time it started to get dark, the snow started to really fly. As I grew closer to the New Mexico border, a full-on blizzard finally hit. It was so windy and white that I couldn't see the lines on the road in front of the truck. The snow piled up as the miles went on, and a string of cars in the ditch and big trucks that had spun out were my only scenery as I crawled through New Mexico. I was expecting some snow on this trip—and I am no stranger to it—but this was too much, too soon. I made it to Albuquerque, then drove all over looking for a place to eat well past midnight. Since it was still snowing after my meal, I called it a night, disappointed in my lack of progress.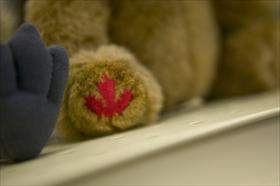 Maple leafs are everywhere in Canada
The next day was no better. I was about 130 miles past of Albuquerque when all the Christmas lights on the dashboard lit up and the computer shut down the engine. I managed to limp into Santa Rosa where I found an old auto repair shop. They had no engine diagnostic equipment, so it was going be a tow job for the Dolphin. My choices were to either get towed back to Albuquerque or east to Amarillo. Of course, the last thing I wanted to do would be start out from Albuquerque again a day later.

Sitting in the truck waiting for the two truck, I nodded off. I had a dream that I was riding my street bike on the Ortega highway, across the windy mountains of Southern California to the Pacific Ocean beaches below…I woke up looking at Ortega Auto Repair instead. Well, the dream was the highlight of the day and I was towed to Amarillo that night.
I was back in the wind by lunch the next day, and once moving, I didn't want to stop. Through Oklahoma City, then north through Tulsa and Springfield and St. Louis, I was another 700 miles up the road before I stopped for the night, happy that this day didn't end in a blizzard or on the back of a tow truck. The rest of the trip was smooth, and after picking up Preston Rose, Billy Laninovichy's mechanic, at the Detroit airport, we finally rolled into Toronto on Wednesday night and began meeting up with the rest of the supercross caravan that was rolling into town for the weekend's race.

I had spent some time in Toronto a couple of summers ago when I was working for Blair Morgan, so I took the Factory Connection boys out to a place I used to frequent—The Bovine Sex Club—which isn't actually a "sex" club, but a very cool punk bar. If you go there in the summer, a very impressive variety of motorcycles can be found out front, including Aprilias and Ducatis and sometimes my VFR800.
Thursday night was spent in the Rogers Centre (formerly the Sky Dome) hotel bar overlooking the freshly built track. Seeing all the guys in the industry again after the off-season feels like the first day of school after summer holidays. All the cool kids were there, and a couple of riders even came in to say hi. Chad Reed was sporting a questionable dye job (sorry Chad) and Josh Hansen was spending some Canadian "hundies." And to have the whole track laid out in front of us, four stories below, as we sipped on beverages made for an all-time bench-racing session.
With the exception of watching practice, there was nothing interesting going on for me on Friday, unless you consider laundry exciting. That night though, No Fear, the team's new threads-maker, treated the Factory Connection crew to dinner at Ruth's Chris Steak House. (Thanks, No Fear.) Later, FC's Mike Tomlins, better known as Schnikey, had some of his upstate New York buddies come up for the race. I suggested the Bovine Sex Club and, after careful explanation of what it was and wasn't, they went and they loved it. In fact, there are a bunch of moto stickers strewn around that place now. You can't go wrong with the BSC.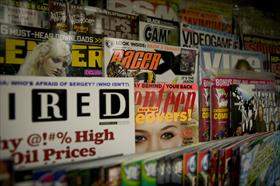 Cameron spotted a Racer X at one truck stop
Late Saturday afternoon, photographer Cameron Baird flew in to Toronto and got to the stadium just in time to get his media vest, unpack his camera and hit the stadium floor for opening ceremonies. I, on the other hand, took my spot in the only place I feel comfortable watching a supercross—the press box. I sat with Matt Watson of The Racing Paper and his lovely wife Crissy. We discussed things like how skilled the guys driving the skid loaders are, and how weak a triple-digit number looks on a factory bike.

Below us on the floor, a very exciting race between #7 and #4 was quickly over, and then it was off to the post-race celebrations. I was planning on an early night so I could get an early start the next morning, but sometimes that is just not possible—not in Toronto, and certainly not after the Toronto Supercross!
I woke up quickly—right around noon. Cameron was joining me for the long trip west to Vancouver for the second round of World Supercross. While most of the rest of the SX caravan were taking a southern route across the top of the United States out to Vancouver (which is four hours northwest of Seattle), we had decided to keep it Canadian. We would take the high road around Lake Superior to Thunder Bay atop Minnesota, then it was one long, windy shot on the 1 across the bottom of Canada. Not the easiest route to say the least—especially at the start of winter!

After we packed up, we loaded everything in the box van. I had been asked by Tyler Evans the night before if the guy that was driving his van could follow me to Vancouver. I had no problem giving someone a 2900-mile tour of Canada, so when we busted out of TO, Jesse Severns was on our back door with Tyler's truck.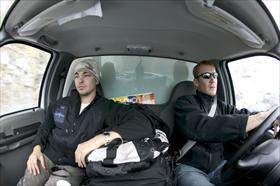 Cameron rides shotgun as the author drives on

It didn't take long for the trip to get interesting. We were only a few hours north of Toronto when we hit another blowing snow. The sun was going down and the wind blowing in off Georgian Bay and Lake Huron. As we rolled into Parry Sound, the snow was heavy and wet. We were getting hungry just as I saw a sign for Don Cherry's Sports Bar and Grill. We exited off into Parry Sound and walked into a veritable shrine. Bobby Orr is a legend in the hockey world and Don Cherry is a very well-known hockey personality who played, coached and now does commentary in the NHL. Imagine if Roger DeCoster had a restaurant filled with his motocross memorabilia…. This was the hockey equivalent. We had some food and soaked in some history and then, after buying an FM transmitter for the iPod (sorry Rockford Fosgate), we headed out again in the great white north.
By Monday afternoon we were rolling west at a good pace. Even though the road was okay now, there were remnants of the previous night's carnage. Wrecks and abandoned cars dotted the way. We put on hundreds of miles on the sometimes two-lane road, but as the sun went down the snow started again. We pounded through packed snow on the road and blowing snow sticking to our windshield. As we rolled through the province of Ontario, it was either packed snow, blowing snow or—the worst danger of all—moose.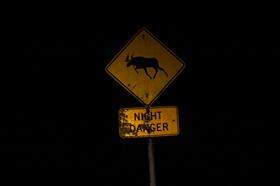 Moose Crossing: Next 3000 kilometers
Moose are black, huge and practically impossible to see at night. While almost all animals' eyes reflect lights and can be spotted at a distance, moose can't be seen until you are very, very close. Nothing will send your pulse through the roof faster than whizzing past a huge moose at 65 miles an hour in the dead of night. Not even Aldon Baker will get your the heart rate that fast! Fortunately, the White Dolphin avoided meeting up with any moose.
When we hit the border of the next province, Manitoba, I was feeling great. The road was four-lane again and the sky was clearing. Cameron and I ripped into Winnipeg with Jesse still glued to our bumper. We had a bite and then dropped in on the Blair Morgan Racing race shop. Blair's team manager, Jamie, showed us around the shop and gave us details about the sleds that the 7-time X-Games medalist rides. Cameron took some photos of the shop and sleds, while Jamie answered all of Jesse's questions. We even rolled an 800cc mod sled outside and started it up so Jesse and Cameron could hear (and feel) the power. We didn't stay long because 1400 miles still lay frozen between us and Vancouver…

Seventy-five to 80 miles passed each hour. We crossed the hundredth meridian, and tore on through the night until we saw the lights of Regina. We stopped for diesel and tipped our hats to the city that has produced many great MX mechanics, most recently Darren and Derek Sorenson.

Back out onto the Trans-Canada Highway, hours passed in a windy cold night as The Tragically Hip and Audioslave played on the stereo. We rolled through the barren prairies, dusted with snow, watching our diesel exhaust billow big and white in the twenty-below air.
The next big stop was Calgary. We stopped for dinner with Todd Starchuk of Bow Cycle and had a great meal. A few good stories were traded but the road was beckoning so we headed out into the darkness once again.

The next stretch of road we encountered was the last before Vancouver. From Calgary to the west are the Canadian Rocky Mountains. We wound our way through the valleys and over the snowy passes, as the moon lit up the white slopes of enormous mountains.

It was very late when we stopped for diesel one last time in Kamloops, but Vancouver was so close, we had to push. The mountains got smaller and tamer as we leveled out into the lower mainland of British Columbia and the city of Vancouver. The journey across Canada was finally over. How did we celebrate? We parked the White Dolphin at the stadium and went to bed.
Over the next couple days leading up to the race, I hung out with my friends and enjoyed Vancouver. Blair Morgan was in the city, doing some hyperbaric oxygen therapy for a broken thumb. Blair, his trainer Todd, Preston Rose, Cameron, Jesse and I went to an Earl's restaurant one evening. Cameron and I had heard some crazy stories from Jesse along the way from Toronto, so we encouraged him to tell us all a few more. Our table was laughing so hard at Jesse's tales of Glammis that everyone in Earl's thought we were lunatics. Nothing is as fun as a meal out with a handful of MX personalities.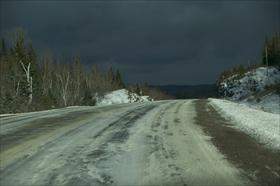 Imagine what a couple thousand miles of this would be like

The whole thing showed up Saturday night. All the hard work everyone does on the teams all season, the work they build on year after year, and then rework in the off season was about to be put to the test. The riders tore off the line and a few hours later another early-season race was done. I walked back to the hotel with Blair and his wife while we listened to his kids make dirt bike noises with big smiles on their faces. I might have even made a four-stroke noise as I ripped up the eight stairs into the hotel lobby.

The next day we went out for lunch and said goodbye to everyone preparing to head in a million different directions. Cameron and Preston Rose were driving the White Dolphin back to Corona with Jesse in tow, no doubt talking the whole way about how much fun they'd had up in the great white north. As for me, I took a different route home: I flew back to Saskatchewan, already anticipating Anaheim 1 and an entire season on the American road.