Between the Motos: CCE's Ken Hudgens
Ken Hudgens is the V.P. of Marketing and Television for Clear Channel Entertainment - Motorsports, the people behind AMA and World Supercross. On Christmas Day—Sunday at 5:00 p.m.—they will offer an hour-long preview show on CBS Sports and get everyone ramped up for Amp'd Mobile Supercross. With that in mind, we thought Hudgens would be the perfect guy to chat with for this week's Suzuki Between the Motos.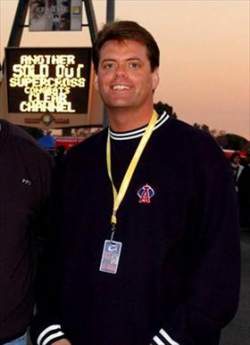 Clear Channel Entertainment's Ken Hudgens
photo courtesy of CCE

Racer X: Ken, always a pleasure to catch up with you, especially on the eve of another "perfect storm," if we may call it that. The World SXGP series is up and running and the AMA tour is about to join it—good times for the sport, isn't it?
Ken Hudgens: Yes, definitely. I think what's happening on the track always drives what we do off the track; that's where it starts, and we're off to such a good start with what's happening on the track between James and Ricky. Those two going at it is really positive, and it got the season off to a positive start, and the better the action is on the racetrack, well, that certainly makes our jobs here easier.

Everyone last year, for a multitude of reasons, we didn't quite get the title chase we wanted, but overall it seemed like a pretty successful series.
I think that supercross, on a lot of different levels, keeps taking steps. From a live-event-attendance standpoint to a television standpoint to a level-of-competition standpoint, I think it's constantly moving forward, and I think this year will definitely raise the bar up a little bit higher. That reminds me of a line that Chad Reed has in our television special that airs this Sunday on CBS: Chad says something to the effect of, "As an athlete, you never feel like you've arrived—you're always striving to what's next." And I think that is what we're trying to do to with the sport—we're trying to take it to the next level.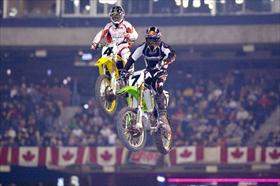 With Bubba stepping up, it looks like a whole new beginning for supercross
photo: Paul Buckley

About the show this Sunday, I remember Christmas Day on TV usually meant the L.A. Lakers versus Michael Jordan and the Chicago Bulls, as far as sports goes. Now we've got James and Ricky and Chad on CBS!
That's true, and although it's called a "season preview," I think it's really a couple of things. I think it will appeal to the hard-core supercross fan, and it will also serve as a little bit of an introduction to the sport to the people who may not be that familiar with it. We've done thousands of hours of television throughout the 14 years that I've worked for this company, and this hour is the best, without question. It's simply not us covering a race, which is what we're usually doing. There it comes to either you got the pass and you didn't, or you called them the right name or you didn't. But this is truly something special; it's a mix between something you'd see at a movie theater, in terms of the film quality, and a documentary where it explains not only the sport, but it gets a little bit behind their mentality. And from every level, no matter what kind of supercross fan, you are up and down the ladder. And we've really got to thank Troy Adamitis, who has been working continually for the past several months on this piece. It has been a pleasure working with someone so passionate and talented. This show on CBS Sports has been Troy's canvas, and we will all enjoy the finished product. I'm confident that this is the best thing that we've ever produced.

Troy's the man—the work he and his crew do on The Great Outdoors is absolutely top-shelf. So is the CBS show about the three contenders, or is it sort of an overview of the series?
I think that it's more of an overview of what supercross is and is about. It somewhat introduces the sport, talks a little bit about the racetrack and what's important in terms of the start, whoops, corners and jumps. And then it gets into the features of some of the personalities—James, Chad, Kevin, and Ricky. Obviously we lost Kevin for a while, but he's still going to be prominently featured in the television show. You get more than just what we can normally provide in that hour of covering the race. I think you'll get to know some of the athletes and some of the motivation and what drives them. I think we really do a good job of showing people what supercross is really about.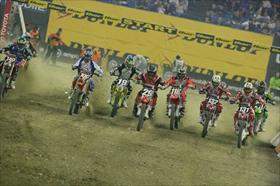 The newly named SX Lites division airs later than the premier class by design
photo: Simon Cudby

It sounds to me like it would be one of those sort of Bud Greenspan Olympic documentaries that you see.
I would liken it to something you'd see on Beyond the Glory.

What time is that going to be on?
It's on 5:00 p.m. EST Christmas Day.

As far as the season goes, we already have a couple races in with one of your broadcast partners, and this kind of marks the kickoff for CBS, doesn't it?
Yeah, and I think it's important. We've never really told the supercross fans why we went from ESPN2 to the Speed/CBS package, and I think it might be important to kind of give them a sense of why. It's really pretty simple; it's just a matter of focus and flexibility from our standpoint. I never felt that ESPN or ESPN2 ever gave supercross its due from a scheduling standpoint, and most importantly from a promotional standpoint. It was just something for them that was on every now and then. And for supercross to take the next step, we had to have a cable partner who would get behind it, live it, and breathe it. So while we took a small step backwards in the number of homes that are able to view it, we took a tremendous step forward in focus and importance on the network. I think that what you'll see is supercross parallel what the Craftsman Truck Series when it went to Speed. The household viewers actually go up, because there is more focus and promotion behind it. The flexibility part wasn't there on ESPN, and we were only able to take supercross to the network on ABC—and that was only if ABC had any time for it, so it was terribly restricting the last couple of years.
The Speed Channel/CBS component, on the other hand, gives us much more flexibility to put supercross on network television, where it needs to be. So this year there is double or triple the amount that supercross has ever been on the network. Racing will be on seven times this season, including the preview show. In the raw number of eyeballs that see supercross, and the amount of promotion and consistent scheduling that it will be given by both CBS and Speed Channel, it's a tremendous step forward. Couple that with a more consistent broadcast team, I think in every aspect of every level supercross television is better, and it will continue to get better. The CBS deal will have more on next year. I think once we continue to perform on Speed, they will put more emphasis behind it as one of their signature properties, and I think it'll be good for everyone.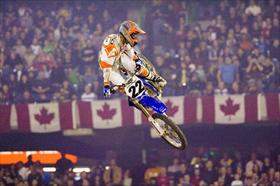 Chad Reed will be featured prominently in Amp'd Mobile coverage
photo: Paul Buckley

Well, the first two shows, as far as the broadcast team goes, I think Denny, Ralph, and Krista did a great job.
Yes, the broadcast team is very important and I think they did a great job. A consistent broadcast team was vital to me. Ralph Sheehen is the signature motorcycle voice on Speed Channel, so that made sense to us and from Speed's perspective. Denny's a former champion, and he's really passionate and knowledgeable about the sport. In the past, with Todd [Harris] and Cameron [Steele], there was almost two play-by-play guys in the booth and we never got a good look at what else was happening out there that the viewer may not have been aware of. And Krista Voda, who is a little bit of a different mold for us, has done a wonderful job in the first two shows. So in my opinion, the broadcast team has worked very well and has gelled to some degree right off the bat.

Well, it seems like a great time for a new network and new talent. We've got new names, we've got new motorcycles, basically, with all these thumpers. James Stewart said it best on the back of his pants: It's a "New Beginning."
Yes, it's a new beginning for him and for the sport. You mentioned the new class names—that leads me to another thing I think the viewers might want to know more about, and that's why the Lites and the Supercross class aren't on back-to-back like they were with ESPN. Well, right or wrong, it's a conscious decision by us to try and build the Supercross class. It's impossible to build a start and to get people-specific stories and something to look toward as the premier class when you're treating the "regional" program on the same level. So it's important to take the Supercross class to the next level and to treat them in that fashion. We want to build the big class and to build the stars, but not at the expense of the Lites class. I mean, they don't show the Busch race and then come on with the Nextel Cup race. It just doesn't make sense.

Do you get better times if you break it into two segments?
Yeah, and that was the original idea about doing it four or five years ago on ESPN. If we could break it into two hour-long shows at the time, then we could place each in better times. And all that ESPN did was put them back-to-back. That's not a way to build stars and to build racing. It's certainly is great for the enthusiast, who wants to see it all in one sitting, but this way certainly gives the schedule a little bit more flexibility. And again, it's focus from our standpoint: We're trying to build at the top and go all the way down, and we feel that's the right way to do it.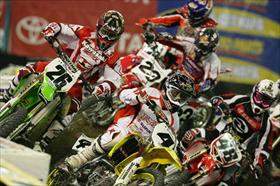 Hudgens say you gotta beat the man to be the man
photo: Simon Cudby

Looking ahead, when will we start seeing more from Amp'd Mobile as far as their own specific programming goes?
That's a good question. Amp'd is really just launching, so it's my understanding that they'll have phone on the streets after the first of the year. I think that they're going to start with what they plan to do, in terms of live clips from the events in Anaheim. When and how many phones are available is still a gradual building process for them. Amp'd is equivalent to the move to Speed Channel/CBS in my mind, in that you go from THQ, who originally had a game that focuses on supercross and kind of moved away from that focus. Here you have Amp'd, who is totally committed to the sport. Not only sponsoring the series but also sponsoring riders and they're in the supercross content business. They're engaged fully and I think that'll make a dramatic difference down the road as well.

Last question, and I hate to do this to you, but come Vegas, who is going to be carrying the #1 plate?
Wow, I've got to take off the Clear Channel hat for this one…. My complete personal opinion is that I think Ricky will win the title, just from the standpoint that I don't think there will ever be a race where he's not in it or right there. And I think that it's been demonstrated over time that consistency wins the day. If you want to be the man, you've got to beat the man, so when somebody beats the man I guess I'll pick someone else.

All right, so one more time, this Sunday at 5:00 p.m. EST, CBS, hour-long supercross show. We'll be watching.
Please do. I'm really proud of the show, and I hope that all the supercross fans that read this will feel the same. I know that we've fumbled the ball here and there, but I think we took it across the goal line here.