Sponsorhouse.com Privateer Profile
One of the fastest riders to come out of the Buckeye State is New Philadelphia's Brock Sellards, who is currently sitting in second place in the Toyota National Arenacross Series points chase. A former Pro Circuit Kawasaki, FMF Honda, Red Bull KTM, and Yamaha of Troy rider, Brock is in his first year racing arenacross full-time for the Tuf/Cernic's/Thor/Parts Unlimited Honda, so we decided to check in after round four to see how things are going. Be sure to show Brock and his sponsors some support by clicking on the links at the bottom of the page.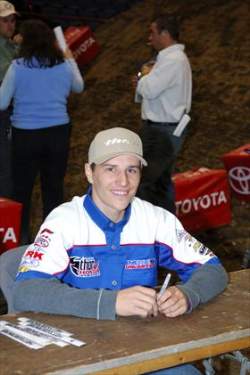 Brock Sellards is happy to be racing arenacross.
photo: TFS

Racer X: Brock, how's life on the Toyota Arenacross tour treating you so far?
Brock Sellards: It's good. I like it so far. Shoot, it's just real small-scale racing, but it's real fun. Everyone is super nice and a lot of the guys I've raced against before I ever turned pro are there. Guys like Jimmy Neese, Jimmy Chester, and Barry Carsten, I've raced against these guys for years, so it's pretty fun to hang out with them on tour.

Congratulations on notching your second win last weekend in Rockford, Illinois. It seems like you're starting to adapt to the tighter confines.
Yeah, I started out at the first round never even riding the Honda, and then I ended up switching from the 250 to the 450. We just had a lot of problems with the 250, as far as running with the unleaded fuel. It would quit running and I'd crash. Out of the last six motos, I've crashed in four of them! And the only two I haven't crashed, I won, so it's either crashing or winning right now.

It's also been a few years since you rode Red with the now-defunct FMF Honda team. How's the 2006 Honda CRF450R?
Oh, I think it's a great bike. It's really good. I only have one setup. They sent me suspension, I put it on and I run it. I don't have anything done to the motor or anything—I just basically ride what they give me. But it's very easy to ride and any way you look at it, it's a great bike.

Did you change your gearing at all?
No, I just run the stock gearing. It's one of those things that if you change it too much, you can't come out of the gate good.

How much do you shift that bike on a typical AX track?
I usually shift on the start straight and in the whoops.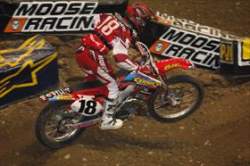 With six rounds remaining, Brock is only 25 points behind series leader Chad Johnson
photo: TFS

You're only 25 points behind leader Chad Johnson. Are you happy with where you're sitting so far?
Well, no. Obviously I'd only be happy if I was leading the championships, but I am happy that I'm starting to turn it around. If it wasn't for me getting too greedy at the last race.…Chad got out front and I took a little longer coming through the pack, and I rode a little too hard when I should've just been happy with second. I got up to second place and ended up crashing and got fifth, so I lost some points there, which was pretty stupid. What really amazes me about arenacross is the fact that for as long as I've been racing, I still make a lot of stupid mistakes at it. It's so tight and so short that I don't make things happen when they need to happen, and sometimes I try to make things happen when I shouldn't, so it's really frustrating when I make a dumb mistake, because now I have to live with it for a month while we're on break.

You've been on the supercross tour for a long time. Did your preparation for this year's AX series differ much from preparing for supercross?
I have an arenacross track at my house, and it's sort of like the old U.S. Open track from a few years ago. I modified it and made it a little bigger. But preparation-wise, shoot, I just put in a lot of laps and I put in a lot of riding. The only downfall to anything was that I was doing it all on a Yamaha.

Tell us how your deal with the Tuf Racing/Cernic's Honda team came together this year.
I think Dave Antolak sold Tuf Racing to Andy Stacy, and Dave basically needed a dealership that could handle all of our parts and take care of everything. And it was just great that it was Cernic's, because me and Jeff have been friends for years. I think the guy has done nothing but great things for the sport, and he's just a great guy … and plus he's a Pittsburgh Steelers fan. I just think he's really cool. I've always liked him and Bevo [Forti, of Scott USA]. Those two guys have been two of my good buds.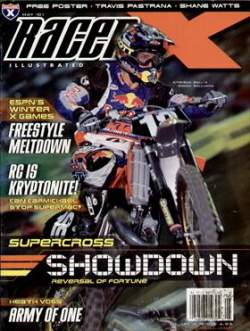 Brock was the Racer X cover boy in May 2001

Speaking of football, do you think Ohio State's got Notre Dame covered in the Fiesta Bowl?
I'll tell you what, I think that's about the best game going other than USC and Texas. Because Notre Dame should've beat USC, they kind of got robbed on that whole deal, but shoot, I hope so. It depends—when the QB comes out swinging, they do great, but we'll see.

Well, any big plans for Christmas vacation?
As of right now, I'm really working on trying to get a supercross deal lined up. Something good—I want to be on a good team.

You want to race the AMA Supercross class or AMA Supercross Lites?
It doesn't matter, but obviously I can't start racing supercross until the East Coast series starts, because arenacross stops the week before the opener of the East Coast. So it works out better if I race East Coast, but I'd probably make more money if I raced the AMA Supercross class.

I'll tell you, Brock, back in the day I remember when you'd hop up to the bigger class for some races and you'd do really well. You'd run within the top 10, no problem.
It was weird. Whenever I rode for Honda and rode the 250 class, there were a couple races where I straight-up battled with McGrath the whole time. I came from 13th to fifth one race! But I just never got the chance to ride that class full-time because I always got paid more money to ride the 125 class. But it always bothered me because I always wanted to ride the 250 class.

Maybe you'll get your chance this year.
If you ever hear of any teams looking for a rider, plug me in.

I'm sure they won't have a hard time getting in touch with you. Well, thanks for your time, Brock, and have a nice holiday.
No problem, thank you, Billy.


Brock Sellards' sponsors:
Tuf Racing