In 1993, Oklahoma's Robbie Reynard was one of the most heralded and highly anticipated rookies to enter professional motocross in the history of the sport. He was plastered in every Fox Racing catalog from here to Acapulco—and those catalogs were the equivalent to getting a motocross magazine. Robbie then made quite a splash, as he became the youngest winner ever of an AMA National when he took the '93 Steel City National, barely three months past his 16th birthday, as well as winning the National Arenacross Championship that same year. Over the years he would accumulate four more 125 national victories, but even more so he accumulated more than his fair share of injuries. At times Reynard was clearly the fastest rider on the track; other times you could barely notice he was out there. We recently caught up with National #17 to see what lies ahead for this 28-year-old racer. Be sure to show Robbie and his sponsors some support by clicking on the logo/links at the bottom of the page.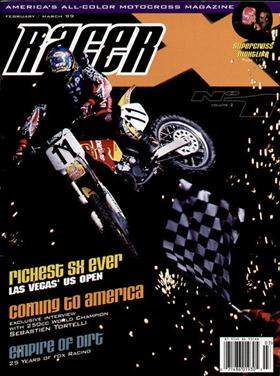 Robbie Reynard was featured on the cover of the Feb/Mar '99 issue of Racer X.
Racer X: Robbie, how's the off-season treating you so far?
Robbie Reynard: It's good. I've been doing a lot of training and riding, trying to get things ready for 2006. I'm actually out here at my dad's right now getting my practice bike ready to go riding. I'm then going to go and do a race in Texas this weekend at Swan Cycle Park. It's a pretty good money race, and I think [David] Vuillemin and [Mike] Brown are supposed to show up.
You'll have some good competition there. Do you race in Texas a lot?
I used to a lot. I do this one every year, and there's one down in San Antonio that I usually hit every year around Thanksgiving too.
Your 21st-overall finish in the final motocross standings isn't really accurate, because you only raced three nationals in that class. Earlier in the season you were racing in the Lites division. Tell us about the switch.
I just made the switch because we were struggling to get enough horsepower for my lard ass, so we just got onto the 450 and started running it. I just felt a little more at home on it.
Do you feel you ride the 250F better, though?
I've always liked the 125, just throwing it around and hanging it out, but the 250F is a little different than the 125s are. I still like riding them, but I decided to get on the 450, and I feel comfortable on it. We finally got it handling good at
Glen Helen
, then I landed on my head, so.…
Each and every race, we see the white Ford Econoline van with Reynard Modifications plastered on the side of it, parked in a far corner of the privateer pits. That's a far cry from where the top riders of the sport are pitting today. Do you feel that should be you right now?
No, not really. In the last couple years I've struggled pretty hard and haven't been able to put anything together, but hopefully that'll change this year. I have a deal working with a friend here who has a team and a semi and everything, so it should be good this next year.
Do you know the name of the team yet?
I think it's going to be FreeNissan.com, but I don't know the rest of it right now. We're still trying to throw everything together.
What brand of bikes are you going to be on?
Hondas.
Getting back to one of your previous answers, why have you struggled over the past few seasons?
Well, it just started out in '03. I took off half the season to get everything healthy because I had ongoing injuries. I then came back in the outdoors and hit that track official at the second round, and it just seemed everything was a chain reaction down the line. Every time I get healthy, I injure something. Last year I started riding supercross and got a knee injury, and in '04 I broke my leg really bad at the sixth or seventh round.
Were you 100 percent in last year's nationals?
Not really. I had knee surgery done in February on my ACL, and I was favoring it pretty bad in the outdoors, so I was kind of being a wimp, you could say.
Well, let's turn the clock back to 1993 – that was a pretty big year in your career. Tell us about your first year turning pro.
It was a big thing for me to turn pro. But shoot, at my second race I kind of got set back because I broke my wrist. But then I came back in the outdoors and finished up the year with a win at
Steel City
, so that was good.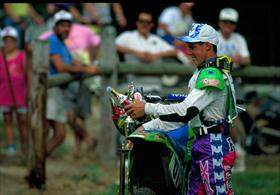 Reynard's last time racing at Loretta Lynn's was in 1992.

Fran Kuhn
You have three career wins at Steel City – is that one of your favorite tracks?
No, not really [
laughs
].
In your opinion, is 16 too young to turn pro?
I don't think so. I raced arenacross when I was 15, and I was racing expert when I was 14 and 15, so I was racing with a majority of those guys anyways, so I really don't think it's that much of a change. You have to learn some way.
Throughout your career, you bounced around a little bit, riding Hondas and Suzukis, if I remember correctly. Tell us which year you believe was your best and what bike you liked most.
My best year was probably on my '98 RM Suzuki. I finally got comfortable and everything seemed like it started clicking. My favorite bike was probably my Hondas. I feel really comfortable on them and they corner really good, so that's why I keep picking the Honda for a privateer bike. But all the bikes are pretty damn good now.
What's the toughest aspect of being a privateer for you?
This last year, I just spent so much money going to the outdoors. There's not a big purse, and there's so much money coming out of my pocket to just make it to the races and make the bike run and everything else. Because if you want to compete with the factory guys, you have to have good fuel and everything else, and that's not very cheap to do.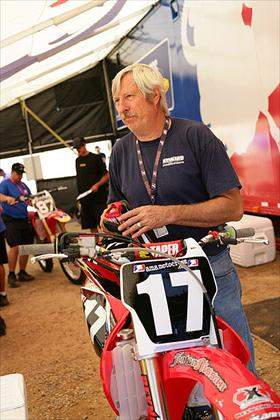 Robert Reynard Sr. has been Robbie's mechanic for almost his entire racing career. Robert turns 50 on October 28. Happy Birthday!
Simon Cudby

Well, what's the plan for 2006, Robbie?
I'm going to race the Supercross and Motocross classes on my Honda. I'd like to say that I'll be running top-five every race, but we'll just see how it goes when I get there.
Are you 100 percent?
I'm getting there. My legs are finally getting strong enough, so I'm not worried about sticking them out in the corners and stuff, like at
Glen Helen
when I crashed. I dislocated a finger and had to have surgery on it, but all of that is feeling pretty good, and I've just been doing a lot of bicycling and stuff so I can be good and fit. I've got a lot of good people behind me for next season, so I want to show them what I'm capable of.
It never seemed like there was any question about your physical endurance – you always seem to be in really good condition.
Yeah, I enjoy the training part of it - that's a big reason why I still do this so much - I enjoy the bicycling and all of that other stuff. But the thing that has always held me back is arm pump, more than anything.
Off topic a little, I always notice your sister is a regular on the motocross message boards – she's one of your biggest supporters, and I notice that she's been selling Robbie Reynard T-shirts.
Yeah, she's into the internet, and she was selling the shirts to try and raise some money to help me get to the outdoor nationals. I think she still has some T-shirts, but I don't think she's really been pushing them. I have to thank her for all of her help.
That's a nice thing for a sister to do. So, any plans for after you're done racing, Robbie?
Well, I haven't thought about it that much, but I'd probably like to do some motocross schools or something like that. I definitely want to stay in motocross – I love it and don't think I can live without it.

Thanks, Robbie.
No problem, thank you.