Welcome to TGI Freeday, our weekly online giveaway.
Each Friday, one of our advertisers offers up a prize, and all you have to do for your chance to win is enter your email below and subscribe to our mailing list. As long as you're subscribed you are automatically entered to win each week's prize.
There's always something cool up for grabs, so make sure you check back each week.
This week's TGI FREEDAY giveaway comes from VonZipper!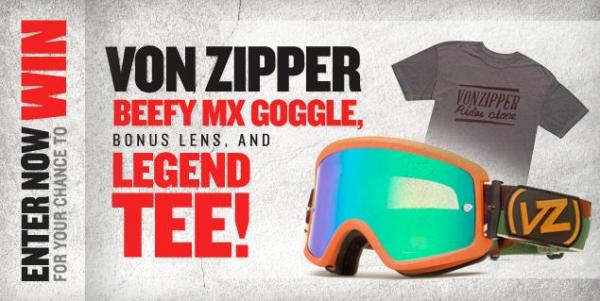 BEEFY MX GOGGLE

MSRP: $55
A bone in cut from the VZ meat locker. The VonZipper Beefy motocross goggle will convert even the most die-hard vegetarian into a carnivore. The forward venting in the frame and wide field of vision create a savory fillet of goggle au jous that is slow cooked to perfection.
CLEAR BEEFY MX BONUS LENS

MSRP: $10
Also including an extra lens!
100% cotton garment dyed 30/1 rung spun jersey crew tee.
For more info, check out www.VonZipper.com