Ironman Raceway
Crawfordsville

,

IN
Ironman
Lucas Oil AMA Pro Motocross Championship
Last March, the pride of Port Orange, Florida, lit up nearby Daytona International Speedway (a mere six miles away) by winning the 250SX East Region main event before the rapturous hometown crowd that filled the tri-oval grandstands erected by one Bill France, Sr. Now half a year removed from that resplendent evening in Florida, Adam Cianciarulo will try to get back into that Sunshine State of mind once again when he goes to the starting gate this weekend for the 2017 Monster Energy MXGP of USA set for WW Ranch Motocross Park in not-too-far-away Jacksonville. Hot off a four-moto streak which saw him place no worse than second in the twilight saga of the Lucas Oil Pro Motocross Championship, Cianciarulo will represent the American motocross way of doing things.
We spoke with the Budds Creek winner this week about his expectations entering the weekend.
Racer X: You're back in Florida and you have a big home race this weekend, don't you?
Adam Cianciarulo: Yes sir. It should be interesting. The last time I raced in Florida was the Daytona Supercross and that went pretty well, so I'm hoping for the same thing this weekend.
Do you know anything about the WW Motocross Park track? Have you ever been out there or even ridden in that region of Florida?
I don't. I don't know anything about it, to be honest. I never rode up there. It's relatively new, I think. I don't think it's been around too long. I do know that everybody that has been there has told me that I should go up there and that I should ride the track and they seem to be really impressed by it. I'm definitely excited to get up there on Friday.
Any idea of what the terrain will be like? Sand? Deep sand?
No, I don't think it's deep sand. I think it's kind of a mix of clay and sand. I've only seen videos and stuff like that and it doesn't look overly sandy.
How far is the venue from your home in Florida?
My parents live up in New Smyrna Beach, which is pretty close to Daytona, and that's probably about an hour and 15 minutes away from WW. I live a little bit south of Orlando, so it should be about two hours to get up there.
I know you just finished up a long outdoor season, but are you looking forward to the race this weekend?
Yeah, absolutely. I'm always up for new challenges and I think to be able to race with the GP guys will be interesting. Those guys are no joke at all. There is a lot of talent there and we saw that this weekend with Jeffrey Herlings and it's the same thing in the MX2 class. I think a lot of the U.S. riders follow that series pretty closely and I think you're always kind of wondering where you would match up with those guys. It's going to be exciting for those guys to come over here. And for it to be in my home state and to get the chance to kind of gauge myself against the best riders in the world, I think it'll be fun and a new challenge for me and something that excites me, for sure.
Have you watched any of the MXGP races on television or on the web this summer?
Yeah, I've tried to keep up with it. I haven't watched every one of them, but I have seen quite a few, especially these last few weeks. I've been trying to keep up with it a little bit closer and watching those guys ride. I definitely think they all have a different riding style than us. They stand up a lot, for sure. Everybody knows that. It's really fun to watch what they do and I think you can learn a lot from those guys.
So you can tell from even watching the GP guys race on TV that they do things differently on the track and on the bike than you guys do here in the U.S.?
Yeah, it's different. I think it's just different in the way they ride. It's kind of hard to see something on TV and kind of have it put in the correct context. Even if I watch some of my races on TV sometimes, it seems like sometimes I'm going a little bit faster than I felt like I was actually going, or vice-versa, I look slow compared to how fast I thought I was going. It's hard to gauge off TV, but you can definitely pick up little things here and there. It seems like those guys, maybe six or seven years ago, didn't start out the motos so fast. The intensity at the beginning of the races has definitely gone up, especially in the past few years. And with the competition, it seems like there is a different guy winning a moto here and there every weekend. Kind of like the same thing we were having here this summer. It'll be interesting this weekend. I think for me, I really have no idea how fast those guys are. Of course, they're kind of going to be coming over to our turf and they have to travel extra, so that might be tough on them. It's all the same to me. I'm just excited for some good competition.
Thomas Covington, who has been really excelling in the MX2 World Championship this year, and yourself came up in racing together here in America. That strikes me as being very cool as you guys, while coming from very different worlds these days, will be able to sort of gauge yourselves against one another in Jacksonville.
Yeah, absolutely. I think it's interesting. Thomas and I kind of came up at the same time. It always seemed like we were battling a lot as amateurs and then our paths kind of went two different ways. He went to Europe and I stayed over here. I think he's done really well for himself over there. He has seemed to get better every year, and just from what I've followed, I think he rides the motorcycle really well—like he always has. I respect that. I respect going over and doing something where you're not comfortable. It's definitely a new challenge and something unfamiliar to a lot of American guys and he's made a big name for himself over there. Yeah, he's an excellent rider. I don't think I've raced with him since around 2011 or 2012. It'll be interesting. It'll be interesting to race him and to see him. It's been a while since I've seen him, but he's a super-good dude, and like you said, we kind of grew up together and then we both went our separate ways and now we'll be racing against each other at the USGP. That's definitely a story right there.
Recommended Reading
To win a United States Grand Prix would be cool, wouldn't it? You may have noticed that we've been doing these USGP historical highlight features on the Racer X site the past few weeks and whenever we talk with the guys who won the races, they're definitely not shy about telling us how much winning a USGP meant to them—both then and now.
Oh, absolutely. It's something you can add to your resume. It's one of those things when you look back in 10 years or 15 years when you're kind of summarizing your career, you would add that in there; you would add that in there that you won a USGP. I think for me, a guy who has won supercross races and outdoor races on a 250, and to also be able to add a GP win to that would be ideal for me. I'm definitely not going to take it too easy this weekend. I want to go for it and the goal is definitely to win. Like you said, it would be really cool to win the GP, but at the same time, it's going to be no easy task.
The curtain came down on your outdoor season on Saturday in Indiana where you went 2-2 for second overall and third in the Lucas Oil Pro Motocross Championship 250MX class. What do you think of the series you put in?
I feel really good about the season. I think there were some ups and downs, for sure, and I feel like if I would have come into the season where I've been at these last four races or so, if I would have come into the season that strong, I think it could have been a little bit better for me overall in the championship. It could have been a little bit closer. It took me a while to kind of get to where I thought I should be. I got my first win at Budds Creek and I rounded out the season on the podium on a good note. Moving forward into next year and going into 2018, I think it puts us right where we want to be. I feel like I'm capable of winning races. For me it was just about overcoming a mental hurdle of just going out there and knowing I should win. I really feel like these past four or five races that I'm 100-percent fit enough and that I'm one of the fitter guys out there. When it comes to that and when it comes to the mental side, I kind of feel like I have everything dialed right now. It's a shame it kind of all happened in the later part of the year, but it bodes well for next year, for sure. I'm stoked with how everything turned out.
There was a big outpouring of positivity when you finally got that first National win at Budds Creek. I've known you for quite a while now and wanted to ask you just how much that win meant to you.
It kind of starts to when I went pro. I went pro the summer of 2013. I was kind of a little bit unprepared coming in. I was a little bit sick and had some struggles right off the bat there. Then I missed outdoors in 2014. Outdoors has kind of always been a little bit of a struggle for me. I've always felt that I've had the speed and I've proven that I've had the speed, it's just been difficult for me to put the pieces of the puzzle together for two motos. You have to beat the best guys in the world for two motos and it's a difficult task. But it's outdoor motocross and it's gnarly and it's raw racing. The feeling was just compounded by the adversity that I've had to come through these past few years. Of course, at Washougal and coming that close to an overall and finding out that not only did I not win the overall, but I didn't even get on the podium, that was one of the most heartbreaking losses of my entire career. But, and I've said this before, it's kind of what my career has been built on—being able to respond to adversity and bounce back. I feel like I've proven that to people, but also to myself. I can come back and dissect things and not get too down on myself and come back and get better and win and succeeded. I think that in life and in racing, that's one of the important attributes that you can have. Just to do it after that adversity just made the win so much sweeter and I'm definitely grateful that I got the chance to wrap one up.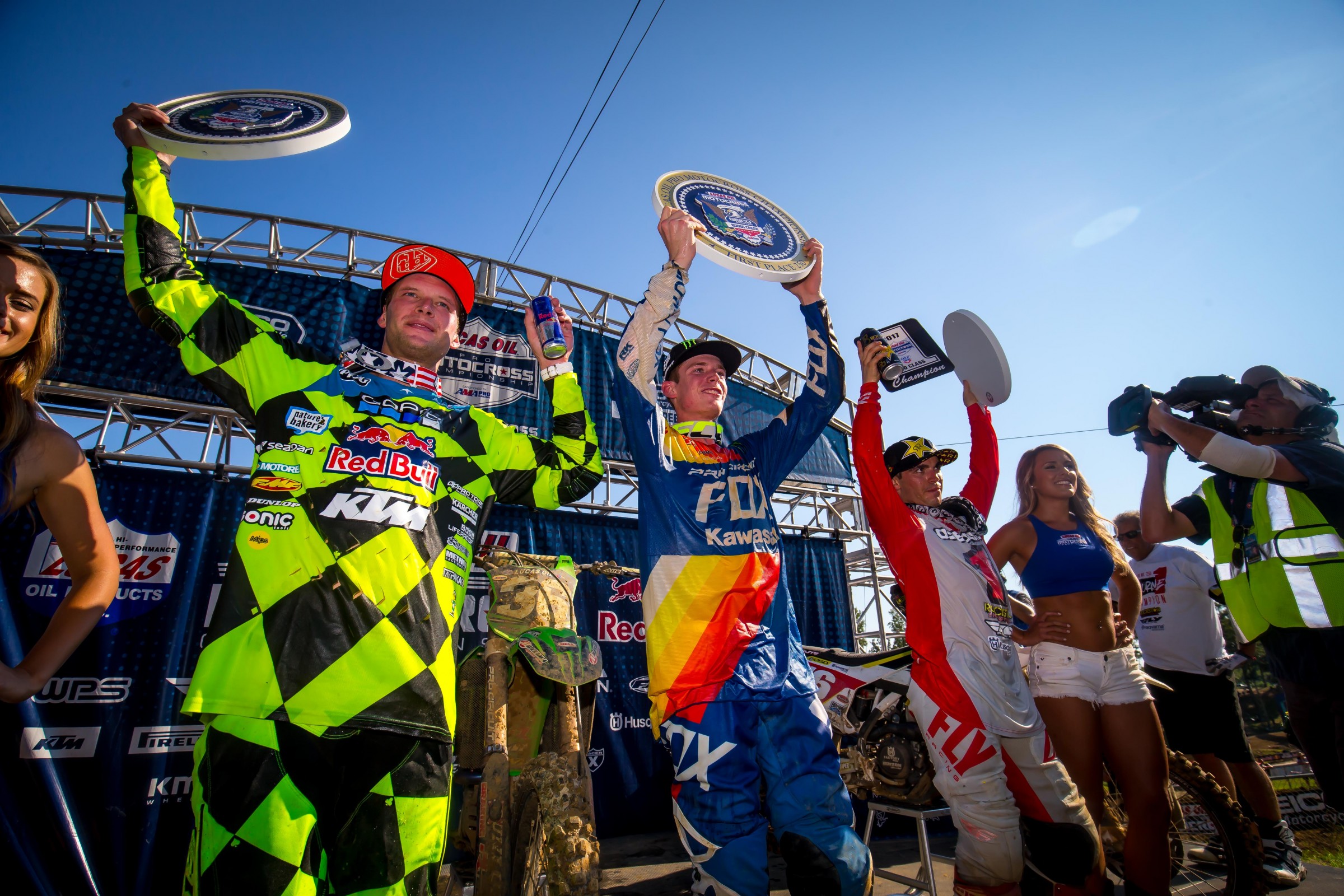 There were some rumors that you might be switching teams for the 2018 season, but it appears that you will be back with the Monster Energy/Pro Circuit Kawasaki team next year.
Yes, I signed with Mitch and Monster Energy/Pro Circuit Kawasaki for 2018 and 2019. So two more years. I couldn't be happier. I've been with Mitch since I was 12 years old and I've been with Kawasaki since 2004. Those guys are like family to me over there. We've had a lot of success together, both as an amateur and as a pro, but I want to put the number one plates on Mitch's door. That's been my goal since I was eight or nine years old. That's been the goal and I feel like we're in a really, really good spot to do that. We won races in supercross and we won races outdoors and I kind of feel like everything is coming together to set up a real good run these next couple of years and I couldn't be happier to do it with Mitch and the guys and I'm looking forward to success with them. I want to be a championship guy next year.
One last question I want to toss in here: Did your name come up at all when Team USA was being put together for the Motocross of Nations?
No, it didn't, really. I'd always be up for it, you know? It's a dream of mine to ride for Team USA, but I think that the team that we're sending, with Zach Osborne having a great year, and Cole Seely being a super-solid guy as well, and with Thomas Covington on the team too, I couldn't be happier for him and he's ridden Matterley [Basin] before and being on the GP circuit, he knows exactly what he's going up against, I think that the team can, for sure, get it done for us this year, but my goal for the next year and for the years to come is to not leave any doubt that I'm one of the strongest guys, and with that comes being selected for Team USA. That's always the goal. But for now, I'll be rooting for those guys and wishing the best for them.