Ironman Raceway
Crawfordsville

,

IN
Race Center: Ironman
Lucas Oil AMA Pro Motocross Championship
Welcome to the Racer X Race Day Feed, your one-stop shop for round 12 of Lucas Oil Pro Motocross from Crawfordsville, Indiana, at the Ironman National. We'll be updating this post throughout the day with news, notes, and results from qualifying and the motos, so be sure to check back throughout the day. You can also follow Racer X on Twitter, Instagram, and Facebook to stay up on all the action.
Morning Report
Welcome to Ironman Raceway and the final round of the 2017 Lucas Oil Pro Motocross Championship. For just the fourth time in history, the track, located in the small town of Crawfordsville, Indiana, will host a round of Pro Motocross. As Jason Thomas pointed out earlier this week, weather has shaped the narrative in three prior visits. The inaugural year (2014) was a complete wash due to heavy rain; the following year, the track was soft and rutted due to rain leading up to the event. We finally got small glimpses of what the track could offer last year, but most expect this year to be the best ever, as the track is expected to provide great traction and form multiple lines.
Before we go any further, it was a huge week regarding injury news, so we'll break it all down quickly. Justin Barcia (concussion) and Justin Hill (nagging injuries) will both return from multi-race absences. Unfortunately, that's the only good news. Martin Davalos (knee), Dylan Ferrandis (wrist), Shane McElrath (hand), Anthony Rodriguez (arm), and Joey Savatgy (foot) are all out due to injuries sustained last weekend at Budds Creek. For a comprehensive list of who's in and who's out, visit our Injury Report.
A first-time 450MX Championship will be crowned today, a week after Zach Osborne wrapped up his first career 250MX title. And while nothing is ever a guarantee—especially in this sport—Eli Tomac is the favorite to hoist the trophy. After admittedly going into "protection mode" over the last few rounds, Tomac found his focus again in the second moto at Budds Creek, riding to a dominating moto win, his first since Southwick.
"I was starting to lose my mind a little bit there," Tomac said in the post-race press conference following the race. "Those three motos before the second one today were pretty disappointing and disheartening. You start going into protection mode and it doesn't work. Found that out a lot at Unadilla. Was really uncomfortable there. Then even the first moto today, we were better here today all day, but it was tough conditions to make moves."
Entering the weekend, Tomac holds a 28-point lead on Blake Baggett (and owns the tiebreaker—most overall wins) and 30 points on Marvin Musquin (Musquin would win the tiebreaker with an overall today). One major wrench in the championship came earlier this week when KTM announced that three-time MX2 World Champion Jeffrey Herlings would make his highly anticipated U.S. debut this weekend. Back in 2014, Herlings was going to race Unadilla, but broke his femur at then-KTM team manager Stefan Everts charity event "Everts and Friends" in Belgium while riding an 85.
Motocross 450 Standings - 2017
Full Standings
---
After struggling with a hand injury early in his first MXGP (450) campaign, Herlings has come on strong in recent weeks and is currently second in the championship behind Antonio Cairoli. Herlings has spent the past week training with Aldon Baker in Florida and rode press day at the track on Thursday. As we pointed out yesterday, Herlings will have some adjustments to make in his debut.
Only pride will be on the line for the 250 Class this weekend, as Zach Osborne clinched his first career 250MX championship last weekend. Adam Cianciarulo is looking to build upon his first career moto win, and overall, last weekend and hang onto third in the championship, which would be a career-best finish. Aaron Plessinger, who won here in 2015 and finished second overall last year, is only 11 points back of AC.
Coverage of qualifying begins at 10:00 a.m. on the NBC Sports Gold App.
Motocross 250 Standings - 2017
Full Standings
First Qualifying Sessions
As we mentioned yesterday in "10 Things to Watch" since Southwick, GECIO Honda's RJ Hampshire has been a consistent podium threat, and was one rider that could snag his first moto win this weekend. In the first qualifying session of the day, Hampshire proved he's up for the challenge, setting the fastest qualifying time over teammate Jeremy Martin. Hampshire was the only 250 rider in the 2:14s with a 2:14.958. Martin was second with a 2:15.065.
When we spoke with Joey Crown earlier this week, he told us that he doesn't have support for next year and that he was hoping to garner attention at Ironman. Well, in just his third professional race, the Michigan native is off to a great start, qualifying third fastest with a 2:15.757. Crown just nipped Budds Creek winner Adam Cianciarulo, who set a 2:15.758.
In his first race back from injury, Justin Hill looked good in the first session, qualifying fifth fastest ahead of Zach Osborne, Chase Sexton, Aaron Plessinger, and Justin Cooper.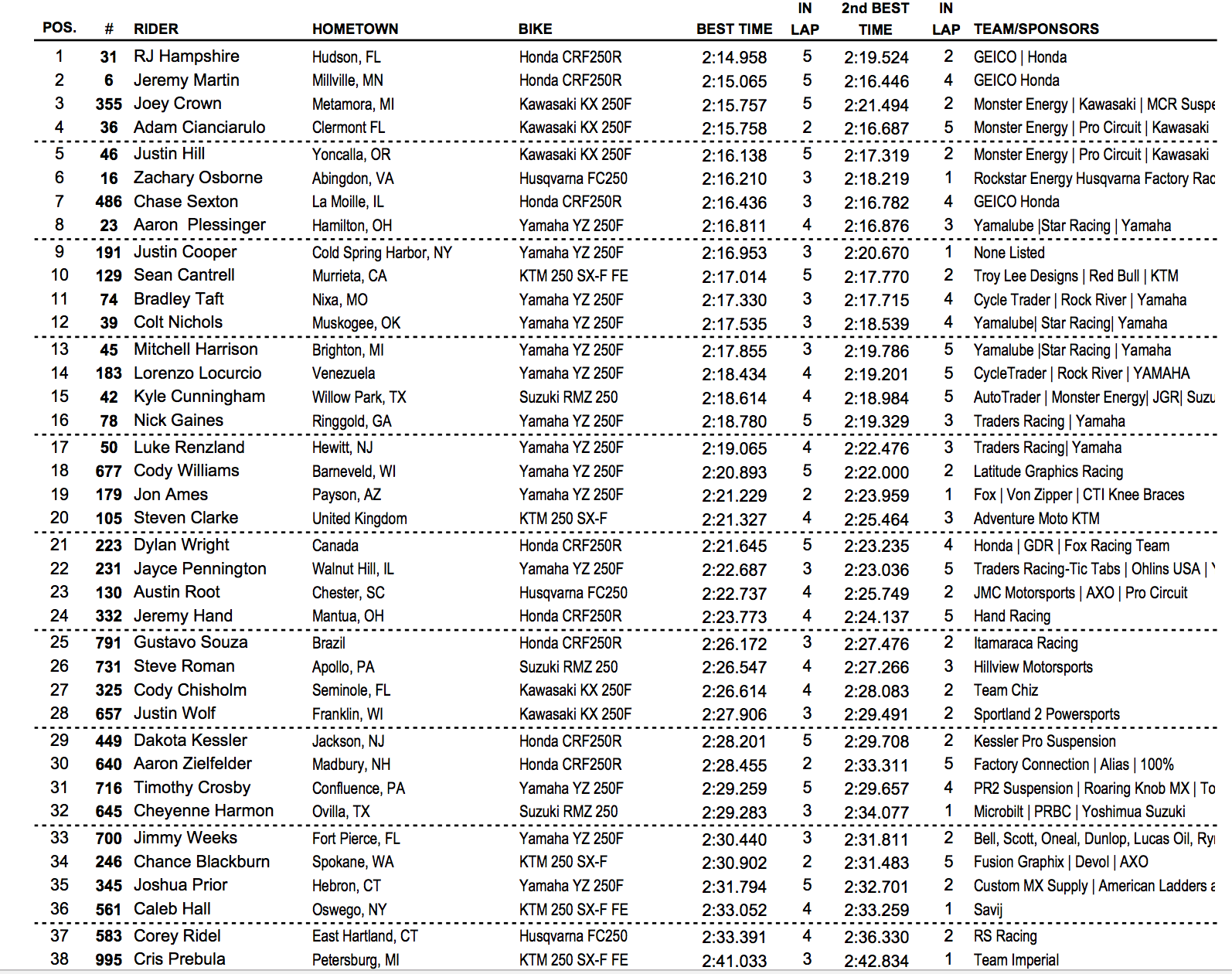 Well, it didn't take long for Jeffrey Herlings to get accustomed to racing in the U.S. The three-time MX2 World Champion dropped a heater on the final lap of the first session to edge Eli Tomac for the fastest time. Herlings was the only rider in the 2:09s, with a 2:09.422. Tomac was second with a 2:10.051.
Herlings was nearly two full seconds faster than third place Marvin Musquin (2:11.527). The top three were well ahead of the fourth fastest qualifier, Cooper Webb, who set a 2:13.158. Blake Baggett, Justin Barcia, Christian Craig, Justin Bogle, Dean Wilson, and Weston Peick rounded out the top 10.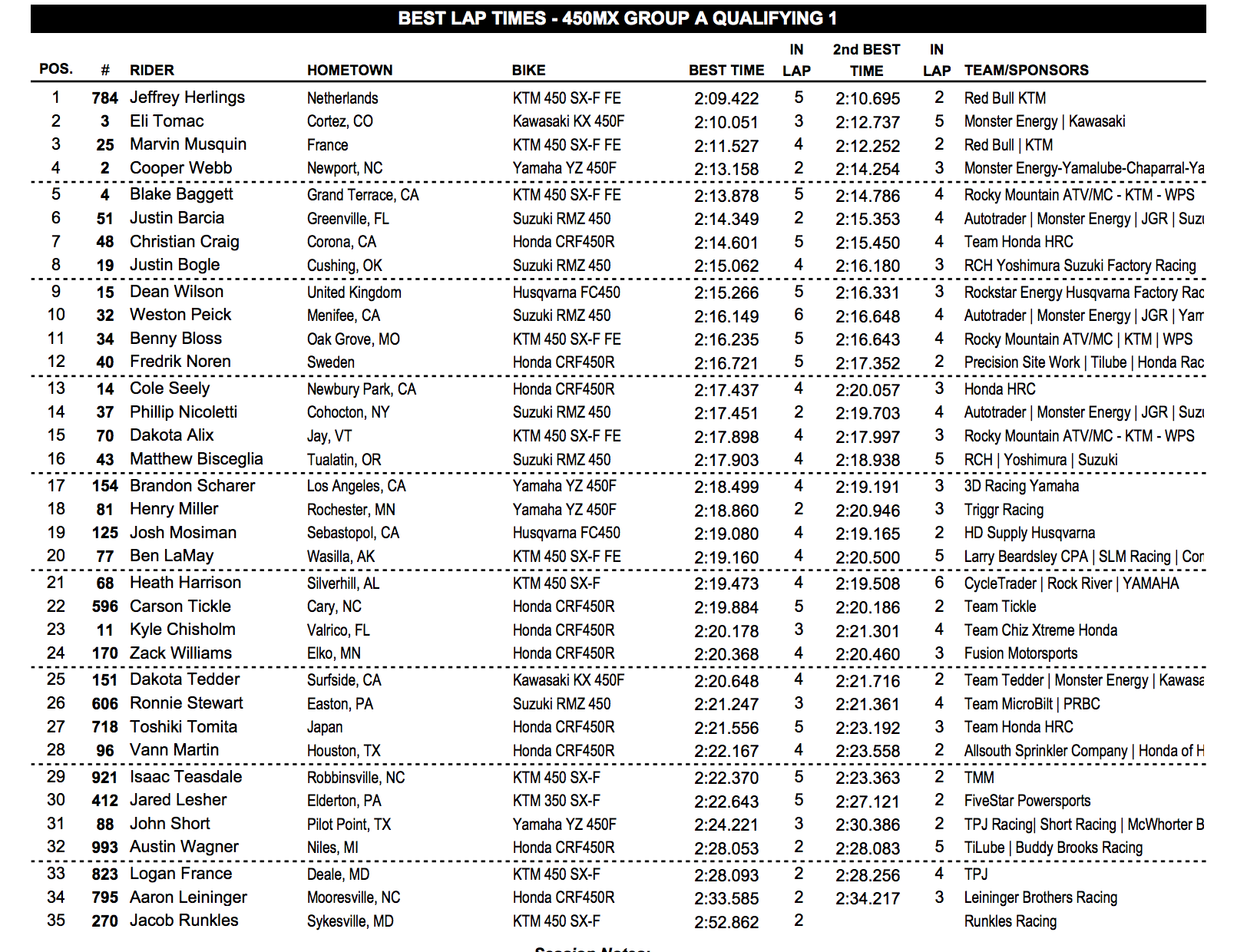 Second Qualifying Sessions
Momentum is a scary thing, and Adam Cianciarulo is carrying a ton into Ironman on the heels of his first career overall win last weekend at Budds Creek. GEICO Honda rookie Chase Sexton held the fastest time for much of the second session, but was shuffled back to third late when Cianciarulo dropped a 2:12.676 on lap six (of seven). On the final lap Jeremy Martin put in a 2:12.823 to secure second fastest overall. Sexton slotted into third with a 2:13.348. RJ Hampshire, fastest qualifier from the first session, was sixth fastest in the session and overall.
In just his third career race, Justin Cooper set the fourth fastest time ahead of Zach Osborne, Hampshire, Aaron Plessinger, Justin Hill, Sean Cantrell, and Colt Nichols.
The surprise of the first session, rookie Joey Crown, was just 16th fastest in the session. His first time was enough for 11th overall.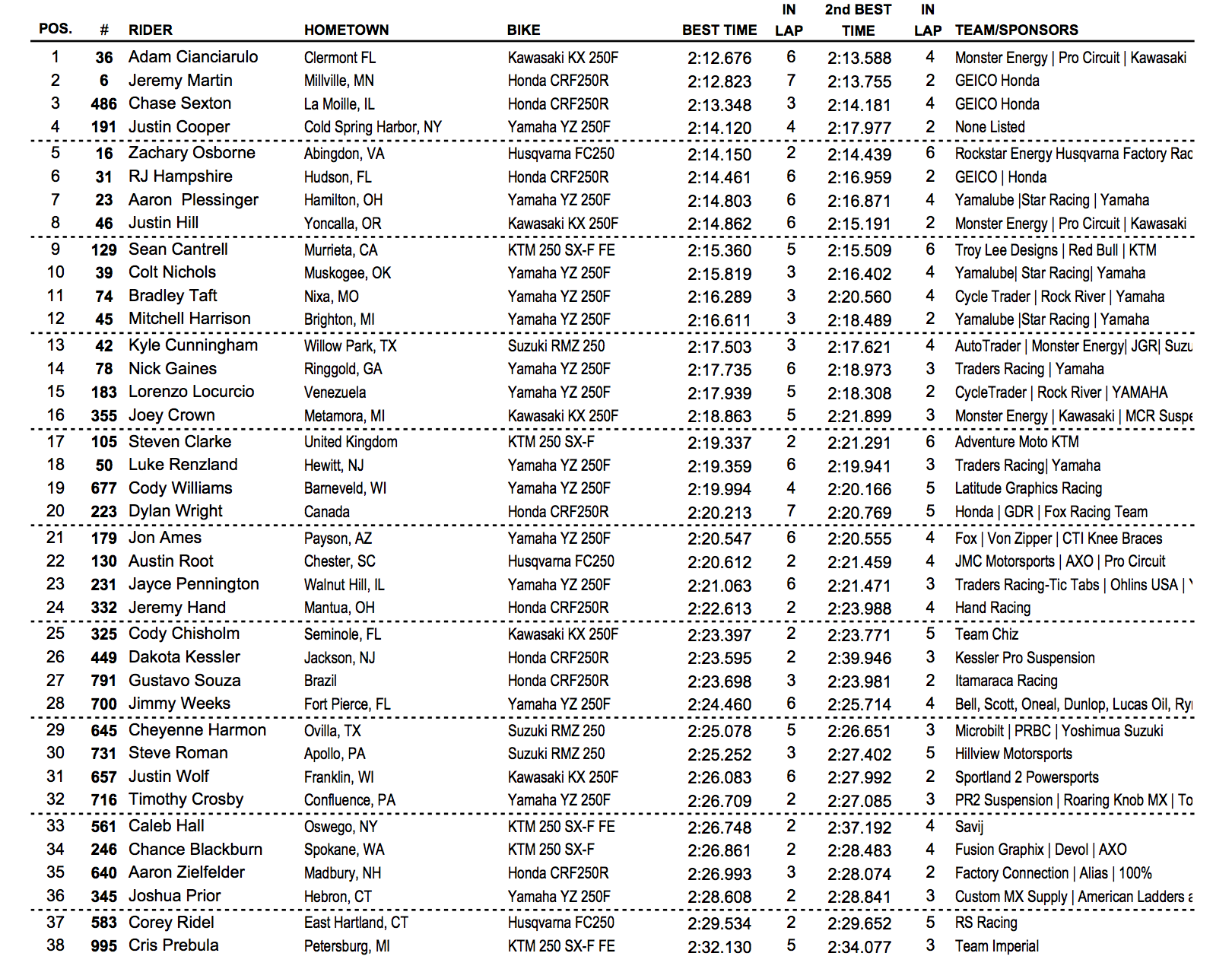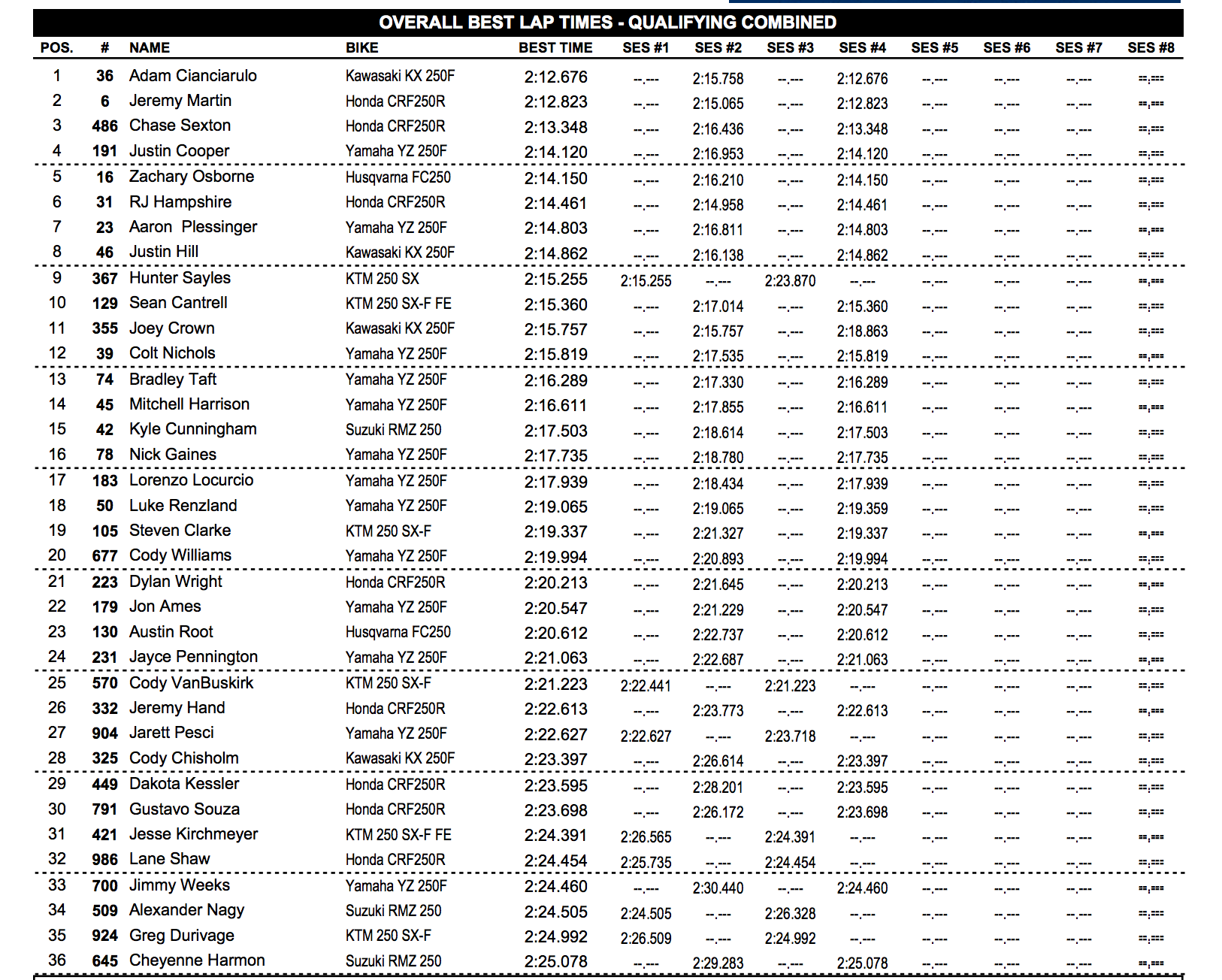 At different points in the second 450 qualifying session, Jeffrey Herlings was three to four seconds faster than the second fastest qualifier. While the pack would trim the gap, Herlings was more than a second faster than second place Eli Tomac.
Herlings bettered his time from the first session and dropped an amazing 2:08.230 late to capture fastest qualifier. On the final lap Tomac dropped down to a 2:09.680 to secure second.
Third fastest qualifier, Blake Baggett, was nearly two full seconds behind Herlings with a 2:10.168. Marvin Musquin was fourth with a 2:10.954. Cooper Webb, Justin Barcia, Christian Craig, Cole Seely, and Weston Peick rounded out the top 10.
We'll have combined times once the 450 B second session is complete.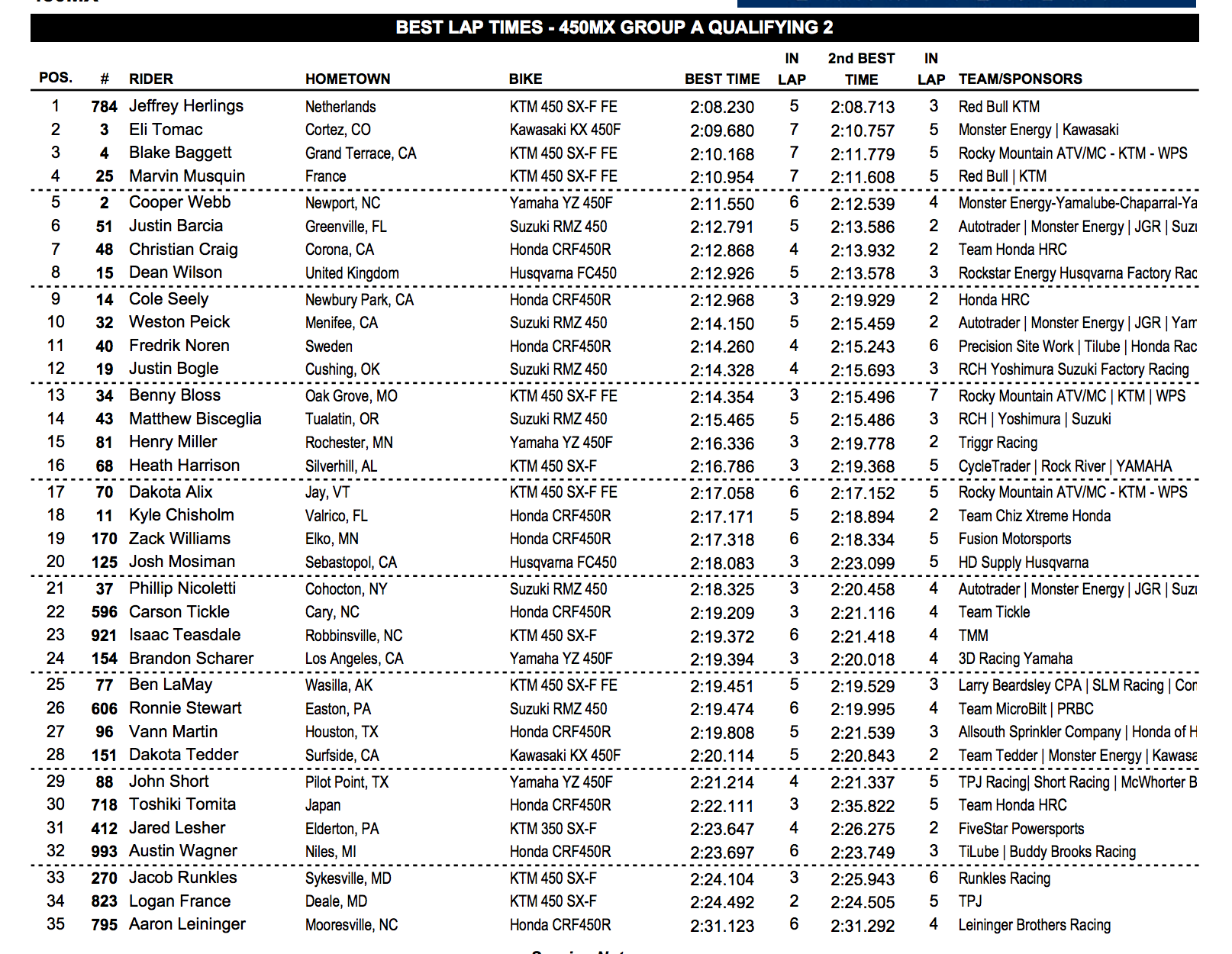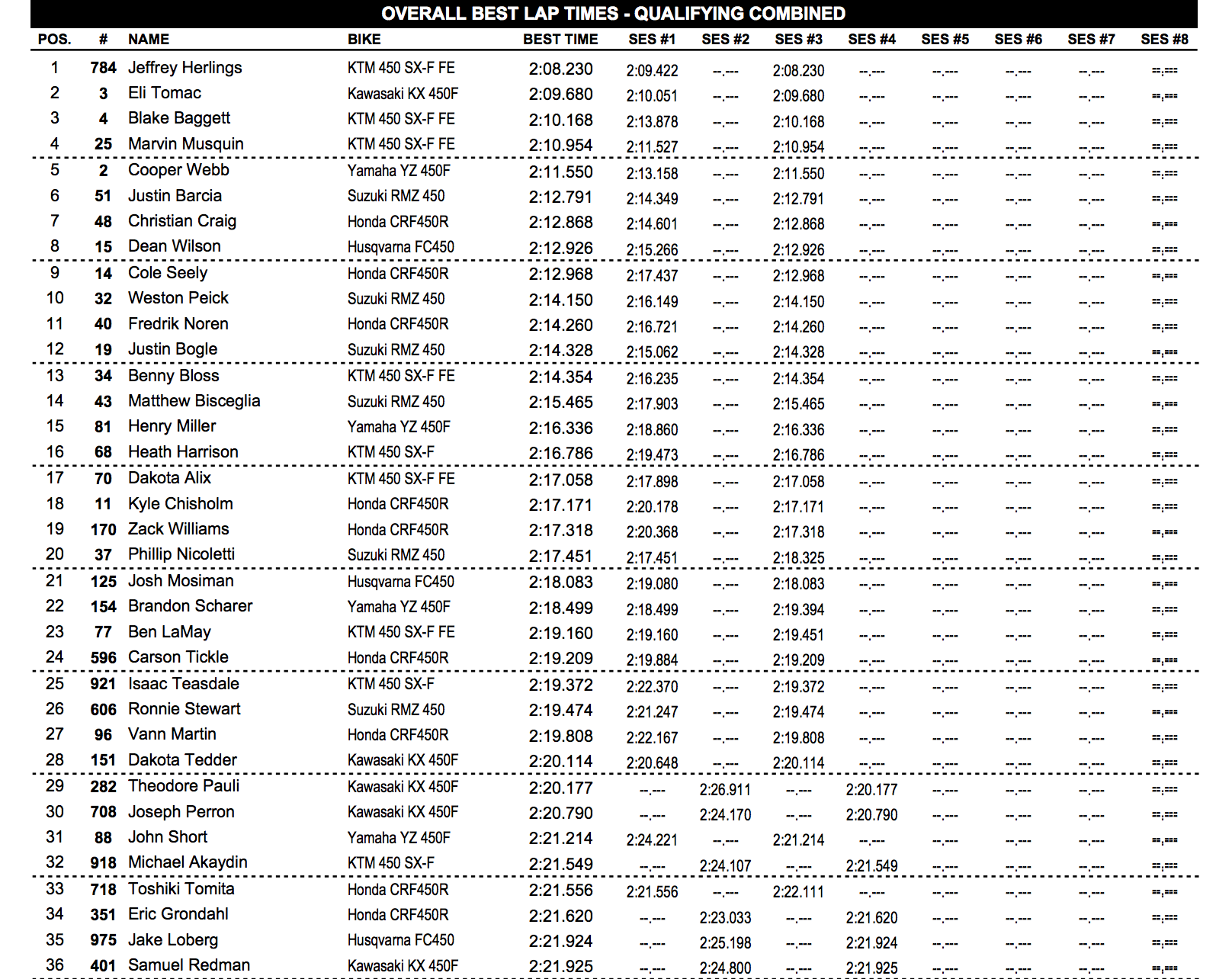 250 Moto One
Zach Osborne didn't need to win the first moto at Ironman. The ultimate goal—the 250MX championship—had been achieved last weekend at Budds Creek. Yet, it didn't stop the Rockstar Energy Husqvarna rider on a perfect afternoon at the season finale.
Out of the gate it was Jeremy Martin running off to the holeshot, with Osborne, Budds Creek overall winner Adam Cianciarulo, and a pair of rookies—Sean Cantrell and Chase Sexton—in tow.
On the opening lap, Osborne didn't hit the uphill triple, which allowed Cianciarulo to get around a few moments later for second. Up front, Martin was hoping to open a gap but went down. He remounted outside the top 10. A few moments later, Aaron Plessinger also went down and would get up just in front of Martin.
Osborne hounded Cianciarulo for 20 minutes—less than two seconds separating the two. On lap 9, Cianciarulo drifted wide, which allowed Osborne enough room to get into the lead. Osborne proceeded to put the hammer down and pull away from AC.
Look at the times once Osborne got into the lead:
Osborne: 2:11.694
Cianciarulo: 2:14.796
Osborne: 2:09.764
Cianciarulo: 2:11.274
The gap would never waver from there, as Osborne raced to a 9.1 second moto win. Cianciarulo cruised home for second.
After disposing of Cantrell after a fierce battle early, Sexton held the final podium spot in his grasps until two laps to go. Yamalube/Star Racing Yamaha's Colt Nichols had pulled to within a second of Sexton, but with a lap and a half to go Sexton ran into a lapper and went down. He remounted in fifth, but a few moments later went down for a second time. He went on to finish 10th. This allowed Nichols to earn his first-career moto podium.
Plessinger worked back through the field to get fourth. Mitchell Harrison joined his Star teammates inside the top five with fifth. Cantrell finished sixth after an early run at the podium. Bradley Taft finished seventh, ahead of Martin, Kyle Cunningham and Sexton.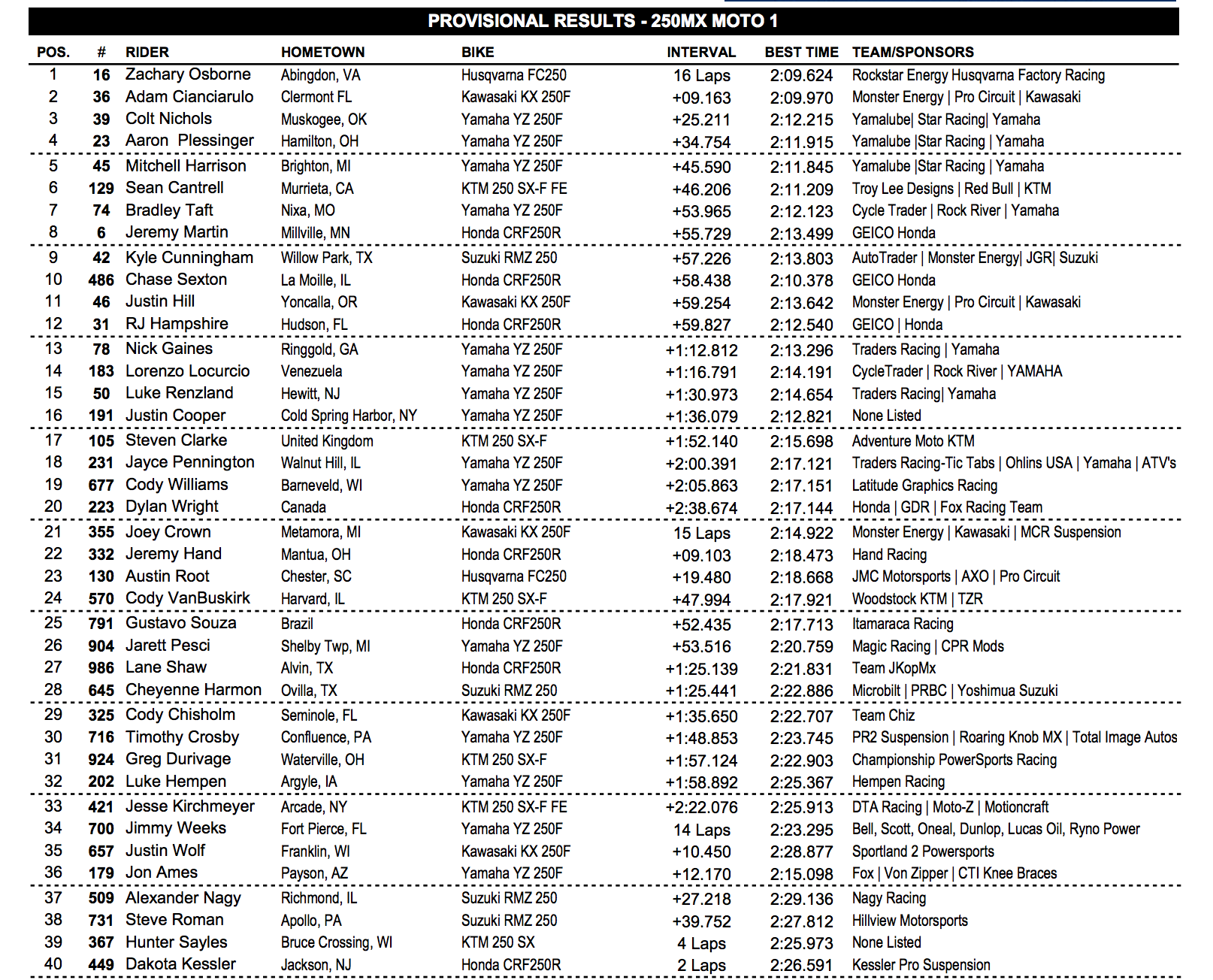 450 Moto One
Eli Tomac is one step closer to his first career 450 title but it didn't come without some shaky moments in the first moto at Ironman.
Tomac got off to a hot start with Blake Baggett and the visiting Jeffrey Herlings in tow. Herlings was on a mission early, blasting around Baggett and Tomac to take his first-ever lead in Lucas Oil Pro Motocross. Early in the race Tomac was trying to stick with the three-time MX2 World Champion when his championship nearly unraveled. Tomac jumped to the outside, maybe trying to set Herlings up for a pass, when he hit soft dirt and high-sided. Fortunately for Tomac and the Kawasaki brass, he was able to quickly remount in sixth, but had problems with his clutch, as he continue to bang on the lever over the next couple laps.
In desperate need for as many points as possible, Musquin, who had worked around Baggett earlier, started to apply pressure to Herlings for the lead. By lap 8, Musquin had cut his 3.1-second lead to 1.6 and was even pulling onto the rear wheel of the world champion. But Herlings remained in control under the intense pressure and a few laps later had stretched his lead back to over three seconds.
---
Herlings' Gap on Musquin in Moto One:
Lap 3: Herlings 3.1
Lap 6: Herlings 2.3
Lap 8: Herlings 1.6
Lap 11: Herlings 3.8
Lap 13: Herlings 5.7
Lap 14: Herlings 6.9
Lap 16 (end of race): 8.0
---
Musquin wasn't able to mount another charge and Herlings cruised to the moto win in his first-ever Pro Motocross race. Musquin finished second and pushed the 450 championship to the final moto of the year. Baggett took home third ahead of Cole Seely and Eli Tomac.
Cooper Webb, Weston Peick, Benny Bloss, Christian Craig, and Justin Barcia rounded out the top 10.
Tomac holds a 24-point lead over Musquin and Baggett entering the final moto.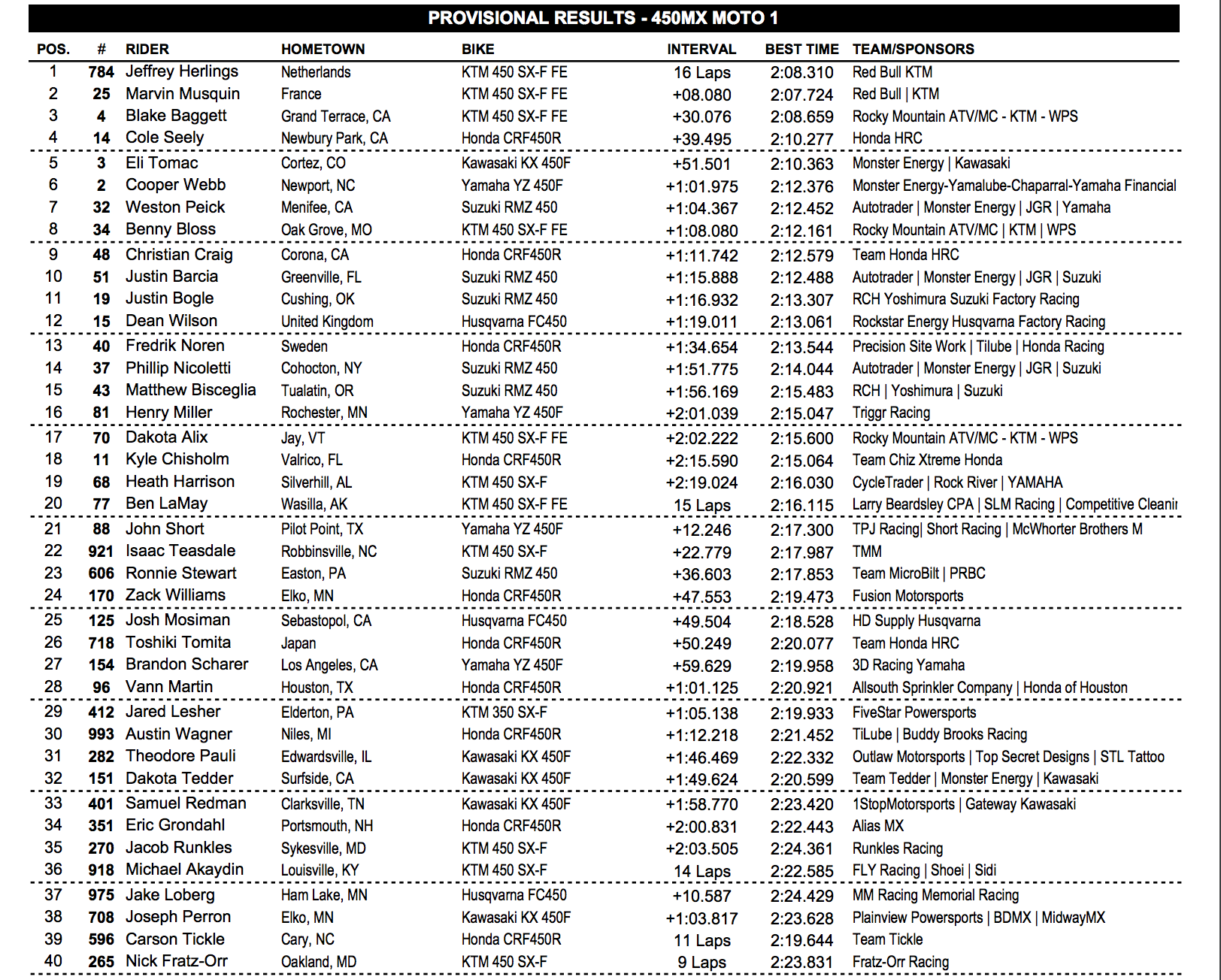 250 Moto Two
The final 250 moto of the 2017 Lucas Oil Pro Motocross season featured a familiar name at the top of the leaderboard.
There was no backing it down for 250MX champion Zach Osborne today at Ironman Raceway. After hounding Adam Cianciarulo for 20 minutes in the first moto before finally taking the lead, and eventually, the win, Osborne ran away with the second moto for a perfect 1-1 day.
In a carbon copy to moto one, it was Cianciarulo, Jeremy Martin, Osborne, and Sexton up front early. This time Osborne wasn't going to patiently sit behind AC. He struck quickly to inherit the lead from Cianciarulo, who had more trouble behind from Aaron Plessinger. On the same lap as he lost the lead, AC would also lose second to Plessinger. But shortly after taking over second Plessinger went down. He would remount in fifth but later pulled out of the moto.
Once out front, Osborne, like in moto one, dropped the hammer and pulled away. By the third lap he had already stretched his lead to more than six seconds. He'd never waver en route to a dominating 8.3 second moto win. Despite some late pressure, AC would hang on for a second straight runner-up finish.
Behind Osborne and AC, it got interesting for the final podium spot late in the race. Colt Nichols hounded Jeremy Martin for third for a majority of the moto before finally making a pass stick late in the race. Martin wasn't giving up, though, and stuck with him over the final few laps before making a pass stick on the final lap. Nichols would hang on the fourth and take third overall, his first career overall 250MX podium.
Tough day at the office for Chase Sexton, as he crashed again late in the moto after coming together with teammate RJ Hampshire in a battle for fifth. Hampshire would finish fifth, while Sexton remounted to finish sixth.
Rookie Justin Cooper finished a solid seventh ahead of Mitchell Harrison, Justin Hill, and Nick Gaines.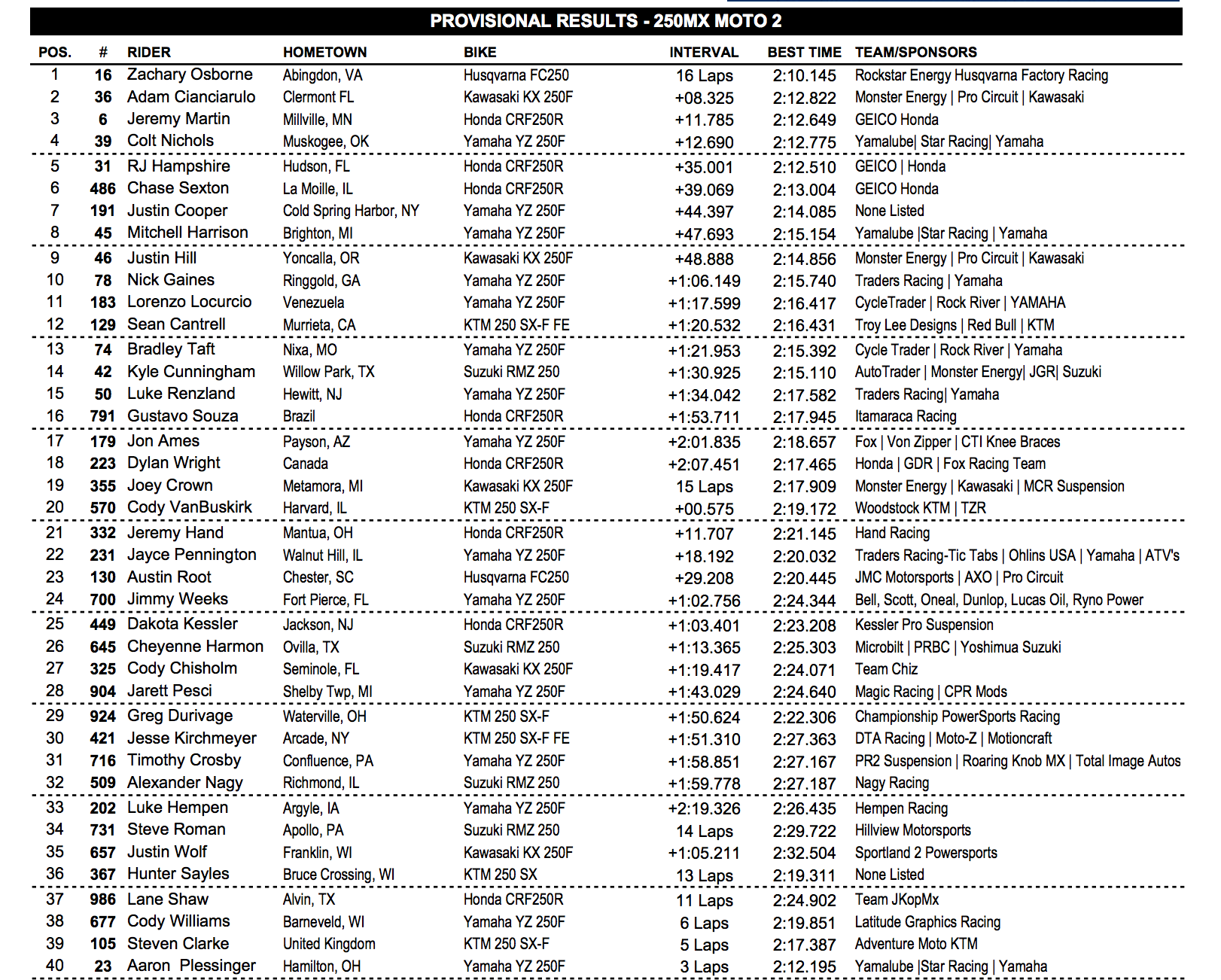 Ironman - 250
Pos

ition

Rider
Hometown
Motos
Machine
1

Zach Osborne

Abingdon, VA
1 - 1
Husqvarna FC250
2

Adam Cianciarulo

Port Orange, FL
2 - 2
Kawasaki KX 250F
3

Colt Nichols

Muskogee, OK
3 - 4
Yamaha YZ 250F
4

Jeremy Martin

Millville, MN
8 - 3
Honda CRF250R
5

Mitchell Harrison

Lansing, MI
5 - 8
Yamaha YZ 250F
6

Chase Sexton

La Moille, IL
10 - 6
Honda CRF250R
7

R.J. Hampshire

Hudson, FL
12 - 5
Honda CRF250R
8

Sean Cantrell

Murrieta, CA
6 - 12
KTM 250 SX-F FE
9

Justin Hill

Yoncalla, OR
11 - 9
Kawasaki KX 250F
10

Bradley Taft

Nixa, MO
7 - 13
Yamaha YZ 250F
11

Justin Cooper

Cold Spring Harbor, NY
16 - 7
Yamaha YZ 250F
12

Nick Gaines

Ringgold, GA
13 - 10
Yamaha YZ 250F
13

Kyle Cunningham

Aledo, TX
9 - 14
Suzuki RMZ 250
14

Aaron Plessinger

Hamilton, OH
4 - 40
Yamaha YZ 250F
15

Lorenzo Locurcio

Cairo, GA
14 - 11
Yamaha YZ 250F
16

Luke Renzland

Hewitt, NJ
15 - 15
Yamaha YZ 250F
17

Gustavo Souza

Brazil
25 - 16
Honda CRF250R
18

Jon Ames

Riverside, CA
36 - 17
Yamaha YZ 250F
19

Dylan Wright

Canada
20 - 18
Honda CRF250R
20

Steven Clarke

Cairo, GA
17 - 39
KTM 250 SX-F
21

Jayce Pennington

Walnut Hill, IL
18 - 22
Yamaha YZ 250F
22

Joey Crown

Metamora, MI
21 - 19
Kawasaki KX 250F
23

Cody Williams

Barneveld, WI
19 - 38
Yamaha YZ 250F
24

Cody Vanbuskirk

Harvard, IL
24 - 20
KTM 250 SX-F
25

Jeremy Hand

Mantua, OH
22 - 21
Honda CRF250R
26

Austin Root

Chester, SC
23 - 23
Husqvarna FC250
27

Cheyenne Harmon

Ovilla, TX
28 - 26
Suzuki RMZ 250
28

Jarett Pesci

Shelby Twp, MI
26 - 28
Yamaha YZ 250F
29

Cody Chisholm

Seminole, FL
29 - 27
Kawasaki KX 250F
30

Jimmy Weeks

Fort Pierce, FL
34 - 24
Yamaha YZ 250F
31

Greg Durivage

Waterville, OH
31 - 29
KTM 250 SX-F
32

Timothy Crosby

Confluence, PA
30 - 31
Yamaha YZ 250F
33

Jesse Kirchmeyer

Arcade, NY
33 - 30
KTM 250 SX-F FE
34

Lane Shaw

Alvin, TX
27 - 37
Honda CRF250R
35

Dakota Kessler

Farmingdale, NJ
40 - 25
Honda CRF250R
36

Luke Hempen

Argyle, IA
32 - 33
Yamaha YZ 250F
37

Alexander Nagy

Richmond, IL
37 - 32
Suzuki RMZ 250
38

Justin Wolf

franklin, WI
35 - 35
Kawasaki KX 250F
39

Steve Roman

Apollo, PA
38 - 34
Suzuki RMZ 250
40

Hunter Sayles

Merrill, WI
39 - 36
KTM 250 SX
Full Results
Motocross 250 Standings - 2017
Pos

ition

Rider
Hometown
Points
1

Zach Osborne

Abingdon, VA
501
2

Jeremy Martin

Millville, MN
420
3

Adam Cianciarulo

Port Orange, FL
374
4

Aaron Plessinger

Hamilton, OH
337
5

Joey Savatgy

Thomasville, GA
324
6

Dylan Ferrandis

Avignon, France
305
7

Colt Nichols

Muskogee, OK
303
8

Alex Martin

Millville, MN
296
9

Mitchell Harrison

Lansing, MI
279
10

Shane Mcelrath

Canton, NC
248
11

R.J. Hampshire

Hudson, FL
222
12

Chase Sexton

La Moille, IL
188
13

Austin Forkner

Richards, MO
184
14

Sean Cantrell

Murrieta, CA
176
15

Luke Renzland

Hewitt, NJ
141
16

Kyle Cunningham

Aledo, TX
134
17

Nick Gaines

Ringgold, GA
124
18

Lorenzo Locurcio

Cairo, GA
119
19

Justin Hill

Yoncalla, OR
110
20

Bradley Taft

Nixa, MO
90
Full Standings
450 Moto Two
That's a wrap on the 2017 Lucas Oil Pro Motocross Championship and we have a new champion.
The championship was pushed to the final moto after points leader Eli Tomac crashed early in the first moto and finished fifth, while title rivals Marvin Musquin and Blake Baggett finished second and third, respectively. Entering the moto he held a 24-point lead on both and just needed to finish in the points to claim his first career 450 championship.
Baggett and Musquin did what they needed to do on the start as they ran 1-2 early. Moto one winner Jeffrey Herlings got a bad jump, as did Tomac. Herlings ran into more trouble when he tangled with Fredrik Noren and went down and would remount near the tail end of the field. From there, it was a masterful display of riding from the world champion as he carved his way through the field with relative ease.
By the second lap, Herlings was already up to 14th and climbing quickly. A lap later he had already caught Tomac and was soon around him as well. Herlings continued to push hard and had worked up to Baggett in second with around a minute plus two to go. He quickly got around Baggett as well and was setup for a second place finish as Musquin had built around a ten second lead. But on the final lap, Musquin went down before the Godzilla jump and handed the lead over to Herlings, who went on to a 2.6 second win in an amazing display of riding. He also claimed the overall with 1-1 scores. Musquin went 2-2 for second overall and Baggett brought home third with 3-3 finishes.
With Herlings in the lead, Tomac's finish didn't matter. He was in no hurry on this day to charge his way through the pack. Yet, he was able to work up to sixth and clinch his first career 450 title.
Cole Seely took fourth ahead of Cooper Webb, Tomac, Weston Peick, Christian Craig, Justin Bogle, and Dean Wilson.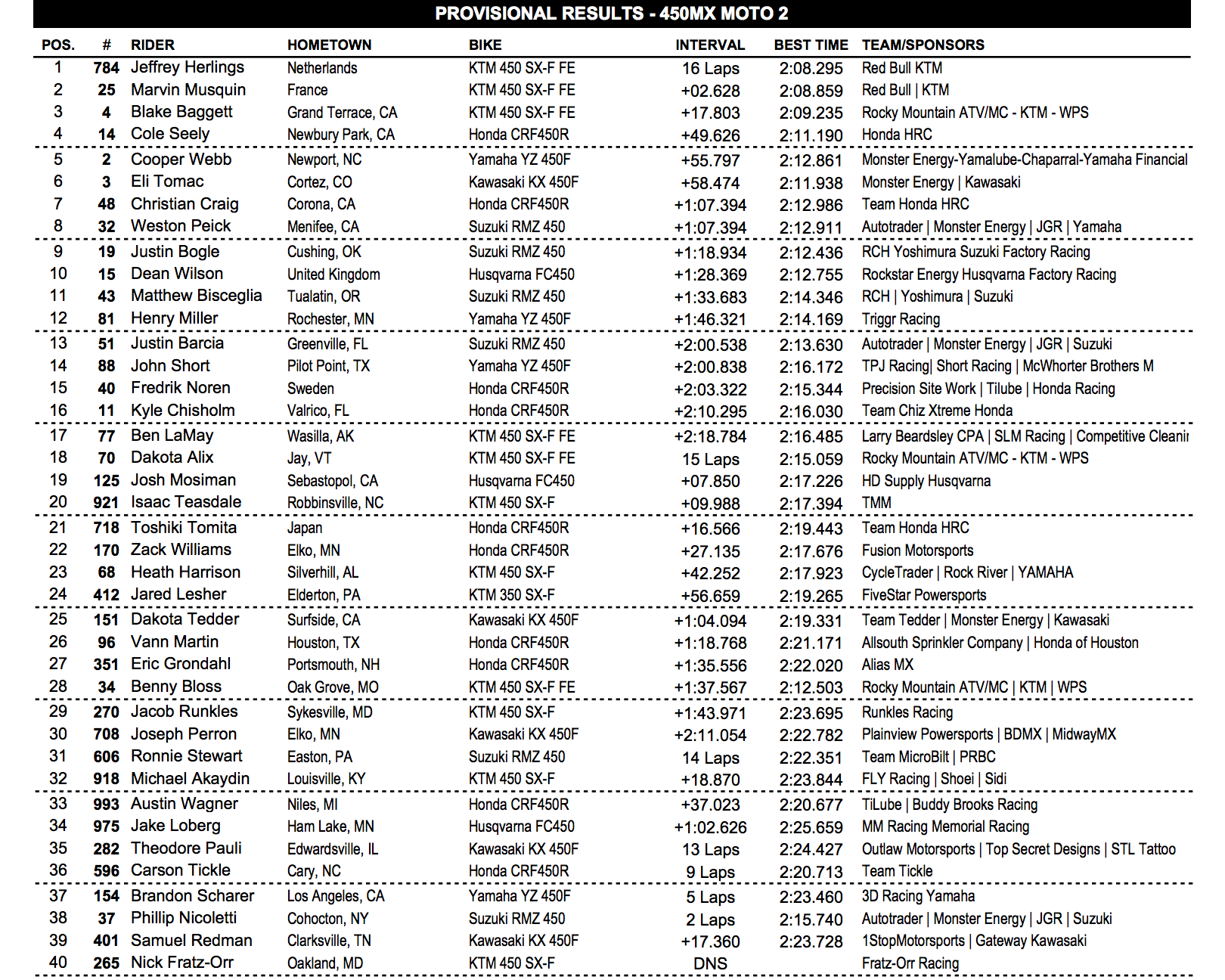 Ironman - 450
Pos

ition

Rider
Hometown
Motos
Machine
1

Jeffrey Herlings

Netherlands
1 - 1
KTM 450 SX-F FE
2

Marvin Musquin

La Reole, France
2 - 2
KTM 450 SX-F FE
3

Blake Baggett

Grand Terrace, CA
3 - 3
KTM 450 SX-F FE
4

Cole Seely

Newbury Park, CA
4 - 4
Honda CRF450R
5

Cooper Webb

Newport, NC
6 - 5
Yamaha YZ 450F
6

Eli Tomac

Cortez, CO
5 - 6
Kawasaki KX 450F
7

Weston Peick

Wildomar, CA
7 - 8
Suzuki RMZ 450
8

Christian Craig

Hemet, CA
9 - 7
Honda CRF450R
9

Justin Bogle

Cushing, OK
11 - 9
Suzuki RMZ 450
10

Dean Wilson

Scotland, United Kingdom
12 - 10
Husqvarna FC450
11

Justin Barcia

Monroe, NY
10 - 13
Suzuki RMZ 450
12

Matt Bisceglia

Weatherford, TX
15 - 11
Suzuki RMZ 450
13

Henry Miller

Rochester, MN
16 - 12
Yamaha YZ 450F
14

Fredrik Noren

Sweden
13 - 15
Honda CRF450R
15

Benny Bloss

Oak Grove, MO
8 - 28
KTM 450 SX-F FE
16

Kyle Chisholm

Clearwater, FL
18 - 16
Honda CRF450R
17

John Short

Pilot Point, TX
21 - 14
Yamaha YZ 450F
18

Dakota Alix

Jay, VT
17 - 18
KTM 450 SX-F FE
19

Phil Nicoletti

Cochecton, NY
14 - 38
Suzuki RMZ 450
20

Ben LaMay

Anchorage, AK
20 - 17
KTM 450 SX-F FE
21

Josh Mosiman

Sebastopol, CA
25 - 19
Husqvarna FC450
22

Heath Harrison

Silverhill, AL
19 - 23
KTM 450 SX-F
23

Isaac Teasdale

Robbinsville, NC
22 - 20
KTM 450 SX-F
24

Zack Williams

Elko, MN
24 - 22
Honda CRF450R
25

Toshiki Tomita

Kanazawa, Japan
26 - 21
Honda CRF450R
26

Jared Lesher

Elderton, PA
29 - 24
KTM 350 SX-F
27

Vann Martin

Houston, TX
28 - 26
Honda CRF450R
28

Ronnie Stewart

Easton, PA
23 - 31
Suzuki RMZ 450
29

Dakota Tedder

Surfside, CA
32 - 25
Kawasaki KX 450F
30

Eric Grondahl

Portsmouth, NH
34 - 27
Honda CRF450R
31

Austin Wagner

Niles, MI
30 - 33
Honda CRF450R
32

Jacob Runkles

Sykesville, MD
35 - 29
KTM 450 SX-F
33

Brandon Scharer

Gardena, CA
27 - 37
Yamaha YZ 450F
34

Theodore Pauli

Edwardsville, IL
31 - 35
Kawasaki KX 450F
35

Joseph Perron

Elko, MN
38 - 30
Kawasaki KX 450F
36

Michael Akaydin

Louisville, KY
36 - 32
KTM 450 SX-F
37

Jake Loberg

Ham Lake, MN
37 - 34
Husqvarna FC450
38

Samuel Redman

Clarksville, TN
33 - 39
Kawasaki KX 450F
39

Carson Tickle

Cary, NC
39 - 36
Honda CRF450R
40

Nick Fratz

Oakland, MD
40 - 40
KTM 450 SX-F
Full Results
Motocross 450 Standings - 2017
Pos

ition

Rider
Hometown
Points
1

Eli Tomac

Cortez, CO
470
2

Marvin Musquin

La Reole, France
453
3

Blake Baggett

Grand Terrace, CA
451
4

Dean Wilson

Scotland, United Kingdom
340
5

Cole Seely

Newbury Park, CA
330
6

Justin Bogle

Cushing, OK
308
7

Weston Peick

Wildomar, CA
268
8

Cooper Webb

Newport, NC
268
9

Martin Davalos

Quito, Ecuador
263
10

Jason Anderson

Edgewood, NM
216
11

Christian Craig

Hemet, CA
216
12

Fredrik Noren

Sweden
202
13

Justin Barcia

Monroe, NY
191
14

Dakota Alix

Jay, VT
152
15

Broc Tickle

Holly, MI
146
16

Josh Grant

Riverside, CA
143
17

Henry Miller

Rochester, MN
108
18

Matt Bisceglia

Weatherford, TX
78
19

Benny Bloss

Oak Grove, MO
73
20

John Short

Pilot Point, TX
70
Full Standings