Unadilla Motocross
New Berlin

,

NY
Race Center: Unadilla
Lucas Oil AMA Pro Motocross Championship
Welcome to the Racer X Race Day Feed, your one-stop shop for round 10 of Lucas Oil Pro Motocross from New Berlin, New York, at the Unadilla National. We'll be updating this post throughout the day with news, notes, and results from qualifying and the motos, so be sure to check back throughout the day. You can also follow Racer X on Twitter, Instagram, and Facebook to stay up on all the action.
Morning Report
Following a break in the calendar, Lucas Oil Pro Motocross is back for the final stretch run of the season in New Berlin, New York, for round 10 of the championship at Unadilla.
This isn't your grandparents Unadilla, with epic loam and tall grass. As Jason Thomas pointed out earlier this week, this track has undergone massive changes since the 1970s. For a brief period, it was one of the worst tracks on the circuit, but recently topsoil was brought in and it has revitalized Unadilla. The new dirt has provided big braking bumps and ruts in the turns, and while it's not a replica of the 1970s Unadilla, it's a much better track than 15 years ago.
While Justin Barcia spent a lot of his childhood in Georgia training at the Millsaps Training Facility, he is a native of New York (he was actually born in New Jersey, but moved to New York at a young age). Barcia was hoping to return for his home race following a concussion sustained at Washougal, and even rode press day on Thursday. But late last night, the team announced Barcia has not been medically cleared to race and will sit this weekend out. A timeline on his return will be released at a later date.
Rockstar Energy Husqvarna's Jason Anderson is also out this weekend, and for the remainder of the season, after undergoing surgery this week to have a plate removed from his foot. The injury initially occurred at last year's Motocross of Nations when another rider landed on Anderson.
In good news, factory Yamaha's Cooper Webb will return from a one-race absence. Webb injured his meniscus in the second moto at Millville and missed Washougal. Phil Nicoletti, a native of New York, is also back in action. Nicoletti has been sidelined since February after dislocating his ankle, shattering his heel, and fracturing his lower fibula in a crash during press day at Arlington Supercross.
Following Loretta Lynn's, three riders are scheduled to make their pro debuts today. Horizon Award winner, and New York native, Justin Cooper is riding for CycleTrader.com/Rock River Yamaha. Also making their debuts today is Joey Crown and Jayce Pennington.
We could see a championship clinched today, as Zach Osborne enters the weekend with a 74-point lead over second place Jeremy Martin. To clinch, Osborne would need to pick up 26 points on Martin today. The more likely scenario will see Osborne clinch next weekend at the Budds Creek National.
Motocross 250 Standings - 2017
Full Standings
---
In the 450 Class, Marvin Musquin enters the race on a four-moto win streak after sweeping both Millville and Washougal. Unadilla plays right into the hands of Musquin's technical style, so we could see another 1-1 performance today. But he will have to go through points leader Eli Tomac, who currently holds a 32-point lead in the championship over second place Blake Baggett.
Motocross 450 Standings - 2017
Full Standings
---
Finally, we should be able to put to rest who will represent Team USA at the Motocross of Nations. Team manager Roger DeCoster is expected to announce the team today.
Qualifying is about to begin, check back for reports from both sessions.
---
Qualifying Session One
The first qualifying sessions have concluded at Unadilla and we have a surprise at the top of the 450 leaderboard. Honda HRC's Christian Craig edged the returning Cooper Webb to take the top time in session one.
Craig's 2:06.915 was a few tenths faster than Webb's 2:06.925. Craig and Webb were more than a full second faster than third place.
The top three in 450MX points followed, with Blake Baggett setting the pace with a 2:08.016. Marvin Musquin was fourth, followed by points leader Eli Tomac. Cole Seely, Dean Wilson, Marvin Davalos, Justin Bogle, and Fredrik Noren rounded out the top 10. In his first race back, Phil Nicoletti was 17th fastest.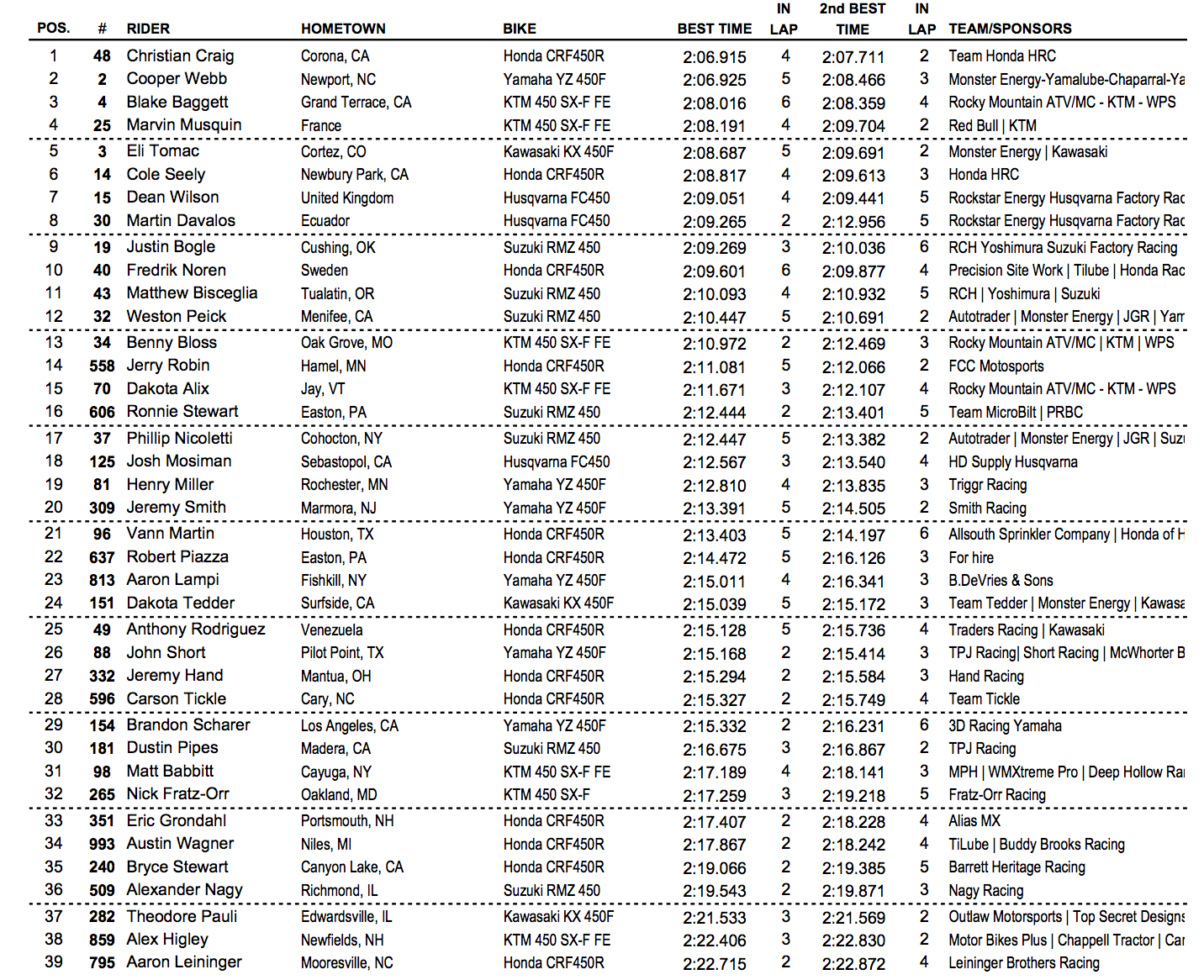 In the 250 Class, it was all Monster Energy/Pro Circuit Kawasaki as teammates Joey Savatgy and Adam Cianciarulo went 1-2 in the first session. Savatgy held a slight edge on AC near the end of the session before dropping a 2:07.657 on the final lap to gap his teammate by nearly a full second. Savatgy's time was nearly two seconds faster than third place Zach Osborne. Aaron Plessinger and Shane McElrath rounded out the top five.
Impressive first practice from Horizon Award winner Justin Cooper. The New York native finished ninth overall in the first session. Joey Crown, also making his pro debut, finished 12th.
Jeremy Martin, Bradley Taft, Kyle Cunningham, Cooper, and Colt Nichols rounded out the top 10.
Qualifying Session Two
It was a Rockstar Energy Husqvarna one-two punch in the second 450 qualifying session at Unadilla, as teammates Dean Wilson and Martin Davalos topped the leaderboard. Neither time was fastest enough to beat out Christian Craig, though. The Honda HRC rider's 2:06.915 was more than a second fastest than Wilson's 2:08.159. Wilson qualified fourth overall.
Despite setting the second fastest time in the second session, Davalos qualified sixth.
In his first race back from a meniscus injury which sidelined him for Washougal, Cooper Webb set the second fastest overall time. Blake Baggett was third, followed by Wilson and Marvin Musquin. Points leader Eli Tomac was just ninth fastest overall.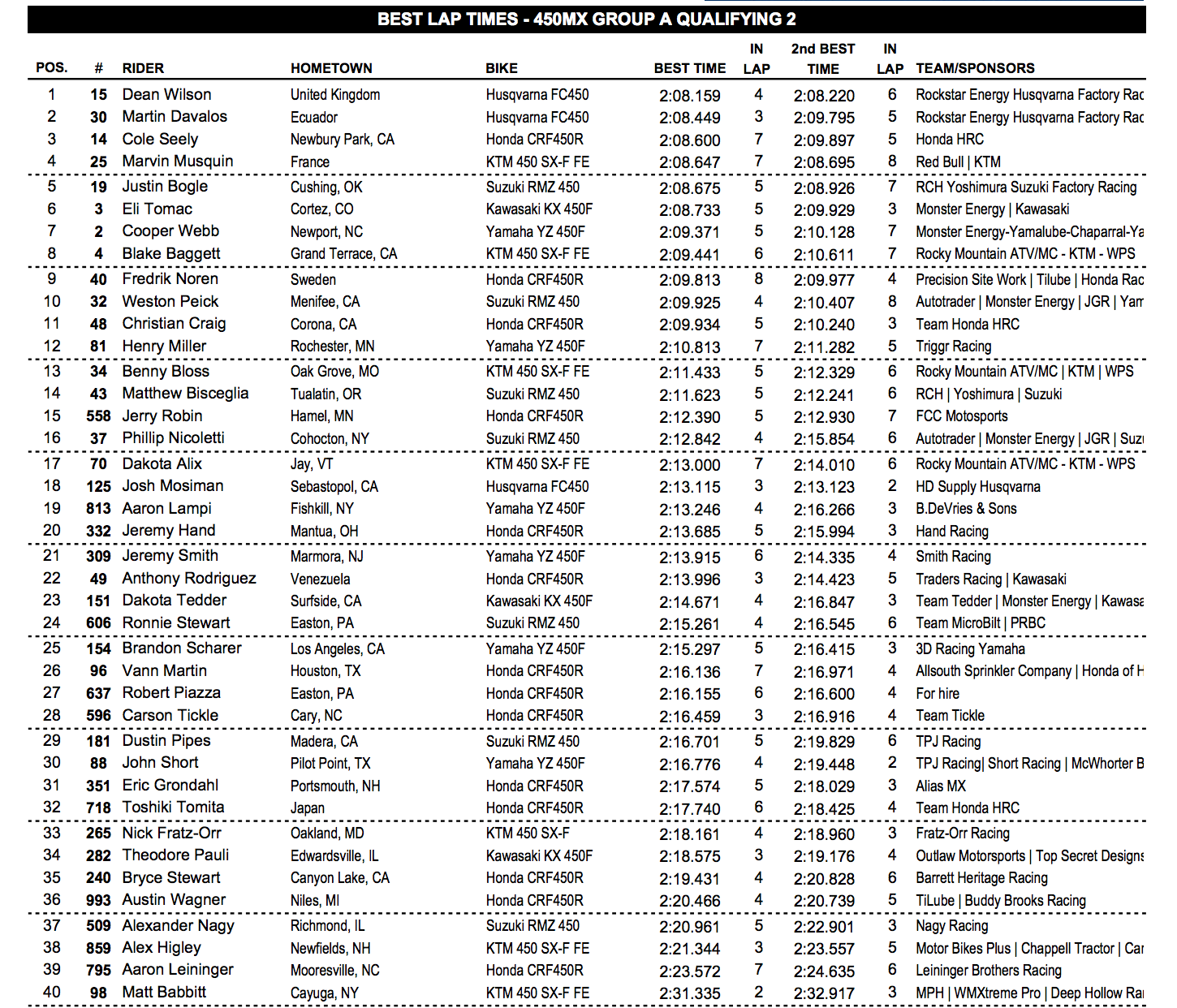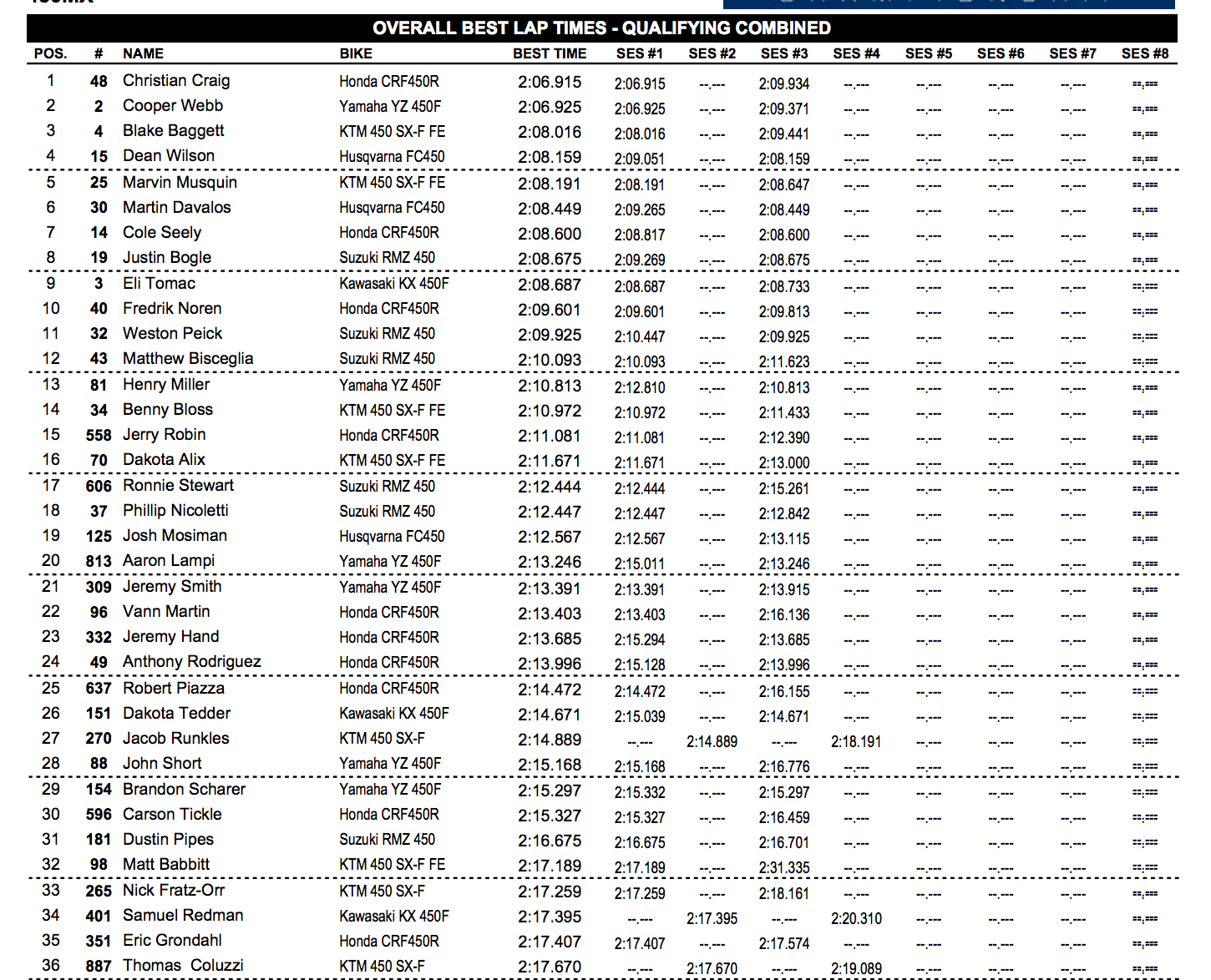 GEICO Honda's Jeremy Martin swooped in at the end of the second session to capture the top time with a 2:08.079, but it wasn't enough to top Joey Savatgy's first session time of a 2:07.657. Martin qualified second overall.
Zach Osborne was third fastest in the session, which was good enough for fourth overall behind Adam Cianciarulo, who set a 2:08.534 in the first session. Aaron Plessinger rounded out the top five.
Dylan Ferrandis lowered his time in the second session to finish sixth ahead of Shane McElrath, Bradley Taft, Colt Nichols, and RJ Hampshire. Rookies Justin Cooper and Joey Crown qualified 12th and 13th overall.
The second 250 session was red flagged after privateer Josiah Hempen went down hard. We'll try and provide an update on his condition as soon as possible.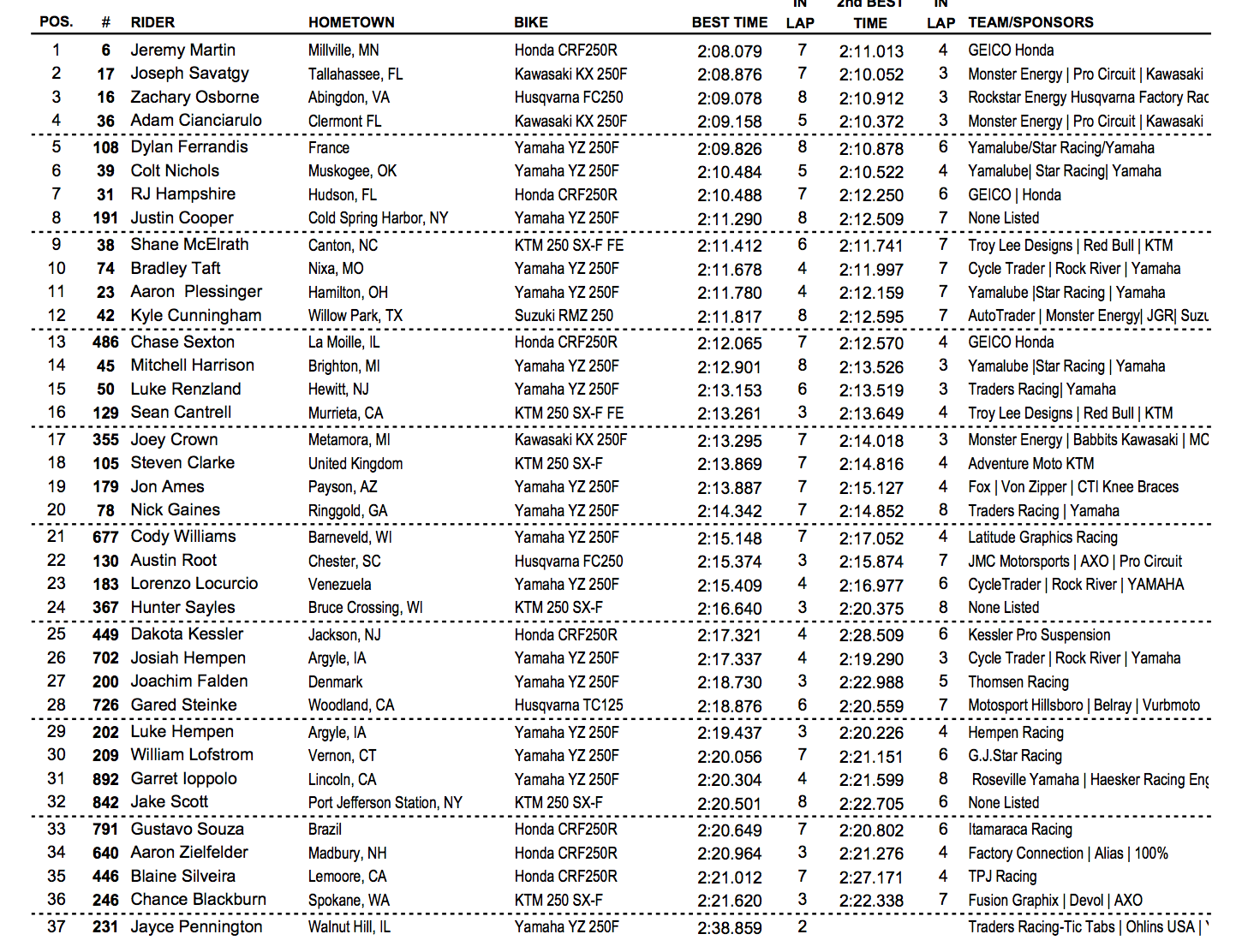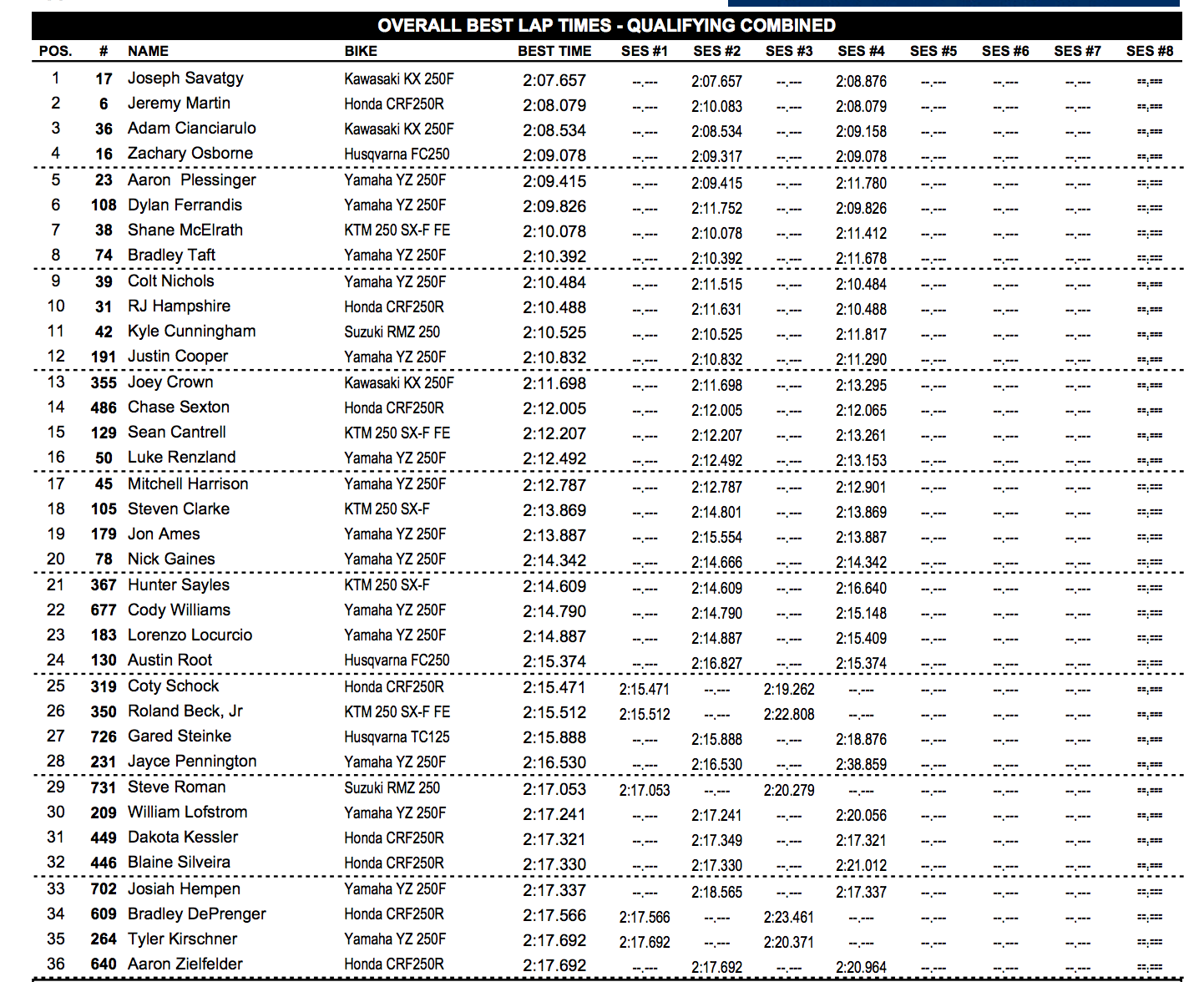 250 Moto One
After early season bike trouble, Monster Energy/Pro Circuit Kawasaki is clicking on all cylinders. Joey Savatgy, who entered the weekend on a two-race win streak, funneled in behind his teammate Adam Cianciarulo on the start of the first 250 moto.
A mistake by Savatgy on the opening lap allowed Cianciarulo to open a 1.7 gap, as well as third place Aaron Plessinger to close on his rear wheel. Savatgy regrouped quickly and a few laps later disposed of Plessinger and closed on the leader.
The trouble for Plessinger wasn't over. After falling off the pace of Savatgy he came into the clutches of Jeremy Martin. Near the halfway mark, Martin was finally able to make the move around Plessinger for the final podium spot.
Just after the midway point, Cianciarulo went down in a corner relinquishing the lead to Savatgy. He remounted in third behind Martin. But his troubles weren't over.
Points leader Zach Osborne was outside the top 10 on the start. After quickly working his way into sixth, Osborne wasn't able to make many moves until late in the race when he put in an absolutely fantastic charge. With two laps remaining, Osborne worked his way around Plessinger for fourth and on the very same lap powered by Cianciarulo for third.
Martin tried to make a late moto charge for the lead, but Savatgy was up for the challenge and took the moto win by 3.2 seconds. Osborne came home in third.
Cianciarulo lost another spot late in the race to Plessinger and finished fifth. Dylan Ferrandis finished sixth ahead of Chase Sexton, RJ Hampshire, Mitchell Harrison, and Shane McElrath.
In his first career moto, Justin Cooper finished 12th. Joey Crown and Jayce Pennington, also making their pro debuts, finished 18th and 21st, respectively.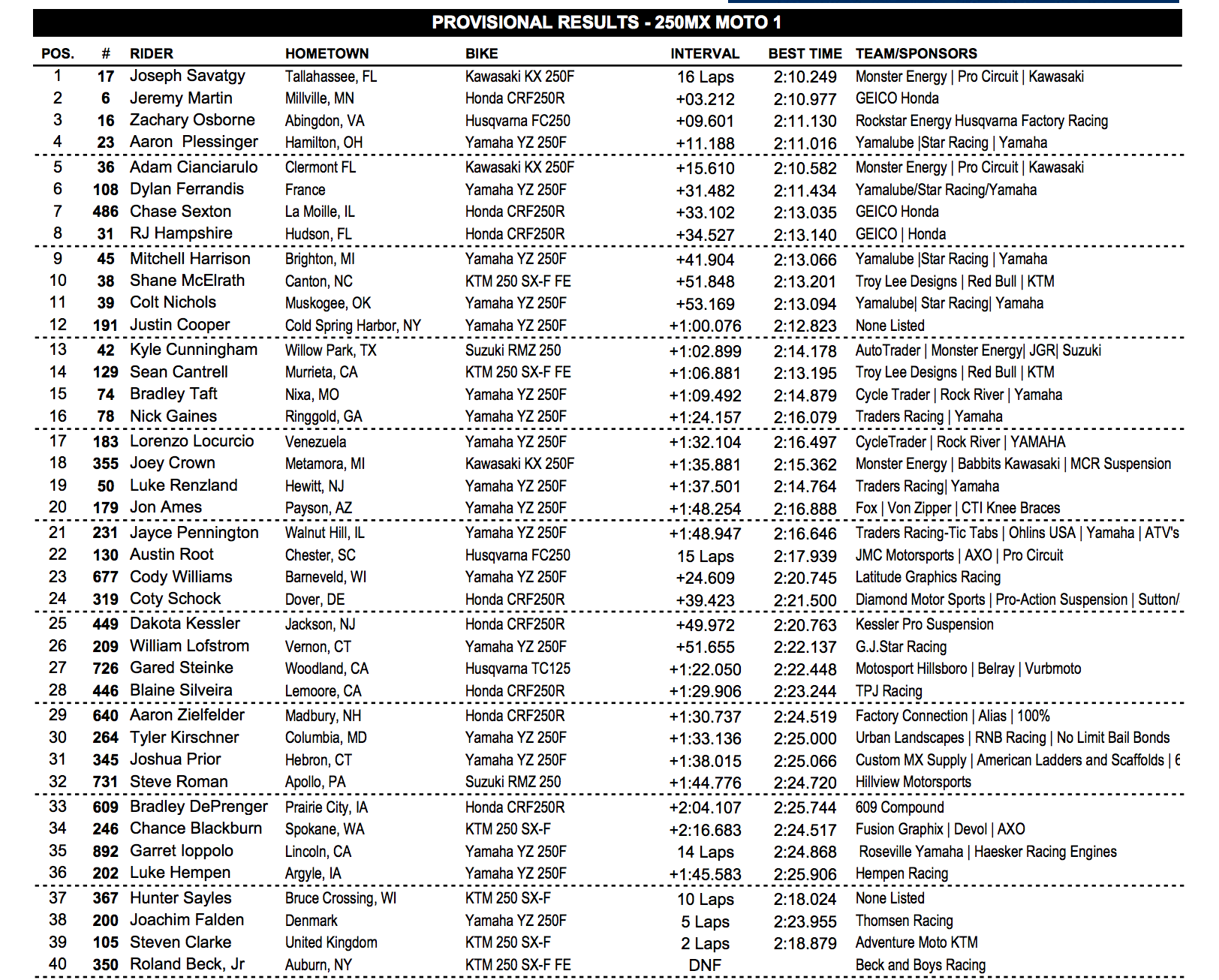 450 Moto One
A light rain quickly turned into a torrential downpour and due to lightning in the area the first 450 moto at Unadilla was called after just 11 laps.
Only three races remain for the RCH team and team riders Matt Bisceglia and Justin Bogle were 1-2 at the start of the first 450 moto. But nothing was stopping Marvin Musquin early in the race. After fourth place start, Musquin powered his way past Blake Baggett, Bisceglia, and Bogle to take the early lead. Bisceliga crashed later in the moto and did not finish.
As a light rain turned into a downpour, Baggett started to make his move for the lead. Multiple times he went for the pass, but when he couldn't make anything stick he'd fall back and regroup for another attempt. Post-race, Baggett said he ran out of tear-offs while still in third. When the race was called, Musquin held a 2 second gap on Baggett. Musquin now has five consecutive moto wins after sweeping Millville and Washougal.
Cole Seely finished third ahead of Bogle, Christian Craig, Weston Peick, Cooper Webb, Martin Davalos, and Dean Wilson. Points leader Eli Tomac never looked comfortable and finished 10th, his worst finish since a 12th in the first moto at High Point.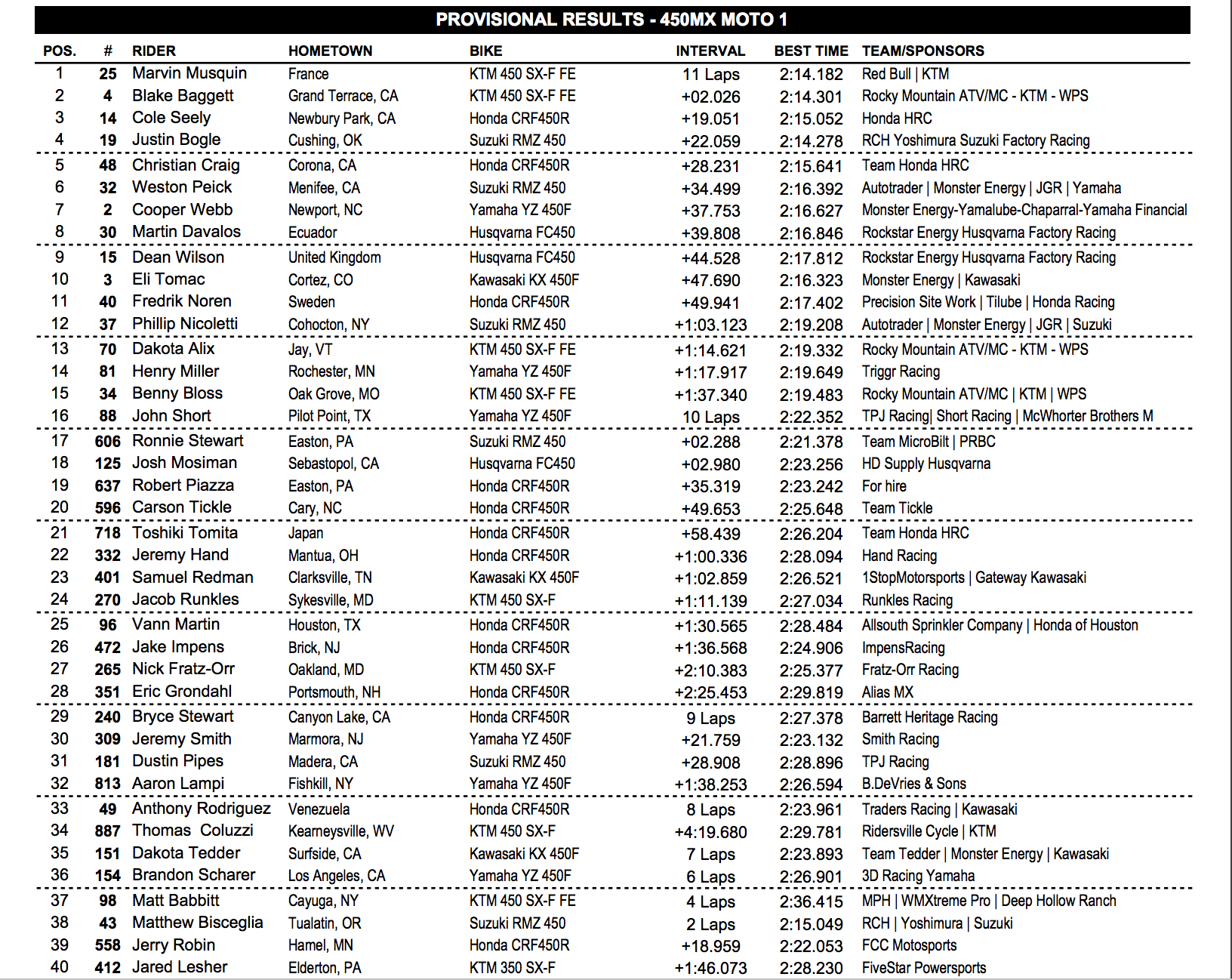 Update
Heavy rain and lightning is still in the area. The start of the second 250 moto has been pushed back to 4:30 Eastern. We will provided further updates once they are announced.
We're now hearing the best case scenario for the start of the second moto is 4:45, but it may be pushed back to 5:00 Eastern.
When motos due resume, which is expected to be around 5:00 Eastern, they will be 20 min plus 1 lap for both classes.
Track being re-routed and going to not go down Screw-U (not sure we can call it Screw-U?)

— Racer X (@racerxonline) August 12, 2017
250 Moto Two
Following a two hour and 20 minute delay due to lightning, the second 250 moto at Unadilla finally got underway. As we reported earlier, the track was re-routed and the moto was cut to 20 minutes plus one lap.
In treacherous conditions, the start would be more important than ever and it was GEICO Honda's Jeremy Martin leading the field around. In his first career Lucas Oil Pro Motocross race Justin Cooper slotted into second with RJ Hampshire and Dylan Ferrandis in tow.
Aaron Plessinger, probably the only rider happy to see these conditions due to his GNCC background, was the rider on the move early. He worked all the way up to Cooper and was challenging him for second when he slid out in the mud and went down. He would remount and go on to finish 10th.
Martin was never challenged in his wire-to-wire win, but he nearly lost the lead at the finish as a lapper went down right he front of him. He was quickly able to swerve out of the way and hold on. He would also win the overall behind a second place finish in the first moto. Impressive performance from rookie Justin Cooper, who finished second in first career race. Dylan Ferrandis rounded out the podium.
First moto winner Joey Savatgy put in an impressive ride through the field to finish fourth. Points leader Zach Osborne was also forced to come through the pack after a bad start. He took fifth.
Adam Cianciarulo, RJ Hampshire, Kyle Cunningham, Colt Nichols, and Plessinger rounded out the top 10.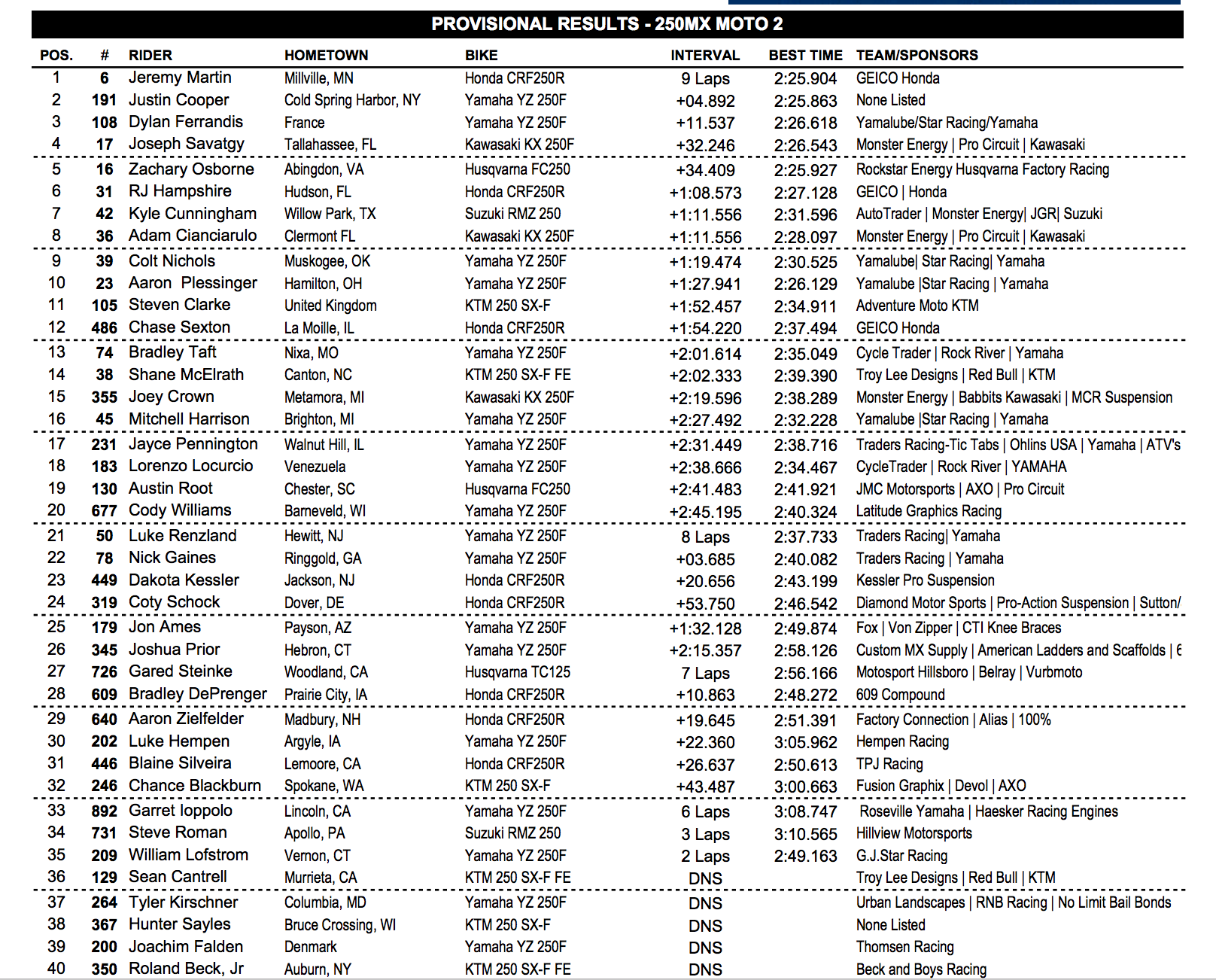 Unadilla - 250
Pos

ition

Rider
Hometown
Motos
Machine
1

Jeremy Martin

Millville, MN
2 - 1
Honda CRF250R
2

Joey Savatgy

Thomasville, GA
1 - 4
Kawasaki KX 250F
3

Zach Osborne

Abingdon, VA
3 - 5
Husqvarna FC250
4

Dylan Ferrandis

Avignon, France
6 - 3
Yamaha YZ 250F
5

Justin Cooper

Cold Spring Harbor, NY
12 - 2
Yamaha YZ 250F
6

Adam Cianciarulo

Port Orange, FL
5 - 8
Kawasaki KX 250F
7

Aaron Plessinger

Hamilton, OH
4 - 10
Yamaha YZ 250F
8

R.J. Hampshire

Hudson, FL
8 - 6
Honda CRF250R
9

Chase Sexton

La Moille, IL
7 - 12
Honda CRF250R
10

Kyle Cunningham

Aledo, TX
13 - 7
Suzuki RMZ 250
11

Colt Nichols

Muskogee, OK
11 - 9
Yamaha YZ 250F
12

Shane Mcelrath

Canton, NC
10 - 14
KTM 250 SX-F FE
13

Mitchell Harrison

Lansing, MI
9 - 16
Yamaha YZ 250F
14

Bradley Taft

Nixa, MO
15 - 13
Yamaha YZ 250F
15

Steven Clarke

Cairo, GA
39 - 11
KTM 250 SX-F
16

Joey Crown

Metamora, MI
18 - 15
Kawasaki KX 250F
17

Lorenzo Locurcio

Cairo, GA
17 - 18
Yamaha YZ 250F
18

Sean Cantrell

Murrieta, CA
14 - 40
KTM 250 SX-F FE
19

Nick Gaines

Ringgold, GA
16 - 22
Yamaha YZ 250F
20

Jayce Pennington

Walnut Hill, IL
21 - 17
Yamaha YZ 250F
21

Austin Root

Chester, SC
22 - 19
Husqvarna FC250
22

Luke Renzland

Hewitt, NJ
19 - 21
Yamaha YZ 250F
23

Cody Williams

Barneveld, WI
23 - 20
Yamaha YZ 250F
24

Jon Ames

Riverside, CA
20 - 25
Yamaha YZ 250F
25

Dakota Kessler

Farmingdale, NJ
25 - 23
Honda CRF250R
26

Coty Schock

Dover, DE
24 - 24
Honda CRF250R
27

Gared Steinke

Woodland, CA
27 - 27
Husqvarna TC125
28

Joshua Prior

Hebron, CT
31 - 26
Yamaha YZ 250F
29

Aaron Zielfelder

Madbury, NH
29 - 29
Honda CRF250R
30

Blaine Silveira

Lemoore, CA
28 - 31
Honda CRF250R
31

Bradley DePrenger

Prairie City , IA
33 - 28
Honda CRF250R
32

William Lofstrom

Vernon, CT
26 - 35
Yamaha YZ 250F
33

Luke Hempen

Argyle, IA
36 - 30
Yamaha YZ 250F
34

Chance Blackburn

Spokane, WA
34 - 32
KTM 250 SX-F
35

Steve Roman

Apollo, PA
32 - 34
Suzuki RMZ 250
36

Tyler Kirschner

Columbia, MD
30 - 37
Yamaha YZ 250F
37

Garret Loppolo

Lincoln, CA
35 - 33
Yamaha YZ 250F
38

Hunter Sayles

Merrill, WI
37 - 38
KTM 250 SX-F
39

Roland Beck

Auburn, NY
40 - 36
KTM 250 SX-F FE
40

Joachim Falden

Denmark
38 - 39
Yamaha YZ 250F
Full Results
Motocross 250 Standings - 2017
Pos

ition

Rider
Hometown
Points
1

Zach Osborne

Abingdon, VA
501
2

Jeremy Martin

Millville, MN
420
3

Adam Cianciarulo

Port Orange, FL
374
4

Aaron Plessinger

Hamilton, OH
337
5

Joey Savatgy

Thomasville, GA
324
6

Dylan Ferrandis

Avignon, France
305
7

Colt Nichols

Muskogee, OK
303
8

Alex Martin

Millville, MN
296
9

Mitchell Harrison

Lansing, MI
279
10

Shane Mcelrath

Canton, NC
248
11

R.J. Hampshire

Hudson, FL
222
12

Chase Sexton

La Moille, IL
188
13

Austin Forkner

Richards, MO
184
14

Sean Cantrell

Murrieta, CA
176
15

Luke Renzland

Hewitt, NJ
141
16

Kyle Cunningham

Aledo, TX
134
17

Nick Gaines

Ringgold, GA
124
18

Lorenzo Locurcio

Cairo, GA
119
19

Justin Hill

Yoncalla, OR
110
20

Bradley Taft

Nixa, MO
90
Full Standings
450 Moto Two
As was the case with the 250 moto, the track was re-routed and the moto was shortened to 20 minutes plus one lap. It probably wouldn't have mattered how long they made the moto, the result would have been the same—another win for the red-hot Marvin Musquin who has now won three straight overalls and six consecutive motos.
Musquin grabbed the early lead with Dean Wilson and Christian Craig in tow. The rider on the move early was Martin Davalos who worked his way into second quickly and even briefly tried to challenge for the lead. But Musquin was too strong leading wire-to-wire for his second moto win on the day.
Cooper Webb had to work hard for his second moto podium of the year. On the fifth lap is where Webb really made his charge. He worked past Eli Tomac and a few corners later also got around Cole Seely. He wasn't done. Two laps later he caught and passed Wilson to claim the final podium spot.
Seely would drop another position to Tomac and finish sixth. Matt Bisceglia, Benny Bloss, Christian Craig, and Justin Bogle would round out the top 10.
Blake Baggett's opportunity to pick up more points on Tomac in the championship chase took a big hit in the second moto. Baggett was running inside the top 10 early but crashed and fell back to 14th. He recovered to finish the moto in 11th.
Davalos finished second overall and earned his second consecutive overall podium. Seely took third overall ahead of Webb and Baggett.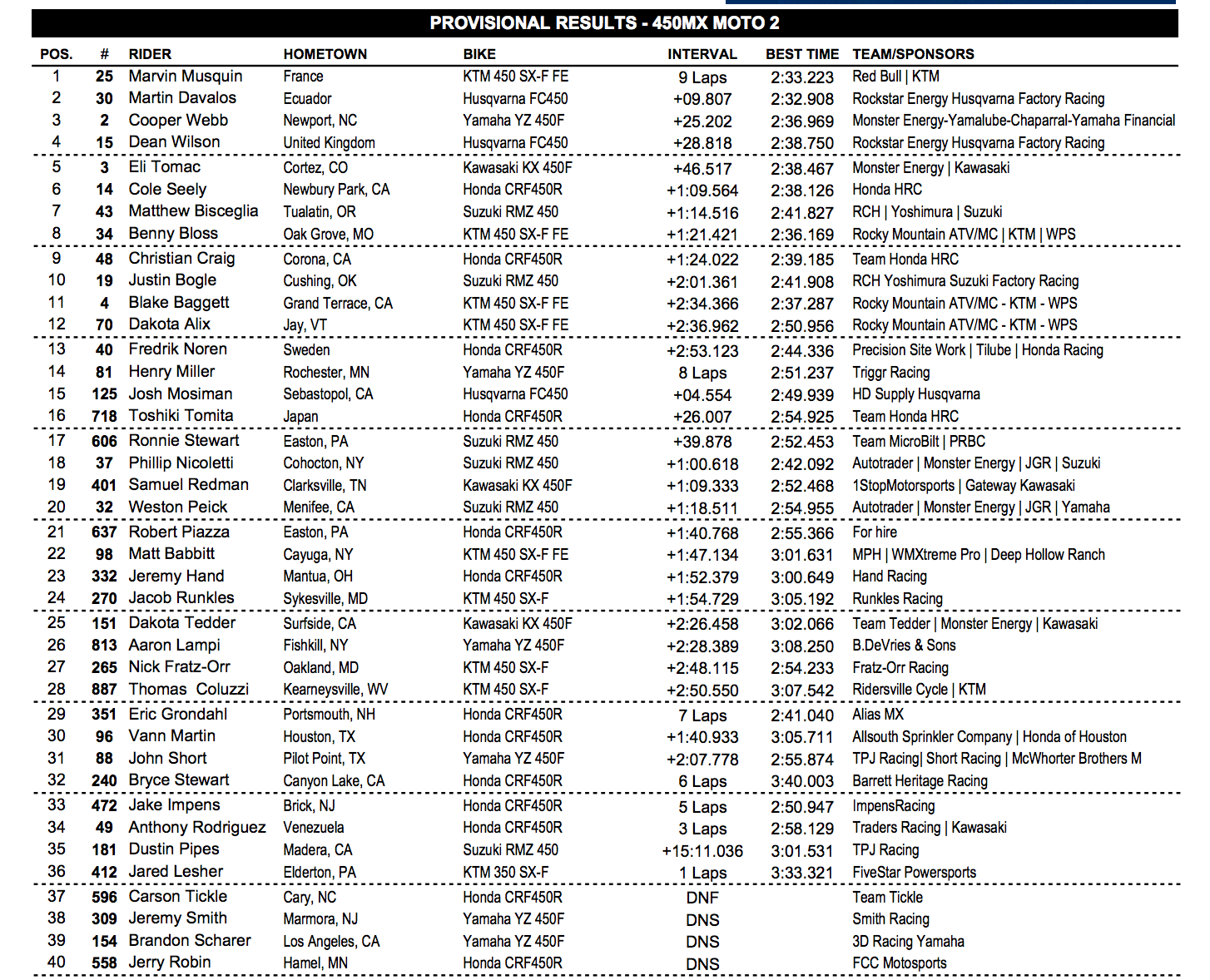 Unadilla - 450
Pos

ition

Rider
Hometown
Motos
Machine
1

Marvin Musquin

La Reole, France
1 - 1
KTM 450 SX-F FE
2

Martin Davalos

Quito, Ecuador
8 - 2
Husqvarna FC450
3

Cole Seely

Newbury Park, CA
3 - 6
Honda CRF450R
4

Cooper Webb

Newport, NC
7 - 3
Yamaha YZ 450F
5

Blake Baggett

Grand Terrace, CA
2 - 11
KTM 450 SX-F FE
6

Dean Wilson

Scotland, United Kingdom
9 - 4
Husqvarna FC450
7

Justin Bogle

Cushing, OK
4 - 10
Suzuki RMZ 450
8

Christian Craig

Hemet, CA
5 - 9
Honda CRF450R
9

Eli Tomac

Cortez, CO
10 - 5
Kawasaki KX 450F
10

Benny Bloss

Oak Grove, MO
15 - 8
KTM 450 SX-F FE
11

Fredrik Noren

Sweden
11 - 13
Honda CRF450R
12

Dakota Alix

Jay, VT
13 - 12
KTM 450 SX-F FE
13

Weston Peick

Wildomar, CA
6 - 20
Suzuki RMZ 450
14

Matt Bisceglia

Weatherford, TX
38 - 7
Suzuki RMZ 450
15

Henry Miller

Rochester, MN
14 - 14
Yamaha YZ 450F
16

Phil Nicoletti

Cochecton, NY
12 - 18
Suzuki RMZ 450
17

Josh Mosiman

Sebastopol, CA
18 - 15
Husqvarna FC450
18

Ronnie Stewart

Easton, PA
17 - 17
Suzuki RMZ 450
19

Toshiki Tomita

Kanazawa, Japan
21 - 16
Honda CRF450R
20

John Short

Pilot Point, TX
16 - 31
Yamaha YZ 450F
21

Samuel Redman

Clarksville, TN
23 - 19
Kawasaki KX 450F
22

Robert Piazza

Easton, PA
19 - 21
Honda CRF450R
23

Carson Tickle

Cary, NC
20 - 37
Honda CRF450R
24

Jeremy Hand

Mantua, OH
22 - 23
Honda CRF450R
25

Jacob Runkles

Sykesville, MD
24 - 24
KTM 450 SX-F
26

Nick Fratz

Oakland, MD
27 - 27
KTM 450 SX-F
27

Vann Martin

Houston, TX
25 - 30
Honda CRF450R
28

Eric Grondahl

Portsmouth, NH
28 - 29
Honda CRF450R
29

Aaron Lampi

Fishkill, NY
32 - 26
Yamaha YZ 450F
30

Matt Babbitt

Cayuga, NY
37 - 22
KTM 450 SX-F FE
31

Jake Impens

Brick, NJ
26 - 33
Honda CRF450R
32

Dakota Tedder

Surfside, CA
35 - 25
Kawasaki KX 450F
33

Bryce Stewart

Huntington Beach, CA
29 - 32
Honda CRF450R
34

Thomas Coluzzi

Kearneysville, WV
34 - 28
KTM 450 SX-F
35

Dustin Pipes

Fresno, CA
31 - 35
Suzuki RMZ 450
36

Anthony Rodriguez

Caracacus, Venezuela
33 - 34
Honda CRF450R
37

Jeremy Smith

Marmora, NJ
30 - 39
Yamaha YZ 450F
38

Jared Lesher

Elderton, PA
40 - 36
KTM 350 SX-F
39

Brandon Scharer

Gardena, CA
36 - 40
Yamaha YZ 450F
40

Jerry Robin

Hamel, MN
39 - 38
Honda CRF450R
Full Results
Motocross 450 Standings - 2017
Pos

ition

Rider
Hometown
Points
1

Eli Tomac

Cortez, CO
470
2

Marvin Musquin

La Reole, France
453
3

Blake Baggett

Grand Terrace, CA
451
4

Dean Wilson

Scotland, United Kingdom
340
5

Cole Seely

Newbury Park, CA
330
6

Justin Bogle

Cushing, OK
308
7

Weston Peick

Wildomar, CA
268
8

Cooper Webb

Newport, NC
268
9

Martin Davalos

Quito, Ecuador
263
10

Jason Anderson

Edgewood, NM
216
11

Christian Craig

Hemet, CA
216
12

Fredrik Noren

Sweden
202
13

Justin Barcia

Monroe, NY
191
14

Dakota Alix

Jay, VT
152
15

Broc Tickle

Holly, MI
146
16

Josh Grant

Riverside, CA
143
17

Henry Miller

Rochester, MN
108
18

Matt Bisceglia

Weatherford, TX
78
19

Benny Bloss

Oak Grove, MO
73
20

John Short

Pilot Point, TX
70
Full Standings