The Conversation: 450 Podium from Washougal
Washougal Motocross
Washougal

,

WA
Washougal
Lucas Oil AMA Pro Motocross Championship
Racer X: Marvin, today was pretty incredible. It seemed to be at Millville you were out front and didn't have to have those head-to-head battles with Eli, but today we saw you guys hook up on the track a couple times and you coming out on top. After the day's over, does this make you feel much better after leaving today than you did at Millville?
Marvin Musquin: Yeah, of course. To be honest, I didn't expect to … the goal was obviously to win, but I didn't expect win it that way. We had a great start in the first moto, but Eli [Tomac}was right there and definitely quicker than me. I was struggling at the beginning. That track is unique. It was a little bit hard today. It's been hot and sunny here, so we haven't had any rain. Obviously, the ground was pretty hard. In the first moto I was just fighting with the bike and I didn't have any good flow, and Eli was right there. Then for some reason I got a little bit better, a little bit better and build up confidence and the riding was better and I was able to win. In the second moto, I was more happy with the bike because we made some changes for those conditions and it helped. The riding was better.
Eli, were you surprised in the first moto? You had made a stab at Marvin there trying to get around him. After that, Marvin ended up dropping his lap time down a little bit and pulling out a gap. What was going through your head at that point?
Eli Tomac: That he was just going fast. I was doing what I could. We had that little bump together. Then I was trying to settle into a pace, but he kept going that same speed. Couldn't stay with him and take high risks doing it. My goal was to just settle in second place at that point. That's all I was today was second-best guy.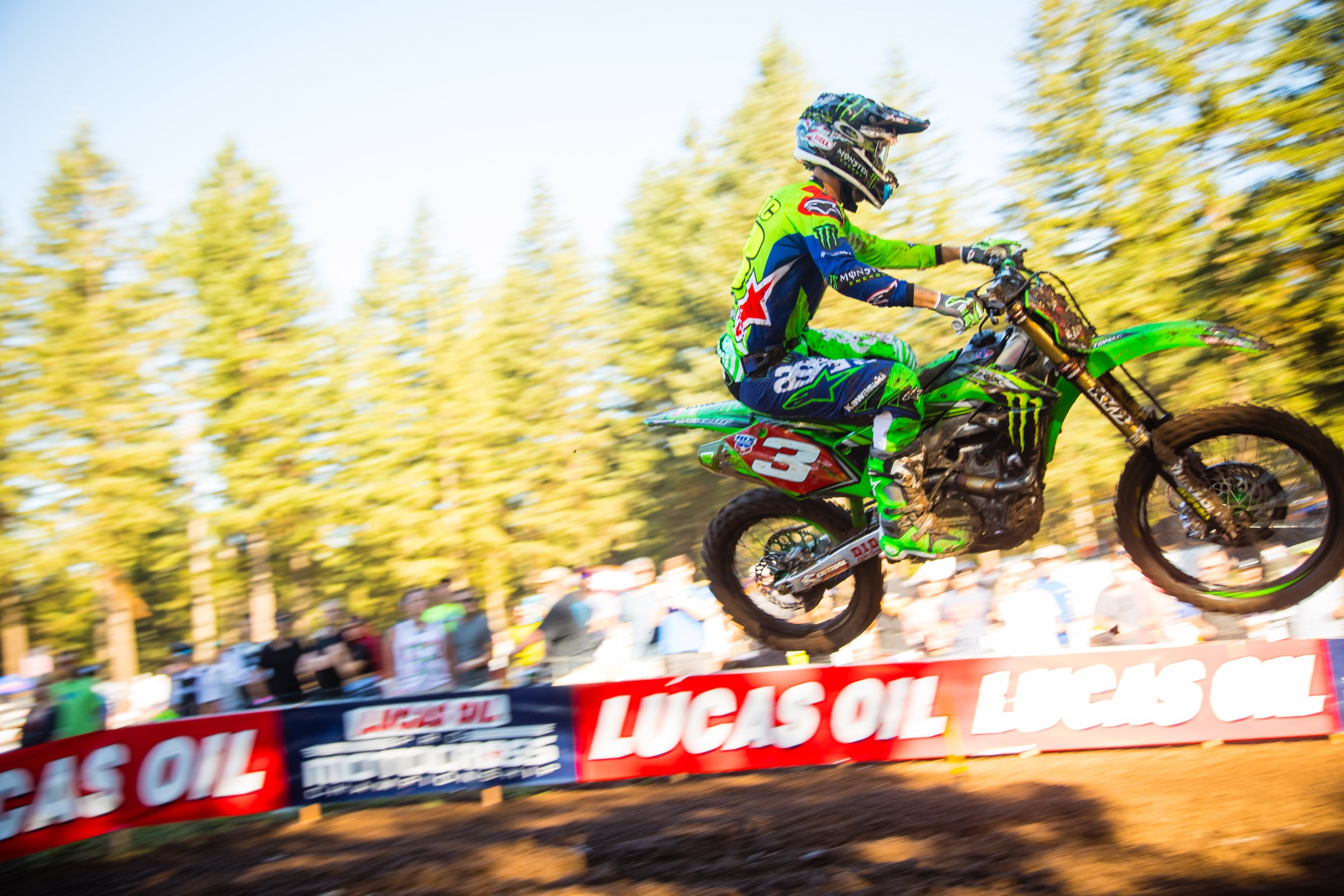 Martin, I know the stat going around the pits is it's been nine years since we've seen you on the podium, but barring this race it has been an incredible season for your first year on a 450. Just explain to us the day and how it feels to be back on the podium again.
Martin Davalos: Better late than never. It's been a long time in the 250 Class. I've been really wanting to hop to the 450 for … I can't even tell you how many years now. Finally, Rockstar Energy Husqvarna, they got a bike together for me. My dream was to just at least do outdoors this year on the 450 and just get some experience. I know I'm capable of riding that bike well. It happened so last-minute. The first couple rounds I didn't have much testing on the bike and not much time, but the more I'm getting used to the bike. I'm adjusting a lot better. We've changed my fitness program and workouts a little bit. Definitely strength has been an issue for me on the bike. It's starting to come around for me. I'm able to ride the bike better and hold onto it. It's a different beast than the 250. It's incredible, actually. Today I got really two good starts. The pace that these guys are running on the bike is incredible. There's a lot for me to learn from them. It was just a great feeling to be up here battling with the best.
A lot of people have given you flack over the years for being in the 250 Class for so long. Explain to everybody that doesn't quite understand the riders' part of the industry, that it's really all about securing a job. At the time, I imagine, 250 jobs were only available?
Davalos: Yeah. I've been wanting to do 450s for five years now. Things didn't fall in place. At that point, there's nothing I could do about it. I'm just very grateful that I have a job and that I'm competing with the best in the world. For me to come from Ecuador, such a small country, and to be doing this, it's just truly a blessing. I'm grateful for everything. The opportunity that the team has given me, everybody that has welcomed me in the industry, it's amazing. At the end of the day, this is something that I'm doing for myself. There's nobody else. The day that I retire nobody else is really going to care about me. So, I'm very, very blessed for the opportunity. I'm enjoying this summer. It's been truly a great experience riding with these guys. I'm super happy.
Martin, has it been a little bit of competition within the Rockstar Husky team also? You've been watching Dean [Wilson] kind of get up there on the podiums lately too. Are you trying to keep up with the Joneses over there?
Davalos: We get along so good—Jason [Anderson], Dean, and Zach [Osborne]. We just have such a good bond between the three of us. For me, it's just learn from them. Dean's been riding the 450. He's a past National Champion. Jason is obviously a top runner up front. So for me it's just try and learn from them and try and do good for the team and for myself. My boss, Bobby, has given me this opportunity. I want to make them proud and make myself proud. It's awesome.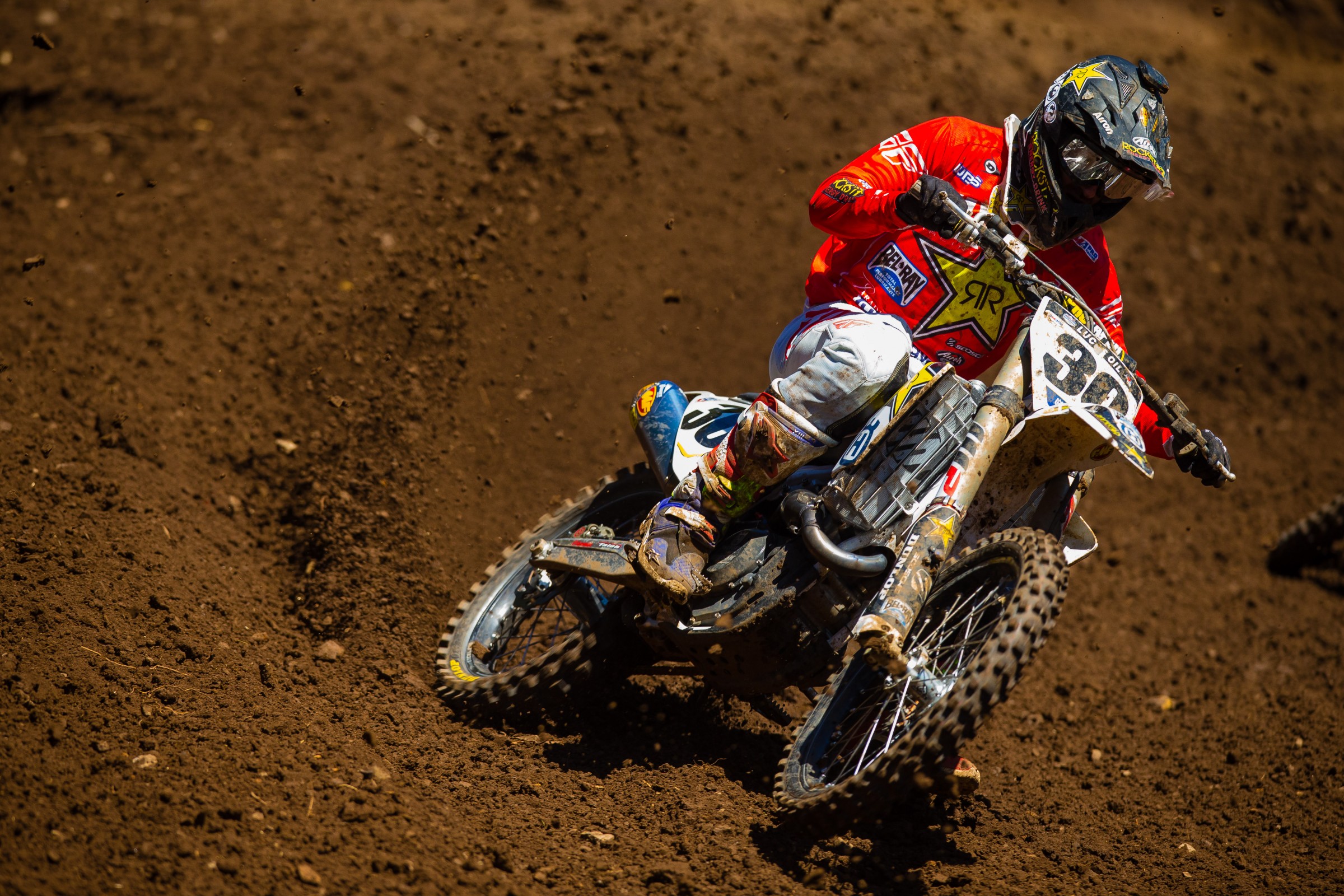 So, 250 or 450 for supercross next year?
Davalos: I would love to answer that question. I need a job first. Right now, I'm enjoying the moment. I just got to play it by ear and see what happens.
Eli, how marbley was it out there on the track? Through the S-turns down there, exiting that it looked like just marbles everywhere.
Tomac: Those S [turns] at the bottom of that big hill, those were really deep ruts. Then coming out you had the big acceleration bumps. This track's one of the unique ones with the shadows and the sun. This side over here's a little bit drier and a little bit skatier, then you've got the ruts up top. You got to be ready for all conditions here.
You guys had that incident where you banged out there. Do you guys find yourselves getting heated in your helmets at all in the heat of the moment?
Tomac: I was a little bit fired up, but at the same time I knew it was a mistake and we were going at it. So, at that point I was over eating the roost. I was never able to dig to get out of that roost so Marvin won that one.
Musquin: I kind of felt bad because Eli was just carrying so much speed and honestly, I was just struggling. I was just fighting and trying everything I could. Like I said, the feeling was not good. I gassed it and I don't know if you could see it on TV, but I just slide. Eli was coming with so much speed and we hit each other. So, it was nothing intentional on my side and I think on Eli's side either. It was just a race incident. Good thing nobody went down.
Marvin, last week you explained how you were extremely happy to finally go 1-1 in the 450 class. To follow that up with another 1-1 right away the weekend after here, how does that feel to you personally in your career? You're kind of on a streak now, so what are your expectations in these final three rounds?
Marvin Musquin: It happened with a lot of riders, just that confidence, building confidence. We've been working on the bike and we've changed a couple things on the bike. We've been feeling good in practice and one the racetrack. Like I said, it was obviously a totally different track today than last weekend, but to be able to put in two really, really good motos it's awesome, on two different tracks. We've just got to keep going and be smart and keep training hard.
Especially after your knee injury too halfway through the season. How did you mentally rebuild after that?
Musquin: I've said it a couple times, it's just taking care of it and doing some rehab and more exercises and working on it on the bike, too. When you hurt a knee you just lose confidence. For me it was on the left side of the knee, so my left turns were horrible the first two weeks because just the strength on the knee and the confidence was not there. We've been working on it, working on technique. Strengthen the knee and everything and now it's a lot stronger. It's an old injury now.
Eli, this is kind of the first time that you and Marvin have been kind of really up front right away. He pulled away from you significantly in both motos. What do you personally specifically take away from that in terms of watching him riding, his line choice, or maybe your own riding out there today?
Tomac: I don't know. It seemed like there wasn't one area Marvin was way better than us. It was just a little bit everywhere around the whole track. I was kind of scratching my head that way all day. Just got to take second place and keep running with the points. Even if I wasn't leading the points I don't think I would have been there with Marvin anyway. It was just a day that, like I said before, I was the second-best guy.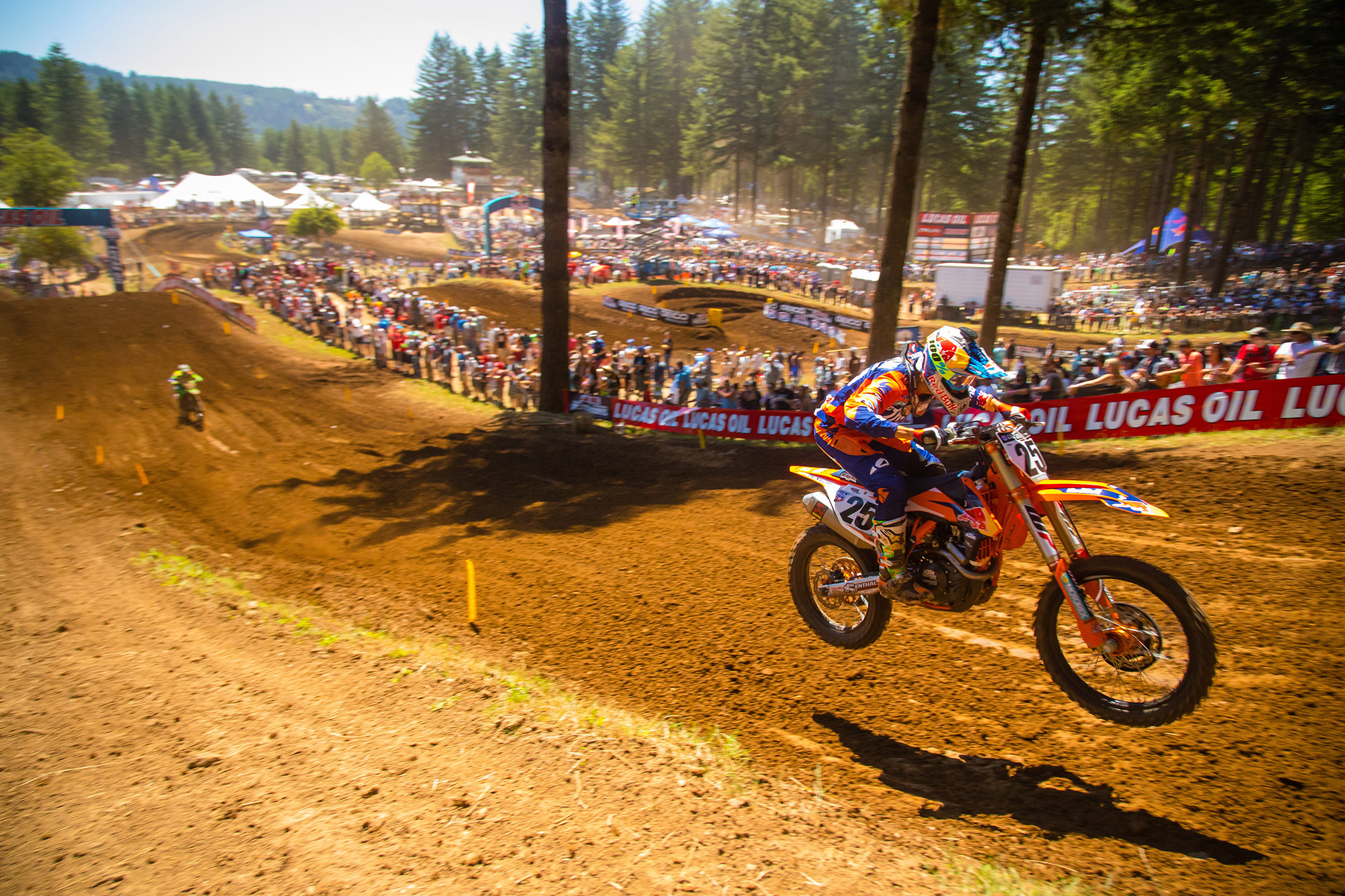 It kind of seemed like, Eli, you were jumping back and forth between deciding whether you were going to jump the whoops or skim through the whoops. Is that kind of where you're talking about those tenths of a second here and there? Just not being able to quite decide on the right thing to do on this track?
Tomac: No, that was tough. The whoops, a couple times I was skimming them. A couple times I was jumping them. A little wishy-washy. I'll try to learn from that and be better here next year.
You went 2-2 on the day. That's a great finish. We see you come up here, and unless you're in first, it doesn't matter where the championship points are—it seems to be like you have a disappointing look on your face. Do you ever try to take a step back and look at the big picture? You have the points lead. Everything is going really good for you this season.
Tomac: Absolutely. Inside I don't like to lose. But yeah, looking at the big picture and trying to gain experience in every race and look at the past champions like a [Ryan] Dungey or something where they just podium and podium. That's all they do. Trying to learn from that. It was a good day other than Marv working us.
Another question for Eli. Have you thought about whether or not you'd be open to doing the Motocross of Nations this year?
Tomac: Right now, it's looking like a no. It's schedule. We have to go race USGP and then you have two weekends off I think it is, and then you make your way to England. Then a couple weeks after that you have Monster [Energy] Cup too. For us and for me we've been racing since the first weekend in January and you're basically putting yourself through the meat grinder all the way through the middle of October. Right now, it's probably a no.
Does it not affect you at all when you watch the Motocross of Nations every year and not seeing America taking the cup home? Do you ever feel like, I should go and be the difference-maker on the team?
Tomac: That's the bummer part. It's a super special event, but with the schedule nowadays it's a pretty terrible time. I don't know what to say. With the two series and all the other events, and then having the expectation of being a winner throughout that whole year is tough. No one's at home with you during the week doing the training and the work. That's where you just have to decide where you say no.