Spring Creek Motocross
Millville

,

MN
Race Center: Spring Creek
Lucas Oil AMA Pro Motocross Championship
Welcome to the Racer X Race Day Feed, your one-stop shop for round eight of Lucas Oil Pro Motocross from Millville, Minnesota, at the Spring Creek National. We'll be updating this post throughout the day with news, notes, and results from qualifying and the motos, so be sure to check back throughout the day. You can also follow Racer X on Twitter, Instagram, and Facebook to stay up on all the action.
(Note: All updates will run top to bottom, starting with the morning report and going through the motos. So, make sure to scroll down for the latest.)
MORNING REPORT
We're back! After a weekend off, Lucas Oil Pro Motocross is back in action again up north in Millville, Minnesota. Many riders used the weekend to enjoy some time with family or take a little break and spend a day on the lake, but not Eli Tomac. When my boss Jason Weigandt asked Tomac what his plans were for the off-weekend, Tomac simply replied, "I don't take weekends off. I keep hammering." So expect him to come out firing today as he looks to extend his overall win streak to four and add to his points lead over Blake Baggett.
Zach Osborne has a comfortable championship lead in the 250 Class, with 45 points. He's got a pretty big challenge laying ahead of him today, though, as he'll have to take on Jeremy and Alex Martin on their home track if he wants to add even more cushion to his points lead. So far this season Osborne has six moto wins and his worst moto finish has been an eighth at Thunder Valley when he was dealing with an illness. It seems every other rider in the 250 Class has had some form of bad luck, so we'll see if Osborne can keep his report card clean this weekend.
Because we had a weekend off and most of us have some pretty short memories, here's a quick rundown of some things that happened while the series was asleep.
Austin Forkner won't be racing due to a concussion sustained earlier in the week.
Matt Bisceglia will be riding a 450 for the RCH/Yoshimura team for the rest of the series.
Blake Baggett has a torn ligament in his thumb after getting together with Jason Anderson at RedBud.
Josh Grant underwent knee surgery on July 11th and will be off of his bike for four to six weeks.
Benny Bloss is returning to racing after sustaining shoulder and elbow injuries at the Minneapolis Supercross back in February.
And in other big news, we're hearing that Trey Canard is going to announce his retirement today in a press conference at 11:30 from the track. Stayed tuned to our breaking news section for more on this later in the day.
BREAKING NEWS: Trey Canard will be announcing his retirement from racing today. Press conference at 11:30 at track. Best of luck to him!

— Racer X (@racerxonline) July 22, 2017
Depending on the way the track is prepped, Spring Creek can either be a nice loamy/sandy mix or a choppy hardpack track with lots of square edge bumps. This year it looks like we're going to be in for a soft racetrack because according to Jeremy Martin, his dad brought in about 100 loads of sand and mixed it into the track. The Millville area has also received a lot of rain over the past couple of days and it's made quite the mess. Here's what Dean Wilson saw yesterday when walking the track.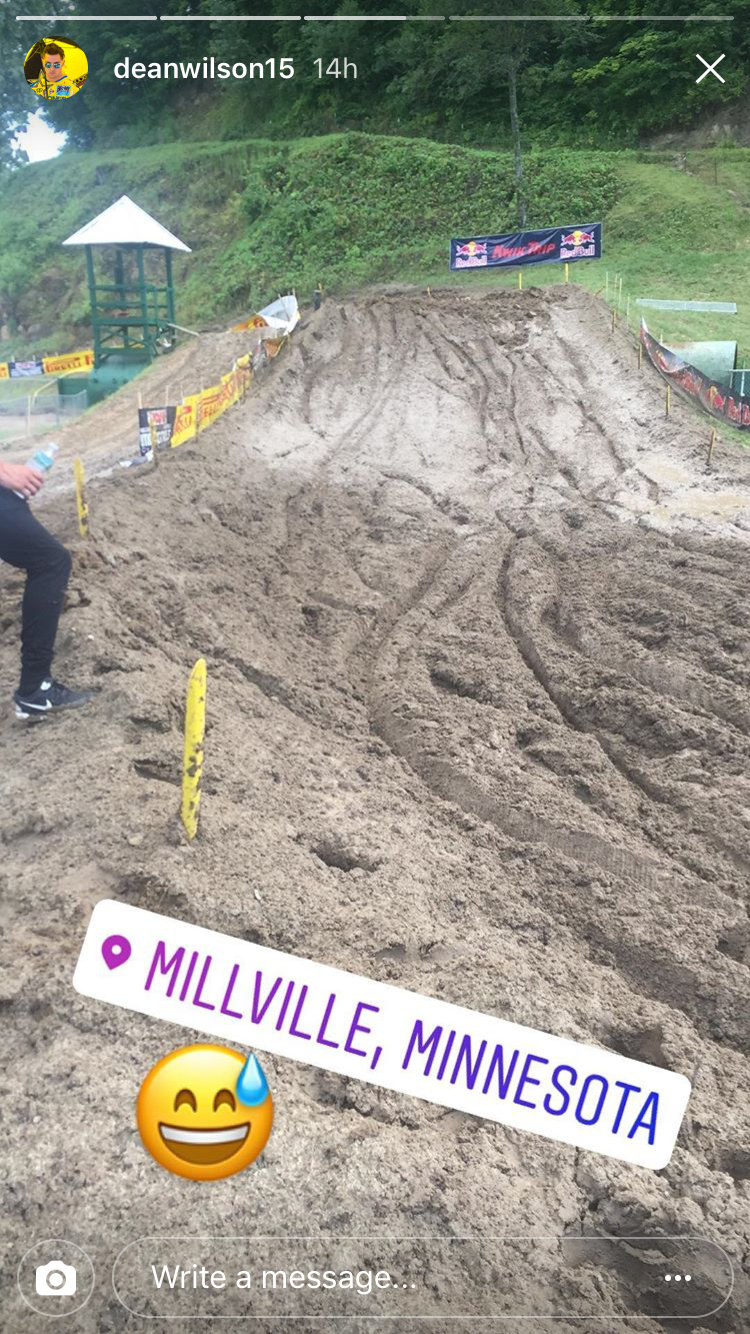 The extra sand and clear skies for the rest of the day should hopefully yield a decent track by the time the motos come around, but the first practices should be pretty messy. The riders will also have to deal with the classic Minnesota humidity today, as it looks like the humidity is currently at 92 percent and the wind rarely makes its way down into the valley to give the riders any relief.
The 250 A group just went out for qualifying so make sure to check back throughout the day for reports on practice and the motos. Welcome back!
Breaking News
After 10 years of racing professional supercross and motocross—in which he was able to capture a 250SX East Region Championship and a 250MX National Championship, and several 450SX and MX race wins—Trey Canard is calling it a career. Canard said, "I've had many injuries throughout my career and have always done my best to heal and bounce back. However, I feel I am not able to push myself to the level I need to in order to be competitive at the highest level of racing. I am sad to say goodbye, but also extremely grateful and thankful for the last 10 years of my life."
In the end, Canard battled and beat some of the best in the sport such as Ryan Villopoto, James Stewart, Chad Reed, and Ryan Dungey, and will always be remembered for his amazingly aggressive style, lighthearted humor, and the smile he seemed to have glued to his face in the pits. You can read the complete press release here and read Jason Thomas, Steve Matthes, and Jason Weigandt's reaction here.
250 Practice
The 250 practice sessions are over and the track looks to be coming around nicely. There are a lot of ruts and a few soft spots left, but the 250 riders found the fast lines quickly and by the end of the session they were moving good. Almost all of the top-40 times came from the second session. The only spot that is still muddy is the uphill and downhill section just before the finish. Several riders got stuck on it during the first sessions and they had to paddle their way up it in the second session.
Adam Cianciarulo came away with the top qualifying spot, just barely edging out Zach Osborne by about a tenth of a second on the very last lap of the final practice session. Cianciarulo has the best average qualifying position so far this season, averaging a third place. He said the bottoms of the corners before the hills are the most crucial spots on the track and it will take some patience through those to get a good drive up the hills.
AC's Monster Energy/Pro Circuit Kawasaki teammate, Joey Savatgy, qualified third. Having two riders in the top three to start the day is a good start for a Pro Circuit team that has struggled over the past couple of rounds.
The Martin brothers were fourth (Jeremy) and seventh (Alex), and were a few seconds off of Cianciarulo's top time. They'll need to pick it up if they want to contend for the win later in the day, but if anyone can adjust to this track quickly, it'll be these two.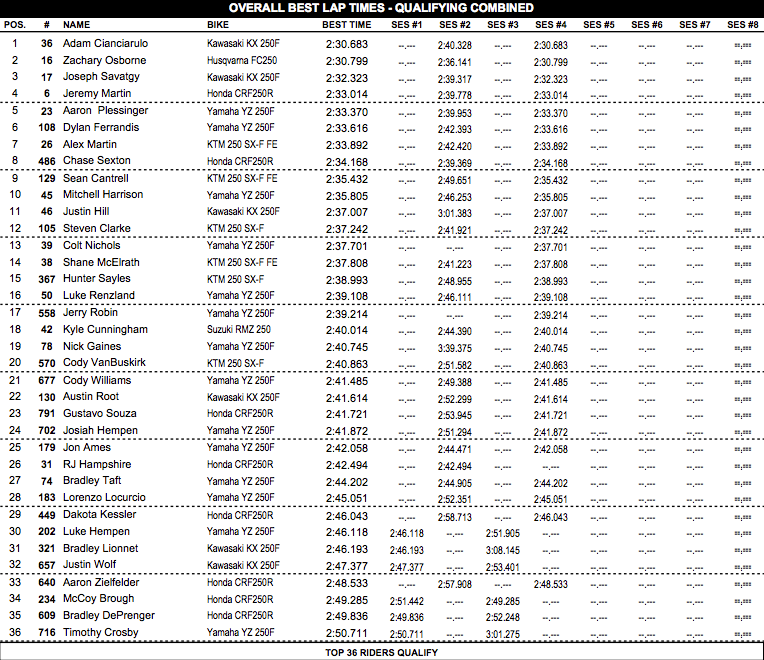 450 Practice
Despite looking somewhat frustrated at the start of the second 450 A session, Marvin Musquin logged the fastest time of the day with a 2:26.106 which was 2.455 seconds faster than the second fastest time logged by Christian Craig. Don't get too caught up in the large differences in times though, as riders will get closer in speed as the track hardens up. Musquin was the first to hit the triple going up Mt. Martin, but it looks like that is going to be the standard for the motos as most of the top 450 riders easily cleared it during practice.
Christian Craig put down the second fastest time of the day with a 2:28.561. Craig lived in Minnesota when he was retired and spent a good amount of time at Millville while competing in the local District 23 races so he is very familiar with the track. Before he went out for practice Craig told NBC Sports' Georgia Lindsay that his hand was finally feeling normal and that he doesn't think about it at all when he's riding now. Christian looks ready to come out swinging for the motos.
Blake Baggett rounded out the qualifying podium with a 2:28.776. We'll see how his injured thumb handles the abuse that Millville's sand whoops and steep downhill dish out as the day wears on.
Points leader Eli Tomac finished the practice sessions in fourth and seemed to struggle to find a flow in the second 450 A session, not really settling into corners and coming up short on the uphill triple.
Another notable top qualifier is Fredrik Noren who will have the eighth gate pick going into the motos. Noren is having a good season as a privateer and has finished inside the top-10 at Millville before, so look for him to try and make a splash in the class later this afternoon.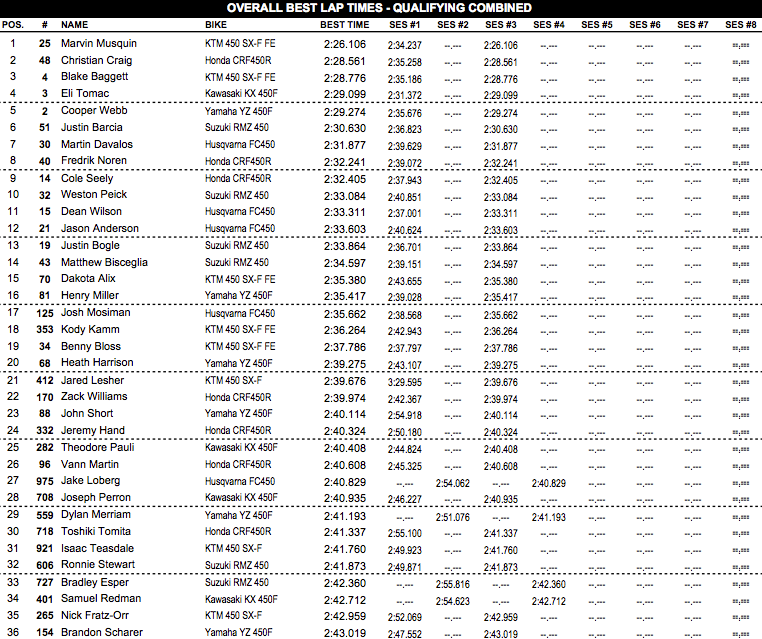 250 Moto 1
On a track with ruts going in every direction and with pretty much every rider making mistakes, Joey Savatgy made it look easy. After coming around the first turn in second place, he quickly inherited first place from R.J. Hampshire in the following corners. It was smooth sailing from there as Savatgy went on to lead every lap and stretched his lead out to a comfortable margin by the 15-minute mark of the race. Savatgy's win ends a tough month-long drought of no podiums for himself. After the race he said, "We spent the two weeks putting in a lot of work. We got some testing done this week, we've made a big big improvement. It's been a bummer that it's been a rough couple of months. It feels good [to get a win.]"
Alex Martin rode a solid race to get into second early. He then tried to apply some pressure on Savatgy, keeping it within two seconds for a few laps but then fell off the pace a little bit and lost touch with the lead. After the race, A-Mart told Georgia Lindsay, "It was definitely a steady cheer all around the track [from the hometown fans.] I was just trying to keep it safe and steady. The track is brutal today." With his second place finish, A-Mart puts himself in a good position to take the overall win in the second moto.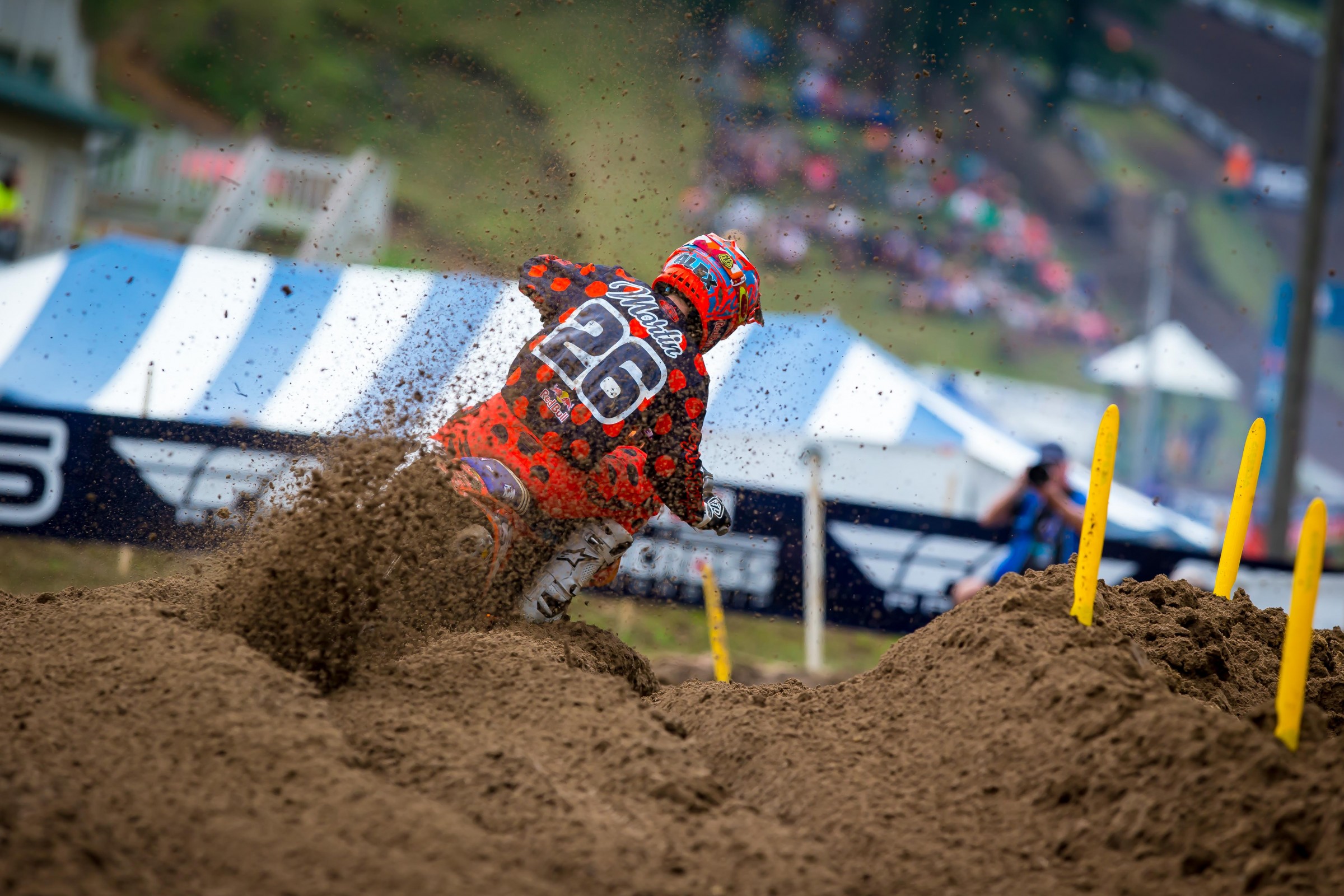 Aaron Plessinger used his long legs and GNCC experience to navigate the ruts smoothly and grabbed the final position on the podium. During his podium interview, Plessinger looked a little overheated and made mention of how hot it felt out there on the track. The humidity has dropped a little bit since this morning, but the sun has come out and the temps are up to 86 degrees and should rise as the day wears on.
Finally, the 250 Class championship leader, Zach Osborne, had his first major setback of the summer. While going through a deep rut it appeared that his radiator hose snagged the ground and popped off at the bottom. Zach's bike immediately dumped a bunch of coolant with six minutes to go in the moto. Davey Feeney immediately put out a pit board that read, "Radiator hose, be smart." And amazingly, Osborne was able to nurse his bike to the finish and only lost a few positions as every rider around him was making mistakes while he chugged along to the finish. Osborne was visibly relieved as he crossed the finish line and gave a huge fist pump.
Here's the complete list of results from the first 250 moto:
450 Moto 1
Marvin Musquin grabbed the holeshot in the first 450 moto, and that's about all we and his competition saw of him. He checked out quickly and cruised for the rest of the moto to get the win. In his post race interview, Musquin said he felt the technical nature of the track was good for him. He also thought Eli Tomac would catch him in the second half of the race, but he was able to find the speed when he needed it to maintain the lead. Musquin turned the fastest lap of the moto with a 2:24.8 which was nearly a second faster than anyone else.
Eli Tomac started the race all the way back in ninth place, and it took him a little bit to get going and start making passes. Once he found his flow, though, Tomac started picking guys off left and right. When he got into second place, he was already more than 20 seconds behind Musquin and the gap stayed there for the rest of the race. On the podium, Tomac said this is probably the softest he's ever seen the Spring Creek track apart from a pure mud race.
"Savage Mode." That's what Dean Wilson's mechanic wrote on his pit board at the start of the race while Wilson was running second, and then at the end when Wilson re-passed Justin Barcia to take third place in the moto. It's just the second moto podium of Wilson's 450MX career, we'll see if can turn this into his second overall podium.
Justin Barcia was looking good to grab his first podium finish aboard a Suzuki. He passed Wilson for third just after the halfway point in the moto and even pulled away. Then, in the waning minutes of the moto, Barcia started to drop positions and looked frustrated doing it. He finished the race in fifth.
Blake Baggett started the race in seventh and that's pretty much where he stayed for the rest of the moto. He looked racey at times, but just couldn't make anything happen. Earlier today Baggett and Michael Byrne told us that Baggett hadn't ridden since Southwick to give his thumb as much rest as possible. It's likely it was still bothering him during that moto. He finshed in sixth.
Rochester, Minnesota native Henry Miller continues to make noise in the 450 Class with a ninth place finish. Miller scored his first top-10 overall finish at Southwick and he looks to be on pace to get his second this weekend at Millville.
Just a reminder, the second motos are on a delayed broadcast on NBCSN tonight at 11:00 p.m. EST. If you want to watch the second motos live, you'll need to purchase the NBC Sports Gold Motocross pass.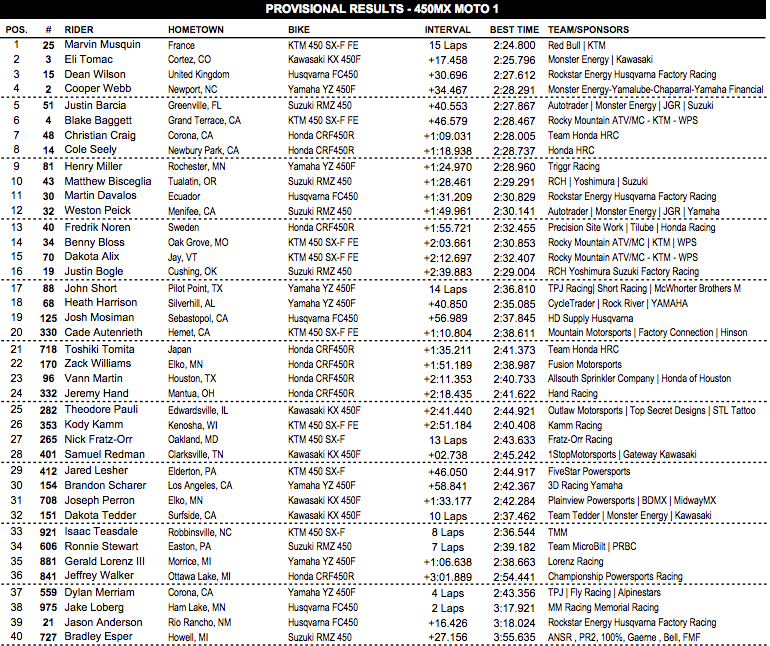 250 Moto 2
What a day for Zach Osborne. After having to nurse his bike to the finish in the first moto, he came out swinging for the second. Osborne charged from sixth place after the first lap to take the lead away from Joey Savatgy on the 10th lap. Osborne's charge came by using some creative lines around the crown molding of the track to carry extra speed in sections where others where battling with the bumps and ruts. Osborne's moto win combined with his eighth place finish in the first moto was good enough for third overall, and he only lost two points to Alex Martin on the day.
Joey Savatgy rode smooth and consistent again in the second moto, something that is much easier said than done on a track as rough and soft as the track was today. Savatgy went 1-2 on the day which was good enough for the overall win, his second of the season. On the podium Savatgy said, "The results haven't been there and it's frustrating. They [Pro Circuit] hired me to be up here and battling for wins. I would have loved to battled a little bit more, but I knew I had the overall and I tightened up a bit."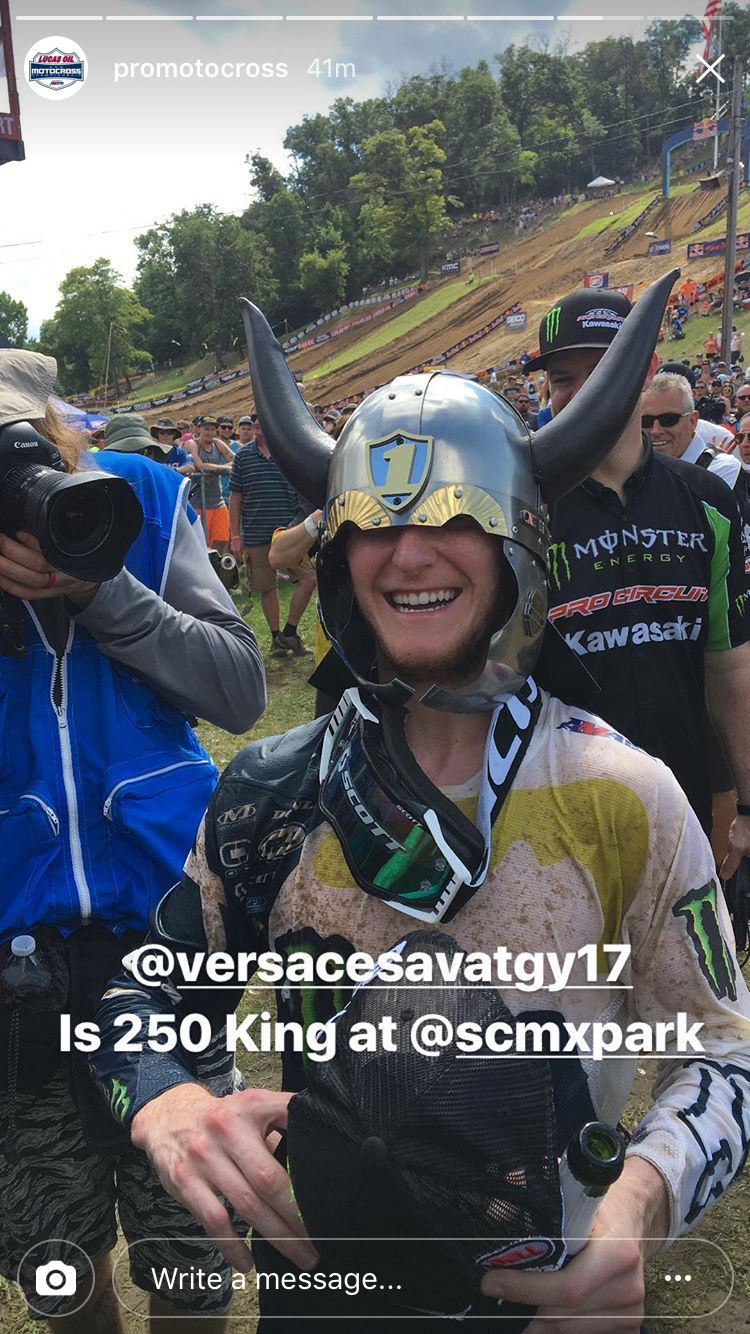 Shane McElrath finally got himself up onto the podium after a rough first half of the season. Before today, McElrath's best moto finish was a sixth place at Muddy Creek. On the podium he said his performances were embarrassing for himself and embarrassing for the TLD/Red Bull KTM team. He finished 16th in the first moto after falling and getting stuck under his bike, but he can look to his second moto for some positive thoughts and potentially as a turning point in the season. McElrath finished ninth overall.
Alex Martin didn't quite have the same speed he did in the first moto, but he was still able to finish fourth and was also the only rider to bust out the triple up Mt. Martin. With this second place overall finish, it's the first time that Alex has been able to beat his brother Jeremy at their home track since the two have lined up against each other.
| | | |
| --- | --- | --- |
| Year | Jeremy Martin | Alex Martin |
| 2013 | 4th overall | 15th overall |
| 2014 | 1st overall | 8th overall |
| 2015 | 2nd overall | 10th overall |
| 2016 | 1st overall | 3rd overall |
| 2017 | 4th overall | 2nd overall |
Jeremy Martin's second moto did not go well. After making a mistake up Mt. Martin and having to wait to re-enter the track, he ended up going down later on the same lap and lost a bunch of positions. He battled with his brother late in the second moto and finished the race in fifth.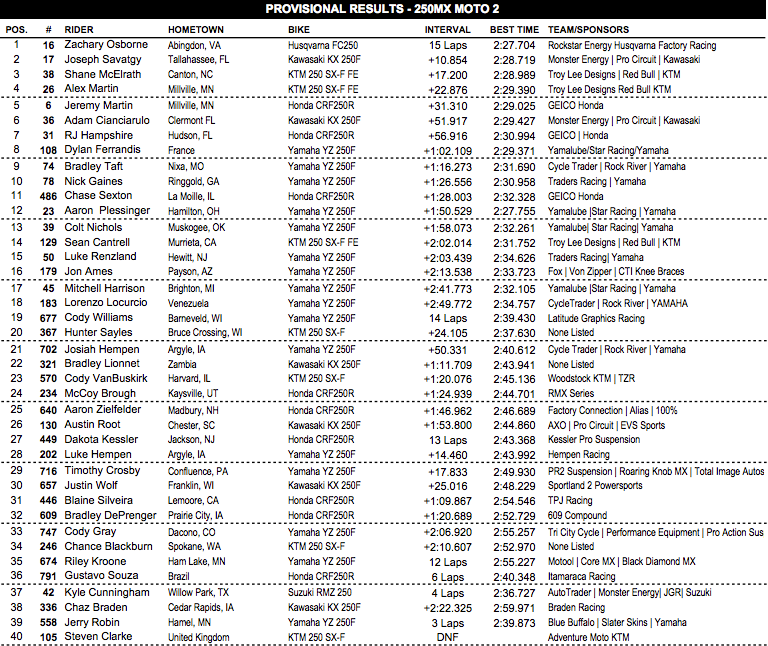 250 Class Overall
Spring Creek - 250
Pos

ition

Rider
Hometown
Motos
Machine
1

Joey Savatgy

Thomasville, GA
1 - 2
Kawasaki KX 250F
2

Alex Martin

Millville, MN
2 - 4
KTM 250 SX-F FE
3

Zach Osborne

Abingdon, VA
8 - 1
Husqvarna FC250
4

Jeremy Martin

Millville, MN
4 - 5
Honda CRF250R
5

Adam Cianciarulo

Port Orange, FL
6 - 6
Kawasaki KX 250F
6

R.J. Hampshire

Hudson, FL
5 - 7
Honda CRF250R
7

Aaron Plessinger

Hamilton, OH
3 - 12
Yamaha YZ 250F
8

Dylan Ferrandis

Avignon, France
7 - 8
Yamaha YZ 250F
9

Shane Mcelrath

Canton, NC
16 - 3
KTM 250 SX-F FE
10

Colt Nichols

Muskogee, OK
9 - 13
Yamaha YZ 250F
11

Chase Sexton

La Moille, IL
12 - 11
Honda CRF250R
12

Nick Gaines

Ringgold, GA
17 - 10
Yamaha YZ 250F
13

Sean Cantrell

Murrieta, CA
14 - 14
KTM 250 SX-F FE
14

Mitchell Harrison

Lansing, MI
11 - 17
Yamaha YZ 250F
15

Bradley Taft

Nixa, MO
36 - 9
Yamaha YZ 250F
16

Lorenzo Locurcio

Cairo, GA
13 - 18
Yamaha YZ 250F
17

Steven Clarke

Cairo, GA
10 - 40
KTM 250 SX-F
18

Luke Renzland

Hewitt, NJ
18 - 15
Yamaha YZ 250F
19

Kyle Cunningham

Aledo, TX
15 - 37
Suzuki RMZ 250
20

Jon Ames

Riverside, CA
25 - 16
Yamaha YZ 250F
21

Cody Williams

Barneveld, WI
19 - 19
Yamaha YZ 250F
22

Hunter Sayles

Merrill, WI
23 - 20
KTM 250 SX-F
23

Gustavo Souza

Brazil
20 - 36
Honda CRF250R
24

Josiah Hempen

Argyle, IA
22 - 21
Yamaha YZ 250F
25

Cody Vanbuskirk

Harvard, IL
21 - 23
KTM 250 SX-F
26

Aaron Zielfelder

Madbury, NH
24 - 25
Honda CRF250R
27

Dakota Kessler

Farmingdale, NJ
26 - 27
Honda CRF250R
28

Bradley Lionnet

South Africa
33 - 22
Kawasaki KX 250F
29

McCoy Brough

Kaysville, UT
31 - 24
Honda CRF250R
30

Luke Hempen

Argyle, IA
28 - 28
Yamaha YZ 250F
31

Timothy Crosby

Confluence, PA
27 - 29
Yamaha YZ 250F
32

Justin Wolf

franklin, WI
29 - 30
Kawasaki KX 250F
33

Bradley DePrenger

Prairie City , IA
30 - 32
Honda CRF250R
34

Austin Root

Chester, SC
37 - 26
Kawasaki KX 250F
35

Cody Gray

Dacono, CO
32 - 33
Yamaha YZ 250F
36

Chance Blackburn

Spokane, WA
34 - 34
KTM 250 SX-F
37

Riley Kroone

Ham Lake, MN
35 - 35
Yamaha YZ 250F
38

Blaine Silveira

Lemoore, CA
40 - 31
Honda CRF250R
39

Chaz Braden

Cedar Rapids, IA
39 - 38
Kawasaki KX 250F
40

Jerry Robin

Hamel, MN
38 - 39
Yamaha YZ 250F
Full Results
250 Class Points Standings
Motocross 250 Standings - 2017
Pos

ition

Rider
Hometown
Points
1

Zach Osborne

Abingdon, VA
501
2

Jeremy Martin

Millville, MN
420
3

Adam Cianciarulo

Port Orange, FL
374
4

Aaron Plessinger

Hamilton, OH
337
5

Joey Savatgy

Thomasville, GA
324
6

Dylan Ferrandis

Avignon, France
305
7

Colt Nichols

Muskogee, OK
303
8

Alex Martin

Millville, MN
296
9

Mitchell Harrison

Lansing, MI
279
10

Shane Mcelrath

Canton, NC
248
11

R.J. Hampshire

Hudson, FL
222
12

Chase Sexton

La Moille, IL
188
13

Austin Forkner

Richards, MO
184
14

Sean Cantrell

Murrieta, CA
176
15

Luke Renzland

Hewitt, NJ
141
16

Kyle Cunningham

Aledo, TX
134
17

Nick Gaines

Ringgold, GA
124
18

Lorenzo Locurcio

Cairo, GA
119
19

Justin Hill

Yoncalla, OR
110
20

Bradley Taft

Nixa, MO
90
Full Standings
450 Moto 2
Marvin Musquin was dominant all day. He set the fastest lap in qualifying, won the first moto by a very large margin, and then led the majority of the second moto for another easy win. He did have to deal with some heat from Blake Baggett early in the race, but as the moto wore on, Musquin continued to stretch out his lead and was able to cruise to the finish line where he unleashed one of his patented race-winning heelclickers.
Baggett's second moto was night and day compared to his first. He was able to start up front and put some pressure on Musquin for the lead. He looked more comfortable and he even set the fastest lap of the moto with a 2:25.579 on lap four. After that, though, his lap times dropped off pretty steadily, ending up in the 2:35-2:40 range by the end of the race. Baggett finished fourth overall and lost one more point to Eli Tomac in the championship.
Dean Wilson logged another great race to finish third in the second moto. Combine that with his third from the first moto and he ends up with a second place overall finish, the best of his career. After the race, Dean had this to say, "I woke up this morning ... my hair looked pretty good when I woke up, so I knew it was going to be a good day."
Eli Tomac was able to get a good start this time around, but just as the first lap was coming to an end, Tomac went down on the downhill before the finish. He got up and going quickly, but ended up going down again on the very next lap and that put him all the way back in 14th place. In the end, he was able to work his way up to fifth place all while fidgeting with his boot and clutch lever. Tomac finished third overall.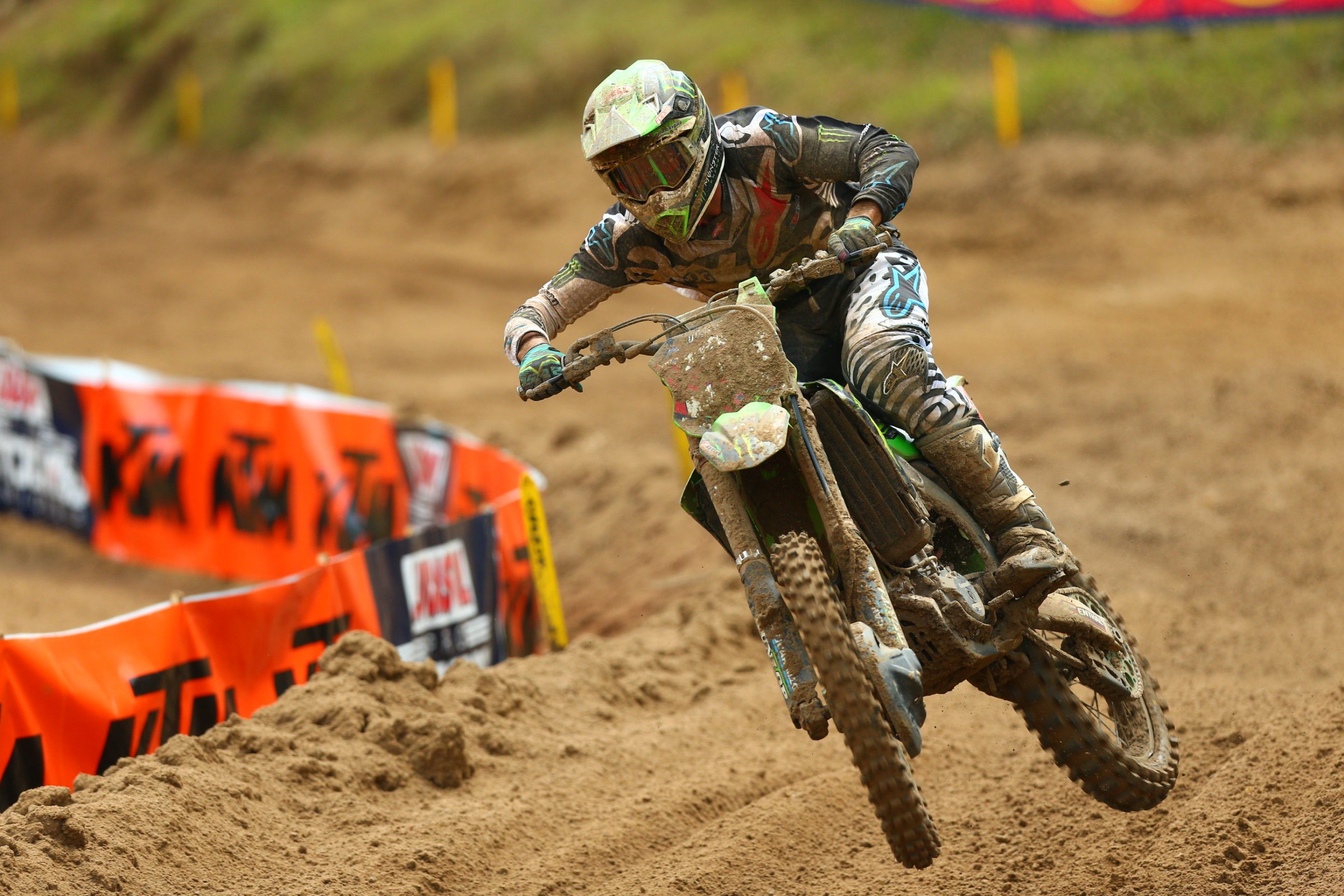 Underrated ride awards go out to Martin Davalos, Henry Miller, and Fredrik Noren. Davalos put in another strong second moto performance to finish fourth. It's his second top five and seventh top 10 moto finish of the season. Davalos finished seventh overall
Miller was looking great as he rounded the first corner in first, but then got a little loose as he came around the second corner and went down. He picked his bike up near dead last and put on a charge to finish 14th. He finished 12th overall on the day.
Noren was the best finishing privateer of the day with a 10th place overall. In the second moto he was running inside the top 10, giving Cole Seely and Christian Craig a good fight. He ended the moto in 10th.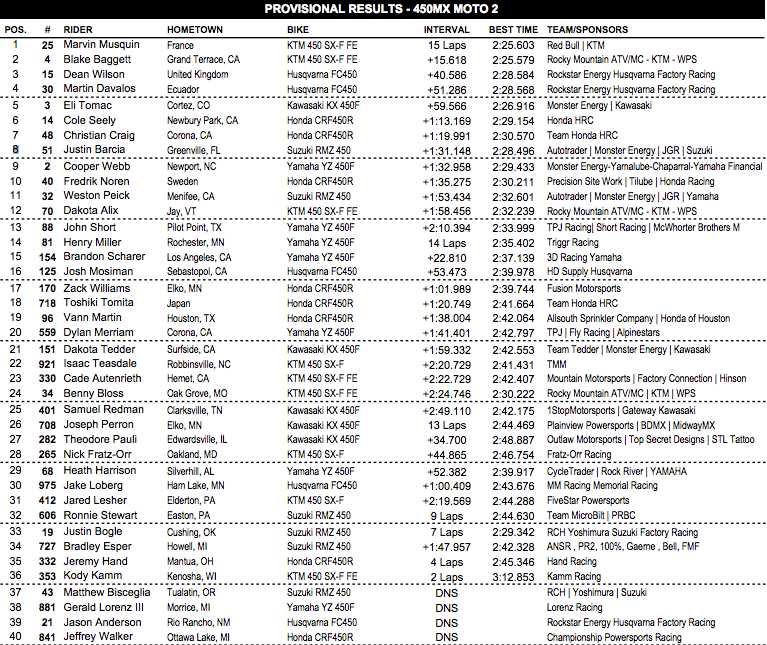 450 Class Overall
Spring Creek - 450
Pos

ition

Rider
Hometown
Motos
Machine
1

Marvin Musquin

La Reole, France
1 - 1
KTM 450 SX-F FE
2

Dean Wilson

Scotland, United Kingdom
3 - 3
Husqvarna FC450
3

Eli Tomac

Cortez, CO
2 - 5
Kawasaki KX 450F
4

Blake Baggett

Grand Terrace, CA
6 - 2
KTM 450 SX-F FE
5

Cooper Webb

Newport, NC
4 - 9
Yamaha YZ 450F
6

Justin Barcia

Monroe, NY
5 - 8
Suzuki RMZ 450
7

Martin Davalos

Quito, Ecuador
11 - 4
Husqvarna FC450
8

Cole Seely

Newbury Park, CA
8 - 6
Honda CRF450R
9

Christian Craig

Hemet, CA
7 - 7
Honda CRF450R
10

Fredrik Noren

Sweden
13 - 10
Honda CRF450R
11

Weston Peick

Wildomar, CA
12 - 11
Suzuki RMZ 450
12

Henry Miller

Rochester, MN
9 - 14
Yamaha YZ 450F
13

Dakota Alix

Jay, VT
15 - 12
KTM 450 SX-F FE
14

John Short

Pilot Point, TX
17 - 13
Yamaha YZ 450F
15

Matt Bisceglia

Weatherford, TX
10 - 39
Suzuki RMZ 450
16

Josh Mosiman

Sebastopol, CA
19 - 16
Husqvarna FC450
17

Benny Bloss

Oak Grove, MO
14 - 24
KTM 450 SX-F FE
18

Brandon Scharer

Gardena, CA
30 - 15
Yamaha YZ 450F
19

Justin Bogle

Cushing, OK
16 - 33
Suzuki RMZ 450
20

Zack Williams

Elko, MN
22 - 17
Honda CRF450R
21

Toshiki Tomita

Kanazawa, Japan
21 - 18
Honda CRF450R
22

Heath Harrison

Silverhill, AL
18 - 29
Yamaha YZ 450F
23

Vann Martin

Houston, TX
23 - 19
Honda CRF450R
24

Dylan Merriam

Corona, CA
37 - 20
Yamaha YZ 450F
25

Cade Autenrieth

Hemet, CA
20 - 23
KTM 450 SX-F FE
26

Theodore Pauli

Edwardsville, IL
25 - 27
Kawasaki KX 450F
27

Dakota Tedder

Surfside, CA
32 - 21
Kawasaki KX 450F
28

Samuel Redman

Clarksville, TN
28 - 25
Kawasaki KX 450F
29

Isaac Teasdale

Robbinsville, NC
33 - 22
KTM 450 SX-F
30

Nick Fratz

Oakland, MD
27 - 28
KTM 450 SX-F
31

Joseph Perron

Elko, MN
31 - 26
Kawasaki KX 450F
32

Jeremy Hand

Mantua, OH
24 - 35
Honda CRF450R
33

Jared Lesher

Elderton, PA
29 - 31
KTM 450 SX-F
34

Kody Kamm

Kenosha, WI
26 - 36
KTM 450 SX-F FE
35

Ronnie Stewart

Easton, PA
34 - 32
Suzuki RMZ 450
36

Jake Loberg

Ham Lake, MN
38 - 30
Husqvarna FC450
37

Jeffrey Walker

Ottawa Lake, MI
36 - 37
Honda CRF450R
38

Bradley Esper

Howell, MI
40 - 34
Suzuki RMZ 450
39

Gerald Lorenz III

Morrice , MI
35 - 40
Yamaha YZ 450F
40

Jason Anderson

Edgewood, NM
39 - 38
Husqvarna FC450
Full Results
450 Class Points Standings
Motocross 450 Standings - 2017
Pos

ition

Rider
Hometown
Points
1

Eli Tomac

Cortez, CO
470
2

Marvin Musquin

La Reole, France
453
3

Blake Baggett

Grand Terrace, CA
451
4

Dean Wilson

Scotland, United Kingdom
340
5

Cole Seely

Newbury Park, CA
330
6

Justin Bogle

Cushing, OK
308
7

Weston Peick

Wildomar, CA
268
8

Cooper Webb

Newport, NC
268
9

Martin Davalos

Quito, Ecuador
263
10

Jason Anderson

Edgewood, NM
216
11

Christian Craig

Hemet, CA
216
12

Fredrik Noren

Sweden
202
13

Justin Barcia

Monroe, NY
191
14

Dakota Alix

Jay, VT
152
15

Broc Tickle

Holly, MI
146
16

Josh Grant

Riverside, CA
143
17

Henry Miller

Rochester, MN
108
18

Matt Bisceglia

Weatherford, TX
78
19

Benny Bloss

Oak Grove, MO
73
20

John Short

Pilot Point, TX
70
Full Standings