Moto-X 338
Southwick

,

MA
Race Center: Southwick
Lucas Oil AMA Pro Motocross Championship
Welcome to the Racer X Race Day Feed, your one-stop shop for round seven of Lucas Oil Pro Motocross from Southwick, MA, at the Southwick National. We'll be updating this post throughout the day with news, notes, and results from qualifying and the motos, so be sure to check back throughout the day. You can also follow Racer X on Twitter, Instagram, and Facebook to stay up on all the action.
(Note: All updates will run top to bottom, starting with the morning report and going through the motos. So, make sure to scroll down for the latest.)
Morning Report
For a second straight year, Lucas Oil Pro Motocross returns to a revamped, and renamed, The Wick 338. Tucked away inside the center of Southwick, the track was brought back to life by local legends Keith Johnson and John Dowd (who help run the day-to-day operations), and Mike Grondahl, founder of Planet Fitness, who now leases the facility from the American Legion, and ran its first National last year for the first time since 2013.
Hoping to return to what they referred to as "'80s Southwick", the facility brought in 30 truckloads of sand this year. With a strong local racing series—NESC—the only sand track on the circuit has always played well to the locals, including Dowd himself. In 1998, Dowd dethroned the GOAT, Ricky Carmichael here and in 2009, he made history again, becoming the oldest rider to finish on the podium when at 44 he finished third behind Matt Goerke and Michael Bryne. In 2013, Dowd called it a career, racing one last time at Southwick, going 30-19 for 23rd overall.
This year will be no different, as the Southwick faithful will be hanging over the fences cheering on locals, like Robby Marshall, who is racing a two-stroke in the 450 Class, and Ryan Dowd, son of John.
In one of the most dominating seasons we've seen in recent memory, Ken Roczen lost just four motos last year en route to the 450MX championship. Two of those came at Southwick, where Eli Tomac was flawless, leading 19 laps on the day en route to his only 1-1 performance a year ago. Heading into today, Tomac is once again the favorite, and due to Blake Baggett's second moto at RedBud, holds a 13-point advantage in the standings—his first lead since Glen Helen.
Motocross 450 Standings - 2017
Full Standings
Speaking of Baggett, after the race we heard that he suffered a sprained thumb in the first lap collision with Jason Anderson last weekend. Aaron Hansel texted his mechanic Nate Alexander earlier this week, and Nate said that Baggett was alright, that "he's a hardass," and that pain doesn't really affect him. Baggett rode press day on Thursday, and those that were in attendance said he looked great. We'll see today, as press day and two 30-minute plus two motos are entirely different things.
In other injury news, Trey Canard's first season with Red Bull KTM continues to be thwarted by injuries. After making his Lucas Oil Pro Motocross debut at Muddy Creek, and racing RedBud, Canard crashed practicing this week and while the team says he didn't sustain any bodily injuries, the impact was enough to sideline him for the weekend. Yesterday, RCH/Yoshimura Suzuki announced that Broc Tickle will miss the rest of Lucas Oil Pro Motocross after an MRI reveled his shoulder injury sustained in practice at RedBud was much worse than expected. The injury won't require surgery, but Tickle is expected to miss six-to-eight weeks.
There doesn't appear to be much that is going to slow Zach Osborne down this year, as the 250SX East Region Champion brings a 38-point lead in the 250 Class with him into Southwick. The Martin brothers, Alex and Jeremy, tossed away chances at an overall last weekend, and an opportunity to make up some points on Osborne. With his past GP experience, Osborne could extend his points lead by even more after today.
Motocross 250 Standings - 2017
Full Standings
Qualifying starts shortly, make sure to check back throughout the day.
First Practice Session
Newsflash: Eli Tomac is fast at Southwick. Like, really, really fast. The 450 points leader set the tone early at The Wick 338, setting the quickest time in the first qualifying session—by more than two seconds! Tomac set a 2:04.471 to capture the top time.
Blake Baggett, who reportedly sustained a sprained thumb in a second moto incident with Jason Anderson in the second moto at RedBud, was second quickest with a 2:06.636. Cooper Webb was third fastest, nearly a full second off Baggett and three full seconds off Tomac. Marvin Musquin, Christian Craig, Justin Barcia, Josh Grant, Cole Seely, Dakota Alix, and Martin Davalos rounded out the top 10.
Ryan Dowd, son of the legendary John Dowd, took advantage of a nice track in the first 450 B session (the first practice of the day) to set a 2:08.910, which was the seventh fastest time overall.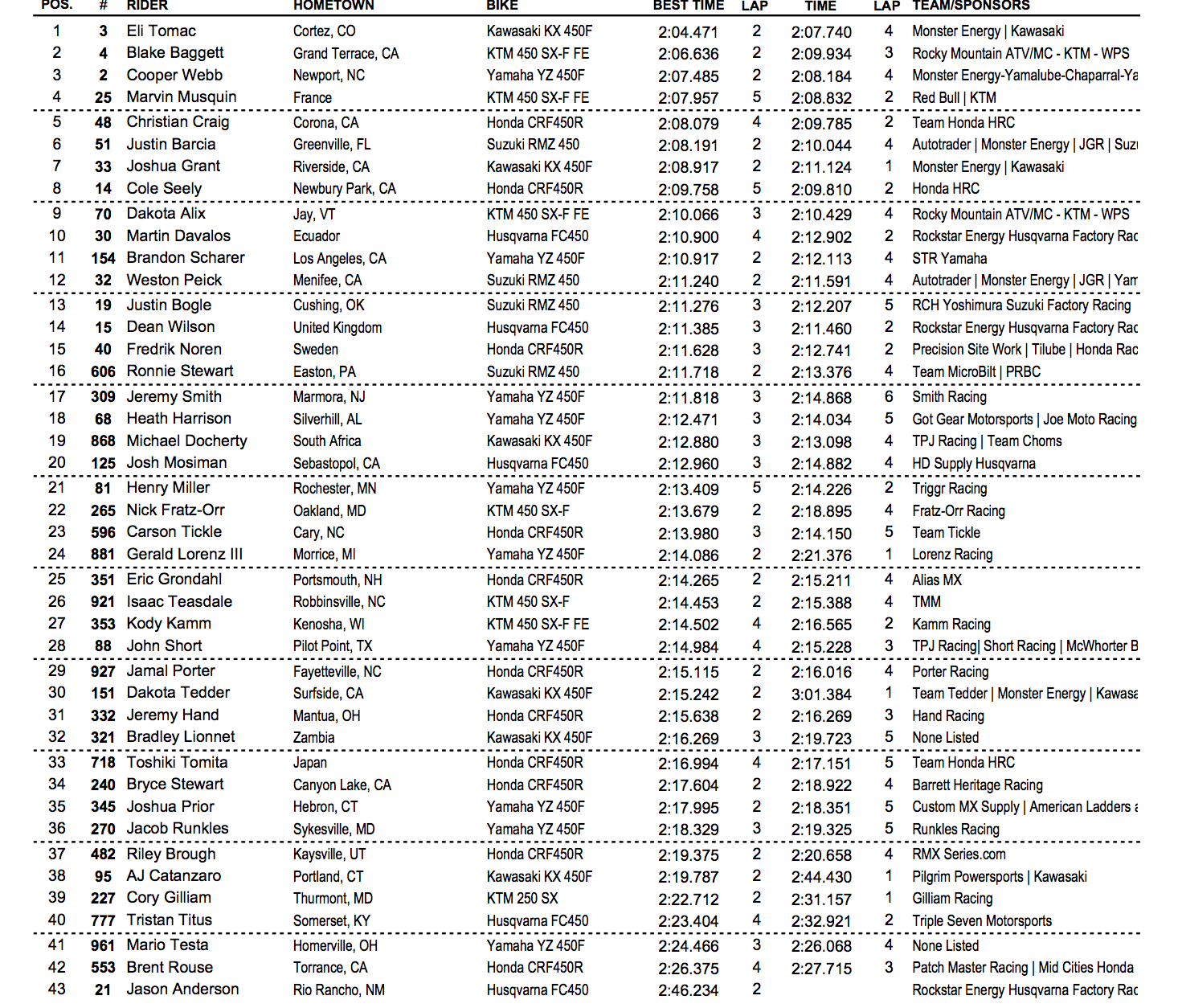 The 450 field, already without Broc Tickle and Trey Canard this weekend, was dealt another blow today. According to Racer X's Steve Matthes Jason Anderson crashed on Thursday and while he reportedly checked out, he is sore. In the first session, he ran just two laps and was last in qualifying (43rd). After practice, Anderson announced on Twitter that he has decided to sit the race out today. Anderson told Racer X's Jason Weigandt that he tried a scrub and it went too far and he high-sided and hurt his back "really bad."
bummed that I'm not gonna be able to soldier through today.had a huge crash on Thursday.Luckily it wasn't any worse.bad part I'm out 4 today

— jason anderson (@elhombre_21) July 8, 2017
We mentioned a few times this week to keep an eye out for Dylan Ferrandis at Southwick. The ex-GP championship contender is great in the sand, and it showed in the first 250 qualifying session. The Frenchmen set the fastest time, just edging out points leader Zach Osborne. Ferrandis' 2:10.613 was a few tenths of a second faster than Osborne's 2:10.847. They were the only two riders in the 2:10s.
Colt Nichols' 2:11.359 was third fastest ahead Monster Energy/Pro Circuit Kawasaki teammates Adam Cianciarulo and Joey Savaty. Aaron Plessinger, Shane McElrath, Austin Forkner, Jeremy Martin, and RJ Hampshire rounded out the top 10.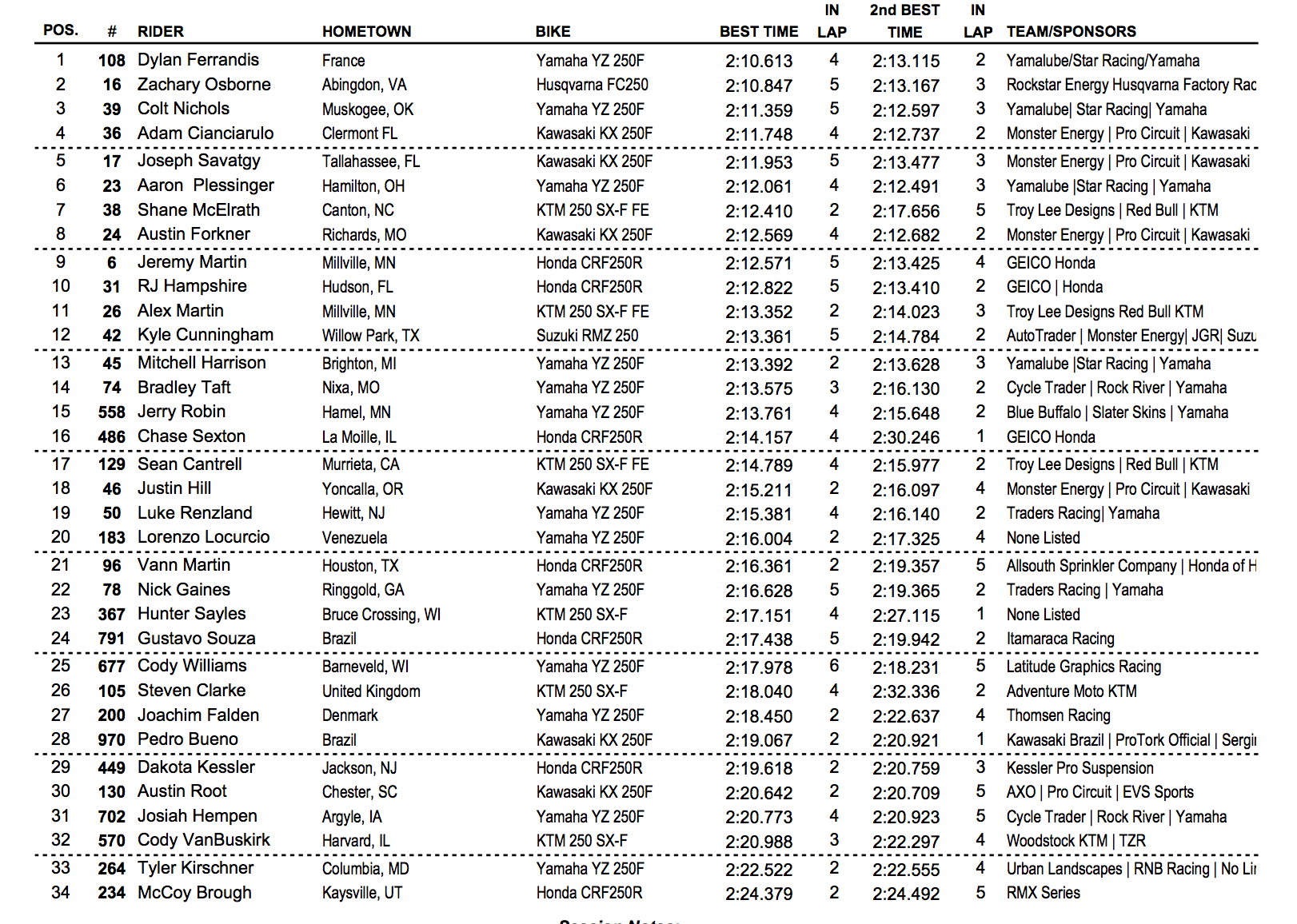 Second Practice Session
According to NBC Sports' Georgia Albertson, due to the Fourth of July holiday and an early arrival to Southwick for press day, Blake Baggett was unable to get an MRI on his thumb injury from last week. The results likely wouldn't have mattered anyway, as Baggett was going to race this weekend no matter what.
As is typical of Southwick, the first practice times will hold up, as the track is getting rougher and rougher. Still, Eli Tomac was the quickest again in the second session, by more than a second over second place Marvin Musquin.
Of the top 10 in overall qualifying, only Marvin Musquin and Justin Bogle set their fastest time in the second session.
| | | |
| --- | --- | --- |
| Rider | First Session | Second Session |
| Eli Tomac | 2:04.471 | 2:06.158 |
| Blake Baggett | 2:06.636 | 2:11.742 |
| Marvin Musquin | 2:07.957 | 2:07.414 |
| Cooper Webb | 2:07.485 | 2:09.396 |
| Christian Craig | 2:08.079 | 2:10.137 |
| Justin Barcia | 2:08.191 | 2:10.268 |
| Ryan Dowd | 2:08.910 | 2:19.269 |
| Josh Grant | 2:08.917 | 2:12.837 |
| Cole Seely | 2:09.758 | 2:10.353 |
| Justin Bogle | 2:11.276 | 2:09.895 |
450 qualifying times are below: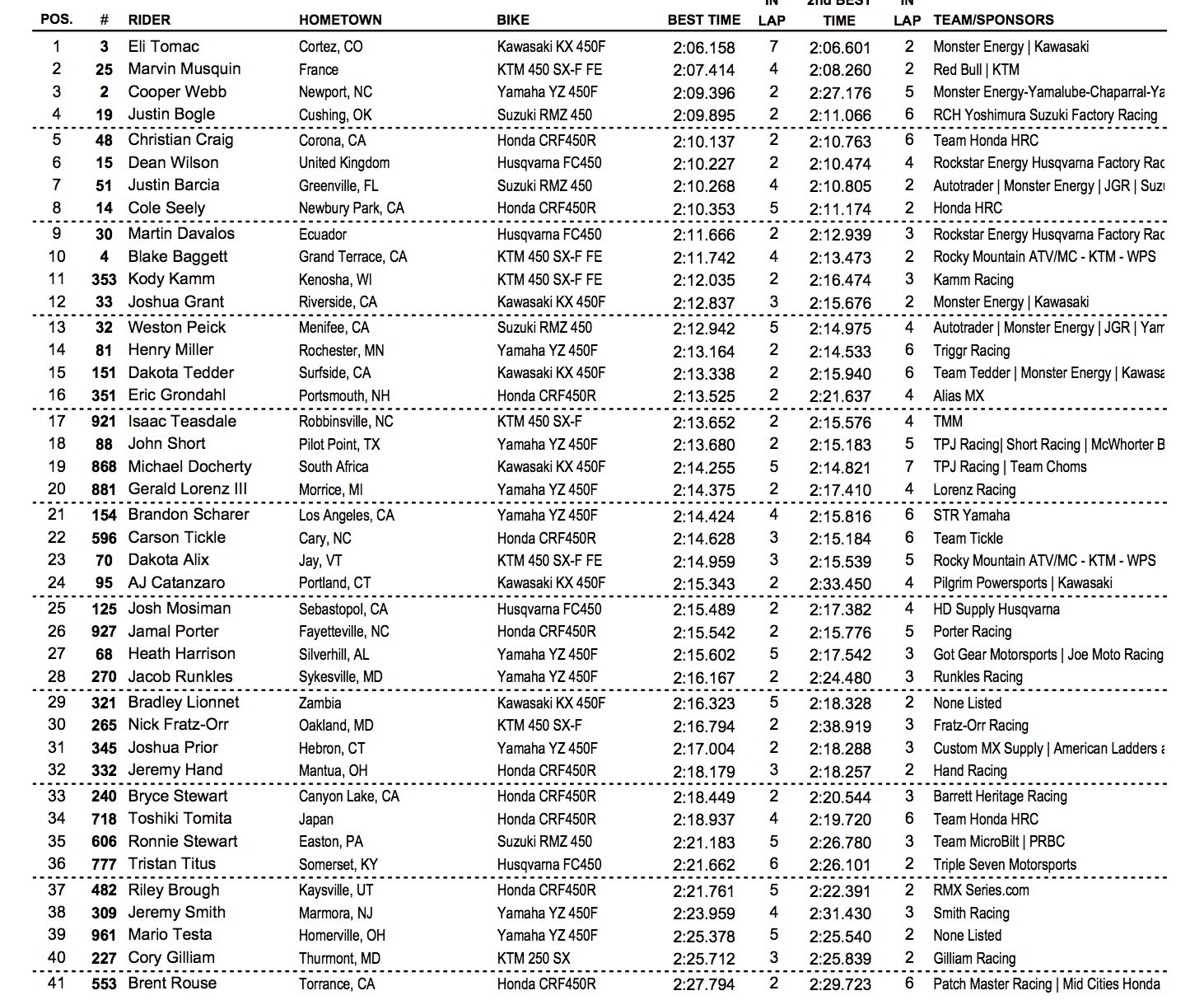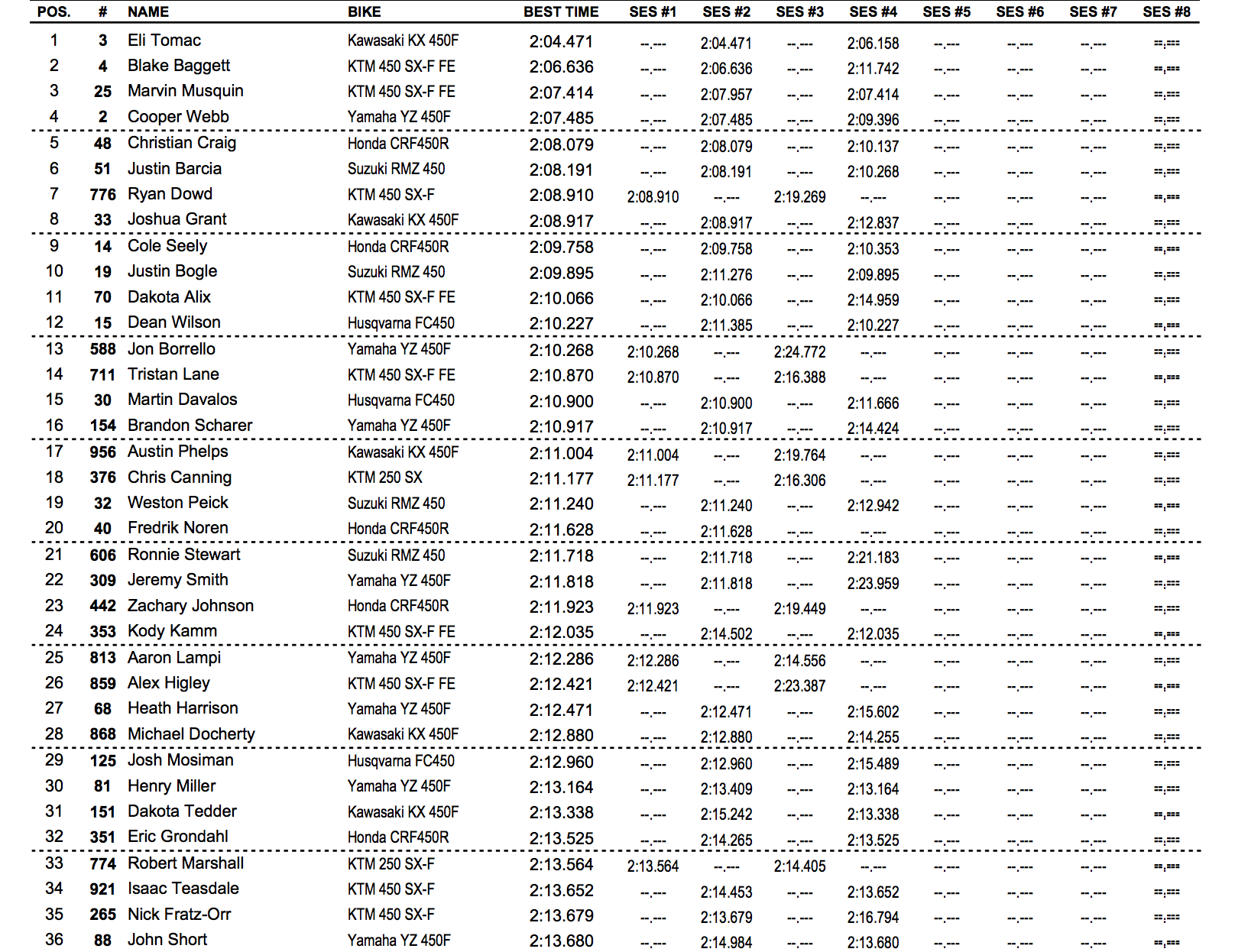 Unlike the 450 Class, the second 250 session proved to be quickest at Southwick. Of the top 10 in qualifying, seven riders set their fastest time in the second session.
Dylan Ferrandis, who was fastest in the first session, held the top spot again in practice two before Zach Osborne swooped in to take the top time. It didn't last long, as Adam Cianciarulo quickly jumped to the top, with Ferrandis jumping past Osborne as well, pushing the points leader down to third.
RJ Hampshire, who has dealt with mechanicals in three of the last four motos, was fourth fastest ahead of Aaron Plessinger. Colt Nichols, Jeremy Martin, Joey Savatgy, Austin Forkner, and Shane McElrath rounded out the top 10.
| | | |
| --- | --- | --- |
| Rider | First Session | Second Session |
| Adam Cianciarulo | 2:11.748 | 2:09.109 |
| Dylan Ferrandis | 2:10.613 | 2:09.506 |
| Zach Osborne | 2:10.847 | 2:09.544 |
| RJ Hampshire | 2:12.822 | 2:10.593 |
| Aaron Plessinger | 2:12.061 | 2:11.154 |
| Colt Nichols | 2:11.359 | 2:12.625 |
| Jeremy Martin | 2:12.571 | 2:11.585 |
| Joey Savatgy | 2:11.953 | 2:12.357 |
| Austin Forkner | 2:12.569 | 2:12.133 |
| Shane McElrath | 2:12.410 | 2:12.959 |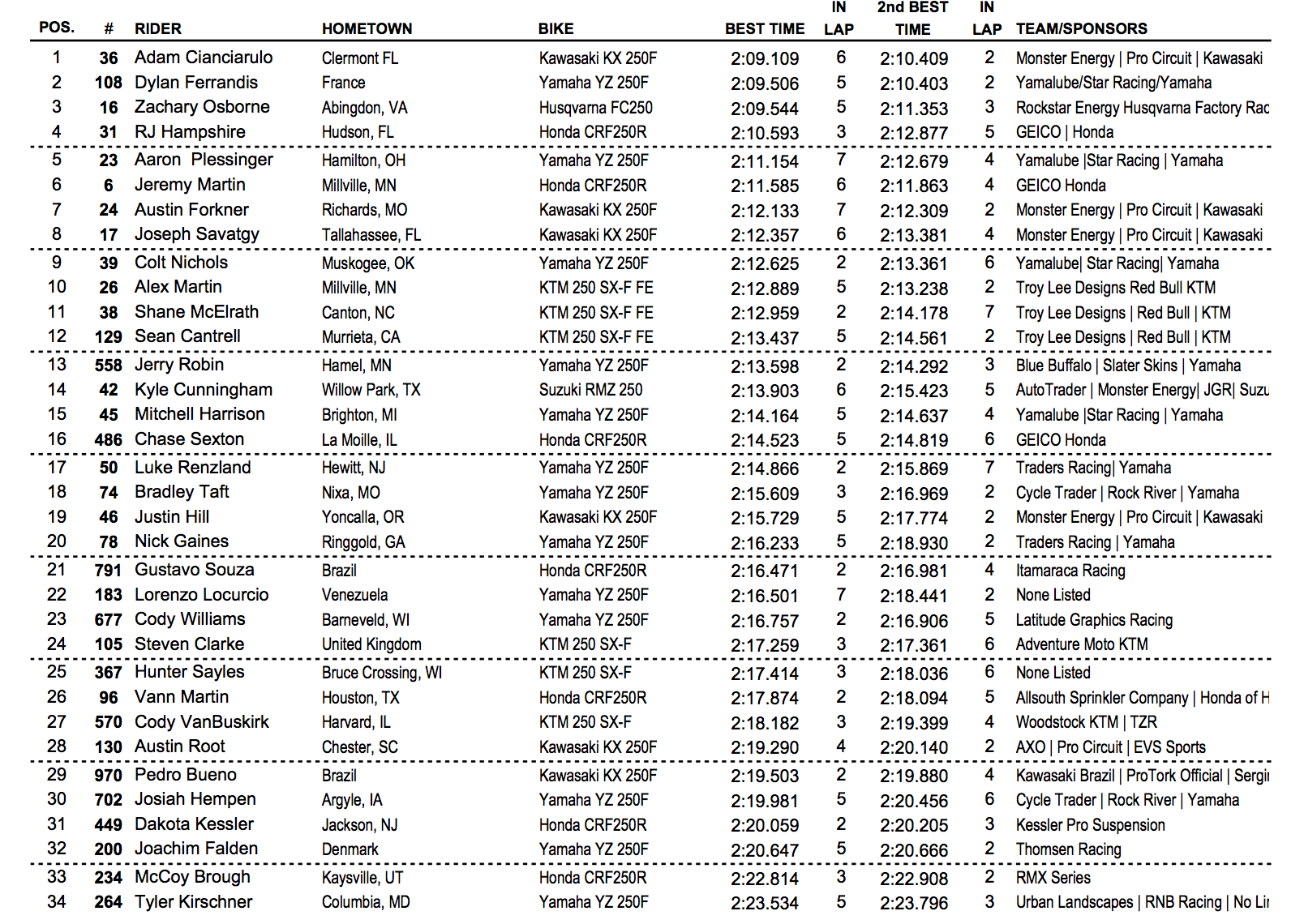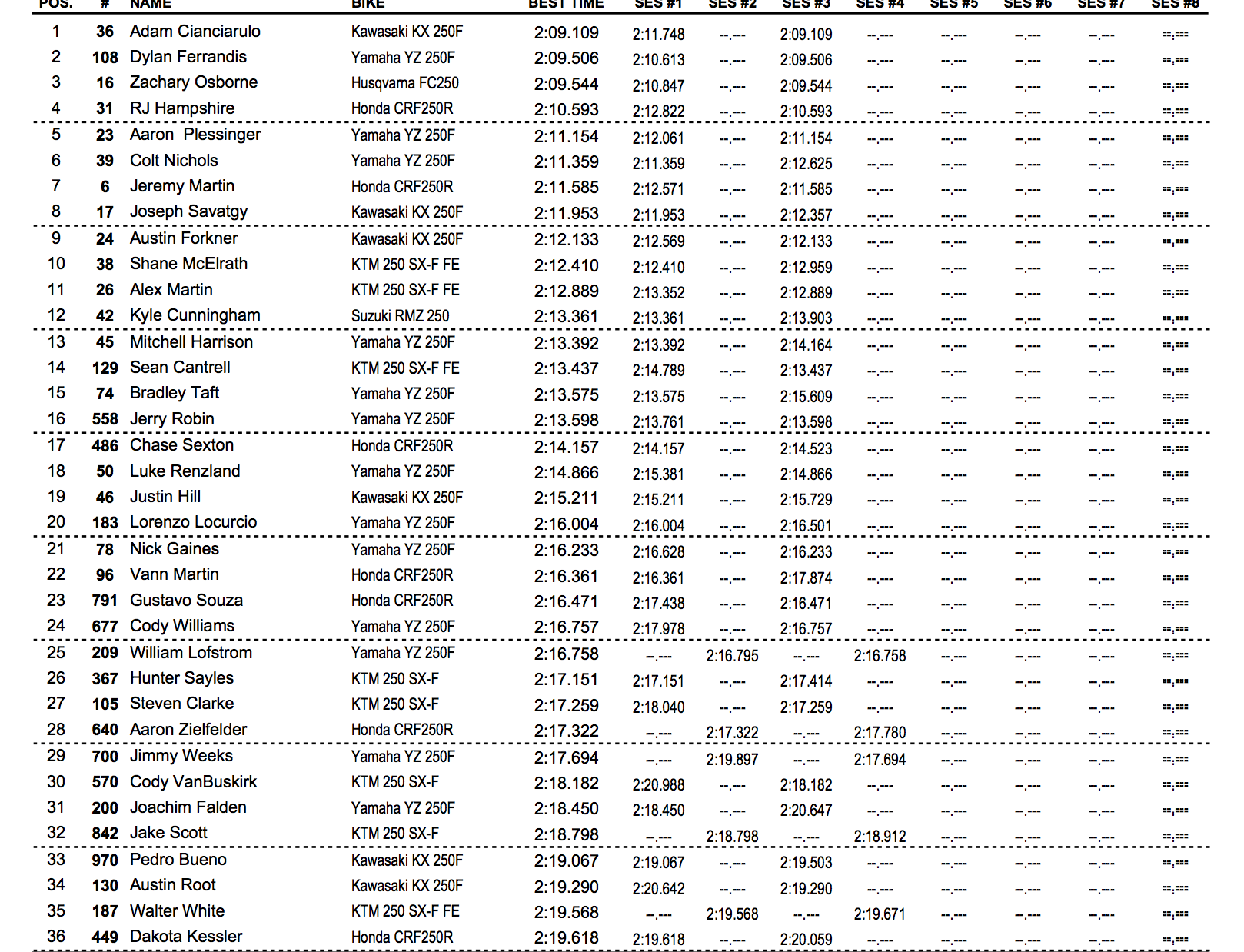 450 Moto One
Remember what we said about Eli Tomac going really, really, ridiculously, fast at Southwick? Yeah, that carried over into the first 450 moto where he dominated. His fastest time in the first moto was nearly three full seconds faster than second place Blake Baggett.
The moto started with some carnage, as Baggett and his Rocky Mountain ATV/MC-WPS-KTM teammate Dakota Alix battled for the holeshot. Baggett came flying around the corner right when Alix appeared to tuck the front a little and the two collided, with Alix ending up on the ground. Shortly after another pileup was started that collected Marvin Musquin, Justin Bogle, Christian Craig, and Henry Miller, among others.
With Weston Peick and privateer Isaac Teasdale between he and Tomac, Baggett was hoping to get some breathing room. It didn't happened. Tomac was quickly around Teasdale and Peick, and was quickly going after Baggett, railing the outside of the turns, carrying a ton of momentum. On the second lap, Tomac moved into the lead and never looked back. Check out a look at how quickly his lead increased:
Lap 3: Tomac up 1.8
Lap 4: Tomac up 4.8
Lap 5: Tomac up 6.1
Lap 7: Tomac up 7.7
Lap 8: Tomac up 9.1
Lap 10: Tomac up 11.7
Lap 13: Tomac 14.7
End of race: Tomac up 15.9
With Tomac taking off, and Baggett having established a comfortable lead on third place Cooper Webb, the action shifted toward Musquin's charge through the field. By the midway point, Musquin had already worked into the top 10 and was approaching the back on the Cole Seely-Weston Peick battle for fourth, when he was gifted a spot after Peick suffered a mechanical. He also moved around Seely shortly after and began to close on Justin Barcia for fourth. The battle came down to the final lap with Barcia holding off Musquin's charge until he suffered a bike problem (or ran out of gas. We're not sure yet) as well. Musquin finished fourth ahead of Seely.
According to NBC Sports' Georgia Lindsey, privateer Fredrik Noren blew his motor in practice. A fellow privateer let Noren borrow a motor for the day and the Swedish rider went out and finished eighth in the first moto.
To recap: Tomac won by an impressive 15.9 seconds over Baggett. Webb captured his first career 450 moto podium in third, followed by Musquin, Seely, Dean Wilson, Martin Davalos, Noren, Justin Bogle, and Christian Craig. Barcia was credited with 12th.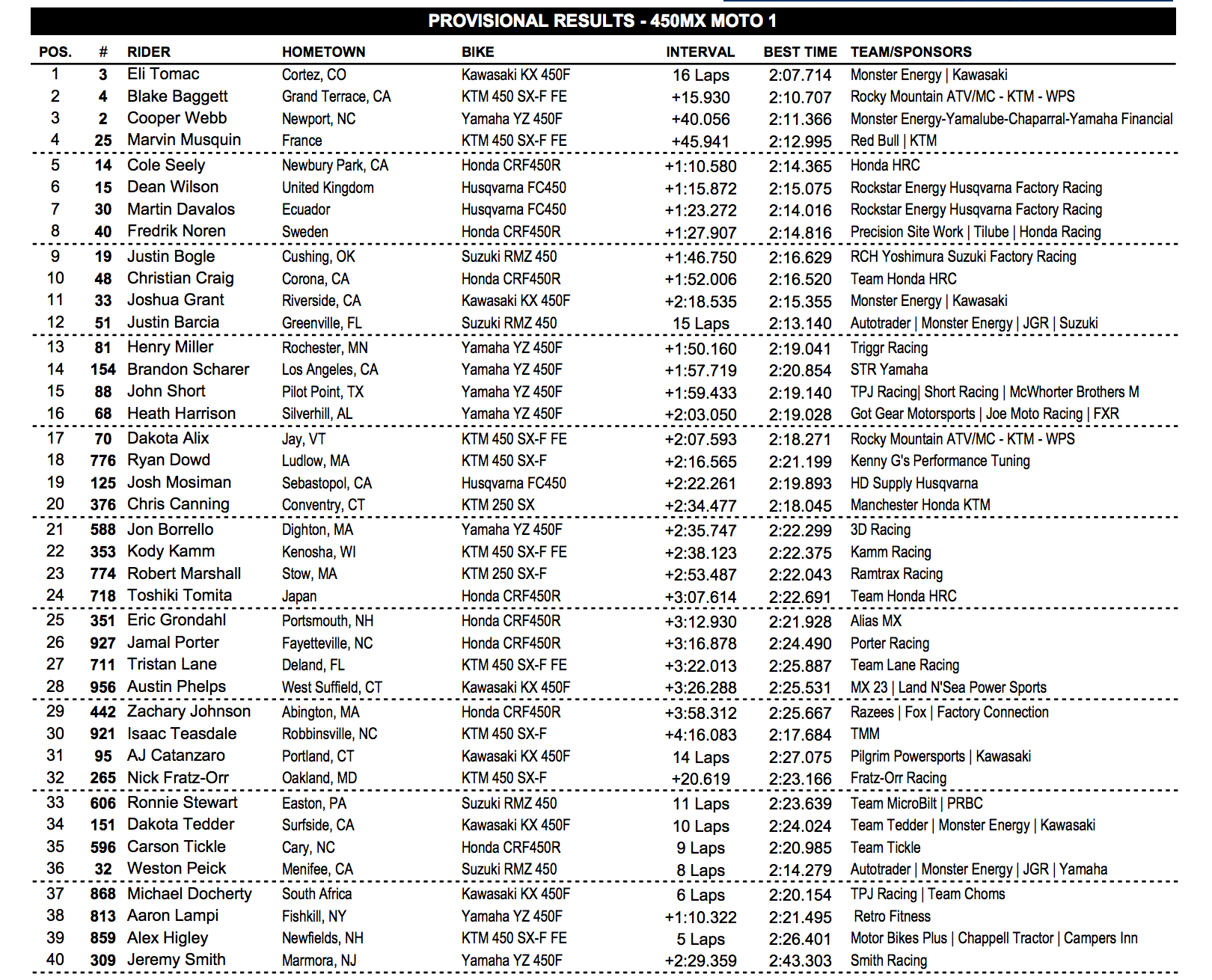 250 Moto One
So many storylines emerged from the first 250 moto. The day started off terribly for Pro Circuit teammates Austin Forkner and Adam Cianciarulo. Forkner was down off the start and later had to stop in the pits due to a reported rear brake problem. He eventually pulled out of the moto and finished 37th. Cianciarulo, who qualified fastest earlier in the day, crashed twice on the opening lap and finished 15th.
The battle up front shifted directions some many times it was hard to keep track. Alex Martin led early with Aaron Plessinger, RJ Hampshire, Joey Savatgy and Dylan Ferrandis rounding out the top five. Hampshire was the early surprise of the moto, as he quickly worked around Plessinger and then Alex Martin to take the lead. His time up front was brief, though, as he lost the front end and was shifted back to fourth. This gave Alex Martin the lead again, but he had company in Plessinger and Ferrandis.
Plessinger was making a few small mistakes, but was able to stay in front of Ferrandis. On lap five, Plessinger made a big mistake and crashed shoulder first. He was attended to by the Alpinestars Medical Unit trackside and was unable to continue the moto.
Shortly after, Ferrandis mounted his own charge toward the lead. On lap seven, he found his way around Alex Martin. On the same lap, Zach Osborne, after a slow start, had moved into third around Hampshire. He'd make more noise up front later.
Up front, Ferrandis lost the front end and the lead back to Alex Martin. He was able to keep the bike running and two laps later was back in the lead. Meanwhile, Osborne was making a huge charge late and passed Alex Martin for second on lap 10 of 16. He began to mount a charge for the lead, but Ferrandis was able to respond and eventually stretched his lead to 7.9 seconds, capturing his second career 250MX moto win.
Jeremy Martin, who also got off to a slow start, challenged his brother at the end of the moto for third, but fell short and finished fourth. Hampshire finished fifth ahead of Mitchell Harrison, Savatgy, Colt Nichols, Chase Sexton and Luke Renzland.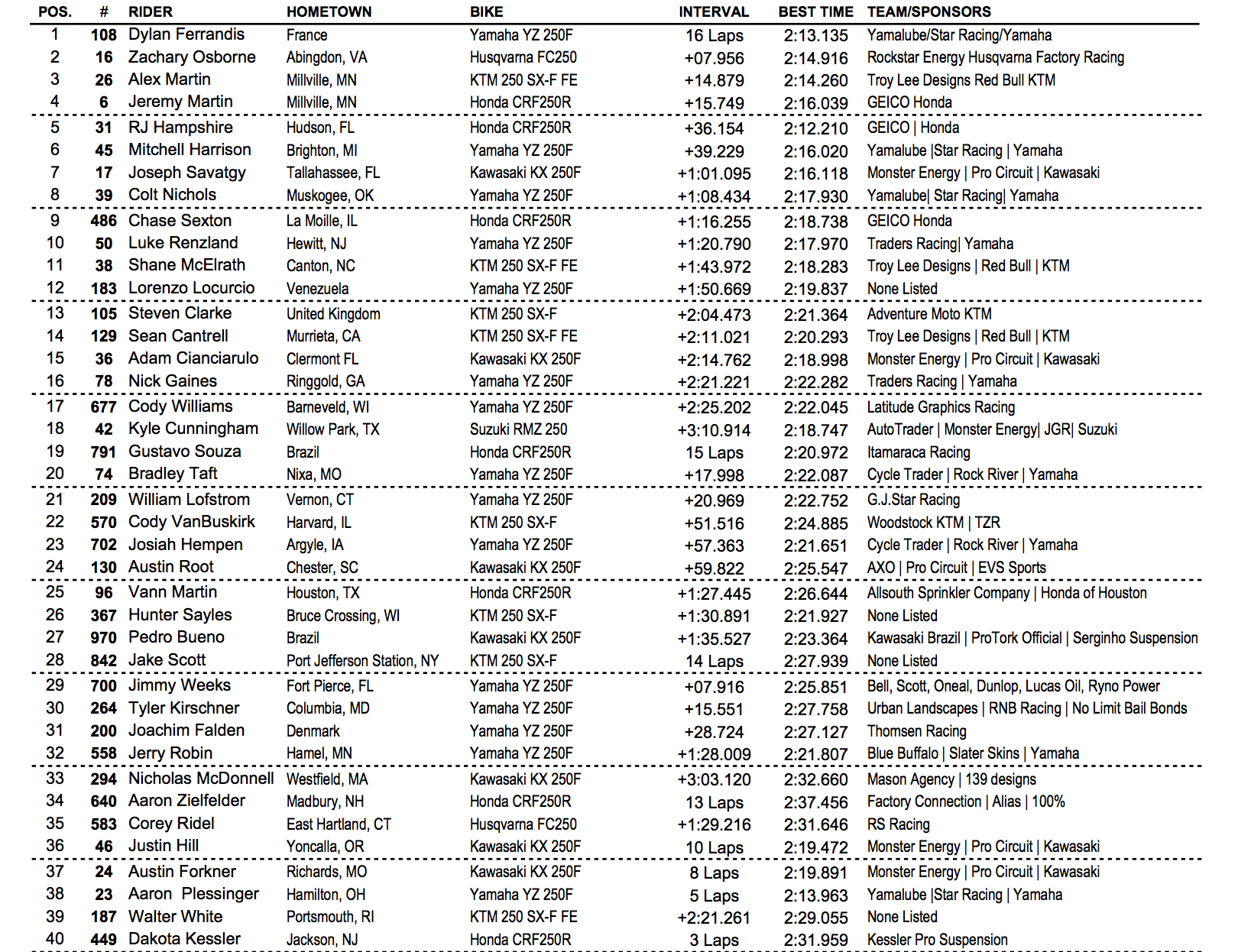 450 Moto Two
It was slightly tougher this time around, but the end result was the same: Eli Tomac in a runaway.
Once again it was a pair of KTMs up front early, with Marvin Musquin and Blake Baggett slugging it out. Martin Davalos, Dakota Alix, and Justin Barcia followed. Eli Tomac was around 10th.
Tomac quickly began to slice his way through the pack, using any line that was available. He swiftly changed from inside to outside, and was soon on the back of Barcia for third. Barcia, who reportedly ran out of gas at the end of the first moto, was trying to hold off Tomac when he began to lose the rear and eventually fell off the side of the bike. He eventually finished the moto in 12th.
Up front, Tomac had made his way around Baggett rather easily, but Musquin impeded his charge to the front. The former points leader did well to hold Tomac at bay for a few laps, until lap six when Tomac was just too much. Shortly after losing the lead, Musquin got cross-rutted up the face of a jump and was launched off the track. He did get back on the bike but pulled into the mechanics area and did not finish the moto.
From there, Tomac ran away with another moto win, going unchallenged en route to a 21.2 second win. Baggett finished second and went 2-2 on the day.
Cooper Webb held third for much of the moto and was inline for the overall podium, but he went down late and finished sixth. This allowed Dean Wilson to take third and claim his first moto and overall podium in 450MX. Martin Davalos was a strong fourth, followed by Cole Seely, Webb, Christian Craig, Weston Peick, Henry Miller (the top privateer in the moto), and Fredrik Noren, who was in 32nd place after lap one.
Other Notes:
- Justin Bogle was down in the first turn. He came back to finish 13th.
- Josh Grant did not start the moto after reportedly twisting his knee in moto one.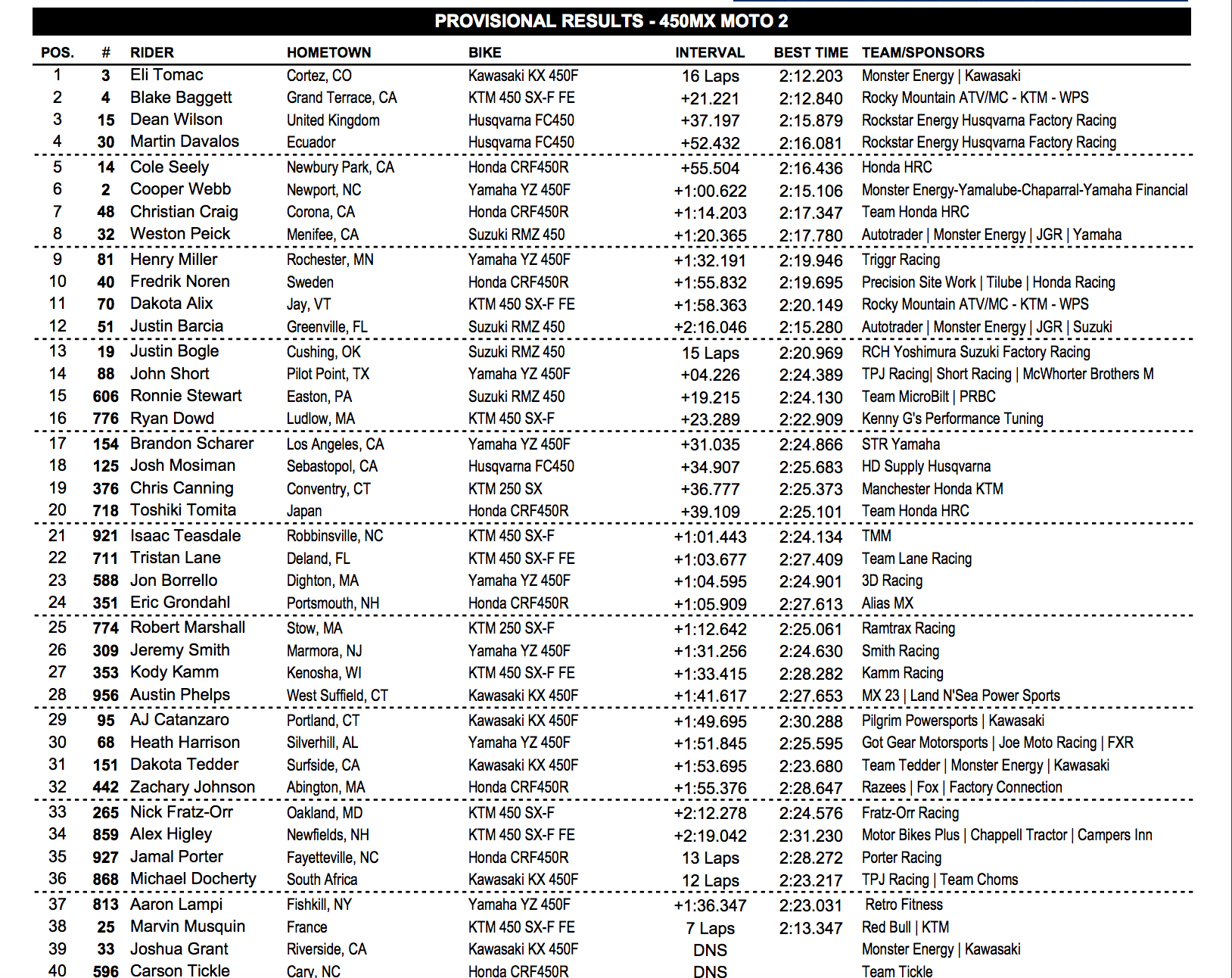 Southwick - 450
Pos

ition

Rider
Hometown
Motos
Machine
1

Eli Tomac

Cortez, CO
1 - 1
Kawasaki KX 450F
2

Blake Baggett

Grand Terrace, CA
2 - 2
KTM 450 SX-F FE
3

Dean Wilson

Scotland, United Kingdom
6 - 3
Husqvarna FC450
4

Cooper Webb

Newport, NC
3 - 6
Yamaha YZ 450F
5

Martin Davalos

Quito, Ecuador
7 - 4
Husqvarna FC450
6

Cole Seely

Newbury Park, CA
5 - 5
Honda CRF450R
7

Christian Craig

Hemet, CA
10 - 7
Honda CRF450R
8

Fredrik Noren

Sweden
8 - 10
Honda CRF450R
9

Henry Miller

Rochester, MN
13 - 9
Yamaha YZ 450F
10

Justin Bogle

Cushing, OK
9 - 13
Suzuki RMZ 450
11

Justin Barcia

Monroe, NY
12 - 12
Suzuki RMZ 450
12

Marvin Musquin

La Reole, France
4 - 38
KTM 450 SX-F FE
13

Dakota Alix

Jay, VT
17 - 11
KTM 450 SX-F FE
14

Weston Peick

Wildomar, CA
36 - 8
Suzuki RMZ 450
15

John Short

Pilot Point, TX
15 - 14
Yamaha YZ 450F
16

Brandon Scharer

Gardena, CA
14 - 17
Yamaha YZ 450F
17

Josh Grant

Riverside, CA
11 - 40
Kawasaki KX 450F
18

Ryan Dowd

Ludlow, MA
18 - 16
KTM 450 SX-F
19

Ronnie Stewart

Easton, PA
33 - 15
Suzuki RMZ 450
20

Josh Mosiman

Sebastopol, CA
19 - 18
Husqvarna FC450
21

Heath Harrison

Silverhill, AL
16 - 30
Yamaha YZ 450F
22

Chris Canning

Hartford, CT
20 - 19
KTM 250 SX
23

Toshiki Tomita

Kanazawa, Japan
24 - 20
Honda CRF450R
24

Jon Borrello

Dighton , MA
21 - 23
Yamaha YZ 450F
25

Robby Marshall

Stow, MA
23 - 25
KTM 250 SX-F
26

Tristan Lane

Deland, FL
27 - 22
KTM 450 SX-F FE
27

Eric Grondahl

Portsmouth, NH
25 - 24
Honda CRF450R
28

Kody Kamm

Kenosha, WI
22 - 27
KTM 450 SX-F FE
29

Isaac Teasdale

Robbinsville, NC
30 - 21
KTM 450 SX-F
30

Austin Phelps

Hartford, CT
28 - 28
Kawasaki KX 450F
31

AJ Catanzaro

Portland, CT
31 - 29
Kawasaki KX 450F
32

Zachary Johnson

Abington, MA
29 - 32
Honda CRF450R
33

Jamal Porter

Fayetteville, NC
26 - 35
Honda CRF450R
34

Dakota Tedder

Surfside, CA
34 - 31
Kawasaki KX 450F
35

Nick Fratz

Oakland, MD
32 - 33
KTM 450 SX-F
36

Jeremy Smith

Marmora, NJ
40 - 26
Yamaha YZ 450F
37

Alex Higley

Newfields, NH
39 - 34
KTM 450 SX-F FE
38

Michael Docherty

South Africa
37 - 36
Kawasaki KX 450F
39

Carson Tickle

Cary, NC
35 - 39
Honda CRF450R
40

Aaron Lampi

Fishkill, NY
38 - 37
Yamaha YZ 450F
Full Results
Motocross 450 Standings - 2017
Pos

ition

Rider
Hometown
Points
1

Eli Tomac

Cortez, CO
470
2

Marvin Musquin

La Reole, France
453
3

Blake Baggett

Grand Terrace, CA
451
4

Dean Wilson

Scotland, United Kingdom
340
5

Cole Seely

Newbury Park, CA
330
6

Justin Bogle

Cushing, OK
308
7

Weston Peick

Wildomar, CA
268
8

Cooper Webb

Newport, NC
268
9

Martin Davalos

Quito, Ecuador
263
10

Jason Anderson

Edgewood, NM
216
11

Christian Craig

Hemet, CA
216
12

Fredrik Noren

Sweden
202
13

Justin Barcia

Monroe, NY
191
14

Dakota Alix

Jay, VT
152
15

Broc Tickle

Holly, MI
146
16

Josh Grant

Riverside, CA
143
17

Henry Miller

Rochester, MN
108
18

Matt Bisceglia

Weatherford, TX
78
19

Benny Bloss

Oak Grove, MO
73
20

John Short

Pilot Point, TX
70
Full Standings
250 Moto Two
Under a torrential downpour for much of the moto, Zach Osborne captured the second moto victory, and the overall, to extend his points lead at Southwick.
Osborne snagged the holeshot in the second moto but was under heavy pressure early from Dylan Ferrandis. The first moto winner made an early charge at Osborne, but wasn't able to make anything stick. As the heavy began to increase, Ferrandis started to loss grip on the lead. He was still in contention until a late moto tip-over allowed Osborne to stretch his lead to 10 seconds. He went on to win the moto by 8.6 seconds.
The rain played a huge factor late in the moto, as Alex Martin had to ditch his goggles, which allowed RJ Hampshire to close in on the final podium spot. But Hampshire was dealing with his own vision issues, wiping his goggles every chance he had. This allowed Joey Savatgy to close in with two laps remaining, but Hampshire dug deep and held on for fourth. Savatgy took fifth over Jeremy Martin, Mitchell Harrison, Chase Sexton, Adam Cianciarulo, and Colt Nichols, who came from way back after falling off the start.
Other Notes:
- Austin Forkner, Justin Hill, and Aaron Plessinger did not start the moto. While try and get an update on all three later.
- Luke Renzland came from dead last (37th) to finish 14th in the moto.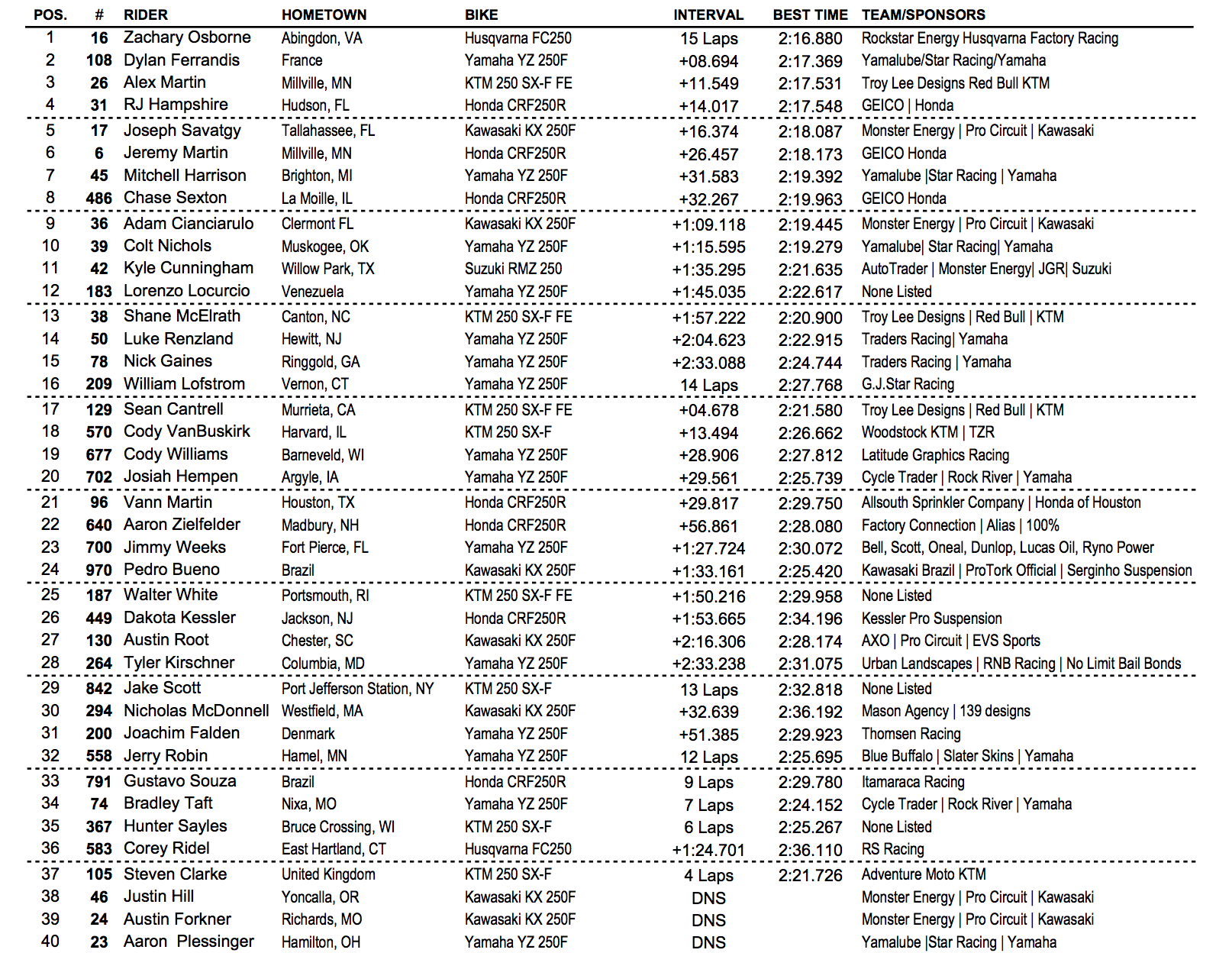 Southwick - 250
Pos

ition

Rider
Hometown
Motos
Machine
1

Zach Osborne

Abingdon, VA
2 - 1
Husqvarna FC250
2

Dylan Ferrandis

Avignon, France
1 - 2
Yamaha YZ 250F
3

Alex Martin

Millville, MN
3 - 3
KTM 250 SX-F FE
4

R.J. Hampshire

Hudson, FL
5 - 4
Honda CRF250R
5

Jeremy Martin

Millville, MN
4 - 6
Honda CRF250R
6

Joey Savatgy

Thomasville, GA
7 - 5
Kawasaki KX 250F
7

Mitchell Harrison

Lansing, MI
6 - 7
Yamaha YZ 250F
8

Chase Sexton

La Moille, IL
9 - 8
Honda CRF250R
9

Colt Nichols

Muskogee, OK
8 - 10
Yamaha YZ 250F
10

Adam Cianciarulo

Port Orange, FL
15 - 9
Kawasaki KX 250F
11

Lorenzo Locurcio

Cairo, GA
12 - 12
Yamaha YZ 250F
12

Shane Mcelrath

Canton, NC
11 - 13
KTM 250 SX-F FE
13

Luke Renzland

Hewitt, NJ
10 - 14
Yamaha YZ 250F
14

Kyle Cunningham

Aledo, TX
18 - 11
Suzuki RMZ 250
15

Nick Gaines

Ringgold, GA
16 - 15
Yamaha YZ 250F
16

Sean Cantrell

Murrieta, CA
14 - 17
KTM 250 SX-F FE
17

Steven Clarke

Cairo, GA
13 - 37
KTM 250 SX-F
18

Cody Williams

Barneveld, WI
17 - 19
Yamaha YZ 250F
19

William Lofstrom

Vernon, CT
21 - 16
Yamaha YZ 250F
20

Cody Vanbuskirk

Harvard, IL
22 - 18
KTM 250 SX-F
21

Gustavo Souza

Brazil
19 - 33
Honda CRF250R
22

Josiah Hempen

Argyle, IA
23 - 20
Yamaha YZ 250F
23

Bradley Taft

Nixa, MO
20 - 34
Yamaha YZ 250F
24

Vann Martin

Houston, TX
25 - 21
Honda CRF250R
25

Pedro Bueno

Brazil
27 - 24
Kawasaki KX 250F
26

Austin Root

Chester, SC
24 - 27
Kawasaki KX 250F
27

Jimmy Weeks

Fort Pierce, FL
29 - 23
Yamaha YZ 250F
28

Aaron Zielfelder

Madbury, NH
34 - 22
Honda CRF250R
29

Jake Scott

Port Jefferson Stations, NY
28 - 29
KTM 250 SX-F
30

Tyler Kirschner

Columbia, MD
30 - 28
Yamaha YZ 250F
31

Hunter Sayles

Merrill, WI
26 - 35
KTM 250 SX-F
32

Joachim Falden

Denmark
31 - 31
Yamaha YZ 250F
33

Nicholas McDonnell

Westfield, MA
33 - 30
Kawasaki KX 250F
34

Walter White

Portsmouth, RI
39 - 25
KTM 250 SX-F FE
35

Jerry Robin

Hamel, MN
32 - 32
Yamaha YZ 250F
36

Dakota Kessler

Farmingdale, NJ
40 - 26
Honda CRF250R
37

Corey Ridel

East Hartland, CT
35 - 36
Husqvarna FC250
38

Justin Hill

Yoncalla, OR
36 - 38
Kawasaki KX 250F
39

Aaron Plessinger

Hamilton, OH
38 - 39
Yamaha YZ 250F
40

Austin Forkner

Richards, MO
37 - 40
Kawasaki KX 250F
Full Results
Motocross 250 Standings - 2017
Pos

ition

Rider
Hometown
Points
1

Zach Osborne

Abingdon, VA
501
2

Jeremy Martin

Millville, MN
420
3

Adam Cianciarulo

Port Orange, FL
374
4

Aaron Plessinger

Hamilton, OH
337
5

Joey Savatgy

Thomasville, GA
324
6

Dylan Ferrandis

Avignon, France
305
7

Colt Nichols

Muskogee, OK
303
8

Alex Martin

Millville, MN
296
9

Mitchell Harrison

Lansing, MI
279
10

Shane Mcelrath

Canton, NC
248
11

R.J. Hampshire

Hudson, FL
222
12

Chase Sexton

La Moille, IL
188
13

Austin Forkner

Richards, MO
184
14

Sean Cantrell

Murrieta, CA
176
15

Luke Renzland

Hewitt, NJ
141
16

Kyle Cunningham

Aledo, TX
134
17

Nick Gaines

Ringgold, GA
124
18

Lorenzo Locurcio

Cairo, GA
119
19

Justin Hill

Yoncalla, OR
110
20

Bradley Taft

Nixa, MO
90
Full Standings