Moto-X 338
Southwick

,

MA
Southwick
Lucas Oil AMA Pro Motocross Championship
After another wildly successful RedBud, it's on to New England and Southwick. Racerhead is coming to you from The Wick 338, once known as Southwick, and still the primary sand track on the Lucas Oil Pro Motocross schedule. The Wick is like stepping into a time machine and going back a few years, as much because it was gone from the schedule for a few years as the fact that of all the national tracks, this one has changed the least over the years, and that's a good thing. It's certainly been cleaned up and given a general makeover, but it's still the same track John Dowd and Doug Henry and Keith Johnson and Jo Jo Keller and the rest of the NESC royalty grew up on. In other words, it's rough, it doesn't have a lot of big obstacles, and the fans here know their stuff.
Tomorrow they will see if anyone can slow down Monster Energy Kawasaki's Eli Tomac in the 450 Class, and whether or not Rockstar Energy Husqvarna's Zach Osborne will finally have a bad day. After losing three straight to first Red Bull KTM's Marvin Musquin and then the orange-hot Blake Baggett of the Rocky Mountain ATV/MC-WPS-KTM team, Tomac seemed to get himself sorted at RedBud last week. Despite some first-moto pressure from Baggett at the end, Eli went 1-1 and looked quite comfortable. He was aided by an early spill by Baggett in the second moto, who like Jason Anderson in the first moto had to dig deep after a first-lap crash. Tomac goes good in the sand—really good—but then again a bunch of these guys go good in the silica.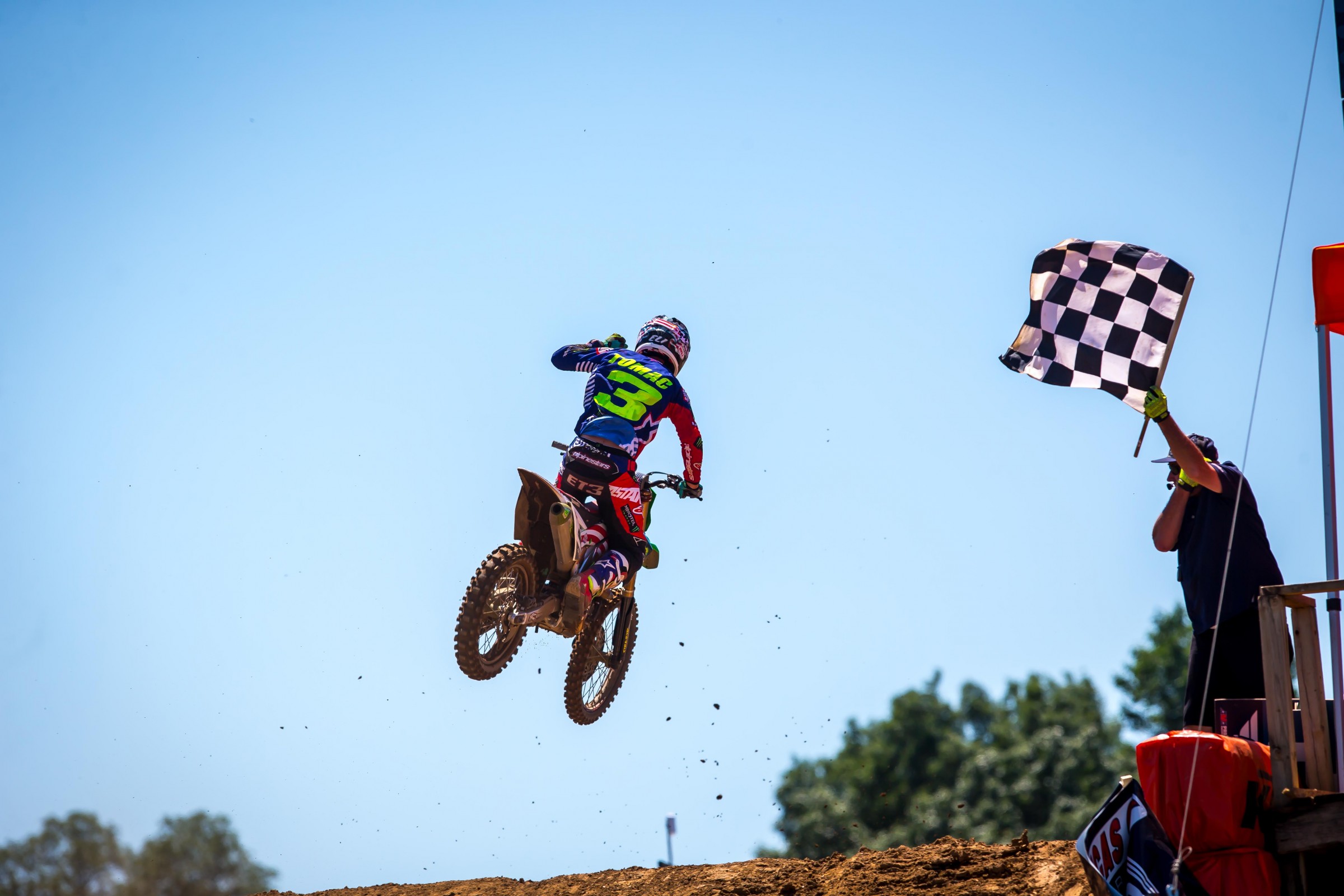 In the 250 Class for the second time in six races GEICO Honda's Jeremy Martin topped the first moto, then fell while out front and all by himself on the first lap of the second moto. Martin, a former two-time champion in this class, could blame over-watering on his spill at Glen Helen back in May, but what happened in the second turn at RedBud was all on him. His front wheel went out from under him and threw away a sure shot at winning. Coincidentally, so did his older brother Alex, who was leading the second moto on his Troy Lee Designs/Red Bull KTM when he also made an unforced error, literally handing the win to Zach Osborne. But give Osborne credit: all year long he's been putting himself in position to minimize his not-exactly-great days and maximize the mistakes of his rivals. He's riding like a veteran and a likely champion.
But this is Southwick, and strange things can and will happen here. There's always the chance of some local hotshot mixing things up, like when privateer 450 rider Mike Sotille grabbed the fastest qualifying lap time, or the fact that no less than four different journeymen—Danny Smith, Craig Anderson, Matt Goerke, and Brett Metcalfe—all won their one and only AMA race here, or the time James Stewart's bike grenaded end endoed in the middle of a battle with Ricky Carmichael, or when Ryan Dungey missed the start because his Suzuki wouldn't start, or when Eli Tomac seemed to get tackled off his bike by a mattress tied to a tree…. You get the picture. It should be another amazing day of motocross as we start the second half of what's been an outstanding summer so far.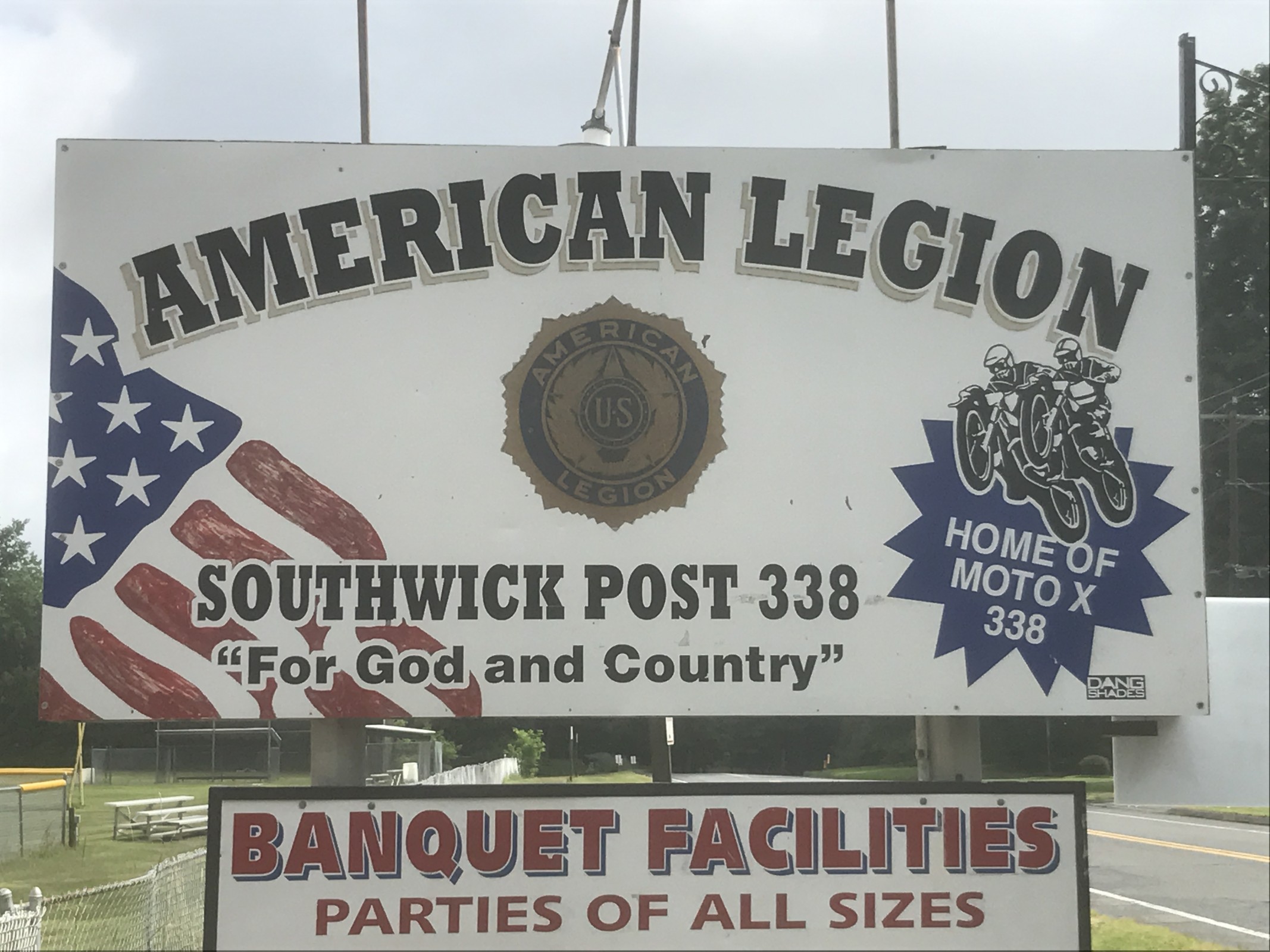 Finally, before we get into the rest of the week, a belated congratulations to 1994 FIM 125cc World Motocross Champion Bob Moore, multi-time GNCC #1 Eddie Lojak, FMF Racing founder Donnie Emler, the filmmaker Peter Starr, and Roadracing World publisher and lifelong racer, team owner and safety advocate John Ulrich. All were named to be part of the Class of 2017 for the AMA Motorcycle Hall of Fame in Pickerington, Ohio. All were announced late last week, but I was on a family vacation and didn't get a chance to offer my congrats. Every one of these men are well-deserved inductees.
And someday, Southwick product John Dowd is also going to go into the Hall of Fame. He holds just about every age record there is in Pro Motocross, and just a couple of weeks ago the soon-to-be 52-year-old "Junkyard Dog" went out in a 37-rider Open Pro class here and put a whipping on all of the younger guys in the races…. Which means everyone in the race! Dowdy is not racing this weekend, as he will be out helping The Wick 338 crew and his old friends Rick and Keith Johnson, but I have no doubt he will be in the pits—and extend his own age record there if he simply lined up tomorrow.
PRO PERSPECTIVE (Jason Thomas and David Pingree)
Thomas: Southwick will be a real monster on Saturday afternoon. First practice is "chillin' out, maxin, relaxin' all cool" like the Fresh Prince, but soon enough those flat straightaways turn into sandy waves of deep brown hell. In the rougher years, I can remember cringing late in the motos as my back and legs were ready to scream "no mas". The locals seem to float across these bumps that I plowed directly into for 70 minutes.
In short, Southwick is a throwback to how hard motocross used to be. The track gets rougher than most and sand takes brute strength to excel in. It's not a miracle that John Dowd was able to put himself up front in his 40s. He was stronger than most riders in their prime and learned the intricacies of riding sand. The masters of sand make it look effortless. The key phrase there is "make it look" because, in reality, it is anything but effortless. Southwick is a man's track.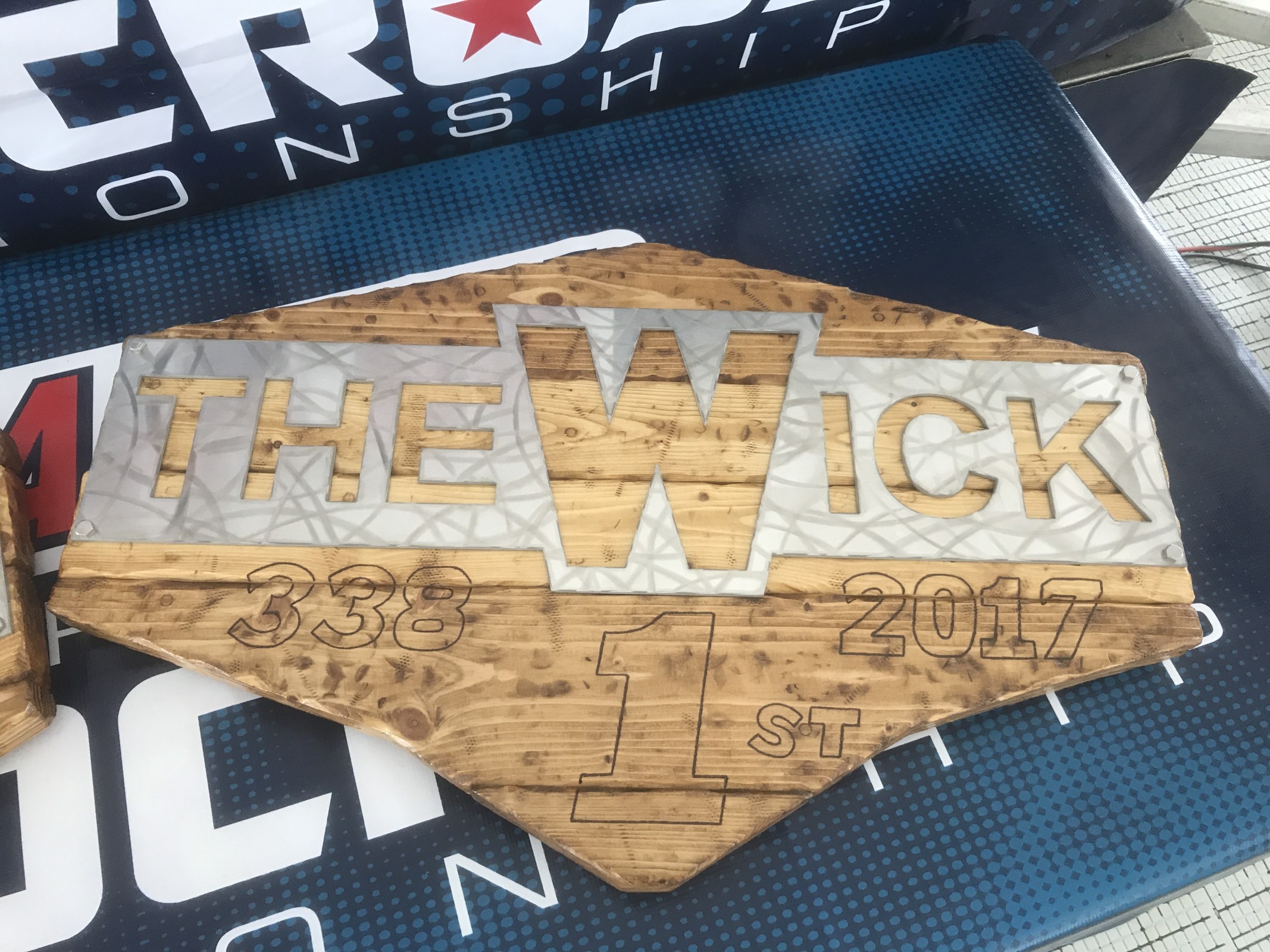 Pingree: Southwick is tough. It doesn't seem like there are as many local heroes these days, but the racing surface at that place is it's own challenge and unlike anything riders will face all year. It isn't bottomless sand like you find at the beach or some place in the Netherlands, but it's deep enough that the bumps will kick you straight over the bars if you aren't paying attention. The hardest part, physically, about this race is that you have to stay on your feet for most of the track. The bumps don't stop, even in the turns, so you are forced to stay on your pegs and pull with your arms to keep your front wheel out of the bigger holes. Doing that for one lap is tough. Doing that for 35 minutes makes waterboarding seem like child's play. And as soon as you get tired and start sitting down, that's when the bumps really have you against the ropes. It's like Mike Tyson in his prime firing shots into your kidneys over and over. Good luck to all the stupid idiots who signed up for this self-inflicted beating this Saturday. Did your parents not love you enough or what?
In the News (Chase Stallo)
It's been a terrible week for two factory teams. Red Bull KTM will be without Trey Canard once again. Just two rounds after returning from a collarbone injury, Canard crashed earlier this week and while he didn't sustain bodily injuries, according to the team, the impact was bad enough that he's decided to sit this weekend out.
RCH/Yoshimura Suzuki announced today that Broc Tickle, who is coming off an overall podium at High Point at round four, is out for the remainder of the championship after an MRI earlier this week reveled his shoulder injury from practice at RedBud is much worse than initially thought. Per the team, Tickle sustained a posterior labral tear, a Hills-Sachs lesion, a type 1-2 superior labrum anterior to posterior tear, and a posterior shoulder dislocation and will miss six-to-eight weeks.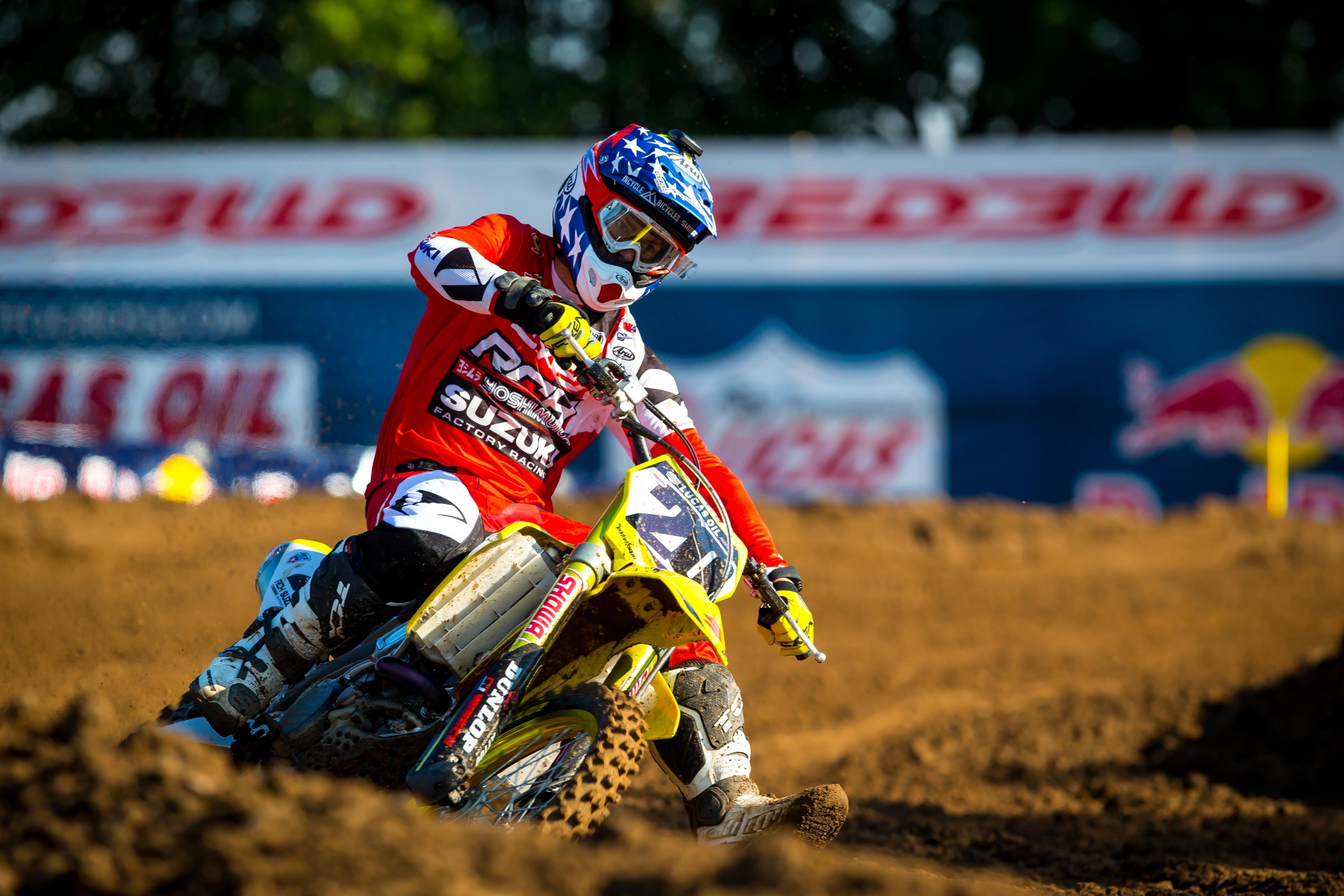 "It's a tough situation and ended up being more damage to Broc's shoulder than what anyone originally thought," said team manager Kyle Bently. "It really speaks volumes about how tough Broc is, the way he gutted it out last weekend. It's a shame because he was having a really solid season, but we all know that injuries are part of the sport and everyone deals with it from time to time."
Over in Europe, silly season is already heating up—and it's only July! Rockstar Energy Husqvarna solidified it's future by locking up Thomas Kjer Olsen and Thomas Covington. Kjer Olsen, the 2016 EMX250 Champion, is enjoying a solid rookie season in MX2 and Husqvarna will have him for a number of years, extending him through the 2020 season. As for Covington, he will stay with the team through the 2018.
"I'm really excited to be staying with the Rockstar Energy Husqvarna Factory Racing MX2 team and Jacky Martens for another year," said Covington. "Things have been going quite well for us and I believe there is a very strong connection with each member of our team. Together with my teammate Thomas I think we will make a very strong team for the coming season. We've made some big improvements with the setup of the FC 250 recently and we will keep working on the small details. The results have started to show the hard work we're all putting in and the goal is to keep that momentum going. If we keep doing what we do, trying to remain consistent, I believe there will be more race victories coming our way in the near future."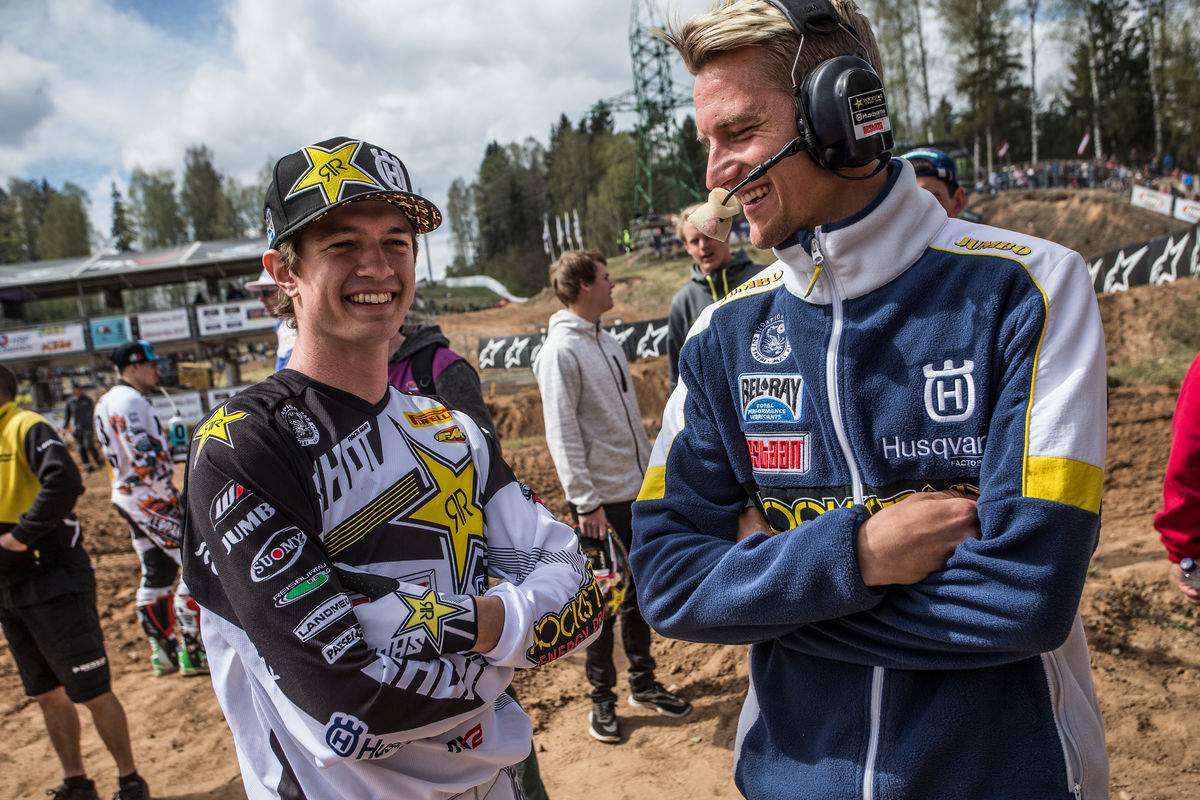 In MXGP, Kawasaki has locked up Clement Desalle for another two seasons. The Belgian signed a two-year deal with Kawasaki in 2016, and is currently second in MXGP points, with two wins on the year.
"I'm really happy to continue working with Kawasaki as I enjoy my job and the work we do together; it's good that we reached an agreement to continue working like that. It's good to sign so early in the season, as at some stage you start thinking about your future, but now I can focus entirely on each race and each GP to get the best results for all of us. I'm also happy as we have worked hard for one and a half years to develop the bike, which is now really good, and we can stay focused on our common goal which is winning races."
LORETTA LYNN'S OVER THE YEARS (DC)
We've been counting down the days to the start of the 2017 AMA Amateur National Motocross Championship at Loretta Lynn's with a look back at each of the 36 years of the biggest motocross race in the world, from its humble beginnings in 1982 to the two-week-long festival of amateur motocross that it's become. What's been fun is to go back and relive some of the more incredible moments of the event, from ones that were obviously significant at the time (graduation of Mike Alessi, the showdowns between Damon Bradshaw and Jeff Emig, the arrival of the Cobra on the scene) to ones that would not show their significance until much later on (like Jeremy McGrath winning the C class in 1987). The idea is to get everyone amped for this year's event, while also populating the introductions to each year in our vast Loretta Lynn's Vault of results.
Tomorrow's episode, a cameo contribution from Brett Smith, covers 1989, the year he first met a certain little red-headed racer from Florida while competing in the 65cc (7-11) Stock class and battling for 13th place. These reviews are a fun way to go back and live some of the grand old races of yesteryear while getting everyone psyched on the 2017 race to come.
MEANWHILE, OVER IN EUROPE... (Andras Hegyi)
As Antonio Cairoli continues to lead the way in MXGP, he's closing in on a ninth world championship, having once again held off a determined Jeffrey Herlings, the man who would be king, and it's now just a matter of time before the Italian is one step closer to one of Stefan Everts' all time records.
Cairoli won in Portugal and is closing in on Everts' records for most world titles (10) and most GP wins (101). His next real challenge is shaping up to be the looming showdown with Eli Tomac, Marvin Musquin, and other top Americans at the MXGP of the Americas at Gatorback Cycle Park on Labor Day weekend.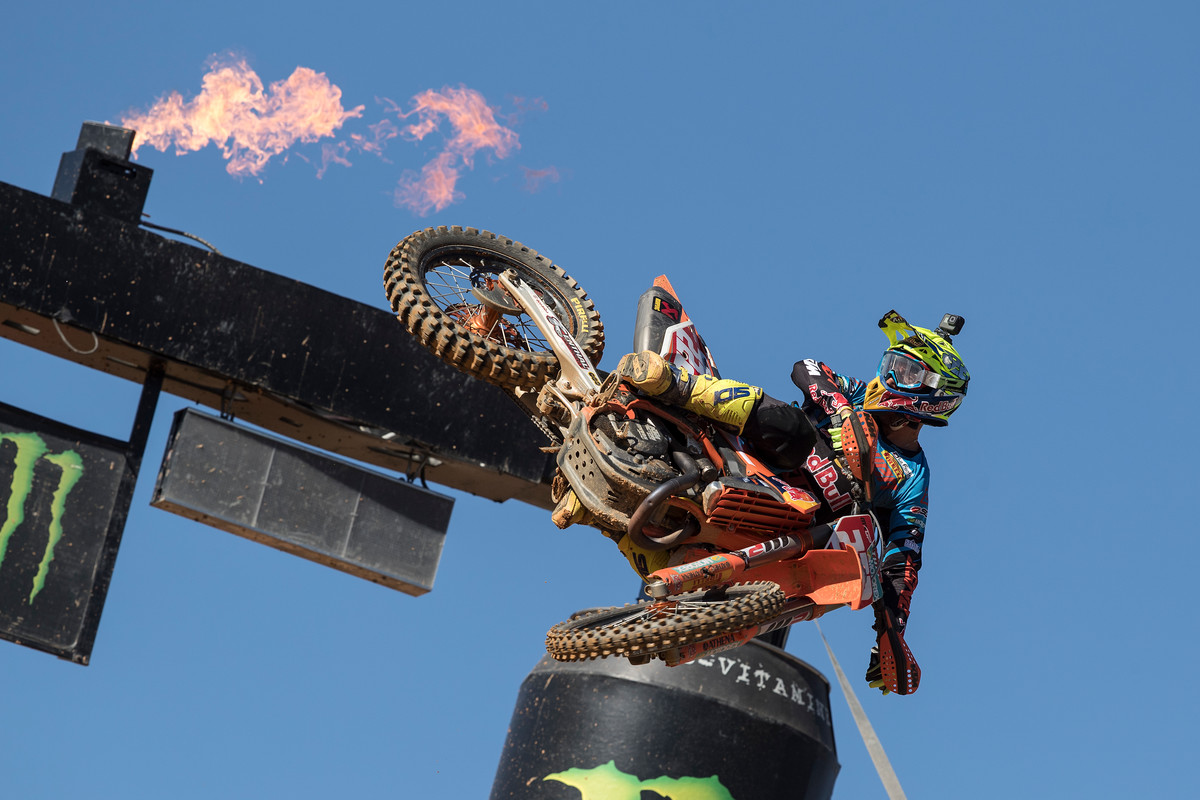 In the MX2 class Pauls Jonass still leads, but Swiss rider Jeremy Seewer got himself another win in Portugal. Seewer, the lead rider for Suzuki, this season has become only the second Suzuki GP-winner in the history of MX2. Ken Roczen, who is the youngest world champion ever, is the other Suzuki rider to win in MX2.
Seewer has broken some Suzuki records in the MX2 that Roczen has never been able to do in saddle of Suzuki. Seewer has collected four GP wins in all, which Roczen did not accomplish in his time with Suzuki. Roczen got one victory in 2009; in 2010, in his best Suzuki MX2 season, he got three wins. He then moved to KTM for one more GP year and dominated.
Seewer could outshine Roczen once and for all if he were able to be world champion in MX2 with Suzuki. Roczen was MX2 world champion with KTM in 2011 at 17 years old. Seewer has a great chance to do it this year. Seewer is currently 38 points back of Jonass.
FAREWELL CARLA (DC)
The motocross world lost Hakan Carlqvist last night to an illness. The rugged Swedish rider was a two-time FIM World Motocross Champion, first for Husqvarna on a 250, then later for Yamaha on a 500. He was the last in a long line of Swedish motocross greats that included Bill Nilsson, Sten Lundin, Torsten Hallman, Rolf Tibblin, Bengt Aberg, Ake Jonsson, and Hakan Andersson. He was a factory rider for the Ossa, Yamaha, and Kawasaki, as well as his homeland brand, Husqvarna. He was a fierce competitor, but also a fan favorite. He won 20 Grand Prix races in his career, but will best be remembered for what must be the all-time best victory celebration on the last lap of his last win of his career in 1988.
Well out in front in the 500cc Grand Prix of Belgium, Carla stopped on the Esplanade at the Citadelle in Namur and downed a beer from the Monument Cafe. Watch it right here:
Our friend Rob Kinsey wanted to add this of Carla: "Always loved the story about Hakan testing his works Yamaha at Lommel sand track in Belgium, in front of their top Japanese technicians. What did Carla think of their latest creation? He was so annoyed he got a spade from team Mercedes truck and proceeded to bury the bike to make his point!"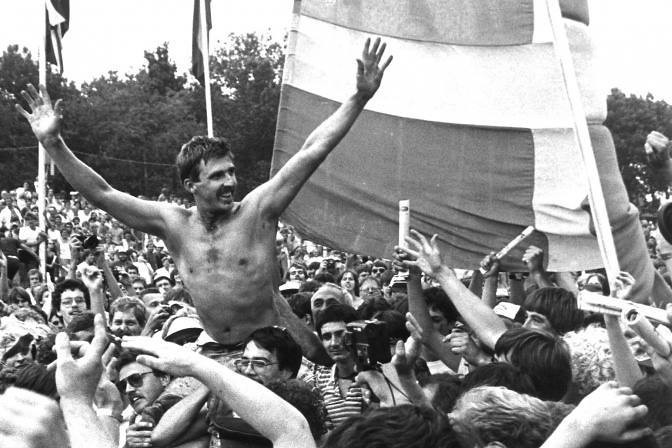 Godspeed, Carla.
In the Mag (Dustin Williamson)
Subscribe now or pick up your copy of the September issue of Racer X Illustrated and read about who will fill the void atop the 450 Class ranks, Italy's Tony Cairoli trying to stay on track to become one of Europe's all-time greats, and the tragic loss of American MotoGP champion Nicky Hayden. Also read about our very own Jason Thomas traveling to Japan to test out the brand-new 2018 Suzuki RMZ-450, and how two-stroke racing is finally picking up momentum in Lucas Oil Pro Motocross.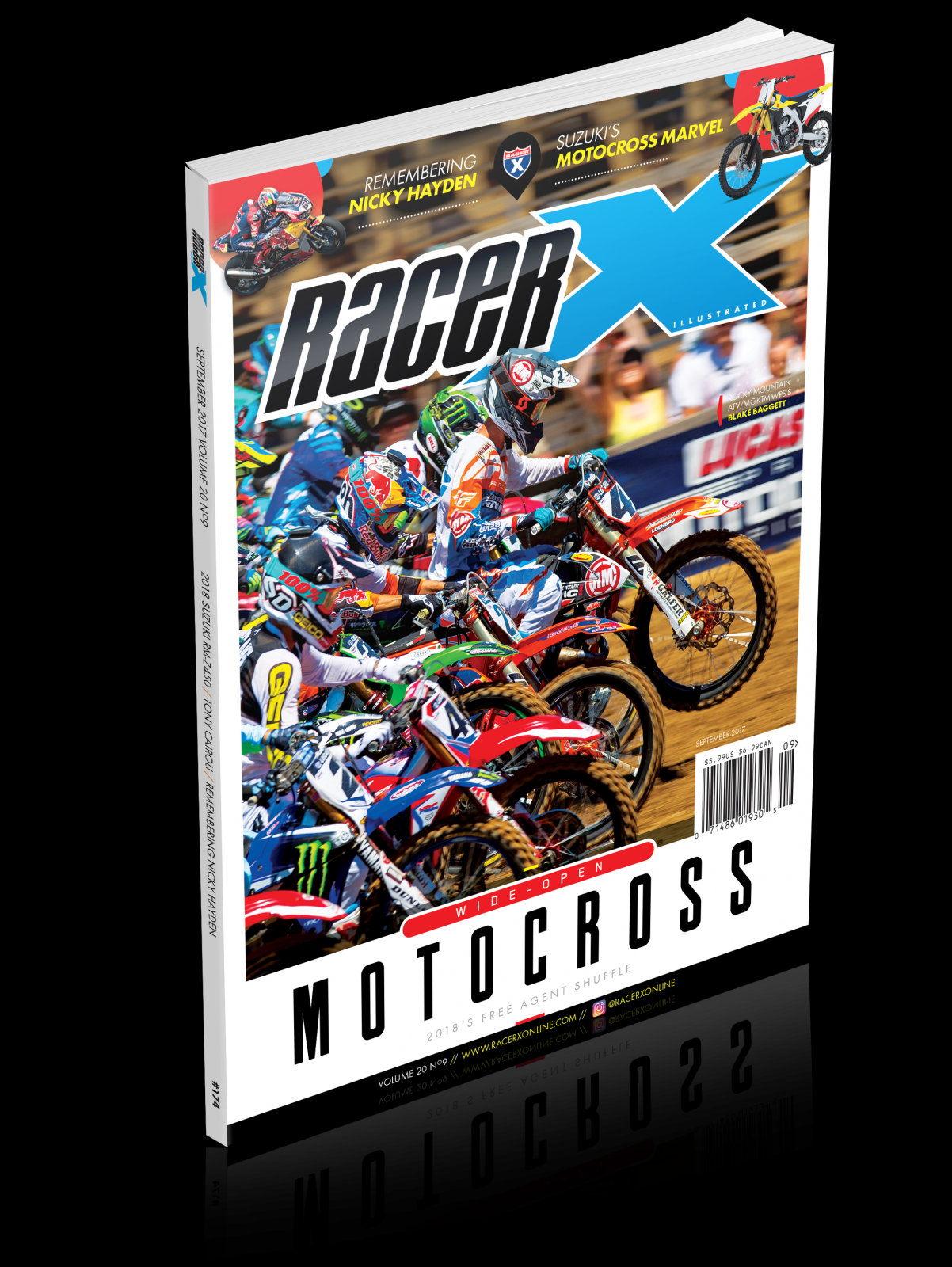 WIDE-OPEN MARKET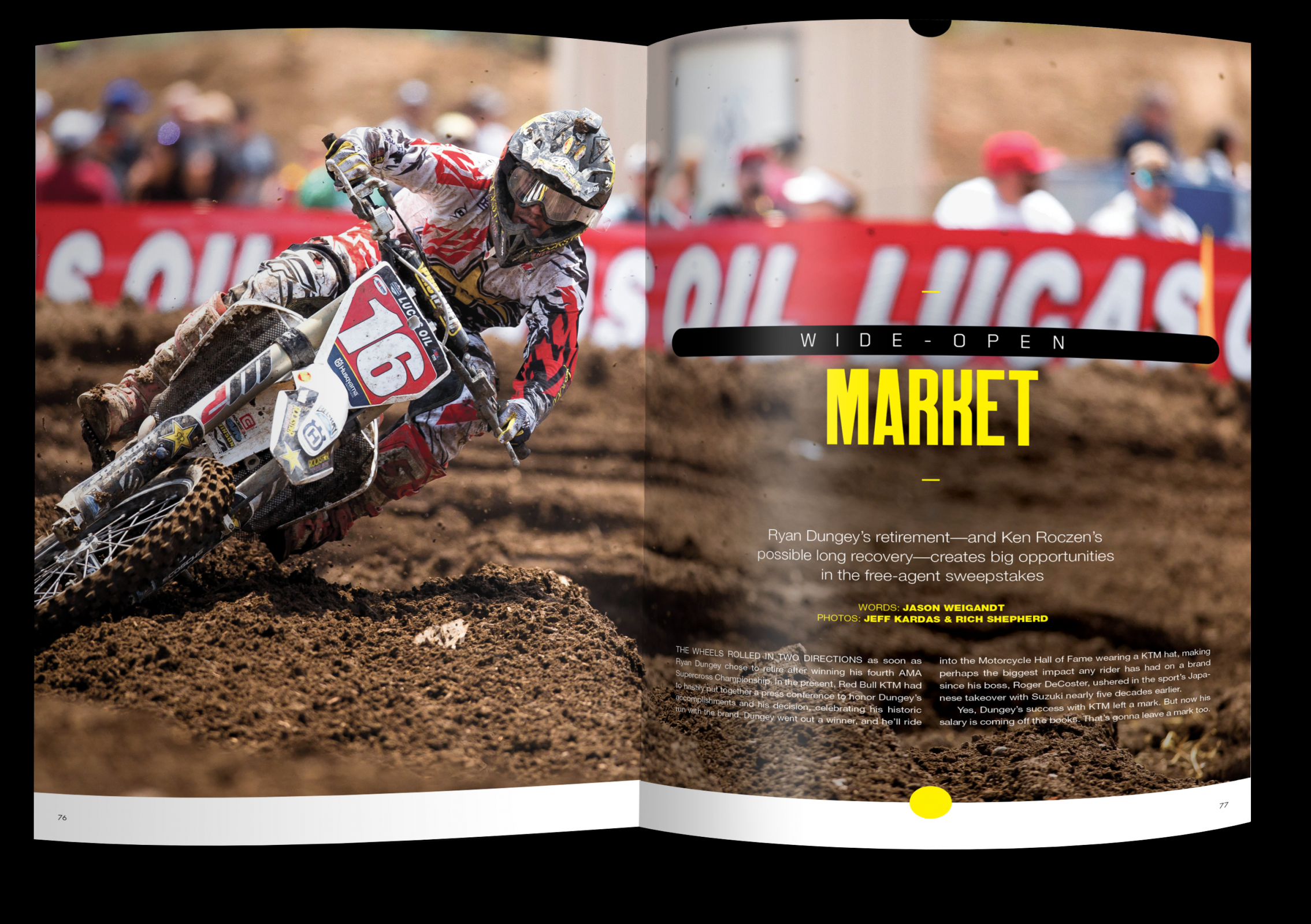 With Ryan Dungey retired and Ken Roczen on the sidelines, there's suddenly room at the top of the 450 Class. Who's first in line for those top-shelf rides?
ANTONIO THE GREAT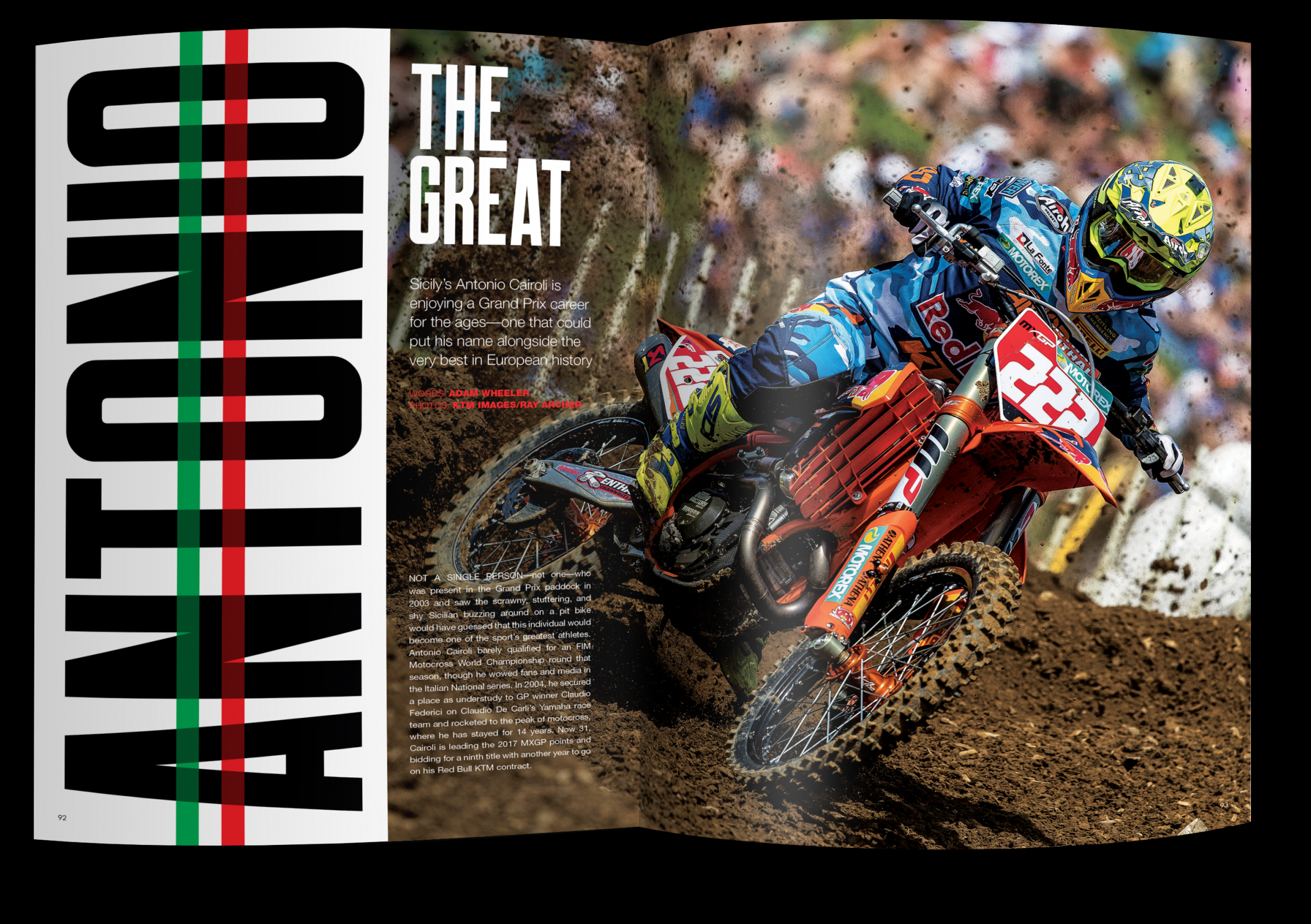 Italy's Tony Cairoli began his Grand Prix career as a flashy, fast prospect. Today, he's on the trail of Stefan Everts to become one of Europe's all-time greats.
THE KENTUCKY KID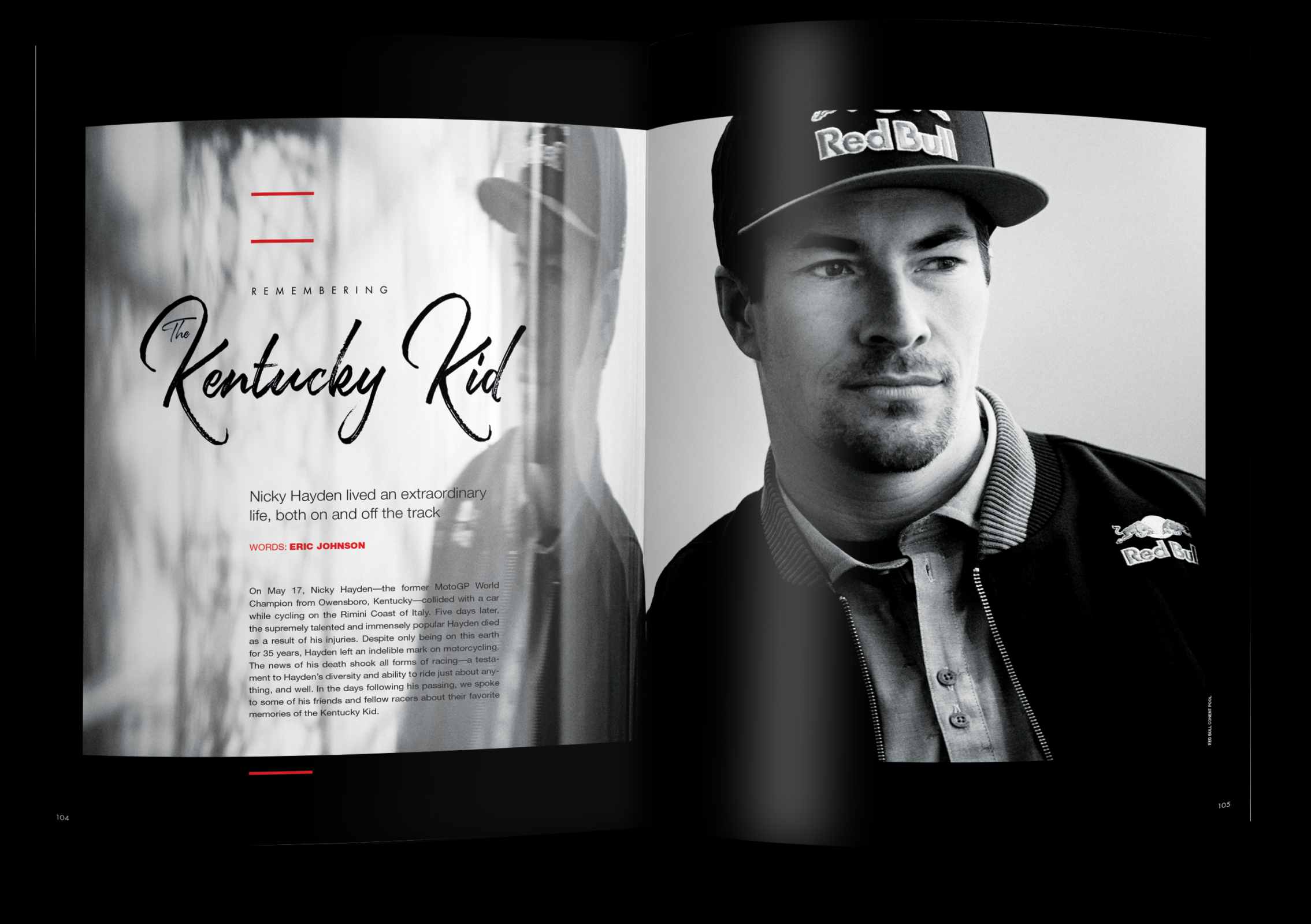 On May 22, the world lost American MotoGP Champion and all-around motorcycling icon Nicky Hayden. The motocross community remembers him.
SUSHI & SUZUKIS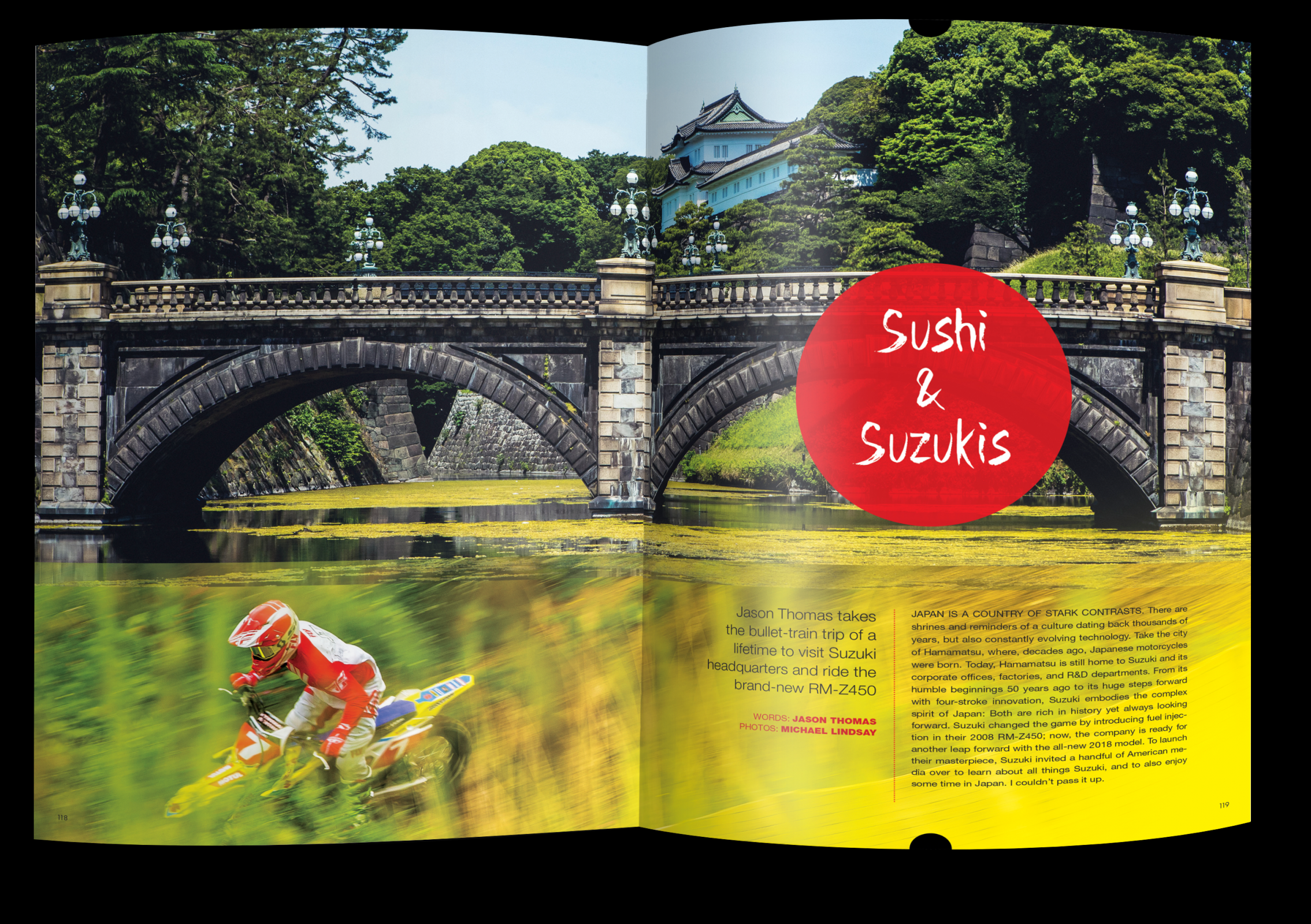 Jason Thomas traveled to Japan to take in the sights—and to put the brand-new 2018 Suzuki RM-Z450 through its paces.
PREMIX COCKTAIL HOUR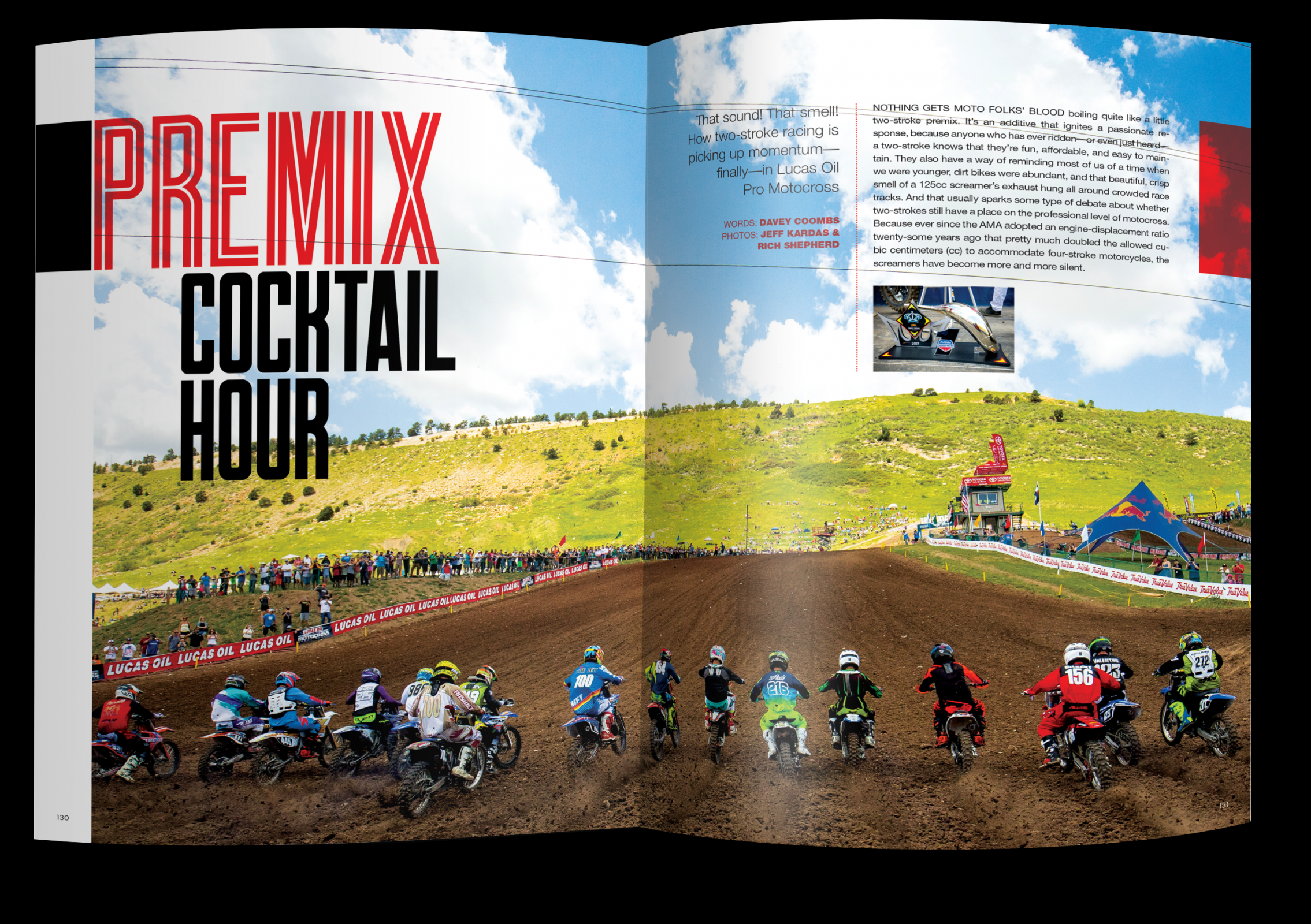 That sound! That smell! How two-stroke racing is picking up momentum—finally—in Lucas Oil Pro Motocross.
Head-Scratching Headlines of the Week
"Stunt Rider Lands in Hospital" – KTLA
Remember that Simi Valley railroad jump that Colin "Scummy" Morrison made famous all those years ago? It claimed it's second copycat this year when 22-year-old Andrew Flores over jumped it and ended up in critical conditional. Here's the on-the-scene report.
Here's the thing: Scummy was there on the scene and tried to talk Flores out of jumping it, after the kid messaged him and told him he was going to do it. Morrison drove out to the crossing and met the kid. There's even an Instagram video of their exchange, as well as the aftermath, which left Flores with a broken femur and shattered ankle:
Does Vital MX give out Darwin Awards for this kind of thing?
"Levi Sherwood is leading the pack of double-flipping FMX riders"
Hey, Watch It!
Racer X Films: Best Post-Race Show Ever, RedBud
The local PBS channel in Michigan did a nice piece on RedBud, which you can pick up here at the 9:50 mark.
Rocky Mountain ATV/MC-WPS-KTM's Dakota Alex strapped the Vital MX Garmin on for One Lap Around The Wick.
Here's some local Massachusetts news coverage leading up to the race:
Random Notes
Blue Buffalo/Slater Skins Yamaha's Broc Schmelyun and Chad Sanner are starting up a new venture similar to what Eleven10Mods had done in the past. They'll take customer orders, work on bikes, sell parts, etc. The plan for now is to base the business out of Uniontown, Pennsylvania and get it up and running right after the Lucas Oil Pro Motocross season concludes. When we learn more, we'll let our readers know the details.
---
Here are two win ads from Honda and Yamaha that you would never see run today….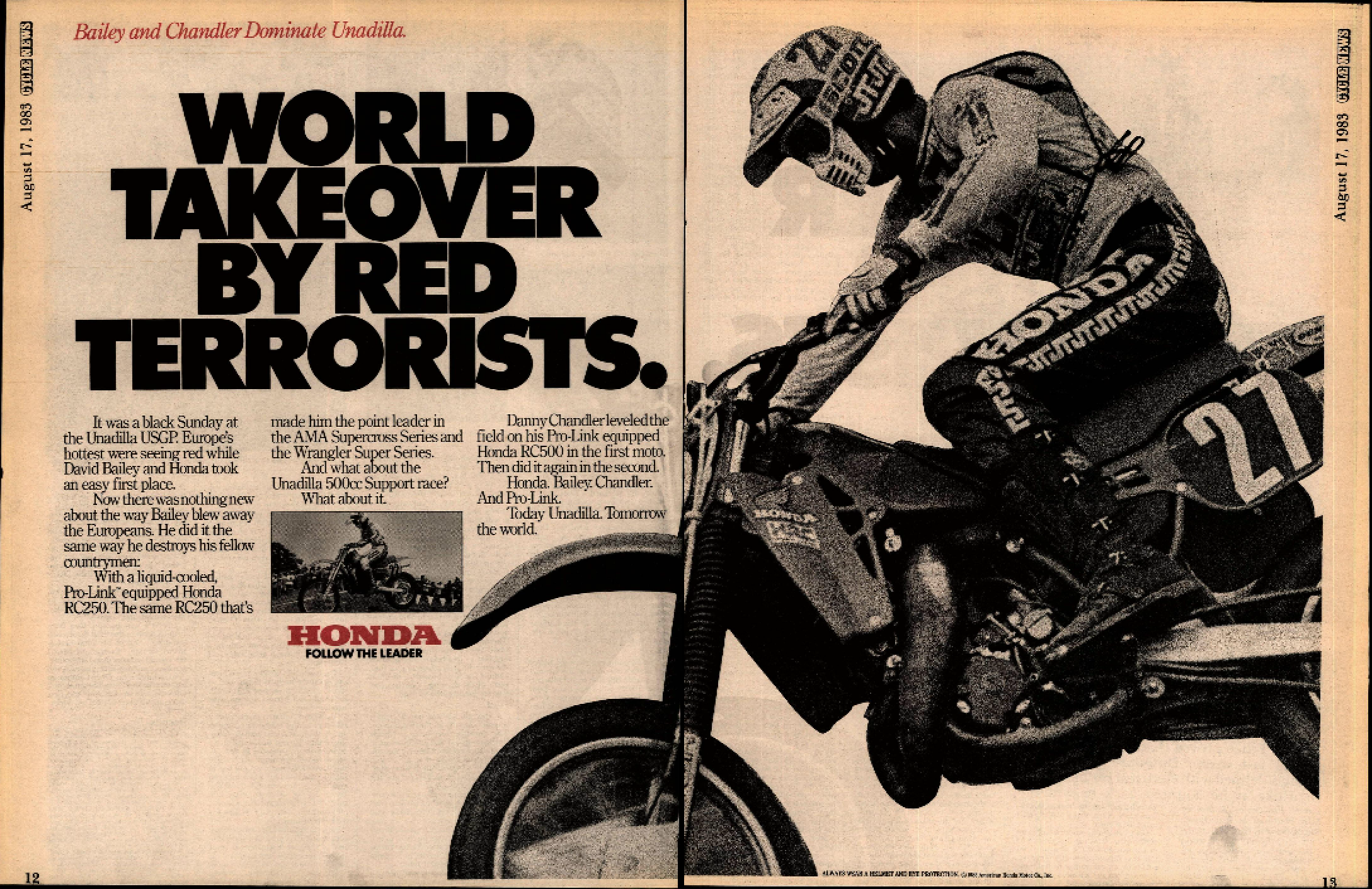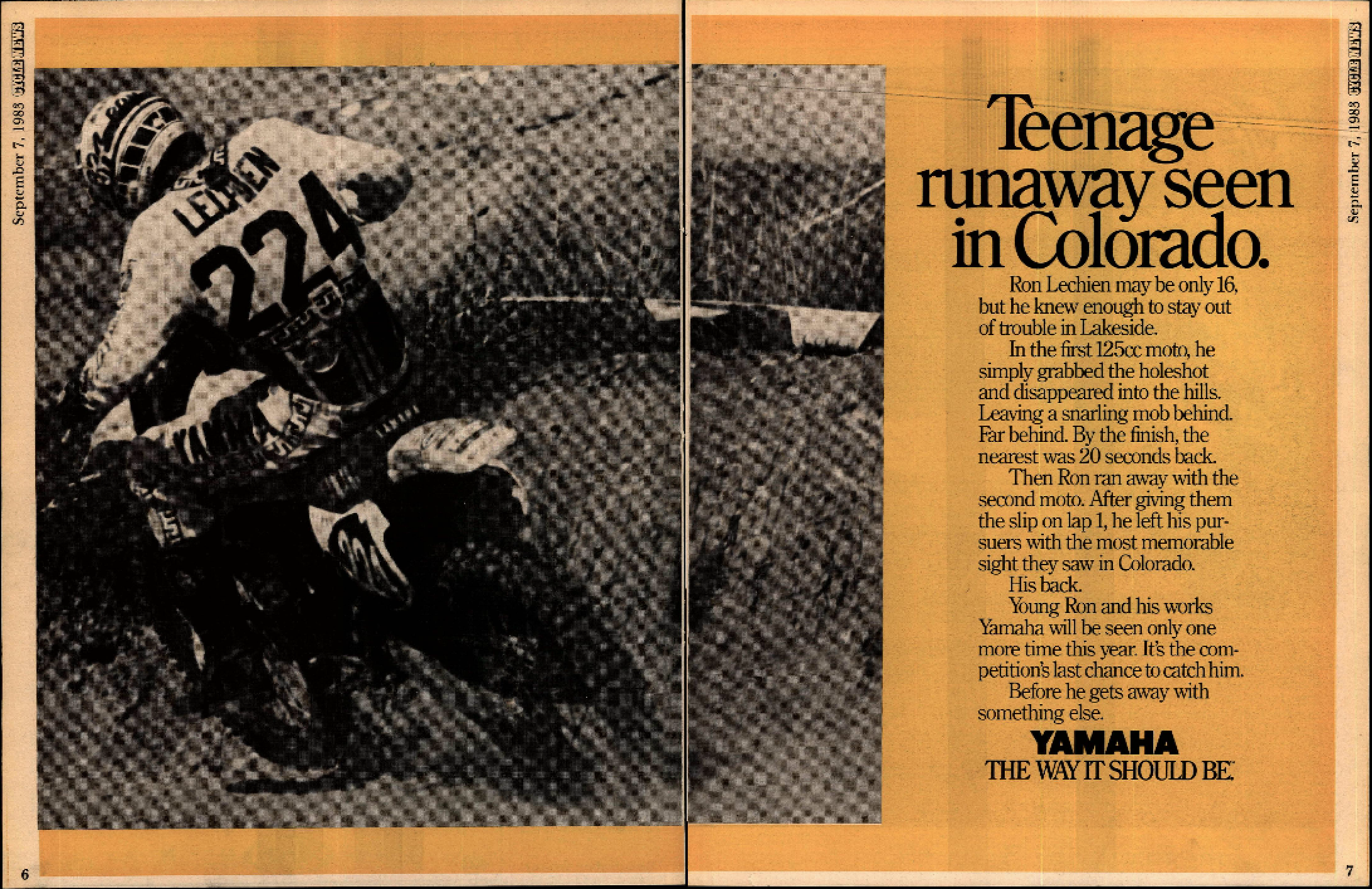 Subscribe now for only $9.98 and receive a FREE Fly Racing Drawstring Bag plus access to our current digital edition.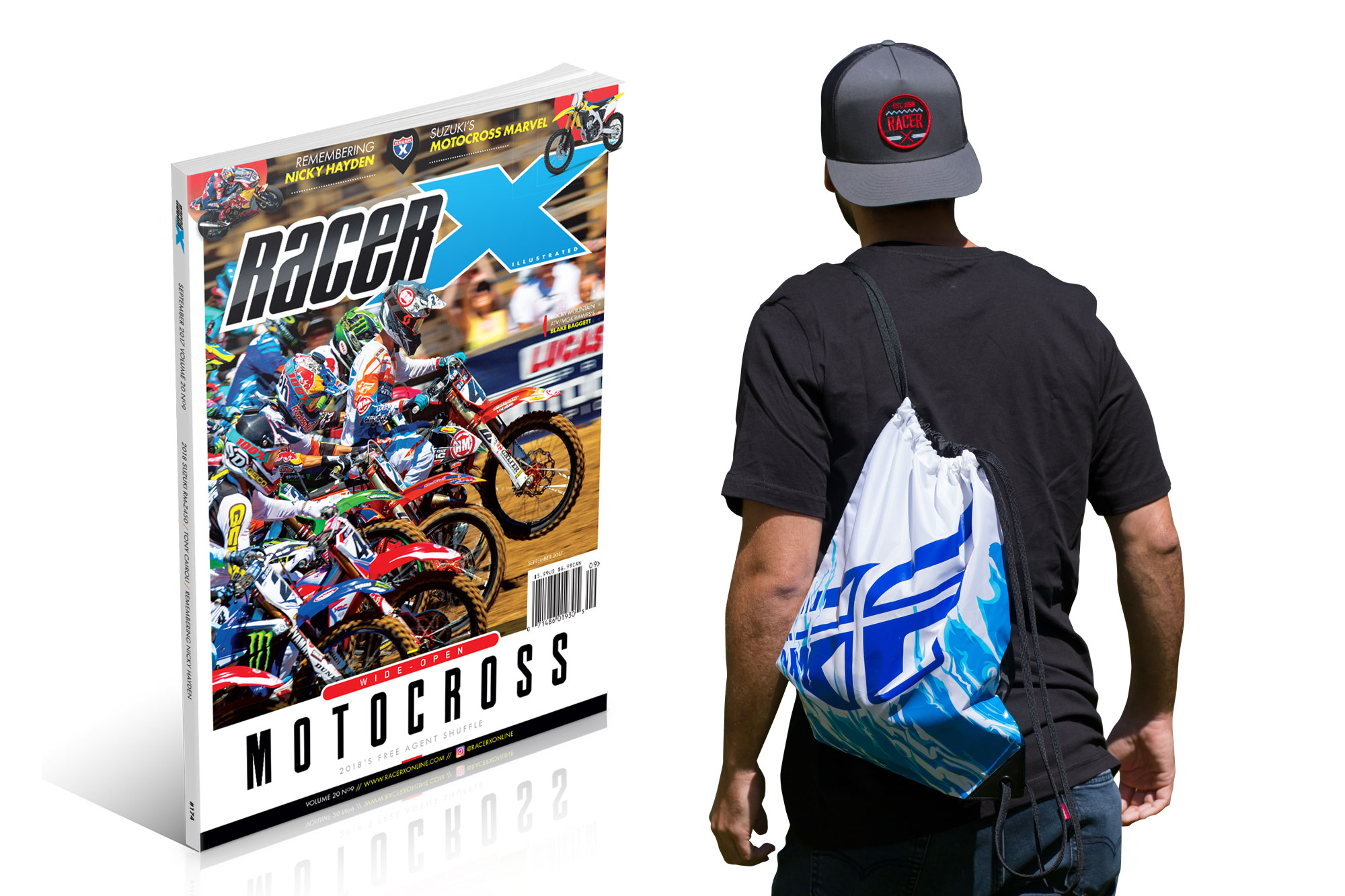 Going to Southwick this weekend? Want to be able to get into the pits all day?
The only way to cruise the pits whenever you'd like is with the Racer X All-Day Pit Pass, but quantities are limited! Get yours today while they're still available and get all-day pit access plus a one-year subscription to Racer X Illustrated for just $50. Preorder ticket sales end Thursday, July 6th at 11:59 PM.
If you preorder online for this event, you'll need to pick your Racer X Pit Pass up at the Racer X booth, which will be located at the main Pit entrance, where you'll also receive an extra copy of Racer X, the official event sticker, and Racer X stickers.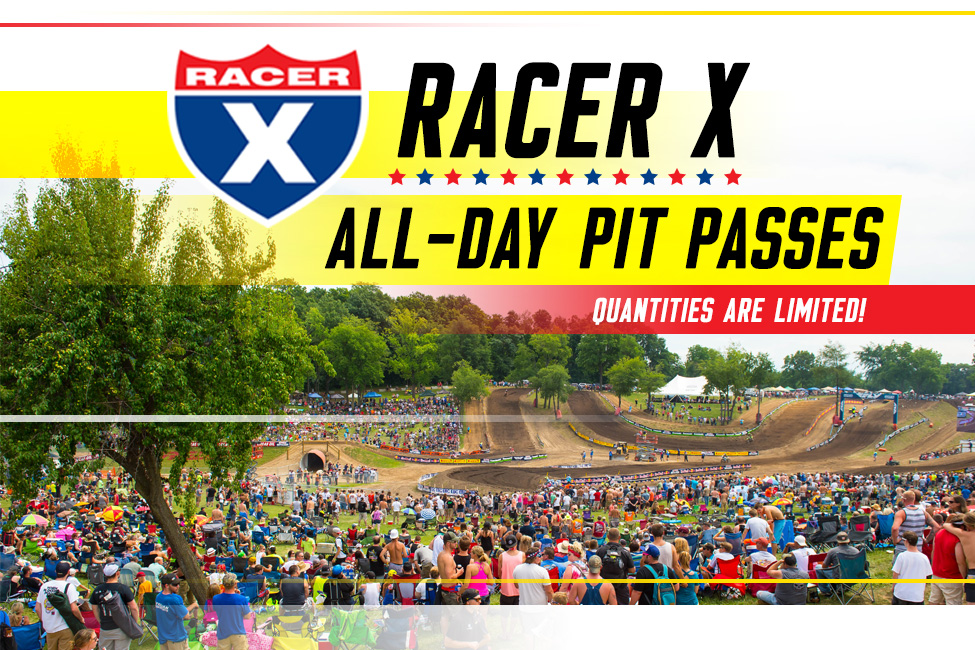 Headed to the Southwick National this weekend? Be sure to stop by the Racer X Booth in Sponsor Village, and subscribe to Racer X Illustrated for as low as $10 to receive a FREE $20 Motosport Gift Card, a one-year subscription to Racer X Illustrated, an extra copy of Racer X, the official event sticker, and Racer X stickers.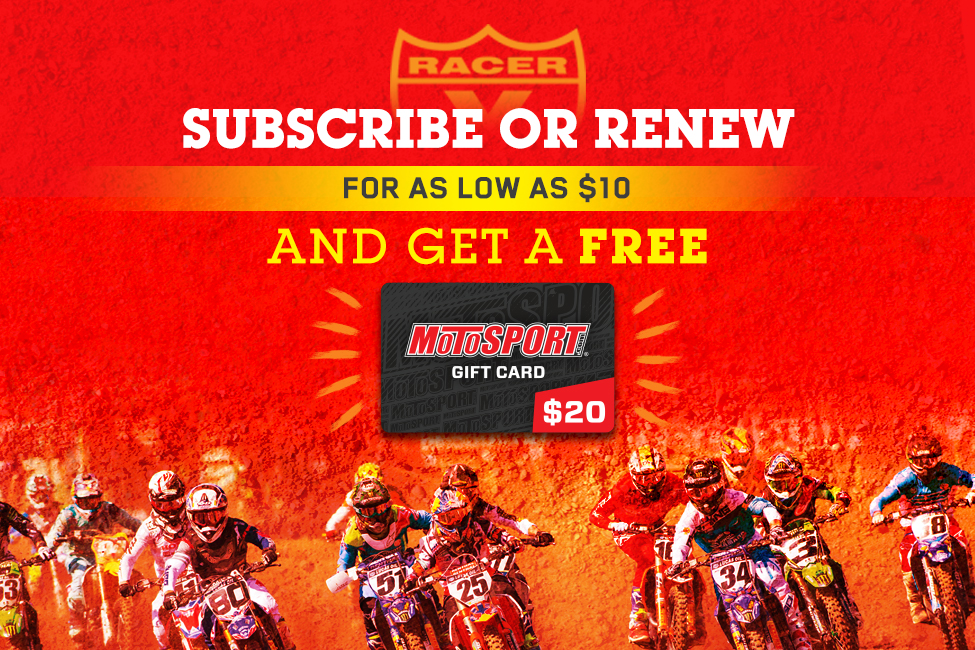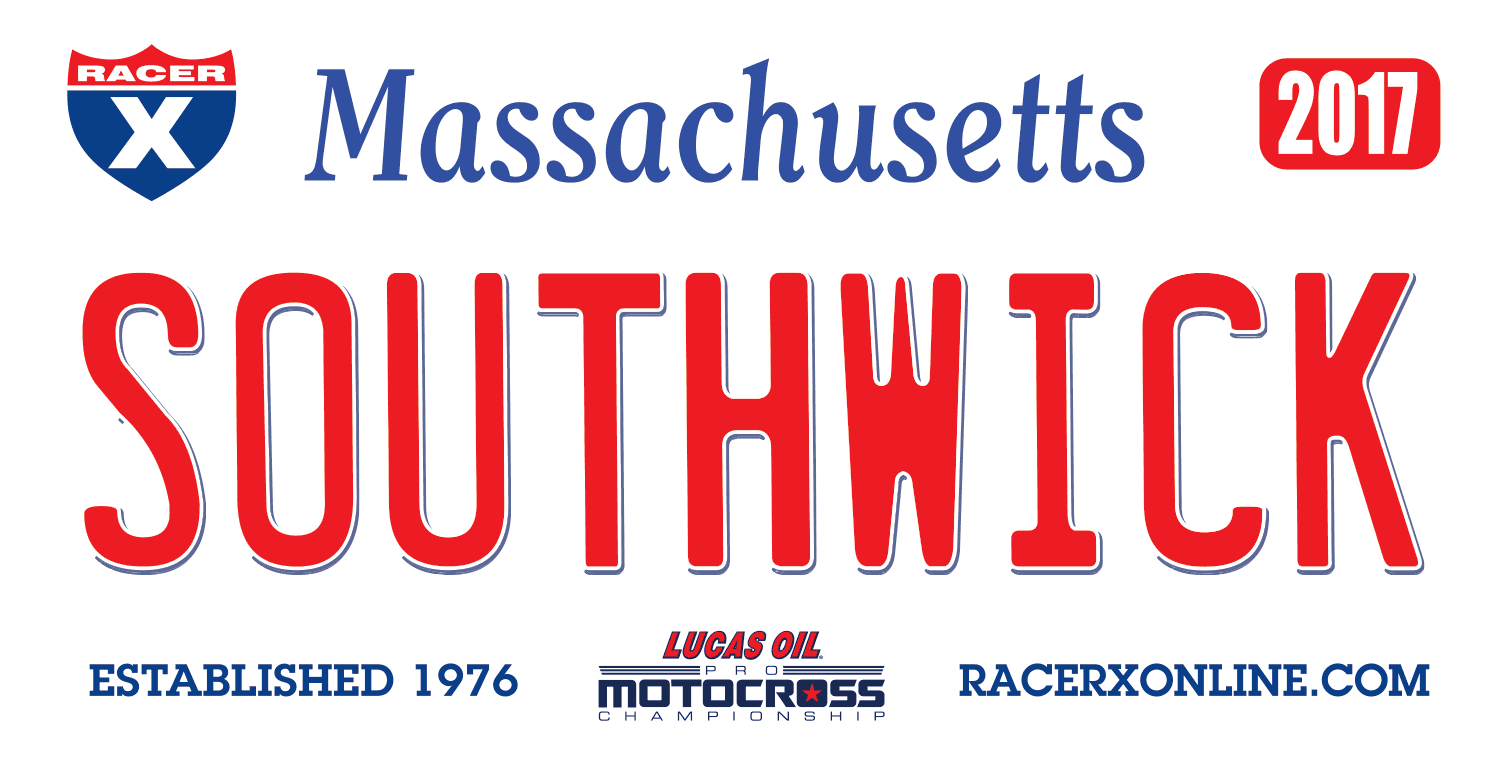 That's all for now—thanks for reading Racerhead. See you at the races.